June 14, 2018


As a leading Blackbaud solution provider, we at team DNL know a thing or two about how to leverage Blackbaud technology to its fullest extent.
If your nonprofit is implementing a new solution or taking on new challenges with an existing technology system, your team will inevitably need support. You can't be expected to be an expert on all aspects of your software, but you can call on the experts to provide the insight and assistance you need to get the most from your products.
In this guide to Blackbaud support, we'll explore some of the options you have when it comes to seeking Blackbaud support services. We've broken our discussion out into two main sections:
When you're ready to maximize your Blackbaud solutions, you need to trust that the support resources you have are truly best-in-class. Keep reading to learn what to look for from your Blackbaud support.

Blackbaud Support Consultants
What Blackbaud support services can nonprofit consultants provide?
If you need an expert on your side, who better to call than trusted Blackbaud consulting partners and solution providers?
The right Blackbaud consulting team can offer your organization extensive, custom-fit support and resources for any issue you encounter while working with your Blackbaud products.
In order to have the most comprehensive support available, search for a top-tier consulting firm with experience in all of the following key areas:

Implementation management. Getting started with a new software solution is a complicated process. Lean on a team of expert implementation project managers who can help you choose the right product, configure and customize your solution, migrate your data, deploy your new system, and provide ongoing tech support and training.

Integration support. When you work with a team of trained developers, no integration is impossible. Your consultants can not only broaden your software's functionality through custom integrations, but they can also provide the support you need as you utilize your integrations to ensure you're getting the most from your new expanded feature set.

Software training. Learn the ropes of an intricate technology solution on your own terms with custom Blackbaud training. In addition to providing support, many Blackbaud technology consultants offer personalized on-site or remote training courses for your software.

Strategy consulting. One of the key benefits of working with a dynamic technology consulting team? These specialists don't just understand software; they also understand nonprofits! Your Blackbaud consultants can offer guidance as you use your software to evolve your fundraising and engagement strategies, helping you reach new heights as an organization.

Custom Blackbaud solution development. An authorized Blackbaud solution provider can offer completely unique additions to your software through custom products built just for your nonprofit. Your Blackbaud tech support consultants can build a solution that elevates your technology to help you achieve your unique fundraising goals.

Website development. A major part of your digital fundraising strategy, your website needs to work seamlessly with your Blackbaud software. For example of how consultants can play a role in your web development, take a look at how team DNL developed custom Luminate CRM web solutions for Interlochen Center for the Arts.
Nonprofit IT consultants can be as hands-on as your team needs for as long as you're using your Blackbaud tools. To ensure your support team can provide the right resources no matter how your needs and goals evolve, search for the most well-rounded, experienced firm you can.
Why work with a Blackbaud support consultant?
A nonprofit consulting firm can provide the robust, completely custom support you need to benefit from your software now and in the future.
Unlike a product vendor or tech support specialist, your consulting partner can take the time to get to know your nonprofit in a meaningful way and help you understand how your technology fits into the bigger picture of your organization. They'll offer proven tips for improving your strategy based on years of experience with organizations just like yours!
And because their support services are designed for your organization uniquely, you'll always know that your solutions are going to move your mission forward, not backward.
Ready to enlist the help of an expert Blackbaud tech support team? Give team DNL's support services a try.
Start Your Blackbaud Project Today
---

Blackbaud Support Resources
Want help with a specific Blackbaud product? We've got support resources with your name on them!
Navigate to your solution of choice using our handy table of contents below:
Or head back to our blog for more industry insights on Blackbaud tools and other tech solutions.
Luminate Online Marketing Support
As one of the most versatile products in the Blackbaud software family, Luminate Online Marketing can serve as your nonprofit's complete online fundraising and marketing solution.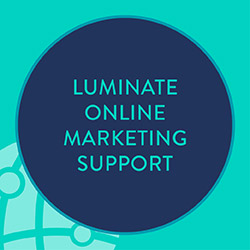 Plus, with add-ons like TeamRaiser and Luminate Advocacy, you can expand your Luminate system to cover all of your bases.
If you're already using Luminate Online or are thinking about implementing this software, keep these support needs in mind:
Fundraising strategy for Luminate Online.
Custom Luminate development.
Luminate integrations.
Luminate Online training.
Because Luminate can do so much, it's paramount that your team establishes a plan for how exactly its tools will fit into your operations and fundraising efforts. If you don't, you might become overwhelmed with possibilities and end up missing out on some of Luminate Online's best features.
Once you do have a plan in place, you'll also need a development team to actually implement that plan and carry your team to success.
Learn more about Luminate Online by reading our ultimate guide here!
Luminate CRM Support
For organizations using Salesforce as their CRM of choice, Luminate CRM can provide the nonprofit-specific functionality you need to fundraise effectively and engage donors strategically.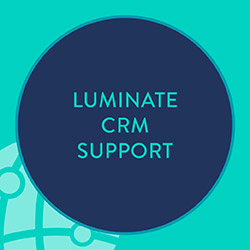 Like Salesforce itself, Luminate CRM is built for larger nonprofits with complex needs. Therefore, Luminate CRM comes with vast customization options so you can adapt your system to fit your unique requirements.
However, in order to implement those custom configurations, you'll need a development expert with experience in Blackbaud, Salesforce, and any other platforms you'd be integrating into your technology system.
Learn more about how a nonprofit consultant can help you design a customization strategy and implement the right configurations for your Luminate-Salesforce system by reading our guide to Luminate CRM.
Bonus Resource: You can also tap into the power of Salesforce by leveraging the right applications and integrations. See some of the best Salesforce apps here!
Raiser's Edge Support
Raiser's Edge is one of Blackbaud's more user-friendly solutions, but that doesn't mean you won't need ongoing support or development assistance to maximize your use of the software.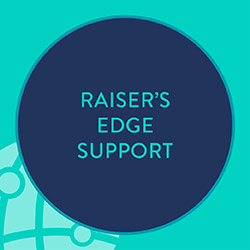 For instance, some areas of support for your Raiser's Edge platform might include:
Developing a Raiser's Edge fundraising strategy.
Data migration and maintenance.
Raiser's Edge configurations and integrations.
Training your team on Raiser's Edge.
Raiser's Edge is a great option for growing nonprofits who need a scalable, user-friendly fundraising and donor management solution. Make sure you're getting the most from its expansive feature set by leveraging the best support resources available.
Don't forget to read our guide to Raiser's Edge to learn what this product can do plus some tips on how to get the most from it.
TeamRaiser Support
Used on its own or as part of the Luminate Online suite, TeamRaiser is a go-to fundraising solution for many nonprofits. And for good reason!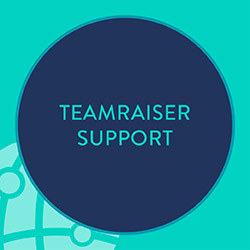 TeamRaiser is Blackbaud's highly customizable peer-to-peer fundraising software, equipped with tools to help nonprofits organize their P2P event and mobilize supporters through custom fundraising pages.
Because TeamRaiser is so flexible, you should consider enlisting the help of a web development team or nonprofit consulting firm. They'll help you develop a strategy and implement solutions that propel your fundraising forward. Their support services might include:
Creating custom peer-to-peer events through TeamRaiser's open API.
Tailoring your event's registration process.
Building or customizing your peer-to-peer participant center.
Creating branded mobile apps for your participants to use.
Before you dive into your peer-to-peer fundraiser, work with a strategy consultant who can help you create the right strategy for your goals. Then, leverage their development expertise and support as you implement your TeamRaiser solution.
See our full list of TeamRaiser tips and tricks in this helpful post.
---
Top-tier support is a must-have for your Blackbaud products. When you have strategic guidance and expert insight into your software solutions, you'll be prepared to get more from your technology than ever before.
For even more Blackbaud resources, check out these posts from team DNL:
5 Reasons to Seek Strategy Consulting for Nonprofit Tech. A nonprofit consultant can help nonprofits through a wide variety of technological challenges. Read our post to find out some of the most common scenarios for bringing on a nonprofit strategy consultant.
Nonprofit Technology Consulting: 6 Steps to Success. The consulting process can seem intimidating, but the right consultant's help can be instrumental in your technology strategy. Learn what comprises DNL OmniMedia's consulting process to gain insight into how a consultant can help your organization.
Blackbaud CRM Software: The Essential Buyer's Guide. If you haven't invested in Blackbaud technology yet or are considering switching solutions, read our breakdown of the different CRM solutions they offer. When you know what differentiates each donor management solution, you'll be better prepared to choose the right one for your goals.