October 16, 2018


Blackbaud products represent some of the most powerful digital tools on the market for nonprofit organizations. If your organization has made this important investment, it's essential that you position your team to make the most of it. That's where Blackbaud consulting services from specialized experts and guides come in.
While searching for the right Blackbaud consultant to support your team, it's important to fully understand your needs and what you need or expect each Blackbaud product to do. The full suite of software includes several different platforms, each designed to address a different sector or need. Chances are your organization is working with one of these popular products:
Luminate Online, a set of powerful digital marketing, online fundraising, and donor engagement tools.
Luminate CRM, a Salesforce-based database suite for nonprofits to make the most of both Salesforce and Luminate Online.
Raiser's Edge, a comprehensive and flexible CRM and fundraising platform for mid-size to large nonprofits.
TeamRaiser, a set of peer-to-peer fundraising and event management tools to boost donor engagement.
Blackbaud CRM, a heavy-duty, all-in-one management solution for large to enterprise-level nonprofits.
There are three key areas in which nonprofits might need Blackbaud consulting services — implementation, custom development, and training. Your organization's Blackbaud consulting project most likely falls into one of more of these categories.

Here at DNL OmniMedia we specialize in providing expert guidance on Blackbaud's suite of products, especially the Luminate platform, one of its most popular software solutions used by nonprofits of all shapes and sizes. To help your team better understand its needs as you begin researching Blackbaud consulting services, we'll walk through each of the main areas of support. Use the links below to jump to the section most relevant to your project:
An effective technology consulting partner should be able to guide your team to success in any of these areas and develop fully customized solutions based on the specifics of your organization and its mission. Let's get started:

1. Blackbaud Implementation
Any new management, database, marketing, or fundraising platform is an important investment of both your organization's money and time. Blackbaud products are top-of-the-line solutions that offer major benefits for nonprofits, so getting started with them should be approached by your team as an extended high-priority project. Blackbaud consulting services can be invaluable in the early stages of your engagement with the Blackbaud suite. Whether you're completely upgrading to a new CRM system or simply adding a new Blackbaud product to your fundraising toolkit, most organizations look for guidance and oversight in the implementation process to ensure everything is configured correctly.
How team DNL's Blackbaud Consulting Services Can Help
The Interlochen Center for the Arts was preparing to kick off its "Create Amazing" capital campaign when it contacted DNL OmniMedia to discuss a fully customized web development solution to help engage more donors. The partnership resulted in a unique new WordPress website with elements integrated with the Luminate CRM and TeamRaiser suites. Custom web and database development meant all of their new peer-to-peer fundraising data flowed seamlessly from system to system, and donors were more motivated than ever to give, thanks to new real-time counters and thermometers across the site: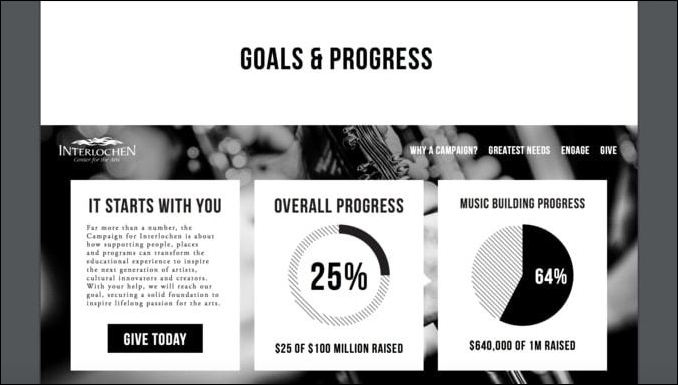 With team DNL's implementation support and custom solutions, the Interlochen Center was up and running with their Blackbaud software in no time. They exceeded their capital campaign goals in large part thanks to their engaging new website elements and peer-to-peer fundraising tools.

2. Custom Blackbaud Development
Customized solutions are among the most valuable Blackbaud consulting services for nonprofits in the long run. While their software is already some of the most useful and robust available, custom developed solutions from Blackbaud consultants can amplify that utility in a way that's perfectly targeted to the unique needs of your organization. Common examples include integrating multiple systems to work together and developing custom websites that report data directly to your central database. Many organizations choose to undertake custom development projects when they implement a new Blackbaud product to ensure it will work flawlessly with their existing toolkit. Others engage Blackbaud consulting for support for a campaign-specific custom development project.
How team DNL's Blackbaud Consulting Services Can Help
One of DNL OmniMedia's very first clients, the North Shore Animal League America has benefited from our customized Blackbaud solutions and technical strategy guidance since 2007. The most important result of our partnership was a custom development project involving the Luminate Online suite, the Luminate website-builder platform, and TeamRaiser. We developed an integration to help North Shore boost the impact of all their ongoing peer-to-peer fundraising campaigns and make it easier than ever for donors to start their own custom campaigns: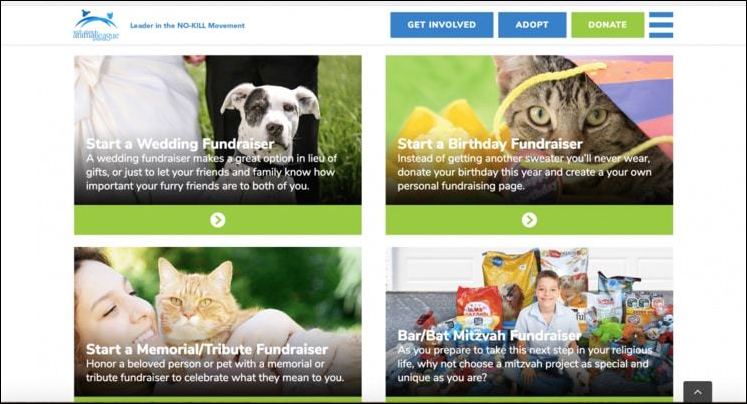 We developed special search tools and custom integrations to ensure all of the valuable fundraising data generated here flowed smoothly into the central TeamRaiser system. More recently, we developed custom donation forms in North Shore's Luminate Online platform to offer donors more intuitive options and increase donations.

3. Blackbaud Training
Although the whole Blackbaud suite of products spans a wide range of functions, they're all extremely feature-rich. To make the most of your new investment, it's essential that your team is all on the same page about the purposes, intended uses, and new protocols of the software. Otherwise, you might risk misusing your new tools, neglecting valuable tools, or even properly reporting important data that your campaigns generate. The most common and often the most important Blackbaud consulting services for nonprofits, training is an essential part of the implementation process. You should also take the time to train your team on how to make the most of any new custom developed Blackbaud solutions your consultant provides, too.
How team DNL's Blackbaud Consulting Services Can Help
The Lupus Research Alliance, the nation's leading advocacy and fundraising organization for lupus research, needed to seamlessly relaunch their brand new website. Since the Alliance was formed by the merger of three separate organizations, its many members and donors depend on the site as a central location for information and resources. DNL OmniMedia worked with the LRA to determine best practices for data management and digital marketing on their new website. We also guided their contracted web developer to ensure their site put these new protocols into practice, delivering results that fully supported the organization's digital goals.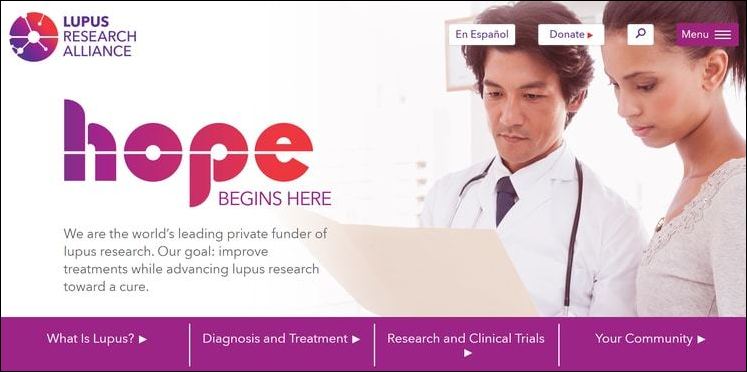 As part of this partnership, we provided the LRA team with documentation for how to maintain their new website and role-appropriate training for those who would be managing it going forward. The final result was a beautiful and highly functional new website that was easy for staff to use and fully integrated with their existing systems.
---
If your organization is ready to make the leap to a new Blackbaud product but is unsure of where to start, an expert guide is probably your best bet. Blackbaud consulting services provide invaluable support and custom development for nonprofits, not to mention essential training that gets your team up and running with your new tools in no time. If you're ready to learn more about how to implement a Blackbaud product into your organization's operations, be sure to continue your research with a few additional resources: