August 10, 2017


Download our detailed Blackbaud training resources and take a free PDF on the go.
Blackbaud products are expansive, customizable, and multifaceted. While having software that's so rich and powerful is definitely a pro, your nonprofit team will be lost fast if you don't learn how to capitalize on your Blackbaud products' extensive feature sets!
While training is certainly a major undertaking, when you know where to look for the most comprehensive, valuable coaching, you'll reduce a lot of the stress associated with learning a new product.
To help you out, we've put together a thorough compilation of the top Blackbaud training resources. We've broken down our resources into 3 sections:
In each section, we'll break down the advantages of each option and provide resources you can use to get started with training.
Looking for Raiser's Edge-specific training resources? Check out our similar post on training options for Raiser's Edge users!
1. Blackbaud Training Consultants
Specialized nonprofit technology consultants with Blackbaud expertise can walk your organization through every part of the implementation process for your new product, including providing a thorough training plan.
Let's look at some specific options you have when it comes to using a Blackbaud consultant.
Top Blackbaud Training Consultant: DNL OmniMedia
At DNL OmniMedia, we're well-versed in the ways of Blackbaud. From migration to configuration to implementation, we can guide you through everything!
Because you may be using a highly customized software system with integrations across multiple Blackbaud (or third-party) products and customizations galore, the benefit of a consultant like DNL is that you can receive comprehensive training that's unique to your organization.
While Blackbaud can offer a variety of resources spread across online and in-person classes, DNL can offer a sequential, personalized training program on whatever Blackbaud products your organization uses, including Luminate Online and Raiser's Edge.
Plus, DNL's services extend even further to include:
General Blackbaud software and fundraising strategy.
Web development and maintenance.
Data import and migration.
Marketing and communications strategy.
Content management and web design.
(And more! Take a look at our services page to see all that we can do.)
Plus, DNL can work with you to design custom configurations and integrations that enhance your Blackbaud system. With DNL, you'll learn more than just how to use your software; you'll learn how to make the most of it.
For example, check out our in-depth guide to Blackbaud TeamRaiser to get a glimpse of the ways you can configure and utilize your software with the help of an experienced consultant like DNL.
Other Blackbaud Training Consultants
For more third-party Blackbaud consulting help, check out these firms:
SYNC Results. A consulting group specializing in education and community outreach organizations, SYNC provides specialized Blackbaud training and implementation assistance. They offer customized training courses in Raiser's Edge, Crystal Reporting, data maintenance, event management, and donor relations.
Leading Edge Software Solutions. With expertise in Raiser's Edge, Financial Edge, and Crystal Reports, Leading Edge helps nonprofits address common issues in integration and implementation of Blackbaud products. They can also perform a database audit to determine areas for improvement in data maintenance, and work with you to establish best practices going forward.
Sidekick Solutions. Dedicated eTapestry consultants, Sidekick provides an exclusive consulting coach to walk nonprofits through the implementation process. They can also supply database administration, guided support, custom reporting, database cleanup, and custom integration support for products like QuickBooks, MailChimp, and more!
No matter which consultant you choose, be sure that they can supply you with a thorough one-on-one training experience that's tailored to your fundraising software and strategy.
2. Blackbaud Training Courses
Blackbaud offers a variety of training options for each of their product offerings as part of Blackbaud University. They've outlined their curricula so that users of all skill levels can add value to their software experience, from learning the fundamentals to fine-tuning their fundraising.
The best way to access Blackbaud's training courses is to sign up for the Blackbaud Learn subscription that most aligns with your training needs. Your team can select one of the following levels:
Learn Basics. As its name would suggest, this Blackbaud Learn option is the most elementary training selection available. With Learn Basics, your team will have access to basic training videos that are available on-demand through Blackbaud University. (Note: this subscription package may be included with your software purchase.)
Learn More. On top of the library of Learn Basics training videos, Learn More offers virtual instructor-led training classes designed to support all skill and experience levels. Plus, Learn More gives you the opportunity to become certified in your Blackbaud product by completing certification exams (only available for some software).
Learn Everything. The most inclusive training package, Learn Everything provides all the training Blackbaud has to offer. In addition to online content, your team will also be able to take advantage of in-person classes at Blackbaud's regional classrooms. You can also participate in Nonprofit Workshop courses, which promote nonprofit best practices and thought leadership.
But if you're only looking for a single class, you don't have to purchase a Learn subscription; you can register for any course (that you meet the prerequisites for) as a single class, too.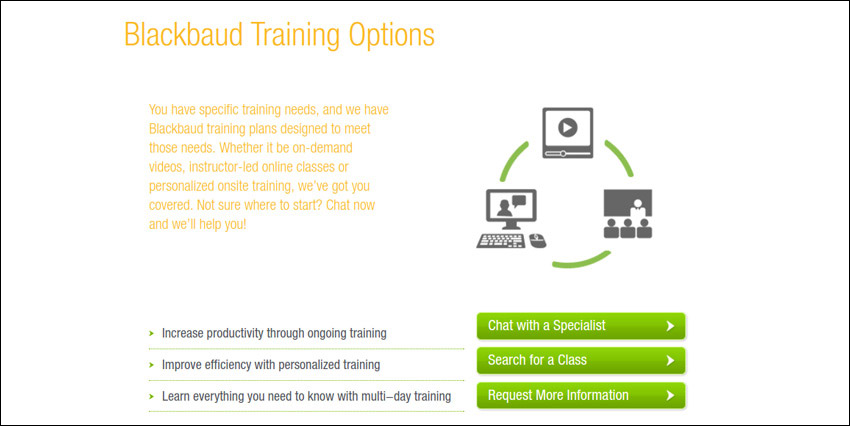 Now that you know how you can access Blackbaud's training, let's dive into the types of training you can receive.
Blackbaud Online Training
Blackbaud offers on-demand and instructor-led training online through Blackbaud University. The classes available for each product are broken down in individual datasheets available on Blackbaud's website.
Essentially, the online training options can be divided into two subsections:
On-demand eLearning courses, which are pre-recorded, product-specific training videos accessible at any time for your organization. These resources can be an excellent supplement if your team needs a refresher on a certain aspect of your product, but since they aren't tailored to your organization, you probably shouldn't rely on them for your full scope of training.
Instructor-led virtual classes, which offer a more personalized online training option. You can select an online course as part of the curriculum for your product, or reach out to Blackbaud for personalized remote training using your specific, task-oriented agenda.
The benefit of online training is pretty clear—it's the most convenient training option available! However, be wary that online training, particularly on-demand resources, are typically not as comprehensive and likely won't give you the broad range of training you might need for your product.
Blackbaud Onsite Training
If you want more hands-on help, Blackbaud does provide some onsite training options, including:
Regional classroom sessions in various cities across the country. You can view Blackbaud's events calendar to find courses that correspond with your product(s) and training needs, and then sign up to learn valuable skills alongside your nonprofit peers.
Personalized onsite courses with an agenda unique to your software and strategy needs. In these private training sessions, you have the option to use sample Blackbaud data or your own database to obtain the most detailed, specific training available.
While onsite training tends to be more expensive, it's highly advantageous if you need in-depth, one-on-one training for many different members of your team.
If you choose to make Blackbaud your primary source for training, you'll more than likely end up utilizing a mix of online and onsite training courses. Because Blackbaud's training options can be varied, mixing the two together can provide a more comprehensive set of resources.
3. Free Online Blackbaud Training Resources
Aside from online training videos and instructor-led classes, Blackbaud also offers a number of free online resources to augment your software training.
Let's look at the kinds of resources you'll find online outside of Blackbaud University:
Free Blackbaud how-to documentation. Blackbaud has compiled an extensive list of free documents available to provide guidance and answer questions on specific products. While this list might seem exhaustive at first glance, keep in mind that a single guide can span hundreds of pages and require serious time and energy to digest, much less implement. See why an expert consultant is so important?
Blackbaud Community. For one-off questions or problems, you can crowdsource help from Blackbaud's diverse user base by posting in the Blackbaud Community forums. In the Community, you'll also find blogs, online events, and more; all you need is your Blackbaud ID to log in and access a wealth of supplementary resources.
Third-party technology guides. With a little digging, you'll also find a number of free resources and documents from non-Blackbaud sources. While these addendums can be helpful, keep in mind that they may not always be reliable. For guaranteed success, you should turn to Blackbaud or a trusted Blackbaud partner consultant.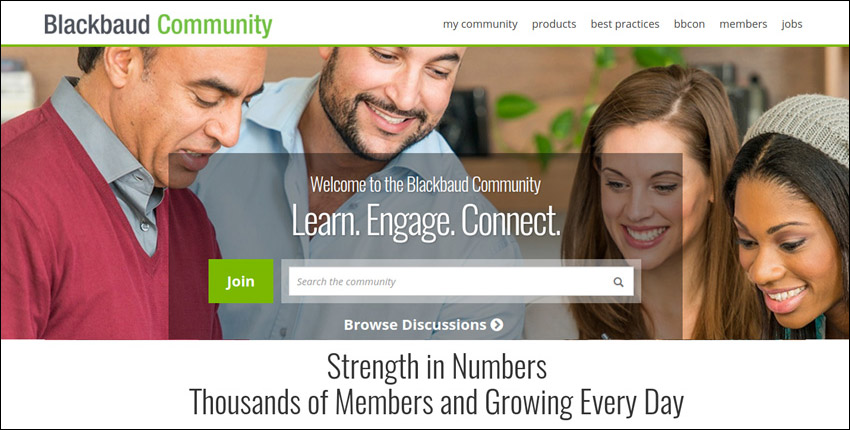 In a pinch, you can also take advantage of the insight from reputable nonprofit blogs, such as the Team DNL Blog! While not training in and of itself, you can learn quite a bit about navigating the Blackbaud buying process and gain insight into Blackbaud software implementation whether or not you're a Blackbaud user yet.
For example, our post on Luminate Online Marketing data migrations can help you gear up to use Blackbaud's Luminate Online and give you a good starting point for what you'll need as you actually move into implementation.
Remember: free online resources and how-to guides can be extremely helpful during training and implementation (or even down the road), but they're not designed to be used as your only source of training.
For best results, work with your vendor and your nonprofit consultant to develop a full training program that completely responds to your unique goals and needs as an organization. Trust us: the up-front investment will be well worth it when you're able to use your Blackbaud software in the most efficient, effective way!
---
Training is an integral part of the Blackbaud implementation process. After all, why spend your hard-earned funds on software that you can't use to its fullest potential?
Don't forget to check out these additional Blackbaud resources for best results:
Download this DNL Blackbaud Training Guide:

Download our detailed Blackbaud training resources and take a free PDF on the go.