February 1, 2023


In today's world, nonprofits rely on their technology to help bring them closer to their goals. From bringing in revenue to connecting with constituents, the right technology can save your team time and help you facilitate a better donor experience.
Nonprofits looking to reassess or develop a new technical strategy should consider partnering with a nonprofit technology consulting firm. Nonprofit technology consultants can help you complete a technology assessment, develop a new technical strategy, implement new systems, and provide reliable ongoing support.
In this guide, we will provide an overview of nonprofit technology consulting essentials, Team DNL's services, and what you can expect when working with a firm:
The details of nonprofit consulting partnerships will vary depending on the consultant's services and your specific needs. Your nonprofit is unique, so your solutions and strategies should be too.

Why work with a nonprofit consulting firm for tech?
Nonprofit consultants have a wide range of specialties, including consulting services for marketing, grants management, capital campaign planning, and more. While there are many technology consultants available, take the time to evaluate what they specialize in and the services they provide.
Technology consultants may offer services in a variety of areas. A few of these areas are:
Implementing new technical solutions
Managing a major data migration
Customizing software to incorporate key functionality needed for success
Training staff to navigate technical solutions effectively
Creating a strategy to use data to improve a nonprofit's efforts
Providing ongoing technical support
Of these services, fewer consultants offer ongoing support. However, for organizations conducting urgent or complex projects, a consultant that provides ongoing support can be a cost-effective alternative to hiring an internal team member to oversee their technology. The consultant can act as an extension of your team by improving your project's efficiency, assisting with maintenance, and resolving any technical issues that may arise in the future.
Ongoing support can be especially helpful for organizations interested in completing their project in phases. Rather than finding a new consultant for each phase, you can partner with one consultant who is already familiar with your technology and can ensure your system remains cohesive.
How do you choose a nonprofit tech consulting firm?
The consultant you partner with can provide insight that significantly changes your organization's technical toolkit and your team's approach to technology. To ensure this change is a positive one, dedicate time to researching and assessing each potential consultant.
To find a consultant whose services and methods align with your nonprofit's needs, follow these steps: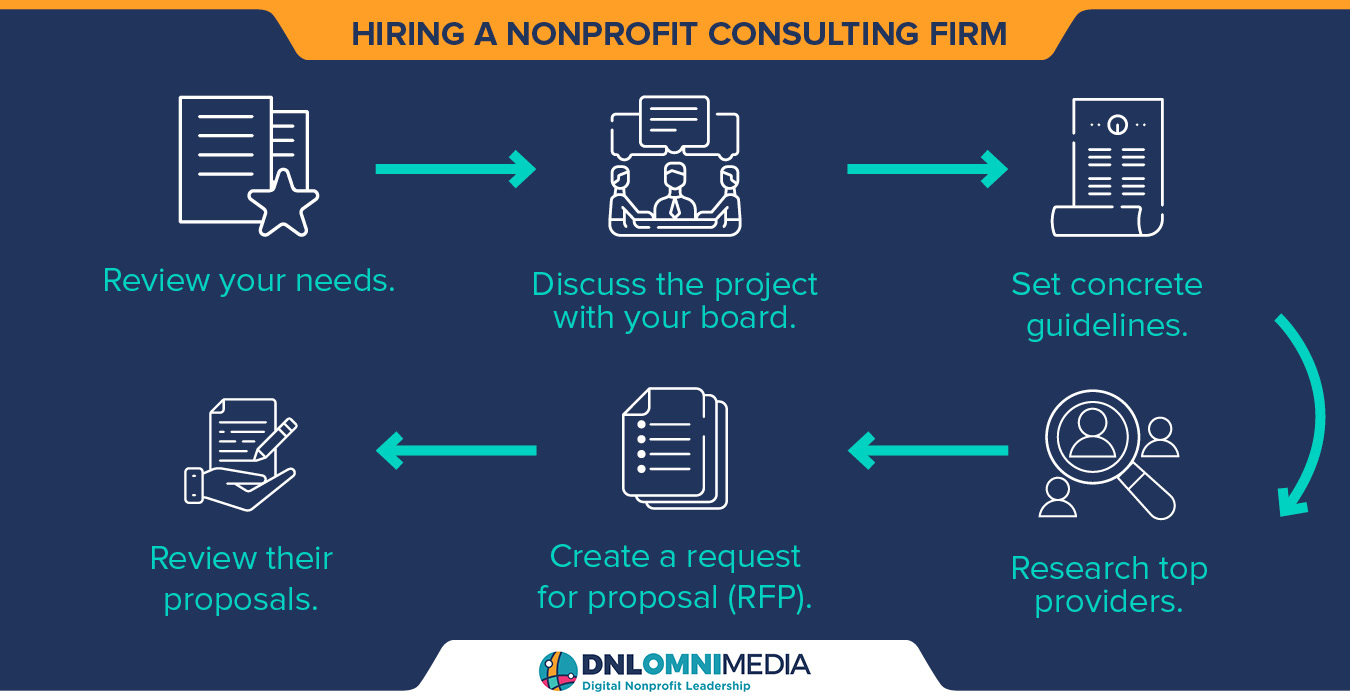 1. Review your needs.
Begin by defining your organization's needs. To start, ask yourself the following questions:
What will this consultant help accomplish? For example, if you're implementing a new employee engagement tool, you might need a consultant's guidance for using the tool effectively after it has been set up.
What are your short and long-term goals? Your technology should streamline a process or help your nonprofit accomplish something. Be clear about your expectations for the platforms and how a consultant can help you achieve those goals.
What role will your consultant play in achieving these goals? Not only should you know what the consultant can help with, but also how they can help. Establish your expectations for the consultant, such as their level of involvement or their availability to answer your questions.
Writing these thoughts out can be extremely helpful, especially for future discussions with your board or meetings with consultants. That way, you ensure everyone is on the same page about your expectations and that you don't leave anything out.
2. Discuss the project with your board.
Get your board's approval early in the process. You'll need to present all the essentials of the engagement, including:
The intended role of the consultant
Your proposed budget for consulting services
The potential return on investment of hiring a consultant
For example, if you want technical support for managing data in your new CRM, explain to your board why the technical support is needed, what specific guidance the consultant should provide, and how much the engagement will cost your organization.
3. Set concrete guidelines.
Outline key parameters for your project, including your goal's start date, end date, and budget. Be sure to include evaluating consultants in your timeline, as this process can often take several weeks or months.
4. Research top providers.
Find potential consultants by using resources immediately available to you, including:
Reputable online sources: These may include consulting guides or online reviews.
Referrals from other organizations in your field: Ask the other nonprofits in your network which consultants they've used and what their experiences were like.
Specializations in specific technologies: For example, if you're looking for SalesForce support, search for a consultant who specializes in the platform.
Conduct thorough research of these top providers, considering reviews of other organizations that have used their services. You might even make a chart to compare the services of top providers and determine which services are most important to your nonprofit.
5. Create a request for proposal (RFP).
Your RFP is a document that outlines your project and prompts consultants to explain how they would approach it. Once you have narrowed down your potential consultants to a few top candidates, send them your RFP to compare their proposed solutions.
6. Review their proposals.
Rank each consultant based on their response to your RFP. Reach out to candidates with questions if you need additional context to make a decision.
From there, your nonprofit will be poised to select your nonprofit consultant. While there are many consulting firms, nonprofits seeking a partner to assist with their digital strategy, data management, software implementation, marketing, and ongoing technology maintenance should consider DNL OmniMedia.

Team DNL's Nonprofit Technology Consulting
At DNL OmniMedia, we work with large organizations and growing nonprofits to help them use technology to reach their fundraising and advocacy goals.
We're well-versed in the most popular, robust nonprofit solutions on the market, including products by Blackbaud, Salesforce, and EveryAction. DNL OmniMedia has even been a premiere Blackbaud partner since the program's inception and can develop custom products and add-ons not normally offered by Blackbaud.
Our nonprofit technology consulting services are wide-ranging. Here's what we offer: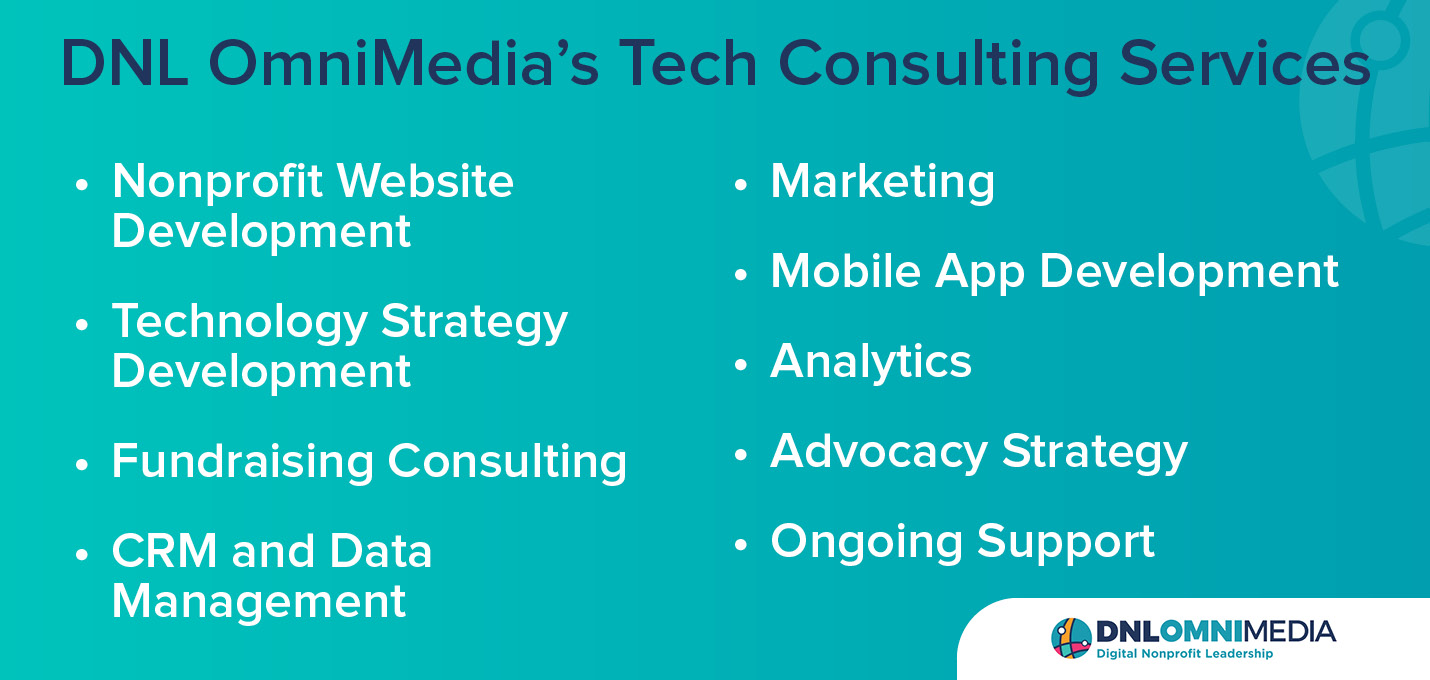 Nonprofit Website Development: Whether you need help registering your domain name or fully designing and managing your website, our developers can help your nonprofit optimize your online presence. Explore a few of our past web design projects.
Technology Strategy Development: Our team can audit your current technology stack and help you develop a strategy to ensure your social media, website, fundraising platforms, CMS, CRM, and more all work in tandem toward your goals.
Fundraising Consulting: Our consultants are well-versed in the world of nonprofit fundraising. We can craft a technology-first strategy to help you discover, acquire, and steward your donor base.
CRM and Data Management: Our services include migrating data and files across your solutions and customizing your CRM to meet your exact needs.
Marketing: Our nonprofit marketing services include pay-per-click marketing, social and organic content management, event planning, video, digital marketing, and more.
Mobile App Development: Our team can craft custom mobile apps that empower your nonprofit to use your Luminate Online instance to the fullest extent. Explore our custom mobile app offerings in more detail.
Analytics: Learn more about your nonprofit's operations with web analytics, data analysis, strategic planning, digital measurement and testing, and reporting and visualizations.
Advocacy Strategy: Our team can conduct a needs analysis for your nonprofit's advocacy strategy, source software, and customize solutions as needed to advance your advocacy efforts.
Ongoing Support: Organizations that sign up for DNL+ will receive ongoing support services that include website monitoring, strategic support, and access to exclusive educational resources. Additionally, our team will host training sessions to help familiarize your staff with new software and provide documentation to get new hires up to speed quickly.
To learn more about partnering with our team at DNL OmniMedia, get in touch today with information about your project.

Timeline of a Nonprofit Tech Consulting Engagement in 6 Steps
While the specifics of each consultant partnership will vary, there are six general steps for nonprofit consulting projects.
These steps are broken into two phases: an initial technology assessment and the implementation of the updates recommended after that evaluation. These are two separate nonprofit technology consulting engagements, but when put together, they describe the process of working with a technology consultant from start to finish.
Here is an overview of these six steps to help your organization prepare for and know what to expect from working with a consultant.

Phase 1: Conducting a Nonprofit Technology Assessment
Step 1. Envision Your Strategy
The first step in improving your digital strategy is understanding your nonprofit's current technology.
At the beginning of your engagement, your nonprofit consultant should work with you to get an understanding of your nonprofit's operations. You'll likely need to answer questions such as:
What technology solutions are you currently using?
What fundraising practices are key to your strategy?
How clean and up-to-date is your data?
Who uses your software on a regular basis?
Speak with your staff across different departments to learn how they are leveraging your technology currently. This will provide insight into which processes are working well, what your team is confused about, and if your team has any specific requests or concerns about your technology.
Together, you and your consulting partner will assess your current practices, ideal outcomes, and project parameters (e.g., timeline, budget, staff availability). Once you've agreed upon a vision for your nonprofit, you can begin implementing your new technology strategy.

Phase 2: Implementing Your Tech Strategy
Step 2. Plan Your Implementation
Based on the results of your technology assessment, your consultant may advise implementing a new strategy or even investing in a new software solution.
Implementing a new software solution, particularly a keystone platform like your CRM, will require help from a consultant. Work with them to establish a clear implementation plan. This includes:
Establishing needed features. What exactly do you want your technology to do for your organization? Determine what features and functionalities you need to complete your goal. For example, your organization may be planning to grow and requires a scalable messaging and communication platform that allows you to create custom email series. Create a list of your top features that you can share with your consultant.
Setting short- and long-term goals. Consider what your technology will help you accomplish in the months immediately following your implementation, as well as down the road in 5-10 years. Developing a clear map for the future now can help you create tangible benchmarks to achieve long-term goals. If your organization is considering ongoing enhancements or completing projects in phases as part of its long-term goals, consider partnering with a consultant that can grow with your and your team. This consultant will become familiar with the inner and outer workings of your organization, allowing them to provide more insightful advice for how you can leverage your technology to complete your goals.
Defining responsible parties and delegating tasks. How much of the implementation will be managed by your consulting team? Who on your staff will take the lead on cleaning up data, documenting processes, or coordinating with your vendor? Getting your staff on the same page in terms of responsibilities will ensure all core responsibilities are accounted for.
Establishing an implementation timeline. When will you go live with your technology? Will you train your entire staff or just a select group of individuals who will then share training documents with their teams? Does your consultant offer ongoing training? Establish contingencies in the event that part of your implementation experiences a delay or ends up needing more time than anticipated.
Consider if your nonprofit also expects to need additional consulting services after your initial project, like ongoing support. Nonprofits that partner with consultants like DNL OmniMedia will be able to work with them long-term and ensure their technical solutions are successful long after their implementation.
Step 3. Build out Your Solution
After finalizing your plans, your consultant can begin helping you build out your solution. Typically, the building phase follows a few key steps:
​Design. Using your goals as a guide, the consultant will design a solution that fits your nonprofit's previously outlined needs. This might mean customizing your CRM, building a middleware application, or planning out an integration strategy. Provide your consultant feedback to ensure their proposed solution fits your operations and strategy.
Develop. After mocking up a solution, the consultant will put their plan into action and build out the development or customize an existing system.
Migrate. Once the new solution is ready to use, you'll need to migrate your data. For your migration, you may need to create a separate timeline and appoint a data manager from your team to take the lead on this crucial part of your implementation project.
Implement. Finally, your solution is set up and able to be tested before launch.
The timeline for this phase of the project will vary depending on your organization's vision.
For example, if your implementation entails customizing a platform with limited customization and more out-of-the-box features like Raiser's Edge NXT from Blackbaud, the design and development process should be relatively swift, and implementation will be relatively straightforward.
By contrast, if you're using a highly customizable, enterprise-level CRM such as Salesforce for Nonprofits development and migration might be much more complex, leading to a longer implementation timeline.
Step 4. Stabilize Your Solution
Before you can officially roll out your new system, your consultant will need to make sure your technology is implemented correctly and ready for staff use.
The stabilization phase of your implementation requires testing and troubleshooting your software. To do that, your nonprofit and your consultant may:
Start a user testing group. Select a few team members from various departments to test your new software solution. Have them complete an initial set of basic tasks before working them up to using the software to complete their day-to-day responsibilities.
Check that data flows correctly. Verify that your data flows correctly from system to system, especially if you integrated multiple platforms.
Troubleshoot technical problems. If you encounter errors, work with your consultant to determine the source of the issue and implement a solution. This may also include working with your staff to establish foundational best practices for using the software.
Testing your new technology before rolling it out to your entire organization will help you catch potential problems early. Work with your consultant to identify, document, and resolve these issues to stabilize your solution.
Step 5. Deploy Your Solution
Plan how you will deploy your solution. Depending on the scope of your solution, the complexity of the technology, and the number of team members using it, you may implement your solution across your organization all at once or roll it out over a set period of time.
However, no matter the scale, your nonprofit will need to have a plan for:
Communication. Your nonprofit's implementation manager should be responsible for communicating the technology change to your staff, answering questions that arise before and during deployment, and documenting major steps in the transition.
Training. Your technology vendor may provide some level of training, but for the best results, continue working with a nonprofit technology consultant who understands your specific needs and can create a custom training plan to help you achieve your goals. Your consultant should also provide documentation for these training sessions to help future team members familiarize themselves with your technology quickly.
Feedback. Once you have a wide user base operating within the solution every day, new challenges or concerns may pop up. Create a plan for how you will collect and address feedback from your users and who will be in charge of coordinating solutions for any new problems that occur.
Remember that software implementation is a collaborative process. Work with your team to maximize your software's potential and work toward your goals.
Step 6. Maintain Your Solution Over Time
Following implementation, you and your consultant should continue to work together to ensure a smooth software experience for many years to come. For certain projects, it can be highly beneficial to partner with a consultant who offers ongoing support to continue maintaining and improving your solution over time.
Plan for your technology consultant to remain a part of your nonprofit after the initial implementation project concludes, as they can continue providing key services like:
Support. If you've implemented custom configurations or integrations, you may run into challenges that your vendor's support team doesn't have the expertise to manage. Make sure you have a plan for how your consultant will support you if you experience any problems with the solution they've set up. Additionally, some consultants offer ongoing support services such as site monitoring, ensuring that they will identify and notify you of any issues that occur and help you plan for how to resolve them.
Campaign or data management. You may need additional guidance as you run fundraising campaigns and collect supporter data, and your technology consultant can help. For example, your consultant can provide ongoing KPI reports, business reviews, and technical reviews.
Ongoing development. As your nonprofit grows and takes on new types of initiatives, you may need to add more integrations, reconfigure your software, or switch to an entirely new platform. Reach back out to your consultant to receive assistance with these new projects.
Training services. Documentation can go a long way toward helping your new team members learn your software. However, you can get your team up to speed even more quickly by partnering with a consultant that offers ongoing training opportunities throughout the year.
Before you wrap up your initial engagement with your nonprofit consultant, work together to develop documentation for all of the processes you've established. That way, you'll have written documentation and resources to reference when questions or challenges arise.
---
Partnering with a knowledgeable nonprofit technology consultant can help your nonprofit with much more than just the technical aspects of software implementation. Your consultant can be your educator, advocate, and expert resource in almost every aspect of your technology strategy.
For more on nonprofit technology, check out these additional resources: