December 8, 2017


Investing in robust nonprofit software is always a difficult decision— especially because there are two leaders in the market that often match when it comes to functionality, price, and accessibility.
Of course, we're talking about Blackbaud's Raiser's Edge NXT and Salesforce's Nonprofit Success Pack (NPSP). These two solutions reign supreme when it comes to nonprofit management, and it's often difficult for nonprofits to choose which platform to work with. Because these solutions both represent substantial investments of time and resources, it's essential that you choose the right solution for your organization from the start.
While there are some key differences between the two products, they also have quite a bit in common. Check out this chart with a high-level overview to see what we mean: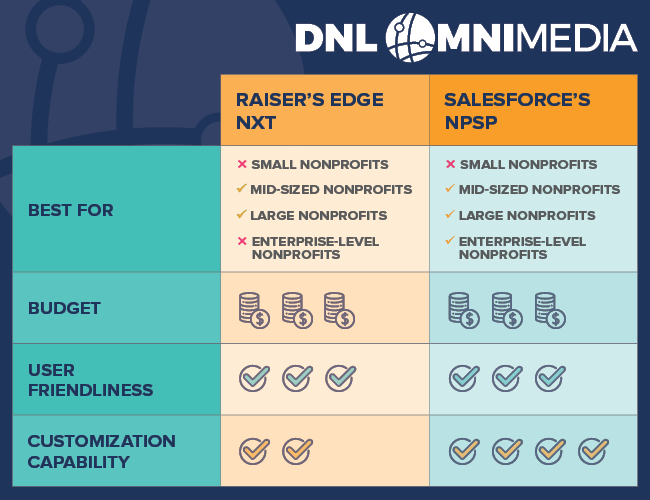 At DNL OmniMedia, we have extensive experience working with both Raiser's Edge NXT and Salesforce's NPSP. We've put thought into the pros and cons of each solution and to offer a full comparison. Or, feel free to navigate to the solution that piques your interest:
In this post, we'll explore the differences between RE NXT and Salesforce's NPSP, so that you can get a better idea of which tool is the right technology for you. We'll explore each solution independently, before wrapping up with a quick overview of both.
Let's get started.
---

1. Blackbaud's Raiser's Edge NXT
For many nonprofits, the Blackbaud name is a familiar one. As a legacy software provider specifically serving organizations working in social good, Blackbaud offers a variety of database solutions for nonprofit organizations including Blackbaud CRM and Raiser's Edge NXT.
In this guide, we're going to focus on Raiser's Edge NXT as an ideal solution for mid-sized to large nonprofit organizations.

Raiser's Edge NXT: The Basics
What is Raiser's Edge NXT?
RE NXT is Blackbaud's most popular nonprofit solution, marketed as an out-of-the-box, fully-functional product for nonprofits. While less customizable than Blackbaud CRM, the Raiser's Edge NXT CRM and fundraising solution is still comprehensive and scalable to fit the needs of mid-sized and large nonprofit organizations alike.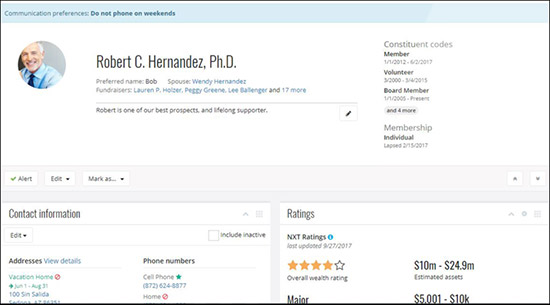 Created specifically for nonprofit use, RE NXT is often praised for being user-friendly and accessible for nonprofit professionals. The solution will likely require less customization than comparable platforms to get up-and-running, but organizations will likely want to work with technology consultants to migrate to and begin using the solution.
Raiser's Edge NXT Features
At its core, RE NXT is a fundraising and relationship management system. As such, it has the following features:
Donation management. Process online gifts using Blackbaud Merchant Services and keep track of those transactions within donor profiles in the CRM. Further, set up campaigns tied to specific fundraising initiatives and solicitations to monitor the success of your efforts.
Supporter engagement. Store all essential donor data, from generic information to custom fields corresponding to your organization's needs, for a full picture of your donor base. From there, create supporter lists around shared characteristics, targeting your outreach and analytics more precisely with a tie to donor information.
Internal operations optimization. Create role-based work centers corresponding to how different members of your team will be using the platform. Easily manage individual projects and responsibilities on a daily basis, using one software solution.
Marketing and communications. Manage contact information ensuring it's always up-to-date. Generate email marketing, social media, and direct mail campaigns with customizable templates. Then, track responses, automatically flagging supporters that your team needs to follow-up with.
RE NXT's features allow organizations to get up-and-running fairly quickly, while also allowing for customization as the nonprofit continues to grow. Check out this guide to Raiser's Edge for more information on the platform's features.
How much does Raiser's Edge NXT cost?
RE NXT is a robust software solution, meaning that its sticker cost isn't likely to be in-budget for smaller nonprofit organizations just yet. For mid-sized to large organizations, however, this could be the perfect solution! We recommend requesting a quote from Blackbaud to discover whether this solution is a smart investment for your organization.
It's important to remember that the cost of a solution such as RE NXT doesn't only include the licensing fees that allow initial access to the software. You'll also likely want to invest in consulting services to manage the initial data migration— a common headache for organizations working with robust solutions— and training of your team to ensure the system is being used to its fullest potential.

RE NXT Key Strengths
Blackbaud's RE NXT was built exclusively for nonprofit use, which many organizations see as a major benefit. You can trust that the product will cover typical nonprofit needs (such as fundraising and donor engagement), right out of the box.
This means that the software does not require third-party integrations to provide comprehensive support for nonprofit operations. This does not mean that organizations won't want to invest in customization, training, and support, however. While the implementation period can be relatively swift as the software is ready-made for general nonprofit needs, your organization will likely want to work with a tech expert to ensure the software is built to meet your exact needs.

Who uses Raiser's Edge NXT?
Does Raiser's Edge NXT seem like the ideal solution for your organization? Well, let's paint a picture of the organizations likely to make the most of a solution such as this:
Mid-sized to large nonprofit organizations.
Nonprofits with active but relatively straightforward fundraising and outreach strategies.
Organizations whose needs require less customization.
Nonprofits desiring a shorter implementation timeline.
If that sounds like your organization, Blackbaud's Raiser's Edge NXT may be the solution for you.
Need some help getting set up with Raiser's Edge or developing a custom nonprofit technology system? Team DNL has got you covered. Explore Blackbaud support options today.
Learn more about RE NXT here.
---

2. Salesforce's Nonprofit Success Pack
Salesforce has long been a popular name in for-profit data management, with large businesses and enterprise organizations turning to the provider to manage their customer relationships. With Salesforce's extensive integration marketplace— the Salesforce App Exchange— these businesses are able to extend the capabilities of their Salesforce product with native applications.
Now, with Salesforce's Nonprofit Success Pack (NPSP), nonprofits can benefit from the Salesforce ecosystem as well.

Salesforce's NPSP: The Basics
What is Salesforce's NPSP?
Salesforce's NPSP is a pre-configured version of the Salesforce CRM that makes it useful for nonprofit organizations.
Essentially, the NPSP takes the Salesforce CRM and begins customizing its data model to better fit the needs of nonprofit organizations. Think of it as laying the core data management foundation that nonprofits need to begin actively using the platform.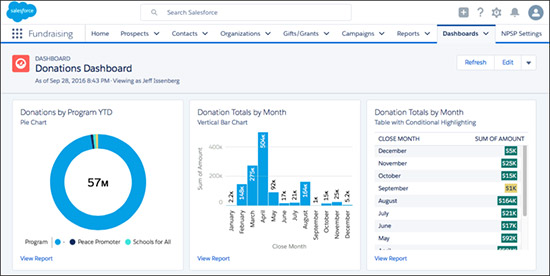 The standard Salesforce data model includes tracking of accounts (records about sources of funding), contacts (records about individual stakeholders), opportunities (records of promised donations), and campaigns (records about the progress of nonprofit activity). The NPSP builds upon this with abilities to track relationships and affiliations, templates for engagement plans, and even information surrounding recurring donations.
Salesforce's NPSP: Features
The NPSP configures the Salesforce CRM to have the following nonprofit-specific features:
Relationship tracking features. Create in-depth supporter profiles to understand your donors' relationships with your organization and one another (affiliation tracking). Track households, business relationships, and friends and family connections within the Salesforce CRM.
Program and campaign management features. With your CRM's built-in functionality, track one-time and recurring gifts, volunteer involvement, and the progression of fundraising campaigns. Further, integrate your CRM with native AppExchange solutions for increased functionality.
Reporting features. Salesforce shines in its reporting, analytics, and data management. Make the most of the solution's pre-configured reports or create custom reports specifically targeting your needs. Learn more about Salesforce's reporting features here.
Customization features.

While the Salesforce CRM is closed-source, the NPSP is open-sourced. Created by nonprofits, for nonprofits, the collaborative NPSP is fully flexible to your organization's needs.
While the Salesforce CRM and NPSP configuration are a great starting point for organizations looking for a robust solution, you'll likely want to invest in integrations with third-party apps for nonprofits. Learn more about these Salesforce-native solutions through this resource from Fonteva.
How much does Salesforce cost for a nonprofit?
The NPSP itself— the nonprofit configuration— is initially free of charge, so organizations just have to pay for the use of the Salesforce CRM and any additional applications they choose to invest in to increase functionality. Nonprofits can access the NPSP free for up to 10 licenses, then pay per-license, per-year after that. This means that depending on the number of licenses needed, Salesforce could be a cheaper solution than RE NXT.
For the basis of this guide, however, we're going to say that software-to-software, RE NXT and Salesforce's NPSP level out similarly when pricing is concerned.
Just as with RE NXT, however, it's important to realize that your organization will want to invest in Salesforce consulting when first getting started with the NPSP. From the initial implementation and customization of the platform, to training to ensure your staff can make the most of the solution, you'll want to factor consulting into your budget. This means that, just as the RE NXT platform, the NPSP is likely best suited for organizations with a larger budget.

Salesforce's NPSP Key Strengths
If your nonprofit is seeking a constituent database with virtually no limits, the Salesforce CRM with the NPSP configuration may be the solution you're seeking.
Working with a nonprofit technology consultant, your organization can build upon the NPSP configuration to create a fully-customized, interconnected CRM solution to benefit your organization for years to come. This means that you're able to invest in this solution and then maintain it through growth and change, reconfiguring it to fit your exact needs rather than scaling up to another solution.

Who uses Salesforce's NPSP?
Does Salesforce's NPSP seem like a good solution for your organization? Let's consider the ideal NPSP candidate:
A mid-sized to enterprise-level (not small) organization.
An organization with more complex needs, desiring a fully-customized solution.
A nonprofit that's open to a longer, more involved implementation process.
A nonprofit that would rather invest heavily in a scalable platform now rather than upgrade again in the future.
If that sounds like your organization, you'll probably enjoy the robust customization offered through a Salesforce solution.
Learn more about investing in a Salesforce solution here.
---

Raiser's Edge NXT vs. Salesforce's NPSP: The Last Word
When choosing between two comprehensive database solutions that are so equally matched when it comes to meeting a nonprofit's needs, it's up to your organization to decide which factors are most important. During your analysis, focus more on the differences between the two solutions and where one may win out in the scope of your organization's working style.
Let's examine the differences between the two solutions side-by-side, for a clear illustration of where they differ:
Raiser's Edge NXT

Nonprofit Success Pack

A full CRM built specifically for nonprofit organizations.

Shorter implementation period with less customization ability.

Appropriate for mid-sized to large organizations, but not enterprise-level nonprofits.

A CRM configuration, making a for-profit solution effective for nonprofits.

Longer implementation period with extensive customization available.

Appropriate for mid-sized, large, and enterprise-level nonprofits.
With this chart, it's easy to see where the two platforms diverge. For organizations looking for an out-of-the-box solution, RE NXT might be where they would want to look. However, for organizations looking for extensive customization abilities, they would likely be better off with the NPSP.
Evaluate the differences between these two key solutions in this manner to decide which camp your organization falls into. The solution matching more of your needs will likely be the best fit.
Which Solution is Right for Your Nonprofit?
We know that RE NXT is a very natural choice for many nonprofits. Its out-of-the-box functionality and fairly comprehensive, nonprofit-centric features make it a standout among many CRM solutions.
At the same time, the NPSP is an equally powerful solution for organizations that are able and prepared to put in the work to implement it. When customized for an organization's exact needs, this solution is equally ideal.
Both Blackbaud's RE NXT and Salesforce's NPSP are robust solutions for nonprofit organizations, and it really just depends on what your organization prioritizes. However, no matter which solution you choose, you'll want to factor in the cost of nonprofit technology consulting to navigate the migration, implementation, and customization process.
Have more questions? Still unsure of your nonprofit's needs? Feel free to reach out to Team DNL to discuss your options and potential next moves. We'd be happy to share our insights and recommendations.
---
Both of these trusted nonprofit databases can serve your organization well if you know how to use them effectively. Take some time with your staff to determine where technology fits into your efforts, and don't be afraid to seek out a qualified nonprofit technology consulting firm to help you smooth out your strategy.
For more on Raiser's Edge, Salesforce, and other technology solutions check out these resources:
Nonprofit Technology Consulting: 6 Steps to Success. Learn how to get the most from your software solutions by working with a nonprofit technology consultant! In this post, we walk through what the technology consulting process looks like so you know what to expect and what to look for in a top-notch consulting team.
Tips for Hiring a Salesforce Nonprofit Consultant. Unless you have an in-house development team with Salesforce expertise, you'll need some help implementing this versatile CRM. Read our advice before you hire your Salesforce consultant to make sure you find the right technology partner for your goals.
Top 10 Blackbaud Partners. Raiser's Edge is great on its own, but did you know you could make this software even more powerful? You can! Snowball's list of the best Blackbaud partners can be your guide as you implement a nonprofit fundraising system that meets all of your needs.