December 8, 2017


Deciding what technology your nonprofit will use is always a daunting decision. With so many software choices available and so much you can use your technology to do, it can be challenging to formulate a strategy and then find the right platform to execute it.
If your nonprofit is in the market for a comprehensive technology solution, there's no doubt your research has led you to two of the nonprofit software world's major players:
While both solutions can help you take on a variety of common nonprofit challenges, from fundraising to donor management and much more, there are some key differences between the two products that we want to break down. For a high-level overview, we've put together a handy chart comparing the two platforms:
In this post, we'll explore the differences between Raiser's Edge and Salesforce so that you can get a better idea of which tool might be the right technology for you. Now, let's get to the comparison!
---
1. Blackbaud Raiser's Edge
Raiser's Edge Features
For nonprofits, the Blackbaud name is a familiar one. With a vast family of products designed to help organizations achieve all of their goals, Blackbaud has plenty to offer, and Raiser's Edge is one of their most popular software choices.
At its core, Raiser's Edge is a fundraising and relationship management solution with features including:
Donation management. Process online donations using Blackbaud Merchant Services and track those transactions within your donor profiles. You can also set up campaigns to monitor specific fundraising initiatives and solicitations.
Supporter engagement. From generic information to custom fields, store everything you need to know about your constituents in one place. Create supporter lists based on shared characteristics to make outreach and analytics even more targeted.
Role-based work centers. Because no two members of your team will use Raiser's Edge the same way, you can leverage the built-in work centers to manage individual projects and responsibilities on a daily basis.
Marketing and communications. Keep constituents in the loop through email marketing, direct mail, and social media. Track contact information and send tailored appeals using customizable templates. Then, manage responses and automatically flag donors in need of follow-up.
Learn more about what Raiser's Edge has to offer by reading our complete before-you-buy guide!
Raiser's Edge Key Strengths
Unlike the core Salesforce CRM, Raiser's Edge was built exclusively for nonprofits, which in itself can be a major benefit. You can trust that the product will account for typical nonprofit needs, such as fundraising and donor engagement, right out of the box.
While Raiser's Edge can be customized or expanded to fit more specific needs, this software does not require third-party integrations or extensive customization to provide comprehensive support for nonprofit operations. For that reason, the implementation period for Raiser's Edge can be relatively swift, and you won't have to be a technology expert to get started with or manage your use of the platform (though some training will inevitably be needed).
Is Raiser's Edge Right for Your Nonprofit?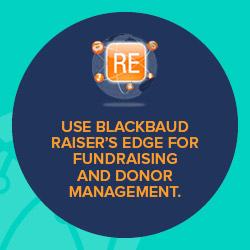 Of course, to know if Raiser's Edge is truly the right product for you, you'll need to assess your specific goals and current operations. But generally speaking, Raiser's Edge might be a strategic choice if your nonprofit…
Is a mid-sized to large organization.
Has relatively straightforward fundraising and outreach strategies.
Has a somewhat flexible budget to account for product cost as well as implementation and training.
Has a faster implementation timeline.
If that sounds like your nonprofit, you'll probably enjoy the out-of-the-box functionality that Blackbaud Raiser's Edge provides.
Need some help getting set up with Raiser's Edge or developing a custom nonprofit technology system? Team DNL has got you covered. Get started with us today
---

2. Salesforce for Nonprofits
Salesforce Features
Large businesses and enterprise organizations turn to Salesforce to manage their customer relationships, and nonprofits with complex needs can do the same to manage a variety of projects and tasks.
Through Salesforce's Nonprofit Success Pack, you'll gain access to a pre-configured version of Salesforce CRM designed to meet nonprofit needs. Its features include:
Relationship tracking. With Salesforce, you can create in-depth supporter profiles to analyze your constituents' relationships with your organization and other constituents. Manage households, business affiliations, and friends and family connections all within your CRM.
Program and campaign management. You can track one-time gifts, recurring payments, volunteer involvement, nonprofit programs, and fundraising campaigns within Salesforce through your CRM's built-in functionality or by connecting third-party AppExchange applications.
Reporting. Salesforce offers some of the most robust reporting and analytics tools available for nonprofits. You can use their pre-configured reports or customize your own using any data stored in your CRM.
Open source community. The Nonprofit Success Pack was built by nonprofits, for nonprofits. Though the core Salesforce CRM product is closed source, the nonprofit add-on is collaborative and completely flexible thanks to its open source nature and the vast community of developers and users.
The Salesforce Nonprofit Success Pack can be your starting point for using this platform, but you'll likely need to extend your Salesforce system through further customizations and integrations with Salesforce or third-party apps. See some of the best Salesforce apps for nonprofits (as well as commercial organizations) in this resource from the Salesforce experts over at Fonteva!
Salesforce Key Strengths
If your nonprofit needs a constituent database with no limits, Salesforce can be just what you've been looking for. Whether you build on the Nonprofit Success Pack or work with developers to design a completely custom interface from the ground up, you can make Salesforce do practically anything.
Though you'll need to commit some time to implement a more customized solution (with the help of a qualified Salesforce consultant, of course), the end result will be a completely connected, comprehensive CRM solution that can support your operations for years to come. Because Salesforce was built to accommodate an endless array of needs, you won't have to worry about sizing up to a new database. This tool can be your all-in-one technology solution for as long as you're in business; just reconfigure it to meet your needs as you evolve.
Is Salesforce Right for Your Nonprofit?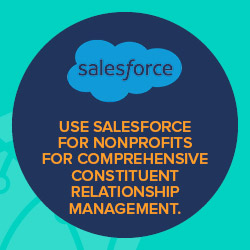 Because Salesforce is so customizable, it can work for virtually any kind of nonprofit. However, keep in mind that this solution is ideal for a nonprofit that…
Is a large enterprise organization.
Has complex needs with multiple concurrent fundraising and donor engagement initiatives.
Has a flexible budget to account for consulting, integrations, and custom development.
Is comfortable with a longer, more involved integration process.
Additionally, since this product can do so much, it's a smart idea to develop a clear Salesforce strategy well before you purchase or implement your software. When you know what you want Salesforce to do for your nonprofit, you'll be able to work with an experienced consultant to map out the configurations and integrations that can take you there.
---

A fundraising and management solution is a major investment for nonprofits of any size, and it's a crucial part of their infrastructures and overarching technology plans, too. As you continue to analyze both the Blackbaud Raiser's Edge platform and Salesforce for Nonprofits, it's important to take the time to review your findings and make some comparisons.
Let's review the most important points about Blackbaud Raiser's Edge:
Built for nonprofit organizations
Focused on fundraising and relationship management
Plenty of supporter engagement and tracking tools
Comprehensive solution without the need for extensive customization
More user-friendly than similar software
Raiser's Edge is perfect for mid-sized to large organizations with the budget (but not the time) to implement a comprehensive solution. Its features are fully nonprofit-centric and designed to help you focus your fundraising strategies. Many comparable platforms don't include their own prospect research and tracking tools, for instance: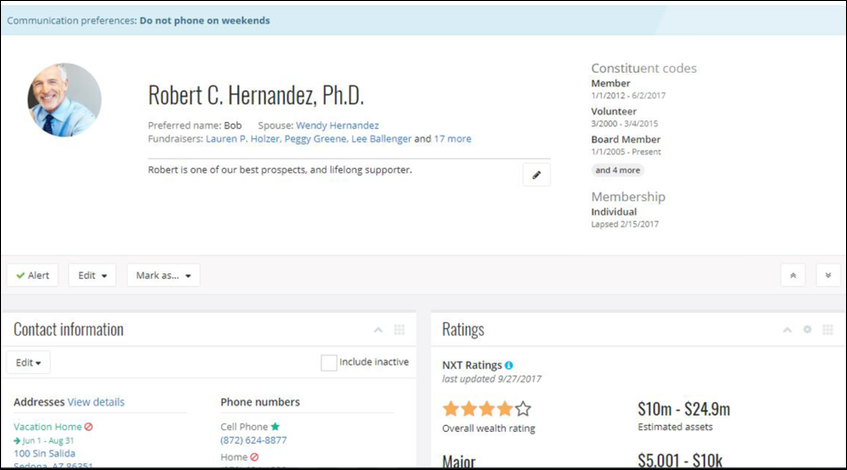 Even though you won't need them right out-of-the-box, chances are your team will still want a few custom integrations for your Raiser's Edge software. A nonprofit technology consultant specialized in Blackbaud platforms can help you design solutions.
Plus, a consultant can be an invaluable resource for getting the whole team on the same page with your new tools. Work with them to develop a highly actionable strategy for making the most of the Blackbaud Raiser's Edge platform.
Now let's review some top points about Salesforce for Nonprofits:
Built for business and enterprise organizations
Open source, pre-configured version of Salesforce optimized for nonprofits
Comprehensive and heavy-duty data management capabilities
Detailed management tools and customizable reporting
Typically requires additional integrations or apps
Salesforce for Nonprofits is an excellent choice for large organizations with more complex needs and the resources (and time) to customize the platform.
Its features focus on giving you both extremely detailed and big picture views of all your data. With the right strategy in place, organizations with Salesforce for Nonprofits can make extremely targeted decisions: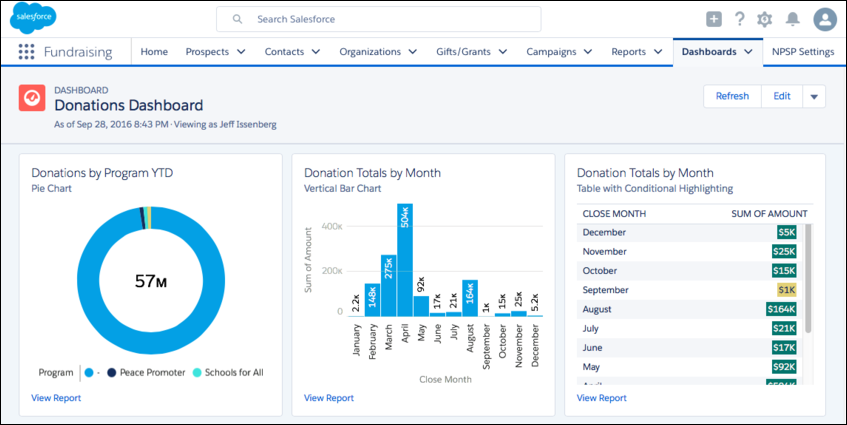 The Final Word
Ultimately, Blackbaud Raiser's Edge is the more robust choice for more organizations. Its out-of-the-box functionality and comprehensive, nonprofit-centric features make it a clear standout among CRM solutions.
Salesforce for Nonprofits is a powerful solution for the organizations that are able and prepared to put in the work to implement it. The platform has been an essential part of the growth and success of many national-level nonprofits.
For any investment of this magnitude, though, your organization must lay the right groundwork to ensure implementation won't derail at any point in the process. We can't stress enough the importance of partnering with a qualified nonprofit technology firm once you make your decision (or to help you make your decision).
---
Both of these trusted nonprofit databases can serve your organization well if you know how to use them effectively. Take some time with your staff to determine where technology fits into your efforts, and don't be afraid to seek out a qualified nonprofit technology consulting firm to help you smooth out your strategy.
For more on Raiser's Edge, Salesforce, and other technology solutions check out these resources:
Nonprofit Technology Consulting: 6 Steps to Success. Learn how to get the most from your software solutions by working with a nonprofit technology consultant! In this post, we walk through what the technology consulting process looks like so you know what to expect and what to look for in a top-notch consulting team.
Tips for Hiring a Salesforce Nonprofit Consultant. Unless you have an in-house development team with Salesforce expertise, you'll need some help implementing this versatile CRM. Read our advice before you hire your Salesforce consultant to make sure you find the right technology partner for your goals.
Top 10 Blackbaud Partners. Raiser's Edge is great on its own, but did you know you could make this software even more powerful? You can! Snowball's list of the best Blackbaud partners can be your guide as you implement a nonprofit fundraising system that meets all of your needs.