November 28, 2018


Your organization already understands the importance of having updated and adaptive techniques for all its digital tools and marketing outlets. After all, the days of leaving your online marketing or social media presence as secondary priorities are long gone. You'd probably even be hard-pressed to find a nonprofit organization that hasn't conducted some form of online fundraising within the last several years.
What your team might not realize, however, is that all of your separate digital marketing efforts should actively support the others. A comprehensive digital marketing strategy is the single best way to ensure success reaching and retaining wider audiences online.
What is a digital nonprofit strategy?
At its core, digital nonprofit strategy is the process of putting your overarching fundraising or donor acquisition goals into action through digital marketing.
The modern nonprofit uses a very wide range of digital tools and outlets, and directing those diverse efforts can be a challenge without an overarching strategy to unite them. After all, the digital environment is an ever louder and busier space; competition for donor attention is at an all-time high. Without a coherent, unified digital nonprofit strategy, you risk losing focus and visibility.
Creating a digital strategy for nonprofits can certainly seem intimidating when considered as a whole, but breaking it down into constituent parts and steps will go a long way to simplify the process. Here's roughly how we'll do it: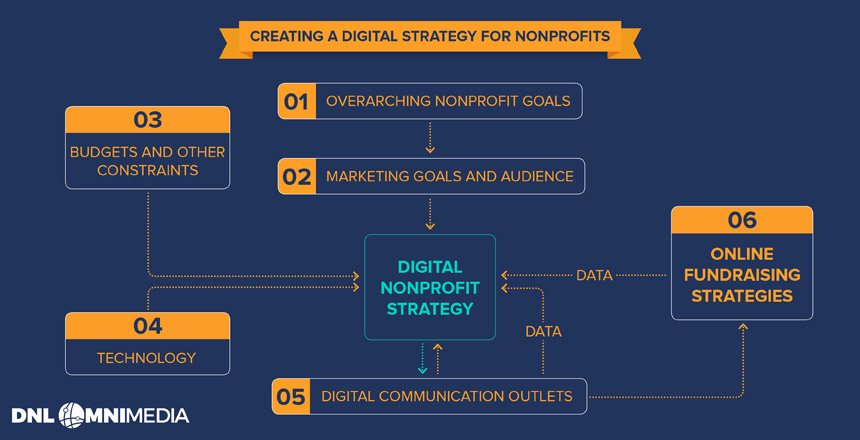 Your nonprofit's overarching goals, marketing goals, budget, other constraints, and technology infrastructure will all inform your digital strategy. Your digital strategy then influences how you use all of your online marketing outlets. All of your digital content and marketing materials will directly impact the success of your online fundraising strategies.
Most importantly, donor engagement with your online fundraising and content generates valuable data, which your team then cycles back into the process and uses to continually refine your digital nonprofit strategy.
The entire process can be broken down into 4 main stages: identification, planning, execution, and analysis. Let's get started walking through each stage and the substeps one by one, starting with determining your nonprofit's digital goals. Need a helping hand getting started? Explore team DNL's diverse nonprofit consultation services to learn even more.
---

Creating a Nonprofit Digital Strategy: The Identification Stage
This stage of the digital strategy process involves taking a close look at your organization's current situation. What do you want or need to accomplish with a new strategy? Who do you need to engage with your digital marketing and fundraising materials, and why? What physical, technological, or budgetary elements are holding you back or otherwise defining the parameters that will shape your strategy?
Now is the time to consider all these moving parts. Taking the time to do so early on in the process will save your team countless headaches later!
Step 1: Determine your nonprofit's goals for its digital strategy.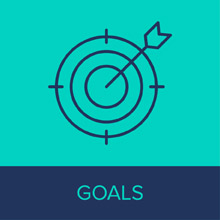 Your organization's digital goals will serve as the foundation of the entire strategy that you develop. This should come as no surprise, but it's important that your core team employs a more systematic approach to goal-defining than it might usually take.
You almost certainly know what it is that you want and need to accomplish; that's why you're researching how to develop a new nonprofit digital strategy. Start by writing out your goals in somewhat general terms. Do you want to:
Raise a certain amount of money?
Increase public awareness of your mission?
Grow your audience or base of advocates?
Whatever your generalized goals might be, you'll need to develop them to be more concrete and actionable. This basic process for developing digital goals tends to work for most organizations, but it should be adjusted as necessary based on the nature of the project you're considering. Follow these steps:

Identify gaps in your current approach. Why do you need to revamp your current strategies to address this goal? Is there an issue or shortcoming in your current digital process that is causing a problem, wasting resources, or causing under-performance? Your updated strategy will need to directly address any gaps like these.
Analyze key metrics in your database. Use your existing data to develop a quantifiable target for your project whenever possible. For instance, if you want to boost your online fundraising revenue, study your data on past online campaigns and rates of donor engagement with digital content. This will help you set an ambitious but realistic and concrete goal.
Consider how technology will play a role. Think about the nature of your goals and the types of tech tools or digital outlets you'll need to accomplish them. Conduct an audit of your current toolkit and the skillset of your team, then think about what kinds of technology investments in new tools or custom development you're open to making.
Talk to stakeholders. Your director, board, and high-level staff members who will be directly involved in executing your new digital strategy should be fielded for feedback and impressions. Depending on the nature of your mission and prospective goals you might also consider asking major donors, constituents, or community members for their thoughts.
Review your long-term priorities. Your digital strategy goals must align with your nonprofit's broader mission-oriented goals, long-term programming plans, and concrete financial targets. Chances are your long-term priorities will inherently influence the development of your digital strategy, but take the opportunity early on to ensure there are no contradicting priorities at play.
Running your core goals through the above steps will ensure that they're well-thought out, achievable, and aligned with your nonprofit's priorities from the very start. Once you've hammered down these important guidelines, though, it's time to think about specifics. The exact process of determining your budget, deadlines, and fundraising goals for your new digital strategy will be different for every organization.
Take your time with this step; it's incredibly important that you start off your new strategy or project on the right foot by setting smart goals and targets.
Step 2: Examine your nonprofit's online audience and digital brand.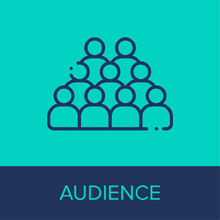 Creating a strategy that appeals to your constituents' online behavior and interests starts with digging into your existing data. Use your website, Google Analytics, your CRM, and email management platform to identify trends in how your existing audience engages with your web presence. What was your most successful online fundraising campaign, and what digital marketing strategies did you use to promote it? What was your least successful online campaign?
Compare the past performance of particular digital strategies in relation to their corresponding campaign results. This can yield some immediate insights that are worth pursuing further. For example, you might find that:
Your donors engaged heavily with social media content and appeals for one fundraising campaign but not another. Were there any differences in your social media strategies between those campaigns?
Your email appeals are highly effective at attracting low-level donors, but they fail to maintain engagement with mid-level donors year over year. What are your segmentation strategies, and how does your email messaging differ between groups of donors?
Your digital marketing campaigns successfully attract new web visitors to a page on your website, but a large portion of them immediately exit out. Are any technical issues or design elements causing the high bounce rate?
Data should be your first resource in learning more about your existing audience, but a large part of developing a new digital strategy involves refining your messaging to better target them and attract specific new segments of online audiences, too. Use your engagement data and the goals that you've previously established for your nonprofit digital strategy to develop several distinct audience personas. These are imagined online donors who fit into a general category.
Defining those categories will help your team to better target its efforts towards attracting and converting them. Identifying their interests, needs, and wants will help you to sort out your marketing priorities and refine your strategies.
The most immediate way that donor personas can benefit your nonprofit digital strategy is by helping you better align your brand or tone with particular audiences. For instance, your email appeals to mid-level donors and viral social media marketing campaigns are directed at different audiences. Adjusting the tone of your appeals depending on the wants and needs of those audiences can drastically improve the effectiveness of each outlet at securing donations.
Step 3: Define any constraints on your nonprofit digital strategy.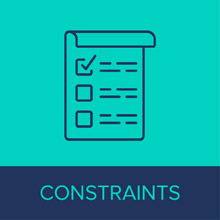 This step to creating your nonprofit's digital strategy might be fairly self-evident, but it's crucially important that you actually take the time to complete it.
Even though your team is familiar with the constraints that will shape your digital projects and efforts, we rarely need to think of all of them in concrete terms. These will most likely include:
Budgets. Your team's budget for developing, implementing, and executing new digital marketing and fundraising strategies is probably the first constraint that comes to mind. Identify a concrete financial limit early on.
Stakeholder interests. The goals of other stakeholders in your organization should be considered, particularly those of your core constituents. Mission drift is all too common during large-scale projects and strategy development, so double-check to make sure your new digital strategies don't contradict or violate the interests of those you serve or who generously support you.
Technological constraints. What is the current state of your organization's technological infrastructure? Do you already know that a new database platform or custom support from a technology consultant will need to factored into your budget? Make those considerations and estimates now before moving forward with planning your strategies.
Offline goals and campaigns. Consider the non-digital events, techniques, and campaigns that your organization will be pursuing concurrently with your new digital strategy. For instance, if you know that your new, comprehensive digital marketing campaign will overlap with planning and hosting your annual gala, plan accordingly.
After identifying your goals and developing donor and audience personas, sit down and consider all of the constraints or dependencies that will shape and define the development of your digital strategy. Consider any other moving pieces that could possibly impact your ability to carry out a new project, even those that don't necessarily fit into one of the categories listed above.


Creating a Nonprofit Digital Strategy: The Planning Stage
After identifying your goals, target audience, and budgetary or other constraints, a general outline of your plan will naturally begin to take shape. Now it's time to begin making more concrete plans for refreshing your digital strategies and integrating them with your broader fundraising goals. Start by ensuring you've got all the tools you'll need, and then lay out specific tasks and strategies you want to pursue for each communication channel.
Step 4: Equip your team with the tools your digital strategy requires.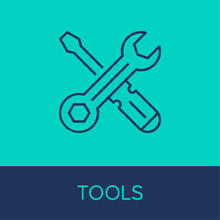 Developing a comprehensive nonprofit digital strategy will more often than not require you to invest in at least one new tool or digital platform. If your organization is looking to up its game and scale up its digital operations, there's no better time to make those investments than at this stage. Of course, you'll need to take a systematic approach to understanding your tech needs before jumping right into the buying process.
Start by thinking about where your digital brand exists online and where your donors interact with it. These digital locations include:
Your organization's website
Digital advertising campaigns
Your social media pages
Email marketing campaigns
Next, list out the software that you currently rely on to pursue your digital goals on each of these digital properties. Your CMS (or website builder platform), marketing software, social media marketing tools, and email marketing platforms likely all already play important roles for your organization. But are there any gaps in your toolkit, or are there ways in which your existing tools could work better together?
To ensure you've got all your bases covered, think about the nature of your nonprofit digital strategy goals; if you're looking to kickstart a grassroots campaign, for instance, you'll need a specific set of tools. Advocacy software, social media scheduling tools, email marketing software, and possibly a peer-to-peer fundraising platform will be essentials. Any major campaign or development project warrants investing in new tools when necessary, and software specifically designed to help campaigns like yours are usually a better idea than standard-issue digital toolkits.
For the best results at this stage, consider bringing on a nonprofit technology consultant to perform an audit of your organization's current digital setup. They'll be able to quickly identify gaps that need addressing and point you to your best options. Many can even help you build out fully customized, campaign-specific solutions.
Step 5: Craft your communication plan and consider each channel.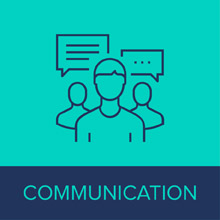 After identifying what new tools, platforms, and software you'll need and beginning to implement them, it's time to examine each communication outlet involved in your nonprofit digital strategy. You'll need to understand how they interact and rely on one another in order to craft a sustainable nonprofit digital strategy that drives enough traffic to help you hit your fundraising or other goals.
The most important digital communication channels to your organization's strategy will include your website, social media, email, and digital advertising. Here's how they work together to drive traffic and engagement with your online fundraising or advocacy campaigns: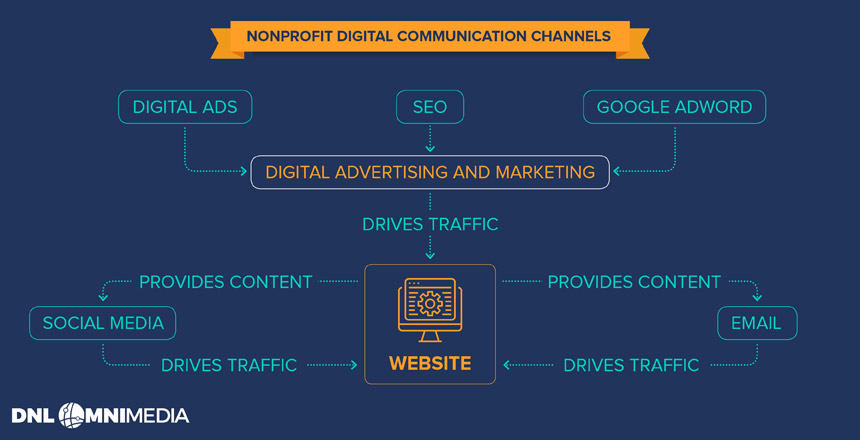 Your organization's website serves as the central hub for your digital strategy. It should be well-designed, informative, useful, and fully integrated with your online fundraising and CRM platforms whenever possible. Use it to create and post valuable content that can then be used across your other digital outlets. All the readers that your strategy attracts should ultimately be directed to your website, so it must be optimized to convert them to donors, subscribers, or advocates.
Social media platforms are invaluable tools for reaching wider audiences. Focusing on just a few of the most relevant platforms, promote your donation appeals, informational blog posts, and other digital content like videos and viral challenges. Encourage followers to share your posts, and direct readers back to your website whenever possible in order to generate more traffic.
Email marketing is an essential part of the digital strategy equation. Use it to promote similar informational content and donation appeals as you do on social media, but take special care to target your readers more closely. Your donor database is useful at this stage for segmenting your mailing lists, which can then boost open rates and click-through rates, increasing traffic to your website.
Digital advertising and other digital marketing strategies are important for increasing visibility outside of social media platforms. Online ads can direct viewers to your site and even re-target those who have visited your site in the past. Google AdWords (available to nonprofits through Google Grants) can significantly boost your site's traffic flow. Search engine optimization techniques, when implemented into your website and blog posts, can also help boost your campaign's visibility in organic search results.
Develop your plans with each specific outlet in mind, and consider how you'll use to each to promote the other. For instance, if you're conducting a peer-to-peer fundraising campaign, focus on creating content that's optimized to attract a lot of attention on social media. Promote your blog posts to Facebook followers, encouraging them to get involved. Then use the engagement metrics and donor feedback you generate to promote the campaign to email subscribers.
Remember to check the calendar, too! Giving Tuesday and the end of the year holidays are perfect opportunities to adapt your digital communication strategies to tap into the giving spirit. Social media and email appeals perform particularly well during this time of the year, but make sure to generate the most value possible from that engagement by directing readers to your website whenever possible.

Creating a Nonprofit Digital Strategy: The Execution Stage
Once you've considered the tools you'll need and examined each communication channel, your plan strategy should begin coming together. The key is understanding how each outlet and tool should support the others, typically by generating and directing more web traffic to your campaign pages. Actually executing that strategy will involve integrating those marketing techniques with your online fundraising infrastructure.
Step 6: Integrate your digital marketing and online fundraising strategies.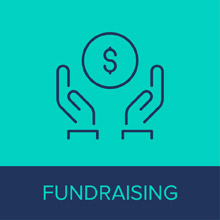 Remember that the core purpose of any new nonprofit digital strategy you develop should be to create a unified support system to boosts the impact of your online fundraising, awareness campaigns, or other engagement goals. For most nonprofits, these goals typically revolve around online fundraising, so we'll focus on that aspect of strategy development.
It's important to choose the right online fundraising channels for your campaign. This differs from the digital communication channels outlined above. While your website, social media, and email can be used to effectively promote and support any online campaign, the actual digital method through which donors will initiate their donation transaction should be chosen based on the specific nature of your campaign or project. The most common and effective fundraising channels include:
Online donation pages or forms. Hosted directly on your website, these forms allow donors to easily enter their payment information and complete a transaction, ideally without needing to be directed to a third-party service. Donation forms are easily embedded in your website and emails, and they're appropriate for any type of online fundraising campaign. If your organization doesn't have one, work with a tech consultant to develop an integrated solution that seamlessly reports data to your database.
Crowdfunding platforms. These fundraising services allow nonprofits and individuals to set up timed campaigns and promote them online. There are all types of platforms that offer varying levels of flexibility, but these platforms are best suited for smaller-scale fundraising projects that can quickly attract a lot of attention online via social media. Larger organizations typically don't use crowdfunding platforms.
Peer-to-peer fundraising software. Peer-to-peer fundraising is a major trend in how organizations engage their donors online. Leveraging the power of social networks, these campaigns rely on the goodwill and social connections of existing donors to reach new ones. Online platforms, standalone software, and integrated peer-to-peer tools in your CRM can all host and manage these types of campaigns. Peer-to-peer fundraising is most appropriate for highly structured mid- to large-range campaigns.
The idea here is to consciously consider which donation outlets are best suited to your overarching campaign or project goals. This is particularly important to your digital strategy as a whole because the donation outlets you need to promote will directly affect the types of content you create and the promotional techniques you use.
For instance, an advocacy campaign focused on raising awareness and directing donors to an online donation page should rely on a mix of email marketing, blogging, and social media promotions to generate traffic. A peer-to-peer fundraising campaign will focus more on collecting donations through the volunteer pages hosted on your fundraising software or platform; directing all of your traffic to your own main donation page would raise money, but it wouldn't contribute to the success of the campaign.
Your communication strategy should actively direct supporters to the most appropriate online fundraising outlet to keep your campaign's energy focused. We recommend using integrated solutions whenever possible to keep your strategies more focused and your data more centralized. Apps and pre-configured add-ons for Blackbaud platforms that provide peer-to-peer fundraising or digital marketing features are great examples.

Creating a Nonprofit Digital Strategy: The Analysis Stage
Once you've integrated your digital marketing techniques with your online fundraising outlets, created digital content, promoted your campaign, and attracted support, it can be easy to feel like all the hard work is over. However, post-campaign analysis is one of the most important steps in the entire process!
Step 7: Measure your campaign's success.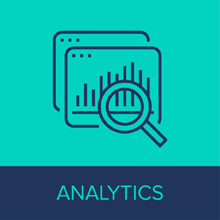 Measuring the successes of your online fundraising campaign or other digital project is always essential, but it's particularly important when you've put in so much thought and work into refreshing your overall digital marketing strategy. It all comes down to building robust data management protocols and practices for your campaign.
The specific metrics that you'll want to measure will depend on the nature of your campaign. Typical nonprofit conversion metrics include:
Completed donations
Volunteer applications
Email subscriptions
Pledge signatures
You should identify your conversion metrics early in the planning process, and then think about the steps that will lead donors or readers to those actions. For instance, if you're focusing on measuring and analyzing completed donations, the donor's process will look something like this:

The user lands on your donation page after being directed from a different page.
They fill out the donation form and enter their payment information.
They complete the donation are taken to a confirmation or thank-you page.
It's a simple exercise, but breaking down your conversion goals into steps like this will help you identify individual elements that should be measured and collected. For instance, recording which websites directed the most users to your donation page is invaluable information when your digital strategy is designed to generate traffic from multiple sources (like email and social media). Recording the exit rate on your donation page can also help identify problems that are distracting or turning off potential donors.
The idea is to break down and analyze the performance of your nonprofit digital strategy at each stage in the conversion funnel. eCommerce companies rely on this same strategy to identify the sources of shopping cart abandonment in their online stores. Understanding why donors don't complete their donations, applications, subscriptions, or other opt-ins is essential for learning both the strong and weak points in your digital strategy.
Work with a nonprofit consultant to ensure your technology, from your website to your CRM, is configured to record all the essential nonprofit analytics you'll need on hand to make smarter decisions going forward.
---
Wrapping Up
Creating a nonprofit digital strategy can seem extremely complicated for organizations that haven't yet devoted a ton of energy or resources to conducting full-scale campaigns. While online fundraising platforms have made it easier than ever to get up and running fast, actually scaling up those efforts into concerted, well-organized, and fully promoted digital campaigns take a little more effort.
Your digital strategy is an essential part of the equation.
By supporting your goals, generating web traffic, encouraging engagement, and tracking conversions, your digital tools and techniques can set you up for success and help your organization grow more consciously with every new campaign you conduct. For more information and resources on online fundraising technologies and strategies, be sure to continue your research: