August 21, 2023

Nonprofit consultants and their services are game-changers for charitable organizations. 
You likely already have an idea of the kind of support you're looking for. Maybe your team is unsure of how to get started or where to look for potential partners you can trust. We've got you covered.
To help your nonprofit find a consulting partner whose services align with your needs, here is a list of some of the top providers across several specializations. Then, we'll explore the essentials of what a consultant can do for your organization and how to hire one.
Here are the consultants featured in this guide and their specialties:
Use the links above to jump to a particular section or follow along with us from the top.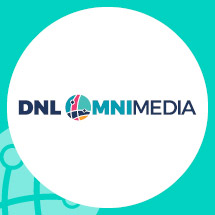 DNL OmniMedia: Top Nonprofit Consulting Firm for Full-Service Tech & Strategy Consulting
Overview of this Nonprofit Consultant
At DNL OmniMedia, we offer a complete range of nonprofit technology, marketing, and analytics services. Our services cater to large and growing organizations that need technological, marketing, and strategic support. 
Plus, as a certified Blackbaud Partner and Salesforce Cloud Alliance Partner, we can help your organization make the most of its investments in these powerful platforms.
We specialize in: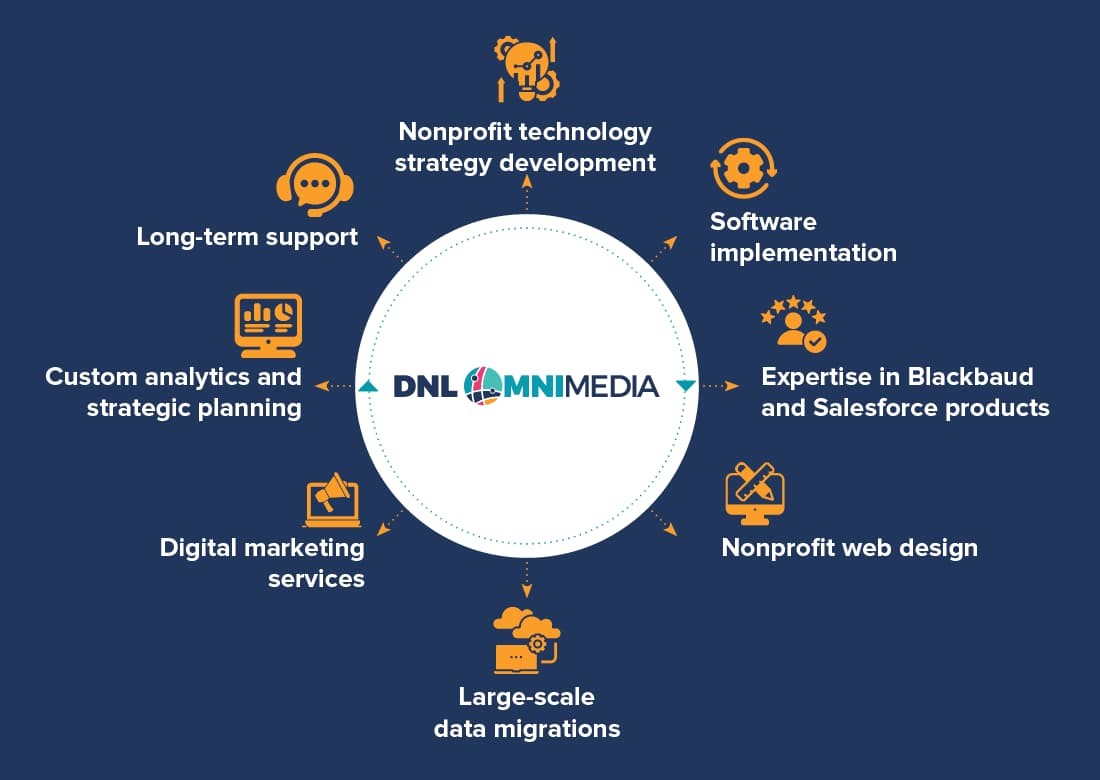 Nonprofit technology strategy development

Software implementation, configuration, and custom integrations

Blackbaud platforms, including Luminate Online, Blackbaud CRM, and Raiser's Edge NXT

Salesforce products implementation, development, and maintenance

Nonprofit web design and custom projects

Complete support for large-scale data migrations

Digital marketing strategy development and support

Custom analytics and strategic planning projects

Long-term support, including ongoing maintenance and training
With a focus on both the immediate importance of your nonprofit's technology and its long-term ROI for your mission, our consultants can optimize your toolkit to support your goals.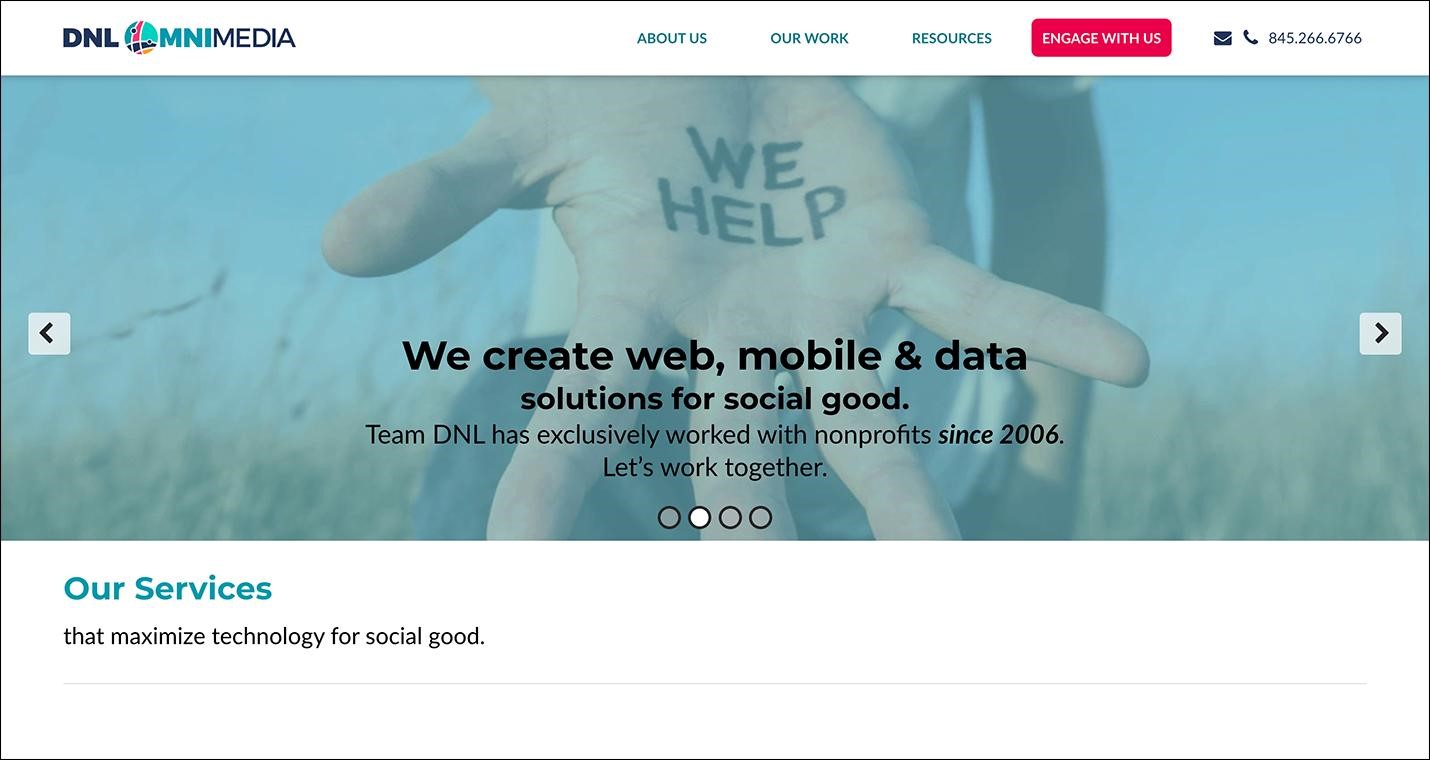 Why They Stand Out
Few nonprofit technology consultants offer as wide a range of services and support as DNL OmniMedia. Our expertise across all facets of nonprofit technology and digital strategy allows us to provide help throughout your entire project. Additionally, we offer long-term support options, ensuring our clients have a technology partner they can return to for each new project. Explore our past work to see examples of our services in action.
If you have any questions about your own organization's upcoming projects or needs, don't hesitate to get in touch.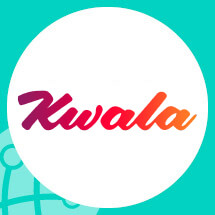 Kwala: Top Nonprofit Consulting Firm for Graphic Design
Overview of this Nonprofit Consultant
Kwala is a graphic design firm that empowers mission-driven organizations to take charge of their marketing. Their goal is to provide professional yet cost-effective designs that make causes stand out. That way, nonprofits can focus on what matters most: pushing their missions forward.
When you turn to Kwala's expert design services, some of their guarantees include:
A wide range of brand creatives, including everything from flyers to web graphics

Mission-driven expertise

Full ownership of the designs they create for your cause

Unlimited designs and revisions
Whether you need a new logo or in-depth infographics, Kwala's a trusted firm in the mission-driven space.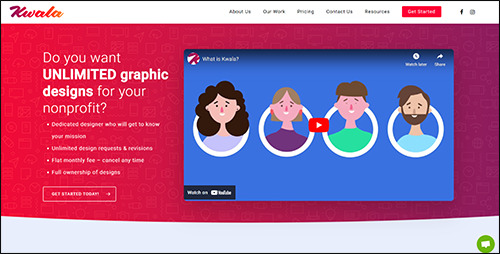 Why They Stand Out
Unlike many design firms, Kwala specializes in nonprofits. After years of experience in the social good sector, they understand the unique design elements that nonprofits need to stand out to supporters. Plus, they're a subscription-based graphic design firm, meaning they'll fulfill as many of your design requests as possible each month for a set price.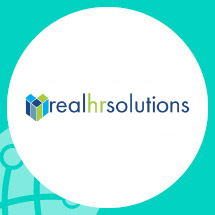 RealHR Solutions: Top Nonprofit Consulting Firm for Human Resources
Overview of this Nonprofit Consultant
RealHR Solutions is a leading consulting firm specializing in HR for nonprofits and for-profit companies. With a wide range of offerings and a proven track record, RealHR can support your nonprofit at any stage of its growth, from initial HR set-up to long-term strategy. Their top services include:
HR audits and assessments.
Employee surveys and workplace investigations.
Diversity, equity, and inclusion (DEI) initiatives and support.
Recruitment strategy and executive search.
Staff, management, and executive-level coaching and training in a variety of areas.
Organization strategy and development.
Plus, RealHR Solutions can work with your nonprofit in a variety of capacities, including advisory support, outsourced business partner support, or project-based support.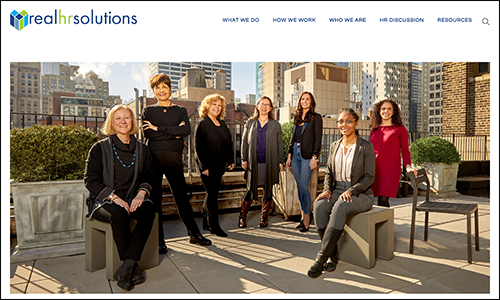 Why They Stand Out
RealHR Solutions not only has years of experience working with nonprofits but also offers an unrivaled level of flexibility. Whatever your organization's HR needs, their team can meet them with customized, expert support on a short-term or long-term basis.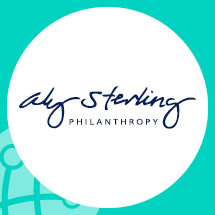 Aly Sterling Philanthropy: Top Nonprofit Consulting Firm for Capital Campaign Support
Overview of this Nonprofit Consultant
Aly Sterling Philanthropy, headed by fundraising expert Aly Sterling, specializes in supporting larger organizations to develop and execute perfect capital campaigns. These major multi-year initiatives are transformative for nonprofits serious about increasing their impact and scaling up their operations. Aly Sterling Philanthropy offers:
Fundraising solutions and strategy development, especially for capital campaigns.
Feasibility studies for major campaigns.
General nonprofit strategic planning.
Board management and optimization support.
When it comes to fundraising strategy, Aly Sterling Philanthropy might be the perfect partner for your larger organization.
Why They Stand Out
Aly Sterling Philanthropy has a proven track record of success working with nonprofits to grow their capacity and scale up their operations. Their approach centers around engagement – both of your donors and your organization's leaders – and sustainability, leading to lasting growth that will carry your nonprofit forward for years to come.
Explore Aly Sterling Philanthropy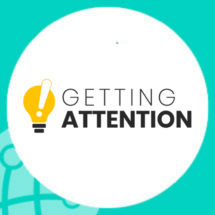 Getting Attention: Top Nonprofit Consulting Firm for Google Ad Grant Management
Overview of this Nonprofit Consultant
Getting Attention is a nonprofit consulting firm that specializes in Google Grant acquisition and management. As one of the best marketing resources out there, the Google Ad Grant empowers 501(c)(3) organizations to spend up to $10,000 monthly in paid search advertising with a few strings attached. Acting as an extension of your team, Getting Attention's expert grant managers understand how to make the most of your nonprofit's ad spend while staying in compliance with Google's regulations.
They'll cover every step of Google Grant management. Getting Attention's services include:
Google Ad Grant eligibility check and application
Ad campaign creation, including copywriting, keyword research, and targeting
Ongoing account maintenance and compliance
Google Grant reactivation for lapsed or suspended accounts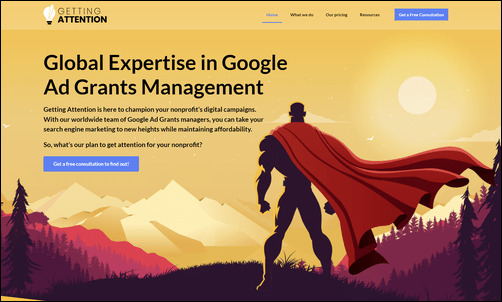 If you're looking for experts who know the ins and outs of Google Grant management, look no further than Getting Attention!
Why They Stand Out
Getting Attention's team can help you at every stage of your Google Grant journey, from determining eligibility to applying for the grant, managing it, and optimizing your campaigns. As nonprofit experts, they'll work to understand your mission and create ads that push your initiatives forward.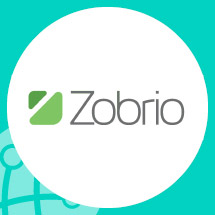 Zobrio: Top Nonprofit Consulting Firm for Financial & Accounting Support
Overview of this Nonprofit Consultant
Zobrio is a leading nonprofit consulting firm focused on all things accounting, finance, and financial IT support. As a certified Blackbaud Partner, they truly understand the nonprofit sector inside and out. Working with both their own customizable products and all the leading financial platforms, they're the expert to look for. Their core services include:
Complete start-to-finish technical support for leading fund accounting platforms, including Financial Edge and Abila MIP, for setup, configuration, integrations, and migration.

Customizable add-ons, like cash management and billing modules.

IT and managed services for 24/7 support.
If you've invested in professional-grade fund accounting tools for your nonprofit, you have to safeguard that investment. Working with an expert like Zobrio is the way to go.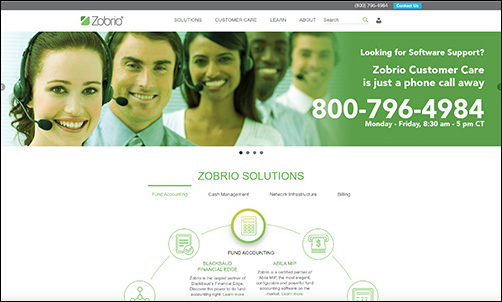 Why They Stand Out
Your finances are one area of your operations where you definitely don't want to leave things up to chance. The experts at Zobrio have the experience and the know-how to support any one-time or ongoing projects that arise around your financial and accounting tools.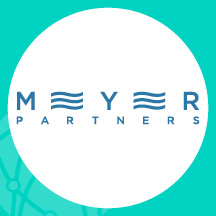 Meyer Partners: Top Nonprofit Consulting Firm for Multichannel Marketing
Overview of this Nonprofit Consultant
Meyer Partners is a full-service nonprofit marketing agency that can handle all of your nonprofit's communications needs. Meyer Partners is particularly adept at helping organizations craft effective multichannel fundraising campaigns. Their specialties aren't limited to fundraising appeals, though. Meyer Partners also provides:
Donor cultivation and upgrade campaigns.
Data analytics services, including donor file audits.
Landing page optimization.
Planned and legacy gift marketing strategies.
Meyer Partners' focus on building relationships with donors through personalized communication shapes their whole strategy and better connects your organization with your supporters.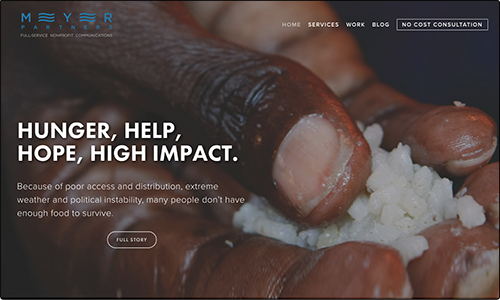 Why They Stand Out
Compared to other nonprofit marketing agencies, Meyer Partners has a particularly wide range of expertise, as they support digital and analog communications (and they even do disaster response appeals!). See if Meyer Partners can help you jumpstart your next fundraising endeavor.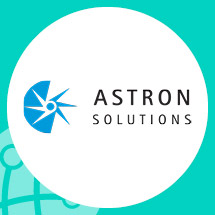 Astron Solutions: Top Nonprofit Consulting Firm for Employee Compensation
Overview of this Nonprofit Consultant
Astron Solutions specializes in compensation support and HR strategy development for nonprofit organizations. They understand that strong compensation structures are essential for building a scalable, sustainable organization that retains its talent and grows year over year. Their full range of services includes:
Compensation strategy development and consulting, centering around a Total Rewards approach.
Custom compensation survey development and execution.
Web-based talent management toolkit through their custom platform, Flare.
Custom HR strategy development and support.
Finders Keepers support package tailored specifically for nonprofit employee retention.
Employee compensation is an often neglected part of nonprofits' strategies, but it's essential for growing your smaller organization into a mid-size or large one.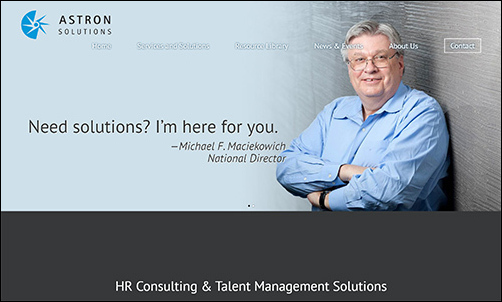 Why They Stand Out
It can be difficult to find compensation experts with extensive experience in the unique nonprofit sector. Astron Solutions exclusively works with nonprofits and small businesses, so they understand the unique challenges of organizations that want to grow by investing in their own people.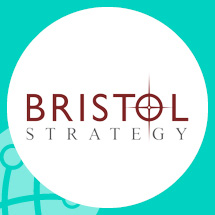 Bristol Strategy Group: Top Consulting Firm for Strategic Planning & Board Development
Overview of this Nonprofit Consultant
Bristol Strategy Group provides comprehensive services to nonprofits, including developing solutions, managing marketing, and building relationships with technology companies in the nonprofit sector.
Bristol Strategy Group determines your nonprofit consulting needs with a tailored 3-step process so that they can provide the most targeted, relevant support. They offer a wide range of services, including:
Strategic planning to suit your organization's needs.
Board development that meets and exceeds all industry standards.
Audits.
Prospect profiling.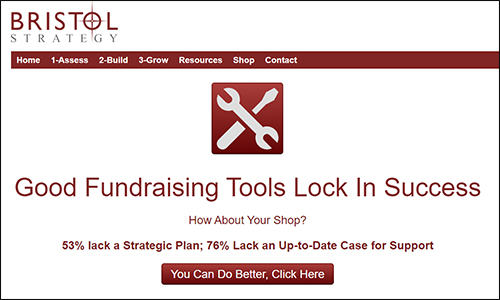 Why They Stand Out
Bristol Strategy Group uses its unique SMART Way methodology, which is a set of 10 questions that identify gaps in your nonprofit's fundraising strategy. Plus, the resources section on their website has a library full of information to help your nonprofit succeed.
EXPLORE Bristol Strategy Group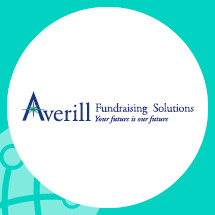 Averill Fundraising Solutions: Top Nonprofit Consulting Firm for Annual Fund Strategy
Overview of this Nonprofit Consultant
Averill Fundraising Solutions is a leading nonprofit consulting firm that specializes in one of the most challenging aspects of nonprofit work — annual fundraising. With a combined 75 years of experience, the Averill experts have raised over $3 trillion for their clients. That's a proven track record in helping nonprofits build effective and sustainable annual fundraising strategies. Their full range of services includes:
Annual fund direction and strategy development.
General campaign direction and planning.
Feasibility study design and execution for major campaigns.
Executive search and leadership learning programs.
Averill's approach focuses on hands-on engagement and complete customization. They know that one-size-fits-all strategies simply won't work, especially when it comes to annual fundraising.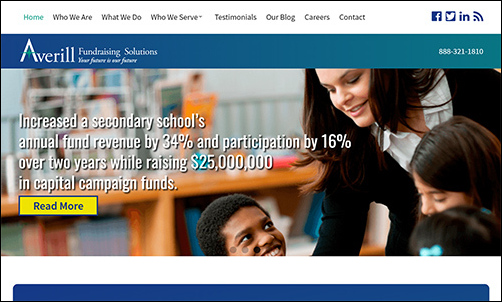 Why They Stand Out
Averill Fundraising Solutions has helped to build out effective fundraising strategies for nonprofits in a wide variety of sectors, including faith-based, health, human services, education, and associations. Their range of expertise is unmatched among similar nonprofit consulting firms.
EXPLORE AVERILL FUNDRAISING SOLUTIONS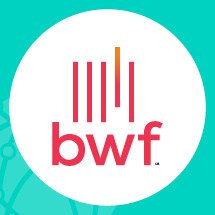 BWF: Top Nonprofit Consulting Firm for Annual Giving Strategy
Overview of this Nonprofit Consultant
The experts at BWF help medium to large nonprofit organizations build strong fundraising programs to engage their support bases.
Nonprofits require a strong foundation and strategic planning to push their missions forward and fundraise effectively. BWF offers database analysis, prospect development, campaign strategizing, and more to help organizations thrive.
For colleges and universities, alumni relations and engagement are essential to secure long-term support. BWF helps these institutions create effective fundraising and marketing strategies and leverage advanced outreach techniques to better connect with their audiences.
BWF's full range of services includes:
Strategic planning and campaign planning/support/management
Internal readiness
Workforce planning and talent management
Leadership development
Strategic communications
CRM analysis and conversion
Business intelligence and reporting
Business optimization
Prospect development
Data science and analytics
Digital marketing and fundraising
Corporate and foundation strategy and grant writing
Donor engagement
Marketing and communications
The consultants at BWF offer expertise in multiple areas, whether your nonprofit organization is a university, hospital, foundation, or other organization that relies on fundraising.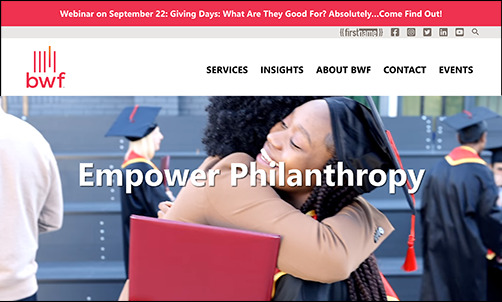 Why They Stand Out
BWF stands out for its strong background in serving a wide range of organizations. Universities especially require a careful strategy to properly use their resources, so going with seasoned expertise is the right move. BWF has experience managing everything from nonprofit operations assessments to university campaigns with multi-billion-dollar goals.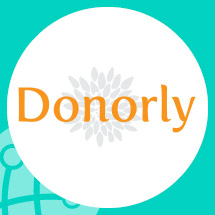 Donorly: Top Nonprofit Consulting Firm for Capacity Development for Growing Nonprofits
Overview of this Nonprofit Consultant
Donorly is a unique nonprofit consulting firm that focuses on helping small to mid-sized organizations grow their fundraising capacities like pros. With targeted prospect research support, their expert team can help you identify the right donors for the right projects, saving you time and effort and giving your campaigns major boosts. Their full range of solutions and services includes:
Unique membership-style plans that include dedicated, professional prospect research hours.
Access to your own researcher to answer any and all questions.
Hourly campaign and prospecting advising.
This straightforward approach makes Donorly a standout among similar consulting firms that are typically better suited to major campaigns but not day-to-day prospect research efforts.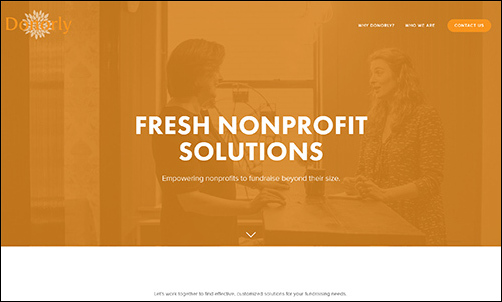 Why They Stand Out
Donorly stands out because its membership-style approach to research and flexibility gives smaller organizations easier access to enterprise-grade prospecting tools. For organizations without the resources for in-house development staff, this can be a game-changer.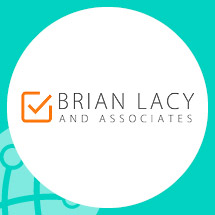 Brian Lacy & Associates: Top Nonprofit Consulting Firm for Nonprofit Marketing Support
Overview of this Nonprofit Consultant
Brian Lacy & Associates is a nonprofit consulting firm that specializes in an area of marketing that many organizations today are neglecting. Direct mail and phone calls continue to be extremely effective outlets for nonprofits promoting their campaigns but only if they're handled with the right strategies in place. Brian Lacy has over 30 years of experience in helping nonprofits reach more donors through their marketing services, including:
Phone messaging strategy development and execution to directly reach more donors.
Unique marketing merchandise development to help your mission stand out.
E-magazine design and production to bolster your newsletter efforts.
Email appending to strengthen and refine your existing database.
With experience working with nonprofits in practically every sector, this consulting firm is the right partner for your organization if it's time to update your direct marketing strategies.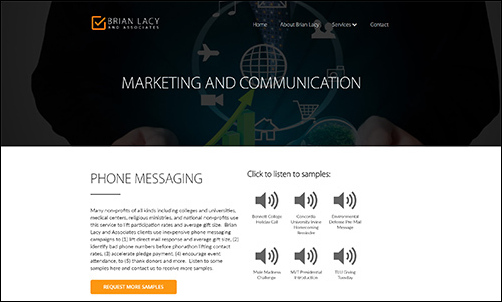 Why They Stand Out
Plenty of tools and services exist to help nonprofits build professional-grade digital marketing strategies, but finding expert, personalized support for direct multimedia marketing like calls and mail is more challenging. As a leader in the space, Brian Lacy & Associates is a natural choice.
EXPLORE BRIAN LACY & ASSOCIATES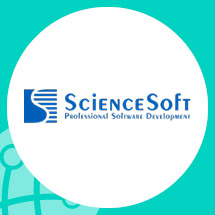 ScienceSoft: Top Nonprofit Consulting Firm for Large-Scale Cybersecurity
Overview of this Nonprofit Consultant
ScienceSoft is a leading consulting firm that can handle any and all things cybersecurity. With more digital threats than ever, enterprise-level organizations must proactively and responsibly work to protect both their own data and that of their donors or members. With expertise in practically all areas of digital security, ScienceSoft is an excellent partner for large organizations looking for support. Their complete range of services includes:
Security assessment and planning: Custom consultations, infrastructure tests, and stress tests
Application security support: Full code reviews, web application security, and more
Network protection services: DDoS protection, firewall implementation, and email security reviews
This kind of advanced security technology is beyond the scope of most nonprofit organizations, even the largest and most flexible ones. When handling it in-house would be irresponsible by presenting an undue risk of jeopardizing your compliance, taking your questions to an expert is always the smarter choice.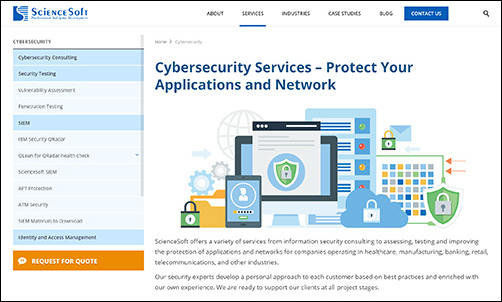 Why They Stand Out
ScienceSoft stands out among similar cybersecurity consultants for its complete range of services. You can contract their support for one-time projects, managed services (like email or cloud security), or complete managed IT services for comprehensive protection. Their services are flexible and customizable to fit any unique context.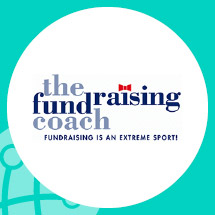 Marc Pitman: Top Nonprofit Consultant for Executive Coaching & Board Development
Overview of this Nonprofit Consulting Firm
Marc Pitman, a.k.a. The Fundraising Coach, is a well-known expert in the field of nonprofit consulting. One of his strongest specialties is executive coaching for nonprofit directors, board members, and development officers. His extensive background working with nonprofits and small businesses to hone their strategies can benefit your organization in a multitude of ways. His full range of nonprofit consulting services includes:
Comprehensive and customized nonprofit fundraising training sessions.
Board governance training in a concise "Boards 101" format.
Custom executive training services for directors, board members, and development officers.
Thorough, custom support, including calls, emails, online courses, and more.
Sometimes, a more intensive, personalized approach is the perfect way to kickstart structural improvements in a nonprofit, and that's exactly what Marc Pitman offers.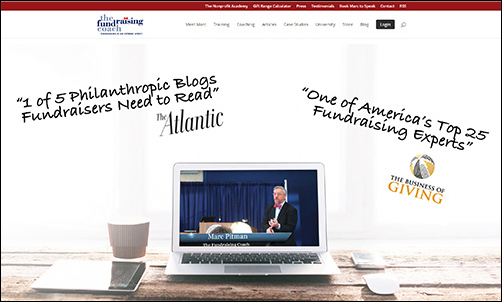 Why They Stand Out
Many fundraising coaches and board development tend to sell their own trademarked approach with very little personalization or flexibility worked in. Not Marc Pitman. His services are built entirely around helping your organization learn to "raise money your way," not necessarily his way.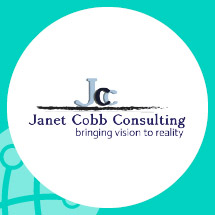 Janet Cobb Consulting: Top Nonprofit Consulting Firm for Strategic Planning for Small Orgs
Overview of this Nonprofit Consultant
An all-in-one nonprofit expert, Janet Cobb can help your smaller organization get the footing it needs to continue growing sustainably. Her approach is more that of a coach than a full consultancy firm, giving her a more holistic and personable view of your nonprofit and the ideal solutions for your unique mission. Her full range of services includes:
Strategic planning for small nonprofits.
Communications strategy development.
Board retreats and executive coaching.
One-off or extended coaching engagements for one-on-one support around any fundraising challenge.
Small organizations have a hard enough time getting their first foothold in the fundraising world. Having a real, professional-grade strategic plan in place goes a very long way to help boost growth.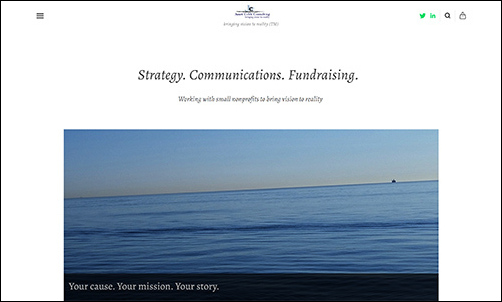 Why They Stand Out
Janet Cobb Consulting stands out because it offers smaller nonprofits with equally small budgets an effective option that's properly scaled to their needs. No huge fees or one-size-fits-all solutions, just personalized support for building your nonprofit's first strategic roadmap.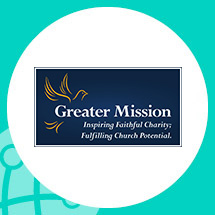 Greater Mission: Top Nonprofit Consulting Firm for Religious Organizations and Catholic Charities
Overview of this Nonprofit Consultant
Greater Mission is a leading consulting firm known for its history of success in serving the Church and Catholic organizations. They're passionate about sharing their unparalleled faith, experience, and focus in order to help organizations advance their missions and fulfill their potential. Some of their services include:
Strategic planning to optimally allocate time and resources.
Development audits for a comprehensive look at your organization's fundraising experience.
Major gift fundraising and legacy giving.
Annual appeal and correspondence design that yield positive results.
Capital campaigns based on four primary phases.
Feasibility studies to help position campaigns for success.
Through these specialized services, Greater Mission works alongside clients to raise funds for growing facilities, ministries, and outcomes for God's work. A consultant who's backed by proven faith, commitment, and experience will prove invaluable to your discipleship and fundraising efforts.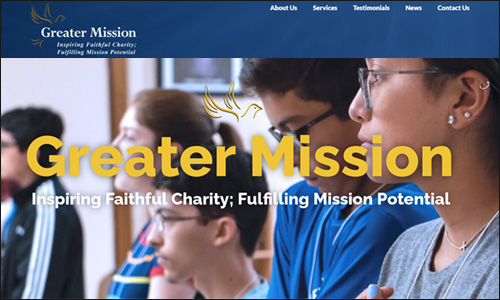 Why They Stand Out
When it comes to inspiring faithful charity, you won't find a consulting firm that's more devoted than Greater Mission. Their team has more than 100 years of combined experience and has helped religious organizations raise more than $1 billion thanks to their expertise and faithfulness.
If your religious organization is looking for an expert consulting firm, don't hesitate to reach out. Request a free 30-minute consultation with one of their expert leaders, and see how Greater Mission can empower your organization to inspire faith-filled giving.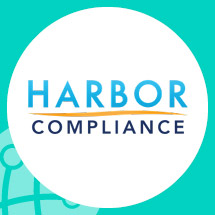 Harbor Compliance: Top Nonprofit Consulting Firm for Legal and Compliance Support
Overview of this Nonprofit Consultant
Harbor Compliance is an expert nonprofit consulting firm focused on helping organizations effectively maintain all of the critical compliance issues that must be taken care of behind all the campaigns and events that might otherwise distract your team. Their complete range of nonprofit services includes:
Fundraising compliance support and services, including filing registrations, exemptions, and disclosures.
Secretary of State filings for nonprofits expanding their reach.
Nonprofit formation for brand new organizations.
Tax registration and exemption support.
Don't leave any of these concerns up to chance. Working with a team of experts will always be the better move.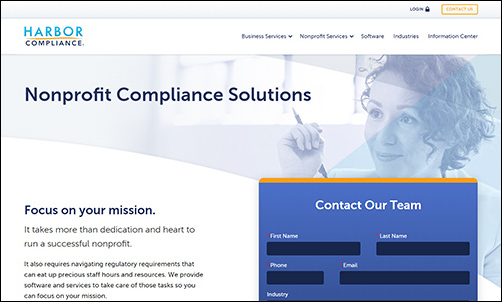 Why They Stand Out
As an experienced and dedicated team of legal professionals, Harbor Compliance is a well-regarded player in the nonprofit compliance space. Compliance requirements should never be neglected since they directly affect your organization's ability to function. As you grow, working with professionals is a smart way to ensure nothing falls through the cracks.
Contributor Development Partnership: Top Nonprofit Consulting Firm for Public Media Stations
Overview of this Nonprofit Consultant
Contributor Development Partnership is a nonprofit consulting partner that specializes in a specific subset of nonprofits, public media stations. It's technically a public benefit corporation that conducts collaborative fundraising efforts on behalf of 230+ public radio and television stations among other services.
CDP's range of services includes:
Fundraising tactics, such as canvassing, direct marketing, direct texting, planned giving, and major gift fundraising.
CRM management, specifically specializing in Salesforce solutions.
Reporting and analysis through the Revenue Opportunity and Action Report (ROAR).
At the heart of CDP's services is a collaborative mentality, which works well in the membership-based fundraising that's often used to raise funds for public media.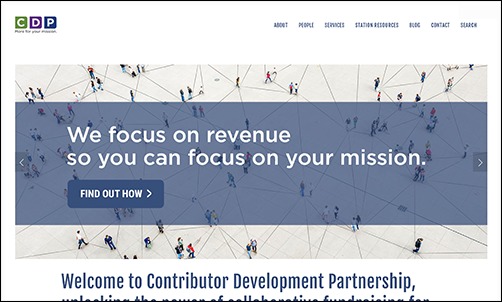 Why They Stand Out
Fundraising for public radio and television stations is significantly different than doing so for other types of nonprofit organizations. These stations rely on a hyper-local, membership-based audience, and CDP understands that. For public radio and television organizations, CDP is an industry expert that can be trusted to elevate their efforts.
EXPLORE CONTRIBUTOR DEVELOPMENT PARTNERSHIP 
Marts & Lundy: Top Nonprofit Consulting Firm for Talent Development
Overview of this Nonprofit Consultant
Marts & Lundy is a firm that has been consulting with nonprofit organizations for nearly 100 years, and that experience is one of many reasons that large organizations partner with them. The firm prioritizes a collaborative approach, in which their team helps nonprofits build the capacity needed to reach their greatest goals.
In the realm of talent development and capacity-building, Marts & Lundy offers the following services:
Customized talent development programs
One-time and ongoing training and coaching sessions
Executive coaching packages for everyone from emerging talent to senior leadership
This firm's goal is to leave nonprofits stronger than they found them when they began working together.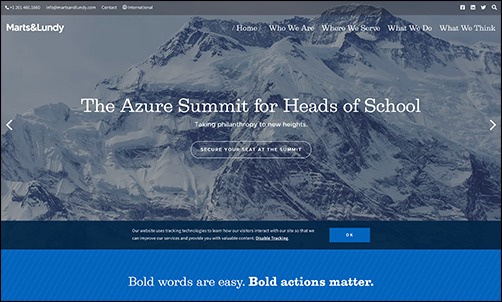 Why They Stand Out
Marts & Lundy has the years of experience needed to recognize and foster top talent in nonprofit professionals. The goal of any consulting partnership isn't to work together indefinitely, but to find a resolution to your nonprofit's roadblocks. With Marts & Lundy's services, you gain a sustainable solution (a well-trained team member) to elevate your team.
Advancement Resources: Top Nonprofit Consulting Firm for Managing Culture Change
Overview of this Nonprofit Consultant
Advancement Resources was formed out of Differentiation Strategies, Incorporated, a company that originally focused on sales training for Fortune 500 companies. This formation gave the organization a unique, research-based, and academic approach to nonprofit consulting.
This firm's change management services are:
Customized for each individual nonprofit and its unique needs.
Built using both qualitative and quantitative assessments.
Structured using adult learning and psychology best practices.
Able to address multiple audiences both internally and externally.
These services are built upon the foundation of over two decades of research on nonprofit culture building.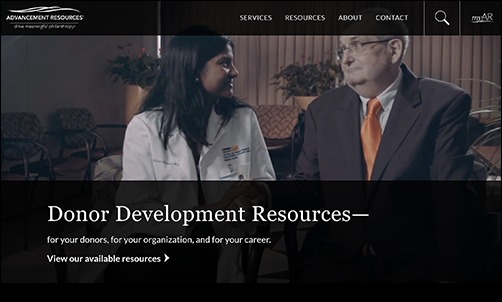 Why They Stand Out
Successful philanthropy takes a team— nonprofits need the enthusiastic buy-in from staff members, board members, and constituents to make a true impact on their missions. However, that can be hard to secure when your organization is undergoing a significant culture change. Advancement Resources understands this and can help position your team for success.
The Alford Group: Top Nonprofit Consulting Firm for Corporate Partnerships
Overview of this Nonprofit Consultant
The Alford Group is a nonprofit consulting firm that offers a wide variety of services, from strategic planning and fundraising to leadership development and interim staffing. However, what's most interesting about this firm is that it works with both nonprofits and corporations to build philanthropic corporate partnerships.
The Alford Group's corporate partnership strategy services include:
The development of corporate giving programs and foundations.
Strategic philanthropy planning and reputation management.
Employee volunteerism strategy to get employees engaged in philanthropy.
Corporate fundraising, both for internal corporate fundraising and nonprofits seeking corporate donations.
Whether you're a nonprofit seeking a corporate partnership or a corporation looking to give back, The Alford Group can assist.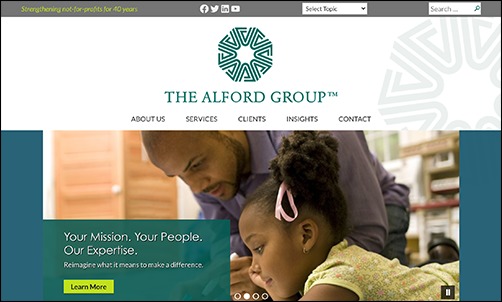 Why They Stand Out
Few nonprofit fundraising consultants work directly with both sides of the corporate philanthropy coin. The Alford Group has a unique perspective on the world of corporate philanthropy and can help your nonprofit forge valuable corporate connections that make an impact.
The Basics of Nonprofit Consulting
What is a nonprofit consulting firm?
A nonprofit consulting firm is a partner that provides specialized, expert services to nonprofit organizations.
Nonprofit consulting services might solve a specific challenge, like customizing and cleaning up your database, or provide ongoing support, like designing a complete technology plan for your nonprofit. The most effective nonprofit consulting projects address immediate problems and provide long-term strategic value that helps you grow.
Why should I hire a nonprofit consulting firm?
Generally, nonprofits partner with consulting firms when they face a clear need or challenge.
For example, you could need assistance with:
Fundraising strategy, including a wide range of specialized campaign types

Technology strategy and solution implementation

Major giving and prospect research support

Marketing strategy development

Graphic design

support

Employee engagement initiatives

, like starting a corporate volunteer or employee giving program

Outsourced services, like for accounting or HR
Nonprofits generally partner with consultants for specific projects, making it easier to research consultants based on their specialties. Ensure you understand your goal for the partnership before researching consultants to find the right one for your team.
How do I find a nonprofit consultant?
There are a few general steps that you should follow when looking to hire a nonprofit consulting firm for any type of project:
Review your needs.

What do you need a consultant's help to accomplish? What are your long-term goals for your consulting project? Clearly outlining these answers now will save time down the line and keep your team focused on the task at hand.

Discuss the project with your board.

Get your board's approval to hire a consultant before moving forward. Depending on the scope of your project, this could be a significant investment, so it's necessary to have all of your key decision-makers on the same page from the beginning.

Set some concrete guidelines.

Define a few specific parameters for your project, including a general budget, a start date, and a tentative timeline. Share them with your board and with potential consultants.

Research top providers.

Research some top consultants who provide the particular services you need. Check the internet and ask colleagues at other organizations for their recommendations. Once you've narrowed your choices to just a few potential partners, move forward.

Create a request for proposal (RFP).

An RFP is a document that thoroughly details your project, its purpose, your needs, and the guidelines you've already laid out.

Review your candidates.

Work with your team to compare and analyze your shortlist of candidates. Send frontrunners your RFP and offer to answer any additional questions that they may have.

Review their proposals.

Develop a basic scoring system for each key stakeholder to use when reviewing and ranking each proposal. Reach out to any candidates for additional context as needed.

Weigh your options, and make your pick.

You'll then need to work out specifics and formally contract the consultant's services.
Once you get started with the actual project itself, the steps that you and your nonprofit consultant take will vary depending on a number of factors. Our expertise is in tech, so check out our guide to nonprofit tech consulting for a walkthrough of an example project.
Remember, it's essential to establish two-way communication with your nonprofit consultant to ensure that they're making recommendations that align with your nonprofit's goals and values. Don't hesitate to speak up if you're unclear about why the consultant has taken certain actions or if your organization is undergoing major internal changes that alter your objectives.
How much do nonprofit consultants charge?
The price of nonprofit consulting services can vary greatly. The scope of your project and the length of time you work with the consultant will impact costs. For example, a yearlong capital campaign planning project will likely be more expensive than a few-week event planning engagement.
Further, the complexity of your project and the consultant expertise needed may impact the cost. If you seek assistance with a highly specific software solution for which only a few consultants are likely to be qualified, those services may come at a premium.
Speak candidly with any prospective consultant partners to develop a clear understanding of their fee structure. It's important to understand what is, and what is not, included in the consultant's pricing to ensure the partnership proceeds smoothly for both sides.
How can we measure the success of our consultant relationship?
As your relationship with your consultant progresses, you need to proactively ensure that the collaboration is a success. Use these strategies to measure progress:
Establish key performance indicators (KPIs) at the start of your relationship to track results. Align these KPIs with your nonprofit's current goals, whether fundraising, marketing, donor stewardship, or technology-related.  For example, you might choose to track metrics like donor retention or average donation amount.
Leverage formal mechanisms for providing feedback. This could include a regular weekly meeting or a suggestion survey that any nonprofit staff member can complete.
Hold a formal review meeting at the end of the engagement. Ask your consultant for reports summarizing how they've helped your organization and how your nonprofit can continue working toward its goals after your consultant relationship has concluded.
By taking these steps, you can promote transparency and ensure you're making the most of the consulting process.
---
Next Steps to Get Started
Working with nonprofit consulting firms to develop strategies, build out your toolkit, fill vital gaps in your operations, or provide ongoing support can be a game-changer for your organization. 
If you're ready to begin your search for a consultant, review the top recommended consultants in this guide. 
For other questions, especially about nonprofit technology, strategy, and marketing projects, don't hesitate to reach out. Our team at DNL OmniMedia would love to help you get started and better understand the process of working with a technology or marketing consultant.
In the meantime, continue your research with these additional resources: