Blackbaud Constituent Relationship Management Software Overview
Since emerging in the 1980s, Blackbaud has become a well-known name in the nonprofit software space. Providing data management, fundraising, grant management, and marketing solutions alike, Blackbaud is a trusted partner for midsized to enterprise-level nonprofit organizations.
DNL OmniMedia is a Blackbaud partner specializing in the implementation, deployment, strategy, and ongoing support of a variety of Blackbaud solutions. That means that we're well versed in the provider's solutions, including the three constituent relationship management (CRM) systems in this guide and how they can be incorporated into a nonprofit's digital strategy.
Blackbaud's CRM solutions range from simple to incredibly robust, ready for use immediately to highly customizable. By covering three Blackbaud solutions, we hope to provide you with valuable insight when it comes to choosing the right CRM for your organization. We will provide an overview of each software, as well as the price and which organizations are best served by the solution. Finally, we'll cover a few tips to help your team implement your Blackbaud CRM solution effectively.
This guide covers the following Blackbaud CRM systems:
Raiser's Edge NXT
Blackbaud CRM
eTapestry
What to Look for In a CRM
Investing in a new CRM can have major financial and data management implications for your nonprofit, so it's crucial to find the right fit for your fundraising, stewardship, and internal operations needs. Because data migration and the overall implementation of your new CRM is a time and resource-intensive process, you'll want to choose a solution that can grow with you and serve your organization for years to come.
While we're going to discuss three solutions, each with unique benefits, there are a few key features and functionalities that any CRM should have. When investing in a new CRM, make sure it offers: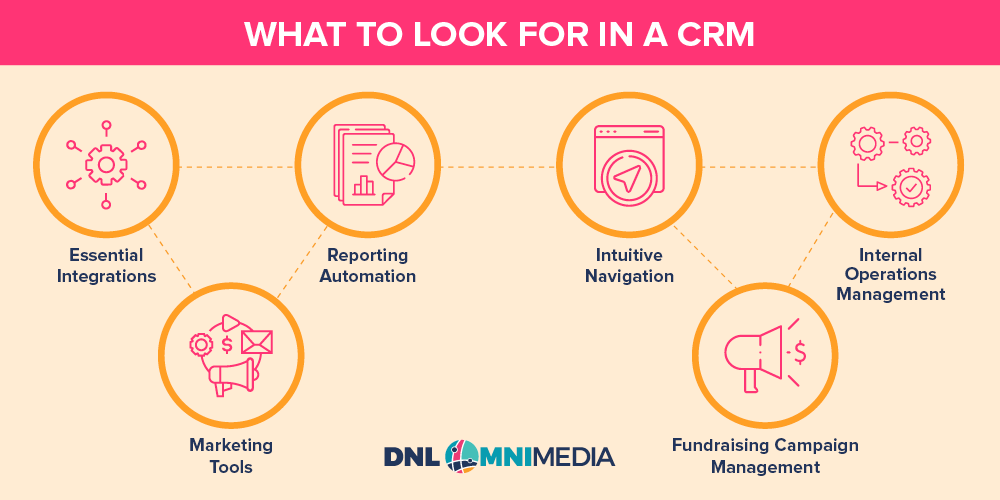 Essential integrations with your other nonprofit technology solutions so data can flow seamlessly into your CRM and form a comprehensive picture
Reporting automation to remove the administrative task of generating recurring reports from your team's workload
Intuitive navigation so that any member of your team, tech-savvy or less so, can learn to use the platform
Internal operations' management to bring both your external and internal operations into one database
Fundraising campaign management that empowers you to manage major efforts, such as capital campaigns and year-end fundraising, and smaller efforts, such as a one-off peer-to-peer campaign
Marketing tools to manage your email drip campaigns, newsletters, website, and social media presence with ease
Beyond these core functionalities, your organization may have unique needs based on your own fundraising, marketing, and advocacy efforts.
For example, if you're seeking to grow your major gifts program in the coming years, you'll want a CRM with features that support an in-depth moves management process such as prospect research tools and a method to log touchpoints with prospects. Or, if you're looking to pursue grants as another part of your fundraising strategy, you'll want a CRM with application and project tracking. This is why it's valuable to do an in-depth comparison of the CRM software you may be considering to ensure it can meet your organization's unique needs.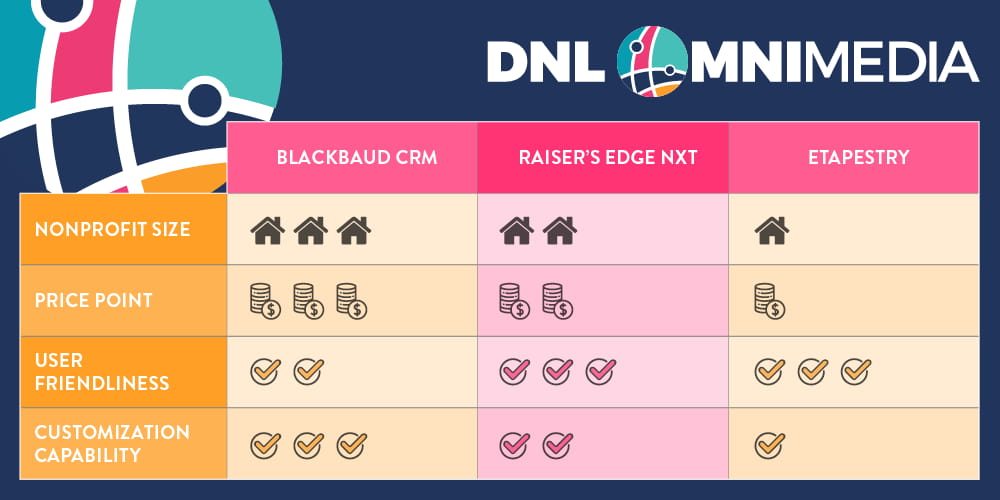 Examining this Blackbaud software comparison chart, a few noteworthy aspects stand out:
Blackbaud CRM is the most customizable of the solutions, but it also has the highest price tag.
eTapestry is the most budget-friendly solution and the least customizable.
Raiser's Edge NXT and eTapestry stand out as the most user-friendly solutions out of the box.
Are you considering

investing in one of Blackbaud CRM solutions?
Contact DNL OmniMedia for assistance choosing a solution and implementing it in your strategy.
Blackbaud Software Overview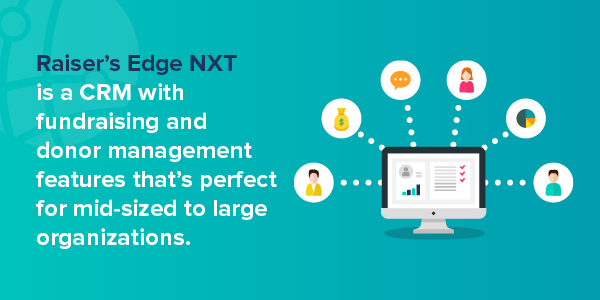 Raiser's Edge NXT is the latest iteration of one of Blackbaud's most widely-used CRMs, Raiser's Edge. It's marketed as a fully-functional solution for nonprofit organizations.
While it's less customizable than the other solutions on this list, RE NXT is still scalable to fit the needs of a midsized to large nonprofit. Further, it's often praised for how user-friendly and accessible it is, especially in comparison to other more customizable solutions such as Blackbaud CRM.
RE NXT is equipped with a host of fundraising and relationship management features, such as:
Donation management features, including online gift processing, donor profiles, and fundraising campaigns
Supporter engagement features, including extensive donor data management and segmentation to target your outreach and analytics
Internal operations features, including role-based work centers corresponding to different team members
Marketing and communications features, including email marketing, social media, and direct mail campaign generation and response tracking
To learn more about Raiser's Edge NXT and its extensive functionality, see our RE NXT software guide.
How Much Does Raiser's Edge NXT Cost?
Because Raiser's Edge NXT is a robust CRM solution, it's not likely to be within the budget for smaller nonprofit organizations. However, midsized and large organizations are directly in Blackbaud's target market for this solution. If that describes your nonprofit, we recommend requesting a quote from the provider to discover whether RE NXT is a good investment for your organization in the long run.
When budgeting for Raiser's Edge NXT and many of the other solutions on this list, remember that the solution's total cost extends beyond the licensing fees that grant initial access to the platform. You'll also want to invest in nonprofit tech strategy consulting to manage the implementation of this solution, including data migration and your team's training.
When to Select This CRM Software
You're a midsized to large nonprofit organization.
You've outgrown smaller donor management solutions or a variety of piecemeal software and are seeking one comprehensive solution.
You're looking for a user-friendly solution with a quicker implementation timeline.
You don't need a solution with extensive customization capabilities.
You need a CRM with built-in fundraising and marketing capabilities.
Are you considering

investing in Raiser's Edge NXT?
Contact DNL OmniMedia today to make the most of your RE NXT experience.
Blackbaud Software Overview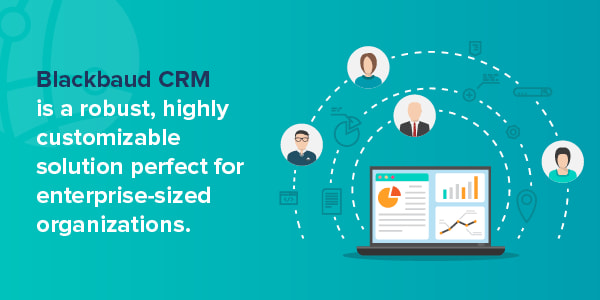 Blackbaud CRM is the provider's largest-scale nonprofit CRM available. It offers robust, highly expansive data management options for organizations with complex needs.
This CRM is best suited for enterprise level organizations that are looking to unite large, multi-dimensional datasets in one solution. It carries specialized functionality such as:
Analytics features powered by Blackbaud's native prospect research tool, ResearchPoint, including data modeling and benchmarking
Multichannel marketing features including a website content management system, data-driven direct mail campaigns, and integrated data across multiple campaigns
Relationship management features including the ability to streamline multiple fundraising teams and empower on the go fundraisers with constituent information through their smartphones
We should also note that the underlying characteristic of Blackbaud CRM's functionality is customization. The full functionality of Blackbaud CRM isn't something that's built-in and you'll need to work with a partner to build out the solution to meet your needs. You'll want to have a plan in place for implementation, customization, and training prior to investing in this solution.
How Much Does Blackbaud CRM Cost?
Blackbaud CRM is easily the most customizable solution on our list, and with that option comes a higher price point. This solution is likely out of budget for small and midsized organizations and carries a price tag that's better suited for enterprise size organizations.
Because Blackbaud CRM is so customizable, that also means that you're probably going to need to invest in more extensive Blackbaud-specific consulting services. This should be factored into your initial budgeting.
When to Select This CRM Software
You're an enterprise size nonprofit with complex data management needs.
You're prepared to spend time and funding to implement your CRM with the help of a consultant.
You need a highly customizable CRM solution.
You've created a plan for how you'll adapt your CRM to meet your needs.
Are you considering

investing in Blackbaud CRM?
Contact DNL OmniMedia today to make the most of your Blackbaud CRM instance.
Blackbaud Software Overview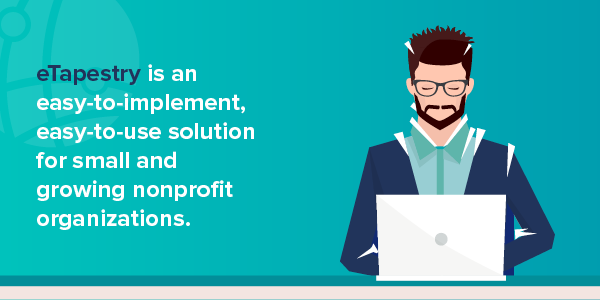 eTapestry is Blackbaud's solution for smaller or growing nonprofit organizations. It offers an assortment of essential fundraising and donor management tools to fulfill the needs of smaller organizations that may not have the resources or need for a more robust solution.
While it's not very customizable, eTapestry is easy to implement without the need for extensive training. The platform offers the following key functionality:
Data management tools such as cloud-based management, data health screening, and access to National Change of Address services to ensure data is clean and secure
Fundraising management tools including fundraising dashboards, online donation forms, mobile accessibility, and giving data analytics
Engagement tools including email campaign creation and tracking, event management, and membership program management
For organizations that are investing in CRM software for the first time and upgrading from a system of disparate spreadsheets, eTapestry is a great solution. It both carries all the functionality a smaller organization would need while being accessible and user-friendly for staff members navigating this type of software for the first time.
How Much Does eTapestry Cost?
eTapestry is the most budget-friendly solution on this list and is best for smaller and growing organizations. Additionally, because the software isn't customizable, any consulting costs are likely to be significantly lower.
When to Select This CRM Software
You're making an initial investment in CRM software but aren't ready for a large-scale solution.
Your nonprofit prioritizes affordability and needs a CRM that is budget-friendly.
Your fundraising goals are simpler and best-served with a straightforward CRM solution.
You prioritize an easy implementation and ongoing user-friendliness.
Are you considering

investing in one of Blackbaud CRM solutions?
Contact DNL OmniMedia for assistance choosing a solution and implementing it in your strategy.
Top Tips for Implementing Blackbaud CRM Software in Your Strategy
Choosing the right CRM for your organization is step one — then, you have to actually implement the solution and create processes for successful ongoing use.
Review our top four tips for successfully implementing one of Blackbaud's CRM solutions into your nonprofit's tech stack.

Create a Comprehensive Plan for Data Migration
Data migration describes the process of transferring information from your organization's previous database into your new Blackbaud software. It's often a pain point for nonprofit organizations. It involves moving high quantities of sensitive data and doing so in a manner that the data is clean and organized effectively in the new system.
We recommend that you account for this in advance and create a plan to tackle data migration. This plan should include:
Bringing in outside assistance, such as a nonprofit technology consultant
A timeline for the data migration
Outlined team responsibilities, such as defining who is responsible for ensuring the full migration is completed successfully
Thinking about this ahead of time will make the process as stress free as possible for your team and prevent costly mistakes.
Work with a Developer to Customize Your Solution
If you choose one of the more customizable solutions on this list, such as Blackbaud CRM, you'll need to work with a developer to build out the platform. Unless your team has an extensive internal development department, this developer will likely need to be an external consultant that specializes in Blackbaud solutions.
This developer will work with you to ensure the CRM is configured to meet your nonprofit's specific data and fundraising management needs. This includes:
Building out integrations
Creating automated reports
Configuring custom fields and other organizational elements
No two nonprofits are the same, and each will have unique database needs. Working with a developer to customize your Blackbaud software will ensure it's configured correctly to propel your organization to success.
Prioritize Team Training
Whether you're choosing a robust solution such as Blackbaud CRM or a simpler solution like eTapestry, you'll want to train your team to use the system effectively. More than likely, your team hasn't encountered a system in this manner— whether it's because that system is highly customized or because it's the first time your organization has invested in a CRM.
Training is crucial to ensure users can navigate the system and log information effectively. This prevents knowledge silos from forming. After all, the main point of a CRM is to bring data under one umbrella, so your team can use it to improve operations.
There are a few ways to approach team training. You can work with Blackbaud's training team or bring in a consultant that's experienced in the products. Either way, you'll want to document this training, so it can be replicated as new team members join in the future.
Invest in Blackbaud Support
Many of Blackbaud's CRM solutions are incredibly robust. You'll want to invest in Blackbaud support for initial migration, platform customization, training, and ongoing updates to ensure you can make the most of the CRM you choose.
DNL OmniMedia is a trusted Blackbaud consulting service provider for midsized, large, and enterprise organizations (most often projects of $15,000+). This includes CRM technical strategy, customization, data migration, and team training.
To learn more about our Blackbaud consulting services, contact team DNL today.
Are you considering

investing in one of Blackbaud CRM solutions?
Contact DNL OmniMedia for assistance choosing a solution and implementing it in your strategy.
Additional Blackbaud Software Resources
Blackbaud's Raiser's Edge NXT is often compared to Salesforce's Nonprofit Success Pack. See how the two solutions compare in this guide.
Blackbaud provides much more than just CRM solutions. Review our Blackbaud Luminate Online Guide to learn about another popular marketing solution from the provider.
When implementing a Blackbaud CRM solution, you'll almost certainly want to work with an expert consultant. Review this guide to the various Blackbaud consulting services available for nonprofits.