October 22, 2018

If your organization has recently implemented or decided to purchase a version Blackbaud's popular fundraising and donor management platform, Raiser's Edge or Raiser's Edge NXT, you might be wondering what your next steps should be.
Whether your team needs straightforward implementation support, help with determining the right configurations, comprehensive training, or even custom integrations or solution development, Raiser's Edge consulting from team DNL will help you make the most of your new toolkit. After all, the Blackbaud suite of nonprofit software represents some of the most reliable and highly-functional solutions on the market; positioning your team for success with any Blackbaud product has the potential to substantially streamline your operations and boost revenue. Raiser's Edge is no exception.
Raiser's Edge is an important investment for any organization to make, so finding the right partner to get you started using it properly and in a way that sets you up for continued success requires careful thought. There are a few best practices for hiring a Raiser's Edge consultant that your team should keep in mind:
Hiring any type of nonprofit consultant is an important step for an organization, particularly when it's in the process of scaling up its operations or refreshing its processes. Raiser's Edge, while an invaluable tool for organizations that fall into these categories, can be tricky for newcomers to get started with quickly. This makes Blackbaud consulting services game-changing resources for many nonprofits.
By following the best practices and steps outlined here, you'll be on your way to finding your next Raiser's Edge consultant in no time. Let's get started:

1. Start with Some General Research on Raiser's Edge Consulting
This step is important for those organizations that have never before engaged the services of a technology consultant.
Conducting some basic research on the Raiser's Edge consulting process and the top consultants in the space is the best way to get started. This will orient your team and help them better understand both the scope of your project and what to expect from a consultant down the line. Specifically, explore a few resources on Raiser's Edge software itself and the nature of nonprofit technology consulting. Our comprehensive guide to the Raiser's Edge platform might be a good place to start.
Additionally, you might consider asking colleagues and partners in other organizations about their experiences with nonprofit technology consultants. Better yet, you might reach out to Blackbaud for references to preferred partners and recommended experts. Work with your team to build a shortlist of potential partners.
If your organization has already used Blackbaud products or worked with a technology consultant in the past, you might instead move straight into compiling a list of prospective Raiser's Edge consultants to partner with for your project. Want to learn the specifics of how team DNL can help with your next Raiser's Edge project? Contact us today to learn more about the process.

2. Explore the Raiser's Edge Consulting Services That Top Candidates Offer
You should already have a general idea of your organization's goals for your Raiser's Edge software. What are the results you need from an engagement with a technology consultant? At this point in the process, these goals don't necessarily need to be fully concrete and quantifiable; the main idea is to find a Raiser's Edge consultant whose services, specialties, and portfolio generally align with your needs.

For Raiser's Edge, the main areas of support in which a consultant can help guide your nonprofit are:
Implementation
This area includes configuring your new Raiser's Edge platform to address the specific needs of your organization and managing the safe migration of all your data to the new system.
Custom development
One of the most valuable Raiser's Edge consulting services in the long term, custom development typically involves integrating the Raiser's Edge software with existing tools, like your website, fundraising software, or other CRM.
Fundraising strategy
Raiser's Edge is a comprehensive platform that helps you manage your donor data and fundraise in smarter ways; a consultant can outline fundraising plans to help you make the most of your new toolkit.
Training
As with any new technology investment, it's important that your team fully understands both its full range of features and how to use them. A consultant can ensure everyone is on the same page without overwhelming the team as a whole.
A quality candidate should offer services and support that spans all four of these areas. It's generally best to avoid Raiser's Edge consultants who only support in an extremely specific area. For instance, while a firm that specializes in Blackbaud products is a smart choice, a consultant that only offers Raiser's Edge configuration might not be. That's because their strategic vision for your project might be affected by their limited experience, especially if your goal involves custom solutions or integrations.
Raiser's Edge consultants with considerable experience working with the rest of the Blackbaud suite probably even have custom purpose-built solutions that you can quickly and easily implement. DNL OmniMedia's products, including Blackbaud-integrated mobile apps, TeamRaiser extensions, and Luminate Online add-on modules are great examples.
After all, nonprofit technology consulting projects are as unique as the missions of the organizations that undertake them; an effective Raiser's Edge consultant should draw from a diverse range of experiences to quickly find and develop the right solution that actually addresses your needs. One-size-fits-all approaches will tend to be less helpful and valuable in the long run for your organization.

3. Research Their Past Experience with Raiser's Edge Consulting
As you build and refine your shortlist of prospective consultants to support your Raiser's Edge project, it's essential to get a concrete sense of their abilities and experience. Reach out and start a conversation to ask for more information.
Verbal histories are great, but don't forget that concrete references and examples are even better. A combination of the two can give you a great overview of the consultant's areas of expertise and experience with whatever type of support your organization needs for Raiser's Edge. The consultant or agency you contact likely has a number of case studies available on their website, but be sure to ask for some if not.
When researching your prospective Raiser's Edge consultants, you might video chat or even meet in person to discuss their portfolio of relevant work. If you do, carefully consider your and your team's impressions and rapport with the consultant. This will be important for setting the tone of eventual partnership if you choose to engage their services.
Raiser's Edge consulting services will ultimately help your organization maximize its return on investment on the platform; technology consulting can be difficult at times, particularly when it involves training your team or developing custom solutions. You'll need a professional but warm working relationship with any expert guide you hire.
Remember, however, that you're not quite at the RFP (request for proposal) stage of the process yet, so keep this step a little less formal. You don't need to indicate your definite interest or provide too many specifics about your own project when researching a consultant's past work with any particular platform. Doing so too early can create a misleading impression that risks wasting both their time and your own.

4. Outline the Scope and Specifics of Your Raiser's Edge Consulting Project
You already understand your goals for Raiser's Edge, but you'll also need to determine the concrete parameters of your project. These guidelines will be essential for your consultant to provide you with the best possible solution fully customized to your needs. For database platforms like Raiser's Edge, data strategies, timelines, and budgets are of particular importance when planning consulting projects.

What is Our Data Cleanup or Migration Strategy?
Implementing Raiser's Edge for the first time, adopting new custom integrations, or running major updates requires some careful thought about how best to manage all your data in the process.
For instance, if you need support for implementing the platform, your Raiser's Edge consultant will need to know how much existing data needs to be safely migrated over into it. The data strategy they develop will most likely involve a cleanup process as well. This will ensure that your new Raiser's Edge system is as streamlined as possible one Day One.
The limitations, size, and quality of your current database will directly affect the strategy that a Raiser's Edge consultant develops for your organization.
What is Our Concrete Deadline for This Project? What Is Its Ideal Timeline?
How long do you want and need your Raiser's Edge project to take? Are there any upcoming major campaigns that your timeline will be affected by or built around? Your answers might also depend on whether or not your team needs additional Raiser's Edge training.
How many steps do you foresee in your Raiser's Edge consulting project? Strategy development, and training will probably all need to be addressed at various points in the process, and implementation projects will require migrations. Forgetting to plan for a step and then suddenly needing to pause for it can seriously throw off your timeline (and your budget). Take the time now to precisely determine an appropriate timeline and deadline for your project.
What is Our Budget for Raiser's Edge Consulting?
You'll probably need to work with a number of team members across departments to determine a specific budget for your Raiser's Edge project. Remember to factor in the cost of the software itself if your team is starting with Raiser's Edge for the very first time.
Leave some room for adjustment in your final figure, but be as specific and concrete as possible.

5. Develop and Submit your RFP to the Top Prospective Consultants
Once you're ready to start narrowing down your list of potential Raiser's Edge consulting partners, reach out to each candidate again. Ask about their typical processes for accepting and responsing to RFPs.
An RFP, or request for proposal, for a nonprofit technology consulting project will typically include a few common sections. Make sure yours contains: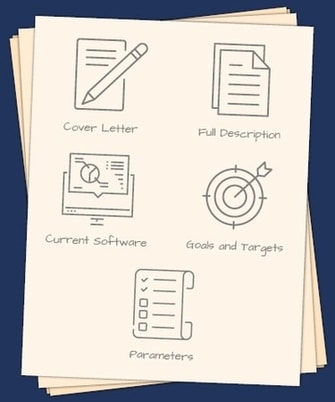 A cover letter that provides a general overview of your organization, including its culture, mission, and size
A full description of your intended Raiser's Edge project
A description of your existing software, how your team uses it on a daily basis, and their level of experience with Raiser's Edge
Your specific goals and concrete targets for the project, as determined in the previous step
The concrete parameters you've identified, namely the project's budget and time constraints
Be open to answering additional questions that the consultant might have while putting together a proposal.
Remember that their solution should be fully tailored to the needs of your organization. A one-size-fits-all proposal might indicate a consultant who's more interested in selling your organization a pre-packaged solution than in actually working with you to develop the right systems and strategies.

6. Create an Objective System to Rank Your Top Raiser's Edge Consulting Choices
As with any nonprofit technology project of this sort, your team is essential looking to maximize its return on an important investment. While you should definitely value your impressions of prospective nonprofit tech consultants, your team also needs an objective system for reviewing their proposals.
Think about various characteristics of any potential consultant, and then prioritize them with your team. Literally assign them point values, then after carefully reading and reviewing each proposal, score them according to those characteristics. A few typical examples include:
The consultant's level of experience with missions like yours
Their flexibility or willingness to work with you remotely
The difference between their proposed cost and your budget
Their availability for extended or periodic training support
Involve multiple stakeholders in the proposal review and comparison process, too. Several team members who regularly use your Raiser's Edge system, those who will need to use the final configuration, and tech-savvy board members are all great perspectives that should weigh in on the decision.
Once you weed out the proposals that don't satisfy enough of your prioritized characteristics, compare just the remaining responses, always keep your goal, final deliverables, and concrete parameters in mind. This process will save you time in the long run by drastically simplifying your decision, making it clear which proposal hits the most marks and which don't.
---
Blackbaud's Raiser's Edge and Raiser's Edge NXT are among the most popular donor management and digital fundraising platforms on the market for nonprofit organizations. As with any updated software, however, adopting or upgrading the Raiser's Edge system requires careful planning in order to yield the best possible results.
Raiser's Edge consulting, in any or all of the core areas of support, can ensure that your organization is positioned to make the most of the platform. Have a conversation with team DNL today so we can help you find the right partner for the job. Bookmark this page to refer to during your consultant hiring process, and be sure to continue your research with a few additional resources: