What do you think of when you think of nonprofit branding? Is it the American Red Cross's classic, eye-catching logo? Or, perhaps the smiling faces of children who have received wishes from the Make-a-Wish Foundation?
Both of these are examples of nonprofits that have developed a highly-recognizable and trustworthy brand. However, these brands go much deeper than the logos and images they share.
This guide provides a deep-dive into nonprofit branding, from how to craft your organization's brand narrative to how you can communicate that brand to staff members, volunteers, and supporters alike. Then, we'll discuss how Team DNL can help you do just that.
We'll cover the following points:
Before we dive into how to develop your nonprofit's brand, let's walk through why having an established brand is so important.

Why is branding important for nonprofits?
The overwhelming guidance around nonprofit marketing is to let your mission do the talking.
Why should a donor give to your cause? Is it because their gift translates to 10 meals provided for a hungry child in your local community?
Why should a volunteer give? Is it because their efforts are the difference between animals struggling and lonely in a shelter? 
Some nonprofit leaders directly associate branding— which can seem like it centers your organization rather than your mission— with commercial pursuits and monetary gain. Therefore, they're hesitant to invest significant time or resources.
However, branding is a crucial investment for nonprofits and their mission alike. For nonprofits, there is a gap between an action (for example, raising funds) and seeing the impact of that action (families fed in the community). A strong brand is what generates and sustains engagement in the time between these two points. It conveys that your organization will deliver on its promises, even if that delivery is years in the future.
Your donors, volunteers, and other stakeholders already support your mission. But, they need to identify that your organization is the key to helping advance that mission. When your brand is strong and supporters identify your organization as the solution to supporting a cause they care about, they develop an emotional connection to your nonprofit itself.
This results in increased cohesion across your tech and human resources, better-concentrated focus, and higher trust levels.

How to Brand a Nonprofit Organization
Branding your nonprofit organization requires much more than choosing a color palette and font style. To brand your organization and ensure that branding is maintained across your marketing platforms, you'll need to design a comprehensive brand narrative that will last the test of time and communicate that clearly across all who are in charge of conveying it.
Here are a few tips to keep in mind when doing so:

Recognize that branding goes far beyond choosing a logo and color palette.
When you think of powerful nonprofit brands, what comes to mind? Maybe it's the World Wildlife Fund's distinctive panda logo or the American Red Cross logo's bright red cross. While your logo and color palette are vital parts of your nonprofit's brand, recognize that your branding extends far beyond that.
Here are a few examples of how your nonprofit's brand extends beyond simply your visual identity:
Your nonprofit's brand needs to connect your mission with your identity as an organization.

The two aspects need to be aligned because your mission is what supporters feel an emotional connection to— that emotional connection when aligned with your nonprofit itself, will inspire supporters to give their time and funding to your organization rather than competitors.

When your mission and organization are aligned, your branding represents your constituents as well as your organization itself.

You need to represent those who benefit from your services ethically. So, for example, images depicting those that you help on their worst days wouldn't be an ethical representation of your constituents.

Your actions should reflect your nonprofit's brand.

This includes your organization's actions as a whole, as well as those working with you. Are you a mutually beneficial partner to other organizations advancing your mission? Are volunteers, staff members, and board members seen as ethical, trustworthy, and acting in your mission's best interest?
The point we're making here is that branding touches every aspect of your nonprofit, both internally and externally. It inspires supporters to give to you and trust that you're using the funds for the right cause, it's the public's perception of those that benefit from your organization, and it's the driving force behind your team's actions.
It naturally follows that you'll want to craft your brand narrative carefully so that you have a strong foundation carried through your organization's actions. Let's take a look at how you can do just that.

Conduct research to determine your nonprofit's story.
Your nonprofit's branding shouldn't be created in a vacuum, taking into account the opinions of your organization's leadership and little else. This is because your organization's identity spreads far beyond your decision-makers— it's in each donor, volunteer, staff member, and constituent impacted by your organization.
We recommend reflecting on your brand both internally and externally, surveying all of the above stakeholders against the following questions:
How is your organization currently perceived?

Simply ask your stakeholders to describe your organization and note any recurring themes. Are there different perceptions depending on the type of stakeholders— such as those of volunteers in comparison to board members?

How do you want your organization to be perceived?

Maybe you're currently seen as a small organization, but you want to be a major game-changer in your space. Or, perhaps you're seen as a very traditional, stuck-in-its-ways nonprofit, and you want to be modern, fresh, and up-to-date.

How will individual branding decisions be accepted?

For example, if you already have a fairly well-developed brand, even if it's not formally articulated, you may want to avoid making drastic changes that could be poorly received.
These questions will help you understand the story that's currently surrounding your nonprofit. Then, you can consider what's different between that story and your ideal brand positioning. What needs to change to make the two align?

Highlight what makes your organization unique.
When a donor or a volunteer decides to give their funds or time, they have a plethora of organizations through which to do so. So, why should they choose your organization over the others working in a similar area?
The crowded nonprofit landscape is excellent from the perspective of advancing your mission. But, it also makes it challenging to raise enough support to fuel your organization's work.
Highlight what makes your organization unique from others working in a similar space. For example, what's your unique approach to advancing your mission? Why is that approach worthy of supporting over others tackling a similar problem?
This could be the specific work you do, such as an animal rescue that specializes in placing pets with foster families rather than a more crowded shelter atmosphere. Or, it could be the impact you've had already, such as a food bank that has fed thousands of local citizens— and counting!
This unique aspect convinces a major donor to give to your organization or a grant funder to award game-changing grants. This is why your overall branding should represent it.

Consider how your brand will last the test of time.
Think of the best-case scenario for your organization— you stay around for years to come, growing steadily and making great strides for your mission. Maybe, you even become a recognized thought leader in your field and are sought for guidance concerning your cause.
With these big plans in mind, it's crucial to create a brand that can withstand the test of time. Some organizations choose branding that looks nice enough now, perhaps is even trending, but will age terribly.
You should keep the future in mind when designing your brand identity, considering how both communication methods and public perception will evolve. We recommend aiming for simple, clear branding, which will be more likely to stay in style for a long time. Think of the timeless logos you've encountered— such as the Red Cross logo. It's straightforward and clearly represents their organization, and therefore hasn't required significant changes over time.
Further, we recommend branding in a way that allows your organization to be flexible going forward. Whether new technology platforms or adjustments in public perception, you'll want branding that's not too complicated or set-in-stone that you can't make changes.

Make sure everyone is on the same page.
Just because you've crafted a brand that's representative of your organization and sure to last the test of time, that doesn't mean that this brand will be readily carried through your organization's efforts.
Think back to the many hands that represent your organization— staff members, board members, volunteers, donors, contractors, and more. It's crucial to communicate your brand to all of these groups. Whether they're holding an internal meeting, giving a speech at a gala, writing a press release, or simply telling their friends about your mission, this ensures they do so in a manner that aligns with your hard-woven branding.
One way to communicate your brand is to create a branding guide. A branding guide, also known as a brand style guide, is the instruction manual to maintain your brand's consistency. Many organizations maintain brand guidelines, from UNICEF to charity:water to the American Heart Association.
Each of the examples above shows multi-page PDF documents that certainly contain more than simple logo information. What information should you include in your guidelines to ensure all parties can uphold your branding without causing information overload?
Let's explore that further in the next section.

4 Key Elements to Include in Your Nonprofit Branding Guidelines
Whether you're working with a nonprofit marketing consultant to develop your branding guidelines or crafting them internally, there are a few key elements to include.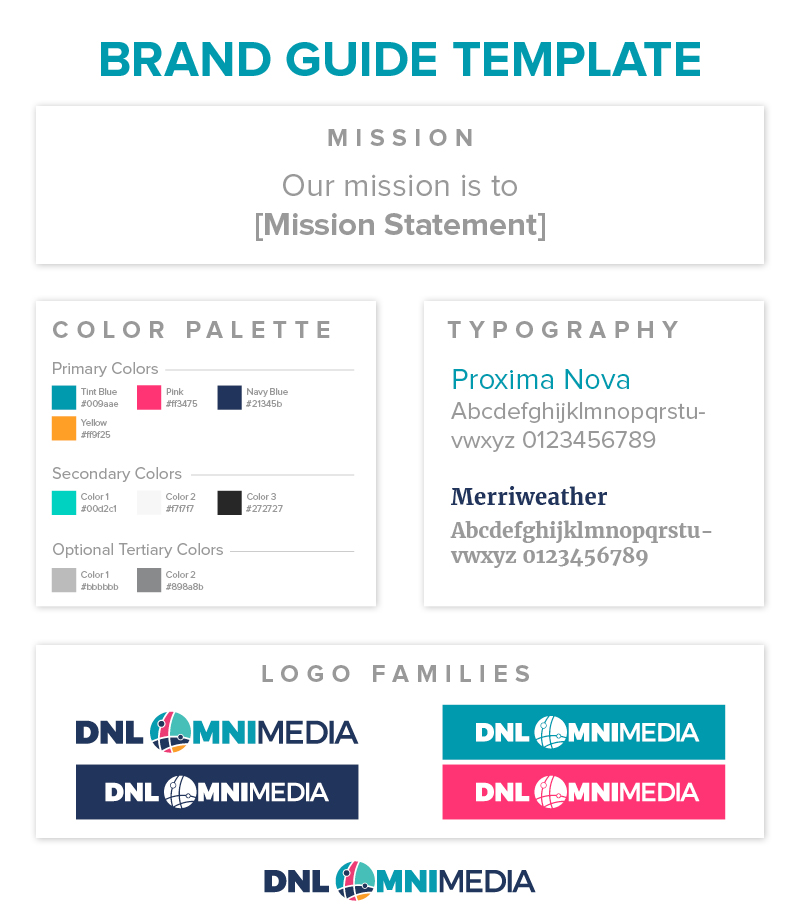 Here are four element categories to keep in mind when outlining your guidelines.

Positioning
This draws back to the hard work you did in the earlier sections of this guide when discussing the story you want to tell through your branding. Here are the positioning elements to address in your branding guide:
Audience:

When you're creating communications, to whom are you addressing them? This includes your donors, volunteers, and constituents alike. Consider what's important to these audiences, what motivates them, and how you can create communications that appeal to that.

Mission Statement:

This should be concise— think one to two sentences— and explain what your nonprofit is all about. The vocabulary should be simple, straightforward, and discuss the work you do and why you do it.

Key Messaging:

This is where you should note any key phrases or topics you want to associate with your brand. This messaging can expand upon your mission statement and provide more information about your organization's motivations and work.

Brand Personality:

This should align with your mission to some extent. For example, if you're working with children, it's not unreasonable to have a more playful brand personality. But if you're advancing a more serious mission such as critical research for life-threatening diseases— you'll want to reflect that in your personality.
After fleshing out your positioning, you'll use it to inform your other branding decisions.
Visual
Most often, visual elements are what first comes to mind when creating a brand guide. After all, a picture is worth a thousand words, and an evocative logo can move mountains.
Here are the visual elements to include in your brand guide:
Logo Families:

Consider how your main logo will evolve for different platforms. How will size changes adjust how your logo is shown? Different background colors? Digital versus physical materials?

Typography:

What font will you use on your digital and physical branding materials? Will this font change depending on whether it's header or paragraph text? Remember, you'll want to choose a font that's accessible and easily readable for all.

Color Palette:

Choose anywhere from three to five colors to comprise your primary color palette, the same number of secondary colors, and optional tertiary colors. You'll want accent colors (such as red, green, or blue) and neutrals (such as black, grey, or brown). Include the exact HEX codes so others can easily replicate these colors. All colors should be evaluated for compliance so that if they're used in digital design, web users can see the colors clearly.

Photography and Videography:

To what extent will you use photography and videography in your branding? Will you show staff and volunteers or include constituents as well? How will you protect their privacy and ensure you show all pictured with dignity?
Remember: visual branding isn't just about looking pretty. Your organization's visual elements can evoke strong emotions— bold design inspires action, images create lasting memories, and so forth. Keep this in mind when outlining your visual elements.

Textual
We discussed typography in the last section, but that's far from the only textual consideration you should note in your brand guide.
Here are additional textual elements to note in your nonprofit's brand guide:
Grammar and Style:

Do you prefer to refer to donors as supporters, contributors, givers, or champions? Do you regularly use the Oxford comma or omit it entirely? Note any hard-and-fast grammar and style rules you keep internally to ensure consistency across your copy. 

Naming Conventions:

Consider how individuals should refer to your organization and the various parts within it. Do you ever abbreviate your name? Do you have specific names for multiple teams within your organization to ensure you're on the same page with others when referring to them?
The goal is for supporters far and wide to be discussing your organization and spreading the word. Make sure they're prepared to do so effectively with your branding guidelines.

Platforms
We've discussed the many individuals involved with communicating your brand, but what about the platforms? By this, we mean the various tools used to discuss your organization.
Here are the platform elements to consider including in your nonprofit's brand guidelines:
Signage:

How will you brand the sign on your organization's headquarters? What about signage for specific volunteer and donor events, both casual peer-to-peer events and formal galas?

Merchandise:

Consider whether you'll want to specify specific logos, taglines, and typography for different types of merchandise. This includes t-shirts, water bottles, stickers, bumper stickers, and more.

Social Networks:

Which social networks do your organization have profiles on? Consider which logos you want to designate for social use, whether you want to associate any hashtags with your brand, and how you want to engage with supporters through the platforms.

Digital Communications:

This includes

your nonprofit's website

, email marketing, and

any mobile apps

you use. Consider the ways you can maintain continuity across these platforms in visual design and messaging.

Direct Mail:

Consider how you want to represent your brand across various direct mailings. This includes postcards, donation appeals, thank-you letters, and more. Will your logo resize to fit different mailings? Will you have images in postcards but avoid them with thank-you letters?
As your organization's reach grows, especially across multiple social media networks, more and more hands are conveying your brand. The goal should be to have consistent branding across all of these networks, creating a cohesive, recognizable multichannel identity.

Work with DNL OmniMedia to Preserve Your Nonprofit Branding Strategy
As your organization grows, both internally and externally, it gets more complicated to create and maintain your brand identity. You'll introduce new technologies and points of interaction, and you'll have more individuals with the responsibility of upholding your brand in their actions.
As the many touchpoints between your organization and the public increase in complexity, we recommend bringing in a nonprofit consulting partner to ensure your branding is maintained. For example, Team DNL offers the following services that can help support your nonprofit's brand:
Marketing Services:

We offer marketing strategy creation, copywriting, social and organic content management, event planning, video and digital marketing, and print design— each of which is done with your nonprofit's brand in mind. This ensures your branding carries through your outreach efforts.

Fundraising Services:

This includes omnichannel campaign development and execution, sustainer program development & enhancement, donor acquisition campaigns, and peer-to-peer communications, all created to align with your nonprofit's established branding.

Technology Services:

We can craft a nonprofit, technical strategy that aligns with your nonprofit's branding, as well as design and develop platforms— such as a custom website and mobile app— that maintain your branding externally.
Branding touches every aspect of your nonprofit's efforts. That's why it's valuable to work with a consulting firm that's dedicated to maintaining this brand across the board to provide a cohesive experience for internal staff members, external volunteers and donors, and constituents alike.
---
Nonprofit branding is much more than your color scheme and logo. It's reflected in your visuals, your messaging, and your interactions with the public alike.
Impactful nonprofit branding builds donors' trust in your organization and can sustain your organization during challenging times. For help establishing and executing your nonprofit branding, contact Team DNL today.
In the meantime, review the following additional resources to continue learning about nonprofit branding: