October 7, 2020


Securing major gifts is an incredibly strategic effort. Each step you take with a prospect, from the first communication to receiving a gift, needs to be carefully tracked and planned for. In the nonprofit world, this tracking process is referred to as moves management.
As with other digital fundraising strategies, technology plays a large role in determining your success. At DNL OmniMedia, we help nonprofit organizations use their technology for more effective fundraising and donor stewardship. One critical element of this area involves refining the nonprofit's tech stack for more effective moves management.
We're going to cover moves management through the following points:
Having a solid strategic infrastructure for moves management can streamline your prospecting and cultivation process over time. You can raise more funding and avoid rebuilding processes from scratch each time you want to secure a major gift.
Are you ready to perfect your team's moves management strategy? Let's get started.

Covering the Basics of Moves Management Fundraising
What is moves management?
To understand moves management, you first need a working definition of "moves."
Moves are the various connections and steps a nonprofit takes to usher a donor toward giving.
You might have encountered this concept before in for-profit contexts. Salespeople at businesses need to carefully track their potential buyers through the sales cycle or funnel so that they know exactly when the right time will be to push them a little further towards converting. That said, some common examples of nonprofit moves include:
Meeting with major gift prospects
Seeking feedback from prospects regarding an upcoming campaign
Making major gift asks
With this definition of moves, we can now define moves management.

Moves management is the process of tracking all moves taken with a donor to more effectively control the stewardship and cultivation of major donors.
The goal of moves management is to give major gift officers a clearer view of:
Where each major gift prospect is currently located in the giving lifecycle

Clear steps forward that will ensure the highest chance of success in drawing that prospect further down the gift funnel
Effective moves management is built on the donor and gift lifecycle. The theory is that at each stage of the giving cycle, there are specific steps a fundraiser should take to usher a prospect toward giving. Moves management allows major gifts officers to understand where each prospect is in that cycle, so they're able to discern and take action on the best next step.
What is this strategy used for?
Most often, moves management is used to steward and cultivate major gift prospects.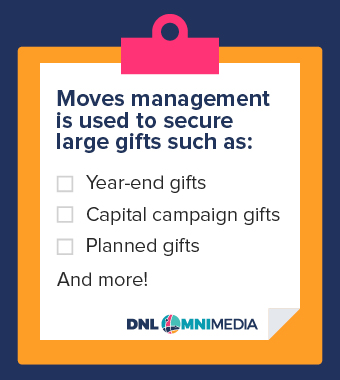 This could mean large year-end gifts, capital campaign gifts, planned gifts, or something else. The key is that the extensive moves management process is generally used to secure these larger gifts. If your nonprofit is looking to secure more small, one-time gifts, you probably don't need to create a comprehensive moves management strategy.

A Moves Management Template for Your Strategy
Now that we've covered the basics of moves management, what does it look like in practice? The following graphic outlines six key steps involved in any moves management strategy.

While this template may look different for each nonprofit, this is a great starting point to begin building your team's processes.
We're going to examine the template through the lens of a nonprofit that is looking to secure more large planned gifts. Continue reading to explore each step in the template in-depth and to see how our planned-giving scenario would play out.

Step 1: Define the audience you're targeting.
First and foremost, you have to cull out which prospects you're going to use your moves management strategy to cutivate. However, this isn't as simple as peering into your database and picking a few individuals who seem like strong prospects to make a major gift— sorting through your entire database would take forever!
Instead, begin by deciding what your goal is with moves management. Is it to secure more major donors, planned giving prospects, or something else?
From there, you'll want to think about who the ideal prospect to meet that goal would be and create prospect personas describing what that supporter would look like.  For example, you might track older prospects for a planned giving effort or prospects that are well-connected in your community for major capital campaign contributions.
In the realm of our planned giving example, let's say the organization has decided that their audience will be older prospects with a strong philanthropic history and displayed interest in their cause.
This decision forms a crucial foundation for your moves management strategy— if you don't have the right prospects, you won't have any success cultivating them.
Some organizations choose to work with consultants to identify the ideal audiences to fulfill their goals. To find partners that specialize in the specific tasks you're trying to accomplish, such as major gift fundraising or data management, check out this DNL OmniMedia guide to nonprofit consulting firms.

Step 2: Identify and analyze prospects that fit your audience.
Next, use the prospect persona you created in the last step to discover ideal candidates in your database and beyond. These could be supporters that have a measured history with your organization, or it could be entirely new candidates that you want to steward for the first time.
Regardless, consider the following for each prospect:
What is their current interaction with your nonprofit?
What was the last communication between your nonprofit and the prospect?
The goal at this step isn't to simply identify prospects who fit your ideal persona. Instead, the goals are to identify prospects, gauge their potential to become a major donor, and understand where they already lie in the giving cycle.
Sticking with our planned gift scenario, let's say you've highlighted prospects over the age of 60, with a long-standing relationship with your organization, who have made at least one large gift to your nonprofit in the past. But keep in mind, if you're going to use qualifiers such as "large," you should assign specific quantitative amounts.

Step 3: Set goals for the prospects identified.
This is the point where you start getting specific with each prospect you've identified. With your overall goal in mind, consider what your goal for each individual prospect would be.
For example, let's say you've highlighted a 65-year-old male with a long-term history of volunteering with your nonprofit and an expressed interest in giving in large amounts. After conducting wealth screening, you identify that he has the potential to make a $15,000 – $20,000 financial gift in the future. So, this is the goal for that specific major donor.
Note that the goal for these prospects should be quantitative and measurable. So, instead of simply saying you want to secure a planned gift, get specific about what the ideal gift would look like. This process is repeated for each prospect.

Step 4: Create a plan for cultivating your prospects.
Now, the fun part. Create a plan for how you're going to cultivate that donor to reach the goal. This plan should include:
The actions your team will take to steward the donor. For example, calling the donor, scheduling lunch meetings, and sending thank-you notes and marketing emails.
A timeline in which those actions should take place. This could be one month, three months, six months, or longer depending on how lofty your goal is.
A check-in process for after each action is complete. Who should your team members check in with after a task has been completed? Is there a system in which they should log notes? Ideally, your CRM should be configured in a way that makes it easy to track moves. If not, this is something that a nonprofit tech consultant can assist with.
Benchmarks that determine what the next steps would be. If a prospect responds in a positive (or negative) light, what are the next steps?
For our planned giving prospect, this plan could be a phone call, a thank-you gift basket, a lunch meeting, and a facility tour with a board member— all conducted over the course of three months. This plan should be shared with everyone involved in the moves management process, so all are on the same page.

Step 5: Make your ask.
Once you've created a prospect cultivation plan, carry it out! Eventually, after stewarding that prospect and once you feel they're in a good place to respond, make the gift ask.
These gift asks will need to be more personalized and/or one-on-one than other gift asks. They should reflect the many steps and touchpoints your nonprofit has had with this prospect leading up to that point.
With our planned giving scenario, this would occur after the three-month timeline has played out with a positive reaction and indicators of growing interest from the prospect.

Step 6: Determine the next steps.
The final step occurs after you've made the ask. At this point, you've either secured the gifts to meet your goal, or you haven't— and your next steps should reflect that.
For example, you may consider:
How to continue engaging prospects-turned-donors, or re-engage prospects that didn't convert farther down the line
Ideas to improve your moves management strategy overall to address challenges that arose
This is where you consider what worked, what didn't, and make adjustments accordingly. This is why it's so crucial to have a strong tech stack and foundation from the start, as you'll turn back to your data to make these observations. With our planned giving scenario, if you secured the gift, you might outline steps to continue stewarding that donor going forward.

4 Moves Management Best Practices
We've covered the basics of moves management and a template that your team can use to begin crafting your strategy. Now, let's cover a few final best practices to ensure your efforts go off without a hitch.

Clean your database and outline data hygiene procedures.
The goal of moves management is to gain insight into each and every step of the giving cycle. These moves are recorded and tracked in your nonprofit's constituent relationship management (CRM) system as data.
This means that to be effective with moves management, you need accurate, clean data. This comes down to having strong data hygiene procedures, including:
Conducting an initial database clean-up.

If your organization hasn't been prioritizing

database management

, you may be dealing with a mass of inaccurate, duplicate data. An initial clean-up ensures you're starting with a strong foundation.

Creating standardized procedures for data entry.

Data hygiene isn't a one-time consideration but an ongoing process. Create standards surrounding how commonly mistaken terms should be entered (think the styling of addresses, phone numbers, titles, etc.) as well as procedures for handling duplicate and incorrect entries.

Outlining standards around which moves need to be reported and when. Moves management involves a constant tracking of all actions taken with the donor. Create standards surrounding which moves need to be recorded, when, and how, to ensure all prospects are tracked in a uniform manner.
Once these standards are set, make sure to communicate them across your entire team. This will ensure that all data surrounding your moves management strategy is recorded in an accurate, helpful way.

Familiarize yourself with the donor and gift lifecycle.
As we've discussed, moves management is built on the donor and gift lifecycles. As a nonprofit development professional, you're probably already familiar with the stages involved. But, it's always a great idea to refresh your knowledge to ensure you're building your strategy from a strong foundation.

So, first let's look at the donor lifecycle:
Initial donor acquisition: This is when the donor makes their first gift to your organization.
Ongoing retention: This is anywhere from the first few months to the first few years, as the relationship between your nonprofit and the donor grows.
Donor upgradation: This is when the donor continues giving and starts to do so in higher amounts than before, transitioning into a lifelong giving relationship.
Additionally, it's important to understand the lifecycle of securing a specific gift:
Identification: This is when you discover a prospective gift.
Cultivation: This is when you cultivate a relationship with that prospect.
Solicitation: This is when you solicit a gift from that prospect.
Stewardship: This is when you continue building a relationship with the donor after they've given.
It's important to understand the donor and gift lifecycle, as how you'll engage prospects will change depending on where they're located in the cycle. For example, you'll steward a prospective first-time donor significantly differently than a donor that has already upgraded to making larger gifts. Similarly, you'll pursue gifts in the cultivation stage much differently than in the stewardship phase.

Review your moves management process regularly.
In addition to reviewing your moves management strategy after you've cycled a prospect through it, you should also regularly check in on the progress of prospects while they're actively being tracked. This review will ensure all opportunities and challenges are discovered and acted on quickly and efficiently.
For example, you may discover that a prospect has indicated that they're interested in making an even bigger gift than initially anticipated. In that case, you'll want to adjust your strategy to usher that larger gift to completion. On the other hand, you might discover that a prospect was thrown off by a cultivation tactic that your team employed, and it's time to conduct some damage control to secure the relationship.
Either way, it's important to discover these deviations from the norm as early as possible. The easiest way to do so is to set frequent benchmarks to assess progress along the way.
At each benchmark, consider:
Is the prospect progressing as originally planned?

If not, what is inhibiting them from doing so?
What can your team do to overcome that obstacle?

Is the prospect farther along than expected?

What can your team do to make the most of this opportunity?
Moves management isn't a flat, one-size-fits-all process, and the chances of securing a gift can change day by day. Discovering the changing tides early in the process is key.

Solidify your tech stack and moves management software.
Each step of the moves management process is tracked using technology. It's crucial that the various nonprofit tech tools you're using to connect with donors, as well as your constituent relationship management (CRM) software, are working in sync.
Technology is one area that some nonprofits choose to bring in a consultant to help with. For example, Team DNL works with mid-sized to large nonprofits to fortify their tech stack in preparation for effective moves management.
This fortification includes building seamless integrations, conducting data hygiene review, completing CRM updates, managing complete data migrations, and other database customizations with the goal of effective moves tracking. Whether you're working with a robust solution such as those offered by Blackbaud or Salesforce, or a smaller CRM, it can be valuable to bring in an expert outside opinion.
---
Moves management is a highly strategic effort and to be effective, your team and your technology need to work in sync. To learn more about how Team DNL can help position your tech stack to empower your moves management strategy, contact us today.
For more tips on how to use technology to strengthen your fundraising strategies, check out the following additional resources: