July 27, 2020


Mobile apps have emerged as solutions for a variety of everyday tasks, from banking and email to social connection and video streaming. It's not surprising that the mobile app technology is now incorporated into the nonprofit sector as well!
Fundraising app technology allows nonprofits to meet supporters where they are– on smartphones. Apps are powerful tools to increase engagement, convenience, and even accessibility across a variety of efforts, whether fundraising, advocacy, or even member management.
In this guide, we're going to explore apps for nonprofits through the following points:
We're going to start with an overview of fundraising apps for nonprofits before exploring the best practices for your team. Finally, we'll round out this guide with top providers to improve your strategy.
Let's get started.

Fundraising Apps for Nonprofits: An Overview

What are apps for nonprofits?
Since the emergence and development of the smartphone, apps have dominated our everyday life. Whether you're looking for a convenient way to check your email, connect with friends and family from afar, or even communicate with healthcare providers, there's likely an app for that.
It logically follows that there are a plethora of apps that can improve your nonprofit's operations. For example, calendar apps can be valuable for keeping your team on track, and social networking apps can help you connect with supporters. However, this article's goal isn't to discuss the full gamut of applications that nonprofits can use to optimize operations.
Instead, we're looking at a particular subset of apps: apps explicitly created for the nonprofit sector, to meet specific nonprofit strategic needs.
This could mean apps to collect donations, discover volunteers, conduct advocacy efforts or peer-to-peer campaigns, or even to manage board members. When it comes to nonprofit-specific tasks, there's a decent chance there's an app for that as well.

How can donation apps improve your operations?
Why are apps being created to meet specific nonprofit needs? Well, let's explore the statistics around mobile phones: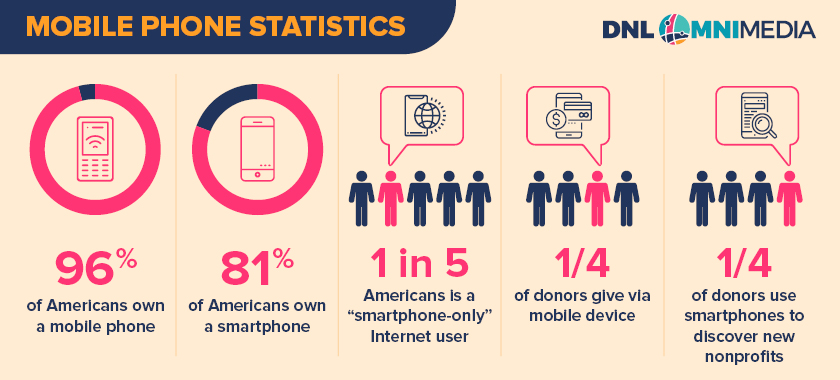 96% of Americans now own a mobile phone of some sort.
81% of Americans own a smartphone.
1 in 5 Americans is a "smartphone-only" internet user.
1 in 4 donors uses smartphones to discover new nonprofits to support.
1/4 of donors complete their donation through a mobile device.
This is just an overview! You can read more via the Pew Research Center and Nonprofit's Source.
So, for the purposes of meeting supporters, "where they are," i.e., on mobile phones, makes sense why so many nonprofit strategic operations are moving to mobile devices. However, there are a few other benefits that come with apps for nonprofits:
Mobile devices make online giving more accessible.
You're able to capitalize on exciting innovations in technology.
The increased reliance on technology provides more data than analog methods.
The innovation of apps now allows nonprofits to invest in custom apps created for their organization alone.
With these many, you might be interested in implementing a mobile app to improve your efforts. However, before you invest in any solutions, make sure you're following a few best practices when using a mobile app in your nonprofit's operations.

Best Practices When Using Apps for Nonprofit Organizations
Brand your mobile app to your organization.
In recent years, we've watched nonprofit technology grow in prominence across operations. Whether for basic online fundraising or, more recently, virtual fundraising events, your organization is probably familiar with juggling many tech tools to connect with donors about your mission. The pivot to apps is a natural continuation of what you've done for years.
However, the transition may not be as seamless for your donors. While they've likely interacted with your organization on digital platforms, there's a decent chance that connecting with you via a mobile app is a whole new experience.
When you introduce new technology, you're asking supporters to trust that tech enough to provide their personal information— whether contact, log-in, or even financial information. In addition to investing in a platform that will keep donor information safe, the best way to instill natural trust is to brand your app to your nonprofit itself.

When a donor downloads your mobile app, they'll be significantly more likely to trust the experience if they encounter your nonprofit's familiar branding (rather than the unfamiliar branding of your app developer).
Ensure your donors know how to interact with your app.
You've created an app that's custom-branded to your organization. Because of this, your donors likely trust the experience and are eager to engage with this new platform! However, that doesn't guarantee that they'll be aware of how to do so.
Anyone who's seen a young teen teach their parents and grandparents how to navigate the latest smartphone understands that there can be a huge gap in knowledge regarding handheld technology acumen.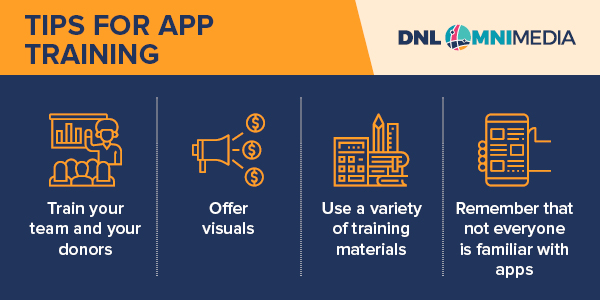 Your supporters must understand how to work this new technology, so consider providing basic training when you first unveil it. Training could be a video walk-through or even a simple educational PDF— whatever your donors will be most likely to respond to. When doing so, keep these best practices in mind:
Train your team alongside your donors, so they're prepared to answer any questions that arise.

Provide visuals wherever possible, such as screenshots of the app itself.

Include a variety of training materials, such as walk-through demonstrations, blog posts, and downloadable instructional PDFs.

Remember that this might be entirely new to some of your supporters, so if something seems obvious to you— it might not be for everyone else!
Beyond these best practices, it's also a great idea to note the common questions that arise from app users. Then, create a FAQ page that answers these top questions. When you train your supporters to use your app, you'll create a positive experience and save your team the headache of answering concerned questions down the line. It's a win-win!
Integrate your fundraising app with your other nonprofit technologies.
As with other nonprofit technologies, your nonprofit's app will generate an abundance of data. This data provides valuable insight into details about your supporters, including but not limited to:
Their preferred methods of engaging with your nonprofit.

For example, which fundraising activities do they interact with? Which advocacy efforts engage them the most?

Their feedback on the supporter experience.

If you send out polls or surveys via your mobile app, the information will be collected and stored. This feedback may be in relation to their experience with the app, or even with your nonprofit in general.

Their most up-to-date contact information.

Some mobile apps empower donors to update their contact information independently without using your nonprofit's staff as the middleman.
When it comes to data collected via mobile apps for nonprofits, this is just the tip of the iceberg. However, if you don't have a clear path for saving this data to your central database— your CRM— you won't be able to truly analyze and use it to improve your processes.

It's essential that your app is integrated with your other nonprofit technologies, especially your CRM system. This allows the data from your mobile app to flow seamlessly into your database for later use. For example, contact information will be updated automatically, and feedback will be logged and ready for action.
The connection created by airtight integrations flows both ways. This means that the data in your CRM can inform your mobile app strategies, creating a positive experience for the supporters using it. For example, if you're using a membership app, your supporters will be able to access their personal information and preferences within the app. To learn more about nonprofit data management best practices, check out this Team DNL guide.
Work with a nonprofit consultant to develop a comprehensive tech strategy.
As with other tech solutions, your nonprofit's app needs to fit within your overall digital strategy. As a refresh, your nonprofit's digital strategy is the plan that covers how your various tech tools will work together to reach your overarching goals– whether marketing, fundraising, or even advocacy.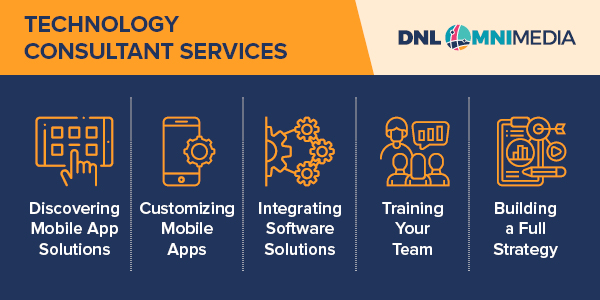 Creating a comprehensive tech strategy involves juggling many moving parts, so we often recommend nonprofits work with experienced tech consultants to do so. With regards to investing in a mobile app for nonprofits, nonprofit technology consultants can offer the following services:
Discovering areas where a mobile app would benefit your overall fundraising strategy and which app platforms would best fill that gap.
Customizing your mobile app to ensure it meets your organization's exact needs.
Integrating your app with your other tech tools, such as your CRM, your website, and even marketing software.
Training your team to use the app and instruct your donors in the same manner.
Building a comprehensive fundraising strategy that incorporates your various tech tools, including your mobile app.
At DNL OmniMedia, we consult with nonprofits looking to tackle large (ex: $15,000+) tech projects. We're familiar with the various services a nonprofit may require from a consultant, as well as the key signs it might be time to bring in third party help. To explore this topic further, check out our guide to the top 5 signs it's time for nonprofit tech strategy consulting.

Apps for Nonprofit Organizations: Top Picks For You
So far, we've explored the basics of apps for nonprofits and the top tips for your team when implementing one into your tech strategy. Now, let's continue the conversation with top mobile apps created to meet the needs of nonprofit organizations.

Our Top Pick: MobileAction! by DNL OmniMedia
MobileAction! is Team DNL's custom fundraising and advocacy app that empowers nonprofits to connect with their supporters like never before. Organizations that use Luminate Online in their fundraising and outreach efforts can use  MobileAction! to bring those efforts right in the palm of their supporters' hands via a custom-branded app.
MobileAction! can power your engagement efforts with the following donor-facing features:
Advocacy alerts that keep your supporters up-to-date on the latest messaging and targets for advocacy efforts. The forms are pre-populated with relevant data so advocates simply need to add in their information and hit submit!
Peer-to-peer fundraising features that display past events they've participated in as well as current and future events to join. In the app, fundraisers can register for events, track their progress (for example, step tracking for a virtual peer-to-peer walk-a-thon), and send out messages to their phone contacts to raise donations.
Donation support such as access to the donor's complete history and ongoing recurring gifts. Your donors are able to update their gift amount, payment date, and discover new online donation campaigns to participate in.
Surveys through which your organization can solicit feedback from supporters directly within the app. Whether about the app itself, about a specific part of your strategic plan, or about fundraising initiatives, you can collect valuable information with ease!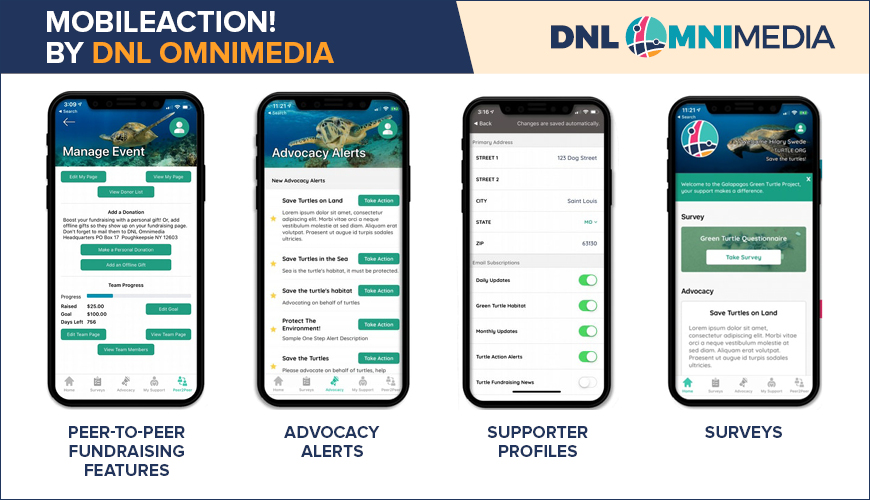 MobileAction! makes it easier than ever for your nonprofit and its supporters to make the most of Luminate Online (LO). If you're an LO user interested in accessing a custom MobileAction! app to improve your efforts, contact the team at DNL OmniMedia today.


Handbid: For Charity Auctions
Online auction software isn't a new phenomenon in the nonprofit world— however, few providers have taken such a mobile-first approach as Handbid. This donor-facing mobile app equips your nonprofit's charity auction attendees with an engaging, convenient mobile bidding experience while allowing your team to set up and manage the virtual event with ease.
Handbid's key features include:
Push notifications to alert event attendees that they have been outbid.
Simple and secure checkout within the app itself.
Multi-device accessibility, whether accessing the experience from mobile phone or desktop.
Live video streaming to hold an especially engaging virtual event.
Straightforward set-up, including registration management and real-time statistics.
With Handbid, you're able to provide an engaging online auction experience in the palm of your supporters' hands.

Fundly: For Crowdfunding
Fundly has optimized the process of nonprofit crowdfunding with their mobile-friendly donation pages and accompanying iOS app, which empowers nonprofits like yours to manage their campaigns on-the-go. To date, the platform has raised over $330 million in crowdfunded donations, and it's easy to see why!
Fundly's nonprofit-facing mobile app boasts the following features:
Guides, tips, and tutorials to teach you how to raise more via crowdfunding.
A secure built-in payment processor for a seamless experience on web and mobile.
Ability to post ongoing blog-like updates from your mobile device.
Emails and push notifications accompanied by easy tips on how to respond to supporters' messages.
The goal of Fundly's mobile app is to make managing a crowdfunding campaign easier for your nonprofit than ever before.

Boardable: For Board Management
Boardable is a comprehensive board management software that's now available as a mobile app via the App Store and Google Play. The purpose of Boardable is to empower your nonprofit's board to truly lead— not simply manage from afar.
Some of Boardable's stand-out features include:
An agenda builder equipped with templates to easily provide high-quality PDF agendas across the board.
Video-based meetings to maintain connections from afar.
Straightforward task manager to assign and track key action items.
Polling features to empower your team with quick decision-making.
A document center housing all key documents, rather than losing key information in email inboxes.
With these features, your nonprofit's board can communicate more effectively and be more productive overall.

Humanity: For Nonprofit Staff Scheduling
Humanity is a staff scheduling software that empowers nonprofits and small businesses to schedule employees with ease. Nonprofits can project staffing needs in advance and schedule in a manner that ensures all needed positions are filled in an intuitive and efficient manner, all via mobile app.
Humanity's mobile app has the following stand-out features:
Data-driven staffing with projections based on external data on busy timeframes.
Shift trading features allowing nonprofit staffers to update their schedules as needed.
Understaffing-prevention features allowing management to view openings and adjust schedules as needed.
Auto-scheduling features that build staff schedules based on pre-set variables and preferences.
For resource-efficient scheduling, Humanity is a great solution for nonprofits and small businesses alike.

Wild Apricot: For Member Management
Wild Apricot offers member engagement tools empowering organizations to attract new members, engage current members, and retain long-term supporters. They offer two mobile apps— one donor-facing app and one organization-facing app.
Key features of Wild Apricot's mobile app include:
Administrative features that allow organizations to update their membership database and stay updated when new membership applications are submitted.
Event participation features allowing members to view upcoming events, register, and pay associated fees.
Access to a member directory so members can connect with peers and network independently.
Ability to edit personal profiles to ensure the most up-to-date information is available to the organization and in the directory.
If you're looking for new, convenient ways to engage your organization's members, Wild Apricot may have the solution for you.
---
Mobile apps are revolutionizing nonprofit operations by bringing tasks to the palm of donors' and nonprofit professionals' hands. Whether connecting with members, fundraising, conducting advocacy, or something else, apps make these efforts more convenient than ever before.
To learn more about apps and other technologies for nonprofits, review the following additional resources: