June 11, 2019


When it comes to engaging supporters these days, you already know that going mobile is a prerequisite for success.
This is especially true for nonprofit advocacy work. After all, how can you mobilize grassroots support without reaching those supporters where they already are? The most successful campaigns are those that have fully adapted to the mobile landscape with advocacy apps and other mobile tools.
Just look at the political landscape — mobile tech has completely changed how political campaigns operate in a fairly short amount of time.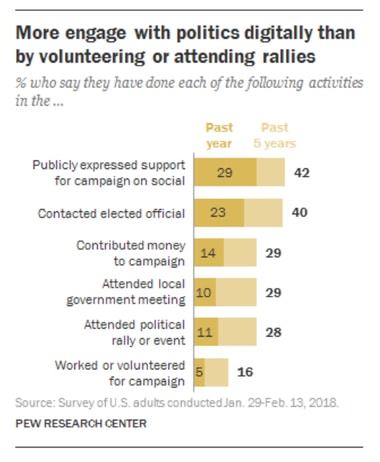 For example, the 2016 Bernie Sanders campaign set fundraising records by targeting small, grassroots donors with innovative mobile tools. In addition, look at these mobile engagement statistics comparing digital engagement over the past 5 years to last year's US midterm elections. More constituents report engaging with campaigns digitally than in-person. Social sharing and action alerts to contact officials have made it easier to get involved, especially when these tools are fully optimized for mobile use.
Nonprofits and advocacy groups must begin strategically tapping into digital and mobile opportunities to maximize their impact.
Remember, simply being online isn't enough anymore. Almost anyone can create an informative website and launch a simple email campaign. You need to help your organization stand out by engaging even more directly with supporters and constituents.
That's where advocacy apps come in. Let's walk through the essentials to get your team started researching its app options today:
Use the list above to jump straight to what you need, or follow along from the top. Either way, we've got you covered. Let's get started.

What is an advocacy app?
Basically, it's a mobile app that connects your supporters to all of your active and most important advocacy campaigns.
It shares important information and updates, provides easy ways for users to take action, and can support your online fundraising efforts.
Why should I use an advocacy app?
Apps for nonprofits act as crucial links in multichannel advocacy strategies, centralizing the other digital elements of your campaign in one organized place. They encourage deeper engagement and open up new ways to get supporters involved.
You still need to have solid web-based and email strategies that anchor your advocacy campaign (check out our guide to digital advocacy strategies for more on those), but nothing beats the direct engagement of a mobile app.
For additional context, consider these statistics:
Your supporters are already spending more time on their smartphones than desktops. 52.2% of all web traffic in 2018 came through mobile devices, up from 0.7% in less than 10 years.
Social proof is a powerful motivator. In for-profit sectors, 70% of online consumers use online reviews as determining factors before making a purchase — but 54% of them say they'd still try a product with poor reviews if it was personally recommended by a friend.
In nonprofit-specific contexts, social proof is just as important. Nonprofit social media posts see roughly 1.6 times more engagement from followers when they're shared by the nonprofit's employees or supporters. 55% of first-time donors to peer-to-peer fundraising campaigns report donating because they wanted to support friends who shared the campaign.
Taken together, these statistics illustrate the logic behind shifting your advocacy focus to mobile apps and other tools.
Remember that social proof, that is, word-of-mouth and testimonials from friends, family, or even strangers online, is a powerful way to motivate your audiences. Advocacy campaigns already rely on social proof to be effective, making them more engaging than typical outreach or fundraising campaigns. Taking them fully mobile with an advocacy app is simply the next step in reaching new audiences and empowering today's advocates.
How do nonprofit apps fit into advocacy campaigns?
As mentioned above, nonprofit advocacy apps centralize your digital resources and all of the key actions that your campaign's advocates might need to take. They dramatically streamline the digital interactions between your campaign and the app's users — communicating updates, engaging them with actions, and raising more financial support.
Most importantly, advocacy apps empower your advocates to amplify their own voices online in support of your cause. The positive effects for your whole organization can be substantial.
For example, take a look at Blackbaud's findings in their 2018 Luminate Online Benchmark Report:
Nonprofit missions centered around the environment and wildlife saw a 2.4% increase in advocacy participation over the previous year and a 37.1% growth rate in sustainer transactions/recurring donations. This swell of financial support was "likely driven by growth in housefile [number of email contacts] through advocacy."
Advocacy apps are powerful tools for driving increased engagement and audience growth across the board, both of which translate to increased impact and fundraising revenue.


What app features can help boost my advocacy campaigns?
Before investing in any new tech tools or projects, it's very important to determine what exactly it is you're looking for. Let's walk through the key features to look for in an advocacy app solution.
Once you begin comparing solutions, use this checklist to help guide your team: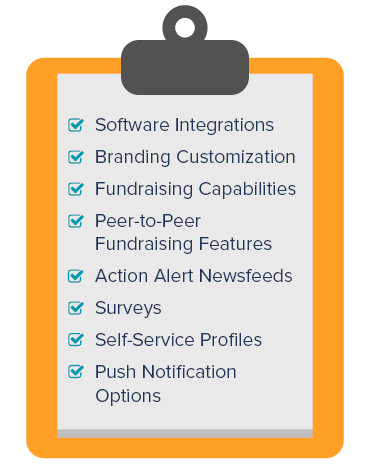 1. Software Integrations
Integrations should always be a key considering when investing in new tools. That's because integrated software saves your team untold amounts of time and effort over its lifetime. Separate tools that don't easily report data to one another make it much harder to encourage adoption on the internal side of things.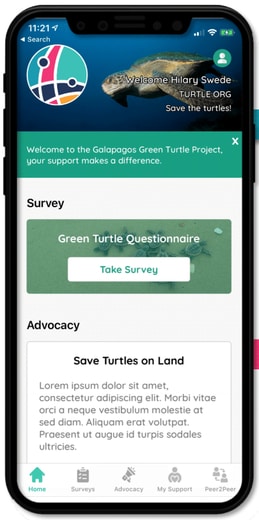 When it comes to advocacy apps, integrations should be your first requirement. Since these campaigns rely on complex advocacy actions, digital marketing, and user engagement strategies, jumping between platforms could easily derail your efforts at mobilizing for action.
There are a few core benefits to using integrated software to support and manage your advocacy app:
Cleaner data reporting and management
Faster, more useful data insights on performance and engagement
More intuitive UX and a broader range of options for the app's users
Streamline content management capabilities on the backend of the app
Your advocacy app needs to integrate with your digital marketing platform, advocacy software, and/or your CRM. If you're a Blackbaud user, this is easy. Nonprofit apps that integrate with Luminate Online will give you access to everything you'll need in an all-in-one solution.
Plus, integrated advocacy tools will work with the platform's TeamRaiser and Luminate Advocacy modules. This essentially means your app becomes a powerful communication, advocacy, and peer-to-peer fundraising tool.
To learn more about Luminate Advocacy, check out this guide.
2. Branding Customization
Put simply, your organization's advocacy app must look like your organization! The visual branding that distinguishes your website and other marketing materials needs to carry over to the app.
Customizing the color scheme, logos, and other graphic elements of your app goes a long way to reassure supporters of its genuine connection to your work. This is particularly important if you're asking users to either donate or share contact information.
Look for advocacy app solutions that offer plenty of branding customization options. Ideally, the provider will complete this step for you during the development phase using your brand elements. The most important point, though, is that you don't overlook this crucial feature.
3. Fundraising Capabilities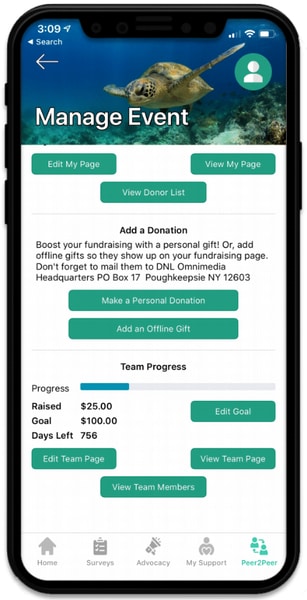 Not all advocacy campaigns seek to raise money. Most are focused instead on motivating supporters towards a specific action, like signing a petition or contacting a legislator.
However, if you're a nonprofit organization that conducts advocacy campaigns, you need to make sure any mobile tools you invest in can generate value in a variety of ways, including fundraising.
The ability to accept and process mobile donations within the mobile app is essential for providing long-term value for your organization.
4. Peer-to-Peer Fundraising Features
Taking basic fundraising capabilities a step further, consider peer-to-peer fundraising features for your advocacy app. If you already focus on these types of campaigns for fundraising purposes, you should definitely look for mobile advocacy tools that can integrate with your P2P platform.
For Blackbaud users, look for advocacy apps that integrate with TeamRaiser, which is the suite's most robust peer-to-peer fundraising solution and an add-on module for the Luminate Online marketing platform. This gives users access to:
TeamRaiser peer-to-peer fundraising, including team pages and goal management
Event calendars and registration for campaign outreach, coaching, and fundraising events
iMessage integration to easily share the campaign with contacts
Gamification tools and progress trackers for the campaign
Peer-to-peer fundraising campaigns are already fairly complex undertakings on their own. Combining one with advocacy elements is an excellent way to reach more supporters, but it might become logistically complicated. Integrated advocacy apps address this concern by helping to centralize things, simplifying both your team's tasks and the user's experience.
5. Action Alert Newsfeeds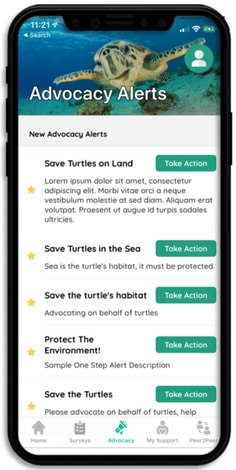 An integration with Luminate Online also lets your advocacy app offer action alert newsfeeds to keep supporters fully up-to-date on developments in the campaign and new opportunities to take action.
Action alerts are great ways to mobilize support around specific actions quickly. With Luminate Advocacy, you can configure action alerts to trigger around specific times or events, and then your app will display them to users in a dashboard or newsfeed of updates.
6. Surveys
Surveys are another key feature to look for in advocacy apps for nonprofits. Fielding direct feedback is the single best way to refine and adapt your strategies based on what best inspires your base.
Online surveys sometimes are less-than-effective because they require the user to go out of their way to complete them. With an advocacy app, though, you've already given your supporters a centralized, convenient place to engage with the campaign.
When housed within the app itself surveys are quick and easy for users, and their responses will report automatically to your database for review and analysis.
7. Self-Service Profiles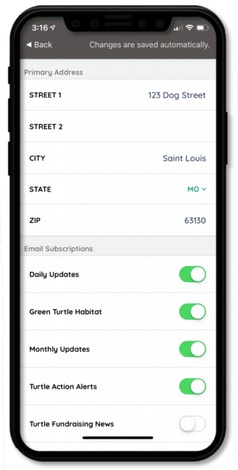 Like surveys, self-service user profiles within your advocacy app solution make it easier to keep your data up-to-date and generate more insights about your constituency.
This app feature will give users the ability to update and customize their own profiles within the app. Dedicated supporters and passionate advocates will be happy to keep their contact information updated, helping you stay in touch with them for longer.
Again, if your mobile app integrates with Luminate Online, those supporter profiles will be updated in real time in your database. No need for manual entry or complicated data reporting steps!
8. Push Notification Options
Finally, make sure your advocacy app has the ability to push notifications to users who opt into that feature.
This is extremely useful for maximizing the impact of your action alerts. With actions like signing petitions or contacting legislators, momentum is key in order to mobilize as many supporters as possible.
With push notifications, you can ensure your audience is aware of opportunities to take action the moment they arise.

Getting Started with Mobile Advocacy Tools
If your organization is just now dipping its toes in the world of apps for nonprofits, you might be unsure of how to begin finding the right mobile advocacy tools or providers. Here are the main steps you'll want to remember as your team gets started:

Review your needs. Work with your team to identify a few guidelines for your research. What's your maximum budget for development? How many users do you expect to have? Will you need highly-customized features and integrations that might require additional support? List out your needs now to keep your search focused.
Take an inventory of your tech. Review your existing advocacy toolkit. Which platforms are you currently working with? Remember, integrations are key when it comes to supporting and managing a mobile app. Explore our guide to updating your nonprofit's technology plan for more guidance on how to evaluate your toolkit and identify new opportunities.
Research your options. Research different advocacy apps and providers on the market. We recommend starting by looking for solutions and app development firms that work specifically within the software ecosystem you use. We've mentioned Blackbaud integrations between your app and the Luminate Online suite throughout this article — if you already use Blackbaud, look for Blackbaud consultants who can help develop a fully-integrated solution.
Reach out to the top candidates. Once you've identified one or two potential solutions or providers, get in touch to begin discussing your project. Nonprofit advocacy apps shouldn't be a one-size-fits-all product; they need to be fully customized to your organization and its needs. Our own process for the MobileAction! app involves careful customization to meet the unique needs of each advocacy organization.
Again, creating and then managing an advocacy app to engage constituents and drive action requires considerable planning and effort. You'll almost certainly need to work with a nonprofit technology consultant who can configure a customized mobile solution.
---
Advocacy apps for nonprofits are the future of digital advocacy. In many ways, fully-mobile strategies have already become the new norm. Reach your constituents where they already are and go mobile! You'll be growing your reach and affecting more change in no time.
Be sure to continue your research with a few additional resources: