August 9, 2019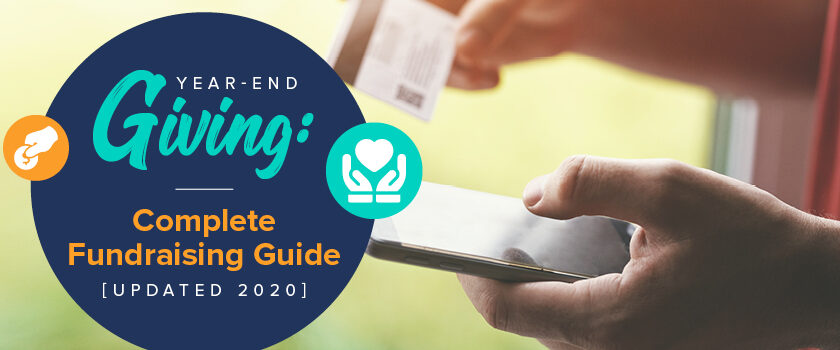 The end of the year means one thing for nonprofit organizations — fundraising, and lots of it.
Year-end giving plays a crucial role in the yearly strategies of practically every nonprofit. And amid the COVID-19 pandemic and its economic impacts, the 2020 year-end season has especially high stakes and expectations for the nonprofit sector.
Whether your year-end campaigns help fund specific projects, support your annual fund, or simply make up critical fundraising gaps after a year of disruptions, your team probably already puts considerable thought into preparing for the end of the year. However, taking some extra time to update and refine your year-end giving strategies is never a bad idea.
Bonus resource! Check out our webinar with Maureen Wallbeoff to learn more tactical tips for raising more in 2020.
At DNL OmniMedia, we work with nonprofits to develop customized solutions that unite their fundraising, technology, and marketing strategies in new ways. We've found again and again that taking a comprehensive, top-down approach is the single best way to unlock new levels of success for your organization! Here's what we'll cover in our guide to year-end fundraising:
Ready for your crash course in year-end fundraising in the virtual era? Let's dive in.

Why the Year-End Giving Season Matters
Setting aside some time and resources to develop a year-end fundraising strategy for your nonprofit is practically guaranteed to return value for your organization. Why? There are a few reasons why the end of the year is so important for nonprofits:
The year-end holiday season simply puts people in a more generous mood. The holidays remind us to be a bit more thankful and give back when we're able. This reminder will be more powerful than ever as communities face new challenges in 2020 and beyond.
The holiday spirit also tends to make audiences more receptive to appeals for support, especially when nonprofits use effective storytelling and marketing techniques. Adapting your approach with engaging virtual strategies will help boost results, too (more on this later).
The end of the year also represents the last chance for donors to make tax-deductible gifts before New Year's. This is always a major driver of charitable giving in the last days of the year.
While the disruptions of 2020 will undoubtedly have impacts on giving totals, the year-end season remains a time of intense activity for the nonprofit sector for the reasons listed above. Consider these historical statistics:

Year-End Giving Statistics
Roughly 30% of annual giving occurs in December, with about 10% of all annual giving concentrated in the last three days of the year. (Source: Nonprofits Source)
About half of all nonprofit organizations receive a majority of their annual donations from October through December. Nonprofits that develop dedicated strategies for this time of the year can see up to 70% growth in year-end giving. (Source: Bloomerang and Pursuant)
Roughly 54% of nonprofits begin planning their year-end fundraising campaigns in October. About 8% start as early as June! (Source: Nonprofit Hub)
You've probably historically relied on a fundraising bump around the months of November and December, but are you taking active steps to maximize the amount of support that you could be raising? Making the most of this season is more important than ever amid today's challenges, so having a concrete strategy in place early will be critical.

Virtual Year-End Fundraising: The Essentials
Virtual fundraising is the new buzzword, and for good reason. The challenges of 2020 have called for dramatic shifts in business-as-usual for the nonprofit sector, and organizations have proved resilient and eager to adapt to the COVID-19 pandemic and its resulting economic disruptions. The shift towards remote engagement has been successful for many organizations because virtual fundraising combines and taps into a few key trends:
Online fundraising strategies developed and refined over the past decade
Newly accessible and easy-to-use live streaming platforms
The nonprofit sector's growing understanding of the value of data
Donors' existing comfort with online engagement, live streaming, etc.
Nonprofit technology and donors' online preferences have made the shift to virtual fundraising much smoother than many initially anticipated. However, the intersection of virtual fundraising and the year-end giving season is a brand new challenge for nonprofits.

Common Virtual Fundraising Tactics
To make the most of the year-end season and set your campaign up for success, you'll definitely need to incorporate one or more new virtual elements into your strategy. Here are a few common virtual fundraising tactics that nonprofits have used to effectively engage supporters and generate revenue amid today's challenges:
Large-scale virtual events. Combining online engagement tactics, live-streamed video, and mobile-friendly fundraising tools has allowed nonprofits to reimagine their traditional in-person events. Virtual galas and online auctions are great examples.
Social media campaigns. Nothing beats social media when it comes to direct engagement with supporters. Virtual peer-to-peer campaigns have been effective for energizing donors, reaching wider audiences, and incorporating new virtual strategies for many organizations.
Live appeals and activities. Livestreaming technology has made it easier than ever for nonprofits to make quick live appeals on social media platforms like Instagram Live and Facebook Live. Built-in donation capabilities and text-to-give tools help create a more seamless giving process.
Small-scale virtual events. More casual virtual events have been an effective way for nonprofits to stay in touch with supporters. Virtual happy hours, book clubs, and community roundtables are all easy ways to engage donors that don't require massive investments of time and resources.

An Effective Virtual Fundraising Toolkit
Virtual fundraising naturally relies more heavily on technology than other methods of engaging donors. An effective virtual fundraising toolkit will include most or all of these essentials: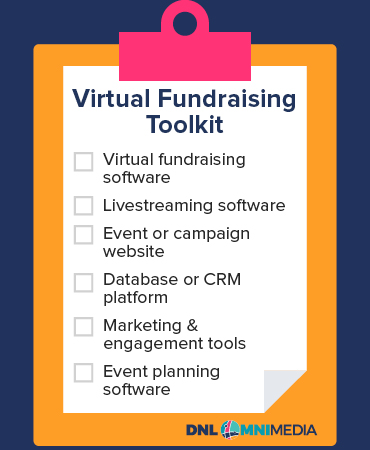 Online or virtual fundraising software to manage campaigns and process donations
Livestreaming software to stream your events and allow supporters to join in
A strong website to anchor the virtual campaign or event and centralize the donor experience
An underlying database or CRM platform to collect the campaign's engagement data
Marketing and engagement outlets, including email, social media, and mobile apps
Event planning software to organize registrations and help plan your program
The nonprofit tech sector has stepped up its game in 2020 to help make the transition to virtual fundraising as smooth as possible for organizations. There are multiple virtual fundraising platforms available today that combine these tech essentials into a streamlined package.
For instance, our MobileAction! app combines robust advocacy, peer-to-peer fundraising, and communication features in one streamlined interface that helps you generate more support and more data to help guide future strategies.
Comprehensive software and integrated solutions will generally return the most value over time, but it's definitely possible to take a DIY approach, too. Start by clearly defining your needs and what you want your year-end giving campaign to accomplish, then identify the new tech additions or upgrades you'll need to get there.

Our Recommendation for Virtual Year-End Giving
What's the best way to tap into these virtual fundraising trends for the year-end giving season? We recommend taking a mixed approach.
Rather than focus on a single opportunity or outlet, like social media, use a mix of digital marketing tactics and virtual events (small- or large-scale). This will create a more dynamic experience for donors, help your campaign stand out, and create more touchpoints for donations to flow through. We'll walk through the essential steps for planning a year-end giving campaign below.
A virtual peer-to-peer fundraising campaign leading up to a virtual year-end gala is an excellent example of this approach. Use social media and other digital marketing outlets to secure donations and registrations in advance. Create engaging challenges that encourage supporters to follow through and attend the event. Then, during the virtual grand finale event, plan an exciting program of live appeals, videos highlighting your mission, and messages from constituents and supporters.
Your own campaign will naturally vary based on your goals, audience, and mission, but the main idea is to create plenty of engagement opportunities from beginning to end. There's a lot of competition for your donors' attention online these days, so leverage your various marketing outlets, virtual events, and the importance of your mission to create a dynamic and engaging experience.


Year-End Fundraising Ideas
Before digging into the steps for planning a campaign, let's walk through a few popular year-end fundraising ideas to get your creative juices flowing. These ideas are adaptable and reliable choices for organizations of all sizes in the virtual fundraising era:
Our Favorite Year-End Fundraising Idea: Mix & Match
Develop a year-end giving campaign that incorporates all of the tactics listed above! By using a variety of digital marketing and virtual engagement techniques, you'll reach more donors, create a more engaging experience, and offer more opportunities for supporters to learn about your mission and make donations.
Virtual fundraising has opened up all kinds of new ways for nonprofits to rethink their strategies, so get creative to develop the perfect multichannel virtual campaign for your own mission, audience, and goals.

How to Plan a Year-End Giving Campaign
Once you've brainstormed the perfect virtual fundraising ideas for your own year-end giving campaign, it's time to piece them together into a coherent strategy.
Let's walk through the essentials of developing a comprehensive year-end giving strategy, starting with laying out your campaign's framework: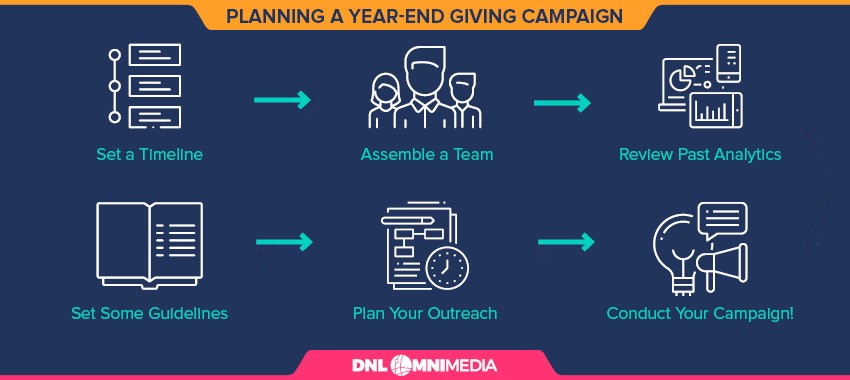 Use the list above to jump to a particular step, or follow along with us from the top. For a completely personalized walkthrough of how to prepare your nonprofit's infrastructure for the year-end giving season, reach out for some advice.
Remember, your year-end fundraising campaign is the perfect opportunity to make the most of all the lessons you've learned throughout the year! Your holiday season campaigns should only get better and more effective each year. Still, you have to put in some upfront investment of time and strategic planning to see meaningful (and sustainable) results. Let's get started.

1. Plan out your year-end campaign's timeline.
When it comes to year-end fundraising, your team should get started as early as possible.
Of course, exactly when you begin planning your campaign will depend on what else you have going on, but there's a general timeframe that tends to work well for nonprofits and produce valuable results. Here's how it typically breaks down, month-by-month:
---
Late summer, August to September (or even earlier!)
Now's the time to do the bulk of your planning. You'll need the autumn and winter months to focus on executing your marketing and fundraising strategies, so lay the groundwork now. At this stage, your team should focus on developing and outlining a concrete fundraising strategy, just as you do for other major campaigns.
Also, now is the time to consider if you'll need support from an outside fundraising or technology consultant. For example, if your tech infrastructure needs strategic updates before you can launch your year-end campaign, you'll need plenty of time to get everything running smoothly and to ensure your whole team is on the same page with using your new tools.
Key Activities to Complete: Develop concrete plans and timelines for your upcoming year-end campaign, including your fundraising and marketing strategies. Start sharing updates about the campaign with your audience to build some energy.
October
October should be a busy month! Focus your efforts on spreading the word with a targeted email campaign to specific segments of your audience. Make sure to clearly communicate everything they'll need to know to get involved in your events, peer-to-peer fundraising options, or other engagement opportunities that will be coming up.
If you've identified new tools to invest in or tech updates to make, now's the time to get them up and running. This includes both donor-facing outlets, like advocacy apps, and internal tools, like CRM upgrades.
If the marketing strategies you outlined earlier require you to get started on new platforms, don't put them off much longer. For instance, the entire process of applying for, receiving, and then configuring a Google Ad grant often takes longer than many nonprofits realize.
If you'll be hosting one or more (virtual or in-person) events over the course of your year-end giving campaign, you should plan those now, as well.
Key Activities to Complete: Implement your tech upgrades and begin executing the early stages of your marketing strategies. Make sure to finalize your plans and prep your team before the year-end giving season really kicks in.
November
In November, your year-end giving campaign should be picking up steam as you begin to execute the fundraising and marketing campaigns that you finalized last month.
Early in November, work with your corporate sponsors (or find smaller local partners if you don't have sponsors) to arrange percentage fundraisers or promotional agreements. Partnerships can be a very effective and relatively easy way to boost your visibility and campaign's revenue. Businesses are also eager to demonstrate a generous spirit this time of year.
By the middle of the month, the year-end giving season will be in full swing. Your website must be prepared to handle an increase in traffic and donations. If you're launching a separate campaign website, it should go live by mid-November at the latest. Check out our guide to nonprofit web design projects for an idea of what the full web design process entails.
If you're participating in #GivingTuesday, make sure your marketing materials and website clearly express that. Conduct a strategic marketing push leading up to Giving Tuesday to target your audiences on social media. The first Tuesday after Thanksgiving will likely be one of your busiest days of the year-end season, so make sure you're prepared well in advance.
Key Activities to Complete: Focus heavily on executing your marketing strategies, wrapping up any website updates, and finalizing agreements with corporate partners. You'll likely already see an uptick in donations through the month, all leading up to Giving Tuesday. Be prepared!
December
December is your last opportunity to engage donors and inspire more giving before the end of the year. If you're hosting any events, virtual or in-person, do everything in your power to make sure they go off without a hitch.
The bulk of your efforts in December should focus on continuing to market your campaign to your entire donor base. Try to make your marketing strategies as engaging as possible, as the holiday spirit will typically make people more eager or inclined to get involved.
Offering DIY-style peer-to-peer fundraising, in which supporters can quickly launch their own pages to ask friends for donations in lieu of holiday gifts, might be a great idea for your nonprofit. Engaging social media campaigns that encourage supporters to share pictures or messages with a special hashtag are also a good way to encourage more small- to mid-size donations as the month draws to a close.
If there are any prospective major donors that your development team has been courting, year-end events and personal meetings can be very effective for growing those relationships and hopefully making a successful ask. After all, December is their last opportunity to make tax-deductible gifts for the year!
Key Activities to Complete: Push your year-end giving campaign over the finish line by focusing on donor engagement — social media marketing, fun events and contests, peer-to-peer fundraising, personalized stewardship, and more.
January
You're not done yet! The first order of business after New Year's Day should be to thank everyone who made your year-end giving campaign a success. Post announcements of your campaign totals and what that support will help you accomplish in the coming year.
Send thank-you emails to all of your donors, or reach out via phone or direct mail to those who were instrumental in helping you reach your goals. Double-check that everyone (especially mid-range and major donors) received all the necessary documentation for their donations.
January is also when your team should review your campaign's performance because it's still fresh in everyone's memories. If you fine-tuned or upgraded your toolkit back in the fall, reviewing your data should be easy. What went well? Where did your strategies fall short? Make note of all the useful insights you learned during your year-end campaign.
Key Activities to Complete: Thank your donors repeatedly, and share campaign results. Dig into the analytics of your performance, and get excited for the next year-end giving season!
---
The month-by-month breakdown above is a general outline of what works well for many nonprofit organizations. Of course, however your team decides to lay out your year-end giving campaign will depend on a number of different variables. Ultimately, you know what kind of timeframe will be best suited to your mission, organization, community, and audience. Take a flexible approach and adapt these best practices as you see fit.
The main idea is to think carefully well in advance about what your ideal timeframe will look like. Then, determine some actionable strategies and steps for getting started as soon as possible. The more prepared you are, the greater your chances of breaking your fundraising records!

2. Assemble your year-end fundraising team.
As with any major fundraising campaign, having an organized, well-prepared team of staff and volunteers with clearly-defined roles is crucial for the success of your year-end campaign.
Assemble your team well in advance of the campaign, most likely during the late summer or early fall. Not everyone will have tasks that need immediate attention, but everyone should still be on the same page. These departments at your organization should all be represented on your year-end team:
Marketing and partnerships
Stewardship/donor engagement
Development or major gifts fundraising
Of course, smaller nonprofit organizations might not have individuals on staff specifically dedicated to one or more of these core areas of operation. The most important thing to remember is that your year-end fundraising strategies will benefit from diverse perspectives.
Staff members and volunteers who know how to handle day-to-day logistics, fundraising operations, events, donor engagement strategies, and major development opportunities can (and should) all contribute to your year-end strategies.
External Year-End Fundraising Support
As you assemble your campaign team, take the opportunity now to determine whether or not your nonprofit would benefit from the external guidance of a consultant. The most common reasons that organizations seek support for their year-end campaigns include:
Tech guidance and services. This includes technology implementation (like migrating your organization to a new CRM) and custom development (like web design or custom integrations between platforms). If you're already considering making an upgrade or need a customized solution for your year-end campaign, find a consultant early in the process to ensure there's plenty of time to design, test, and implement your new solutions.
Technology strategy development. For more comprehensive support, look for technology strategy development. A consultant will be able to audit your toolkit and then find, implement, and customize new tools as needed. Next, they'll lay out a plan for making the most of each tool at each stage of your fundraising campaigns, focusing on your particular goals. Check out our guide to creating a nonprofit digital strategy for more context around this process.
Fundraising strategy development. Suppose you want extra support around the specifics of your campaign's structure, outreach strategies, gift range goals, or other elements of the fundraiser itself. In that case, a consultant can be an invaluable partner. If you're fitting a year-end giving campaign into a larger development project or capital campaign, working with a guide to develop a big-picture strategy is definitely a good idea.
If you think your organization would benefit from working with a consultant for its year-end campaign, start considering your options now. Work with your board to decide on your goals and start researching candidates. There are tons of great nonprofit consulting firms out there, so start early!

3. Study your past year-end giving campaigns.
In the month-by-month breakdown above, we touched on this step in the January section.
However, immediately after your campaign isn't the only time you should be reviewing your fundraising and marketing performance. After all, a lot can happen between the start of the year and late summer to distract you from the insights you've gathered. Take the time before outlining your next year-end strategies to review your data again with fresh eyes.
There are a number of major insights that you can draw from the data of previous year-end giving campaigns, which can then guide your team as you finalize updated strategies. Read our overview of nonprofit analytics if your team could use a refresher on what types of metrics you should be tracking.
Getting Started with Campaign Data Analysis
Here's an easy way to get started. Work with your year-end fundraising team to compile a list of questions that it would be useful to know the answers to, and then let them guide your data analysis. Here are a few examples:
Which weeks or days have been the most successful for soliciting donations during past year-end giving campaigns?
Which digital outlets (social media, email, your website, etc.) see the highest donor engagement and conversions?
What was the average donation amount across the entire campaign?
Which segments of your donor base made the most individual donations?
Which segment made the biggest donations?
How many of last year's year-end donors were retained from the year before that?
What was your cost per dollar raised for your last year-end giving campaign?
Concrete questions that can be answered with a number are reliable ways to get started analyzing your data. Work with your team to derive insights and then connect them to your current context. How can last year's lessons impact this year's strategy? Which marketing outlets were really successful at engaging which donors? Donations from which segments of your donor base yielded the highest return on investment?
Focusing on donor engagement metrics is a best practice before and after any campaign, but it's especially true around year-end giving. It's a busy time of year, and there are huge fundraising opportunities to be had. You need to make sure that every technique you employ will be effective at actually engaging your donors, building deeper relationships with them, and inspiring them to give.
If you're unsure whether or not your current tech stack is configured to track and report all the engagement metrics you need, work with a tech consultant to conduct an audit and develop new data management strategies.


4. Set concrete guidelines for your year-end giving campaign.
Using your insights from the previous step, work with your team to start laying out some concrete goals and guidelines for your year-end fundraising campaign. Follow these general steps to start narrowing it down.
Step 1: Determine what type of campaign you'll conduct.
Of course, you're hosting a year-end giving campaign, but what is its overarching purpose for your organization? Yours will likely fall into one of these two categories:
Project-based. These fundraising campaigns are geared around raising support for a specific project. They range in scale from a small online crowdfunding campaign to a multi-year capital campaign. For 501(c)(3) nonprofits, the funds raised by project-based campaigns are generally restricted, meaning they can only be used for that specific project.
Annual or unrestricted. A fundraising campaign for your annual fund or unrestricted fund is just that, a campaign to raise the support your organization needs for its more general operational costs. Without a specific project to inspire donors, unrestricted fundraising can be a challenge, which is why the year-end giving season can be a good opportunity to boost your annual fund for the coming year.
Your own year-end giving campaign will fall into one of these categories largely depending on whether or not you're raising funds for a specific project or initiative. The category will then influence how you promote the campaign to donors in your marketing materials. A project-based campaign should rely on the project itself to inspire giving, while an unrestricted campaign should focus on your mission, impact, and history more generally.
The main idea is that your whole team needs a clear, shared understanding of your year-end giving campaign's core purpose.
Step 2: Set some specific fundraising goals.
Next, use your historical data to determine how much you want to raise this year-end giving season.
Even if you're conducting an unrestricted or annual fund-style campaign without a central project, you should still set a hard goal. Without one, it can be surprisingly easy for your whole campaign to lose momentum and for your team to lose focus. How much did you raise last year-end season? Set an ambitious (but attainable) goal above your previous record, and be ready to invest more time and effort into strategy development.
Next, you might consider developing a gift range chart. These organizational tools essentially break your total fundraising goal down into separate gift ranges, along with listing how many prospective donors you'll need to convert in each range in order to reach your goal. Here's an example: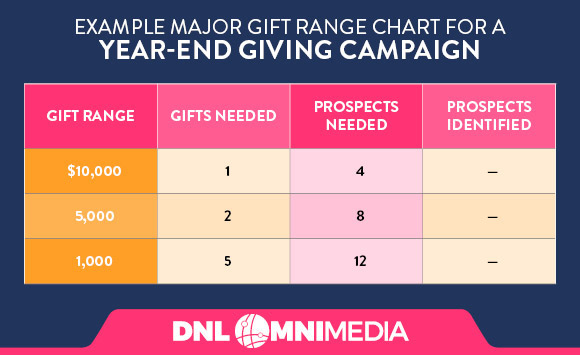 This very strategic approach is most commonly seen in high-intensity development projects and capital campaigns that rely on major donors. However, you can easily adapt it to your own particular fundraising goals. If your year-end giving campaign is project-based, it's probably a good idea to create a gift range chart or something similar in order to guide your team's efforts throughout the entirety of the campaign.
The main idea is that you need a specific fundraising goal to anchor all of your strategies and your team's efforts. Take steps to detail your goals as much as possible, as with a gift range chart, to make sure everyone stays on the same page for the whole year-end giving season.
Step 3: Determine KPIs for your year-end giving campaign.
KPIs (or key performance indicators) are the third specific guideline that you should set for your year-end fundraising campaign ahead of time. A KPI is basically a quantitative metric that you'll use to gauge your campaign's progress towards a specific goal and then, ultimately, judge whether or not you were successful in reaching it.
Look back to Section 3 above, and review the metrics that you focused on when analyzing last year's campaign. What stuck out to your team as areas that needed considerable improvement? Are your goals more revenue-based or engagement-based? Here are a few common nonprofit fundraising campaign KPIs:
Total individual donations
Total fundraising revenue
Cost per dollar raised, or ROI for the campaign
Donor retention over the last campaign
Online donor engagement
New donor acquisition
Whatever KPIs you choose to build your strategy around, make sure you have a method built into your system or toolkit to periodically measure it throughout the year-end giving season. If not, work with an expert to update your data management strategies. Otherwise, you'll likely have a hard time setting measurable standards of success that will enable you to continually improve in future years!

5. Plan your outreach strategy and digital techniques.
Next, you and your team should begin outlining the specific techniques, appeals, events, and marketing materials that will make up your year-end giving campaign.
There are a few popular year-end fundraising techniques and ideas that you're likely already incorporating into your plans. These include:
Events. Holiday parties are a great way to engage your target audience and incorporate fundraising elements, like silent auctions or raffles. More public-facing events, like fun runs or food drives, are also excellent for raising your campaign's visibility throughout the entire community. If you're adjusting your events to take place virtually, get started planning their logistics early, especially if they'll be a brand new undertaking for your team.
Giving days. A giving day is essentially a timed fundraising challenge event. Challenge your audience to work together to contribute a specific total amount of donations to your cause within 24 hours. Nonprofits often arrange percentage or matching gift agreements with local retailers or corporate sponsors in order to boost the impact of these challenges. Consider working a giving day into your #GivingTuesday plans.
Pledge drives. This fundraising technique can be a very effective way to expand your audience and engage many donors quickly. The catch, though, is that you'll need to take the effort to actually collect and process their pledged donations after the pledge drive period has ended. Explore this guide for more information on this fundraising method.
Updating Your Marketing Strategy
You'll also want to invest some time in developing a multichannel marketing strategy for your year-end fundraising. You likely already incorporate this general technique into your other campaigns and projects, but take some extra time now to outline a comprehensive plan.
If you're unfamiliar with the concept of multichannel marketing strategies, the main idea is using your various marketing outlets (like your website, social media, online and print ads, etc.) to all drive more traffic and readers to one another. Here's a basic diagram of how a nonprofit might structure their digital multichannel strategy: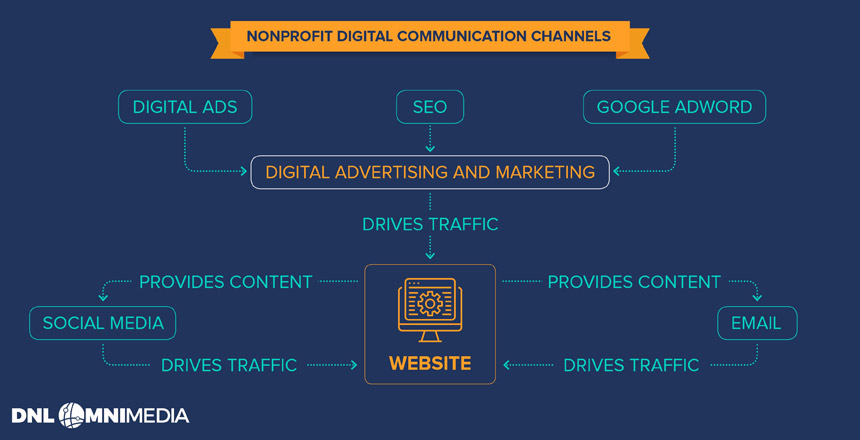 Check out our comprehensive guide for more information on developing an effective marketing strategy for your fundraising campaigns.
Also, remember to target your messaging to particular segments of your donor base. This is a general best practice for any marketing effort, but it can be particularly effective for year-end fundraising. One common example of year-end fundraising is focusing on lapsed donors. These supporters have a proven interest in your mission, and the holiday season is the perfect time to reach out to them with targeted messaging.

6. Conduct your year-end giving campaign and finish up strong.
Once your team has worked through all the steps described above, it's time to get started!
Follow along with the timeline that you established back in Section 1, sticking to your strategy as much as possible while also adapting as needed based on performance and donor engagement. If you selected specific KPIs to use for measuring success, it should be easy to identify if your campaign is progressing well or if your techniques need tweaking.
After Your Year-End Giving Campaign Ends
After your campaign draws to a close and the new year begins, immediately thank all of your donors and participants. If you reached your goals, let your community know! Share final updates about the campaign and what you'll be able to accomplish in the coming year thanks to all their help.
Additionally, now is a good time to make sure all of the data you collected over the course of the campaign has been properly reported and organized. Spend some time reviewing your performance. Some high and low points will probably immediately jump out to you, and it'll be worth remembering those strategies for next year's campaign.
---
By following just a few core steps and best practices, any nonprofit can consistently break their own fundraising records each year-end giving season! Especially amid today's unprecedented challenges, making the most of this period should be a top priority for every fundraising organization.
The most important takeaway for this entire guide should be to get started early. As long as you put plenty of time and thought into your campaign strategies, you can effectively tap into the generous spirit of the year-end season, raising more support for your mission and building deeper relationships with donors in the process.
Be sure to continue your research with a few additional resources as you get started: