Nonprofits need to keep their websites fresh and functional in order to promote as much supporter engagement as possible online and off. 
To capture the attention of supporters and secure donations for your cause, there are a few tried-and-true nonprofit web development strategies your team can implement, including:
Clear, prominent donation buttons.
Mobile-responsive design.
Streamlined navigation.
High-quality visuals. 
In this post, we'll highlight a handful of amazing nonprofit websites that not only incorporate the above elements, but go above and beyond to impress visitors and inspire donations:
But before you dive into these pitch-perfect websites, make sure you have the right tools on hand to build your own—namely, a strong website builder and a top-tier nonprofit web development team. Once you've got those all-important pieces in place, you'll be ready to jumpstart your own site design, borrowing a few creative ideas from these all-stars.

1. Top Nonprofit Website: Interlochen Center for the Arts
Nonprofit Website Overview
Interlochen Center for the Arts (ICA) is a nonprofit educational institution dedicated to empowering students of all ages through high-quality arts and cultural programs. 
Not only does ICA promote their mission using their main nonprofit website; this organization is so devoted to a pristine web presence that they built out an engaging, impressive website dedicated to their largest-ever capital campaign, last year's Create Amazing Campaign. This campaign was a massive undertaking launched to increase their scholarship support for students, revitalize their campus, and create new educational programs to "pave the way for the future of the arts."
For a glimpse into this site's bold look and high-powered functionality, take a look at Create Amazing's breathtaking landing page:
Why This Nonprofit Website Stands Out
It's enough that Interlochen Center for the Arts put together an eye-catching site, but what takes their Create Amazing Campaign design to the next level is the development behind it. While this nonprofit website is certainly stunning, it's also highly usable thanks to in-depth customization provided by the web development team.  
Let's explore a few ways that this site promotes engagement through creativity and attention to detail:
Responsiveness. Create Amazing looks, well, amazing on the big screen, but the landing page's fullwidth layout and high-quality video loop still work just as well on tablets and mobile devices. Even better, the top navigation bar shrinks instantly into a drop-down menu that highlights the most important links, such as the donation page and ICA's social media pages.
Real-time fundraising thermometer. It's vital that you keep your supporters in-the-know with campaign progress, but when you're receiving donations by the minute, sending out updates can be challenging. ICA remedies that problem by placing a real-time campaign progress bar on their Create Amazing website. Thanks to custom development and an integration with Salesforce, the site instantly reflects every gift ICA receives!
Donor-focused content. Interlochen knows that their campaign results are only possible because of their generous donors. That's why they've devoted a section of their campaign site to highlighting those who are "creating amazing" with their ongoing support. By reiterating donors' value, Interlochen promotes more donations from existing donors as well as new supporters. 
The Create Amazing fundraising thermometer doesn't break from their minimalist black and white site theme, either! 
And neither do the photos of ICA's donors. By adding filters to each image, Create Amazing stayed on brand, highlighting their attention to detail and strategic design approach.
---

2. Top Nonprofit Website: North Shore Animal League
Nonprofit Website Overview
It's not exactly difficult to make adorable dogs and cats appealing, but the North Shore Animal League exceeded all expectations on their inviting homepage as well as throughout the rest of their site.
The world's largest no-kill shelter, North Shore Animal League uses their site to promote adoptions as well as donations and volunteer sign-ups. With so many ways to get involved, it's important that the Animal League clearly directs visitors to take a next step on their website. And from the moment you land on their homepage, you're prompted to do just that on their top navigation bar!
Plus, North Shore Animal League puts their cause at the center of their site by packing their site with adoptable pets. (And who could say no to their faces?)
Why This Nonprofit Website Stands Out
In addition to adoptions, North Shore Animal League clearly prioritizes donations to help further their cause.  
Let's walk through three ways that the Animal League website streamlines the donation process and ensures that supporters follow through with their gifts:
Cohesive branding. Donors need to trust that their gift is going to the right place, and consistent branding across your website and on your donation page can reinforce that. North Shore Animal League included their logo as well as their color scheme, and even better, a brief reiteration of their nonprofit's mission statement.
Recommended giving levels. Making a donation shouldn't be a guessing game. The Animal League's donation form simplifies giving by highlighting a recommended giving amount ($60), as well as additional giving levels. Not only does this make donating even quicker, but it also may encourage a supporter to give just a little bit more than they were planning to.
Recurring gift option. Online giving software makes donating once a month easier than ever. By ticking a simple checkbox, a donor can sign up to have their gift repeat every month, skyrocketing their impact! North Shore Animal League places this option in an easy-to-spot location on their form so that no donor can miss it.
In addition to encouraging donations, North Shore Animal League also enables supporters to raise money on their behalf through custom peer-to-peer fundraising options. Check out their birthday, wedding, and other P2P options:
Interested in launching a similar feature on your nonprofit's site? Here's a pro tip: North Shore Animal League worked with the team at DNL OmniMedia to develop a custom interface through Blackbaud TeamRaiser. Learn more about TeamRaiser configurations here!
---

3. Top Nonprofit Website: Mustard Seed Communities
Nonprofit Website Overview
Since 1978, Mustard Seed Communities has cared for vulnerable populations across the globe. By organizing mission trips, launching residential care programs, and hosting educational programs in developing communities, Mustard Seed strives to equip individuals with the skills they need to be self-sustaining, healthy, and happy. 
The Mustard Seed website highlights their efforts by placing a prominent focus on their mission. On every page of their site, you'll quickly see just how much of an impact this organization has! Just examine their landing page for example:
By putting their work front and center, Mustard Seed shows their site visitors what's most important—the beneficiaries of their cause! 
Why This Nonprofit Website Stands Out
Let's explore the ways that Mustard Seed promotes their mission throughout every inch of their site:
Photo gallery. Mustard Seed has a lot to show off, but they manage to do so without overwhelming visitors. Their well-organized photo gallery page makes a great use of space and showcases a variety of their efforts. 
Mission page. Every nonprofit site should include the organization's mission statement somewhere, and Mustard Seed's Mission and Vision page does a great job of articulating their purpose using short paragraphs and to-the-point language. (And for bonus points, they also include a donate button in plain sight!) 
Meet the Residents page. In addition to their mission statement, Mustard Seed also created a dedicated page to showcase the individuals they're helping every day. This page allows potential donors to put a face to the cause they're supporting and connects them to Mustard Seed in a personal way!
Check out how the photo gallery centralizes all the work going on through Mustard Seed Communities' mission trips and other endeavors:
Their Meet the Residents page also links out to individual stories for every member of the Mustard Seed family. 
---

4. Top Nonprofit Website: Mary M. Gooley Hemophilia Center
Nonprofit Website Overview
The Mary M. Gooley Hemophilia Center (known as the Center) is a nonprofit treatment facility for rare blood disorders, including hemophilia, von Willebrand disease, and others.
Because the Center's site targets a number of audiences, such as patients, donors, and individuals seeking more information about these diseases, it's important that their website serves a range of purposes. The Center does a fantastic job of streamlining their content and presenting it in a way that's engaging, informative, and inviting, right from the homepage.
Why This Nonprofit Website Stands Out
The Mary M. Gooley Hemophilia Center accomplishes a lot through their site, but let's delve into just a few of its star web design features:
Prominent donation button. The Center takes donation buttons to the next level by placing a free-floating button on the side of every page. The easy-to-spot red button scrolls with the visitor; that way, no matter where they are on the site, a next step is always at the ready. 
Navigation. For a site with so much content, the Center has maintained strong organization made possible by their comprehensive (yet clear) top navbar. No matter what a visitor is looking for on this nonprofit website, they should be able to locate it easily.
Educational materials. Providing patients and their loved ones with resources related to hemophilia and other disorders is a major priority for the Center, so they've devoted several well-organized educational pages under the What We Treat navigation tab. 
Note the donate button visible from the What We Treat page, as well as the newsletter sign-up in the left corner:
---

5. Top Nonprofit Website: Project Open Hand
Nonprofit Website Overview
Project Open Hand is a nonprofit providing "meals with love" to senior citizens and individuals suffering from critical illnesses. Their organization's mission is to nourish the most in-need members of the community through the best medicine there is—food! In doing so, they provide 2,500 meals and 200 bags of groceries for clients in the San Francisco and Oakland area every day. 
In addition to donations, Project Open hand thrives on the generous support of volunteers. Their site clearly reinforces their constant need for a helping hand without breaking from their bold branding. Just look at their homepage!
The site's Volunteers page also emphasizes these supporters' impact on the cause. They also take advantage of multimedia through their short video with a volunteer.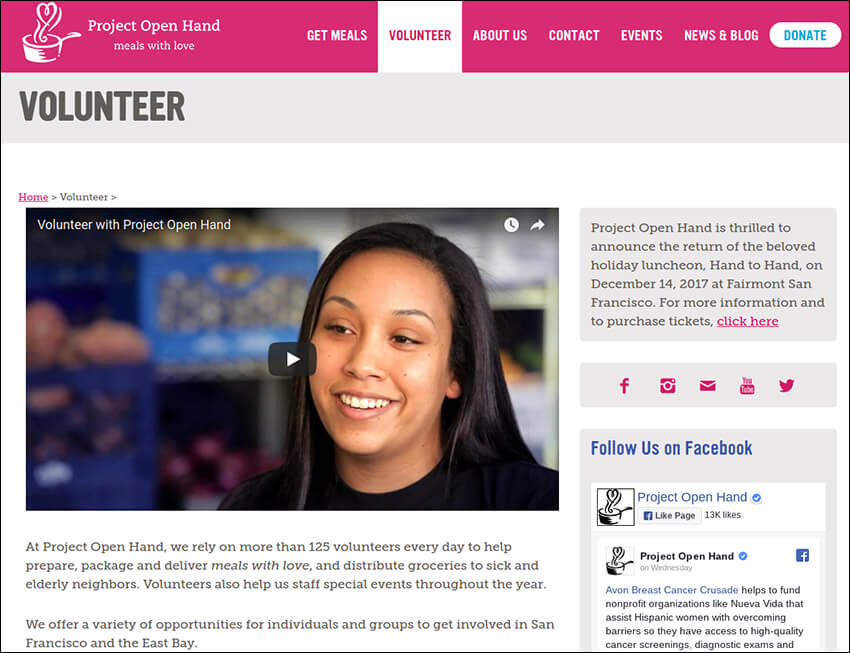 Why This Nonprofit Website Stands Out
From just one look, you can see how Project Open Hand's site engages their audience, but let's lay out just a few reasons we love the design of this colorful, beautiful site:
Strong calls-to-action. As you can see from the homepage, Project Open Hand immediately calls site visitors to take a next step by either becoming a client, volunteering, or making a donation. Because the buttons are so bright and placed at the center of the landing page, no visitor can miss them.
News and blog content. It's imperative that nonprofits keep their sites frequently updated in order to show their visitors that they're actively serving their communities. Project Open Hand accomplishes that, and goes a step further by organizing their news, blog, and press releases in an eye-catching (on-theme!) manner.
Social media integration. This site encourages visitors to connect on other platforms by placing quick links to their Facebook and Twitter page in their navigation bar. Even better, they have a real-time Facebook feed widget on every page.
Look at how Project Open Hand's News & Blog page keeps content organized and appealing through bright colors and creative imagery. (And spot the Facebook integration on the right side of the page!)
---

6. Top Nonprofit Website: Darien Nature Center
Nonprofit Website Overview
Located in Darien, Connecticut, the Darien Nature Center is a nonprofit educational organization providing community programs for animal and nature lovers of all ages.
With seasonal exhibits, summer camps, and daily classes and programs featuring their diverse array of live animals, Darien Nature Center is a vibrant part of the local community, and their website illustrates that perfectly! 
Their homepage showcases how much is happening at Darien Nature Center every day, using beautiful imagery and a calm color scheme: 
Why This Nonprofit Website Stands Out 
Darien Nature Center's site has a unique goal—to inspire visitors to close their laptops and come out for a visit! 
To promote their programs (and perhaps a donation or two!), Darien Nature Center has built out a site that follows nonprofit web design best practices, including:
Minimalistic design. As you can see on the site's Our Animals page (below), Darien Nature Center follows a simple, straightforward design strategy. There's plenty of whitespace, thus drawing the visitor's eye to the high-quality photos and text instead of busy background elements.
User-friendly calendar. Since Darien Nature Center hosts so many programs every day, it's important that they house all of their event details in one centralized place. Their calendar is easy to find, view, and interact with.
Branded event registration forms. Darien Nature Center has designed web forms that fully match their brand. Plus, their forms only require the most important details from registrants; that way, anyone who wants to sign up for an event can do so in as little time as possible!
---
We hope you've learned a lot from these inspirational nonprofit websites. Now that it's time to design your own site, check out these additional resources: