December 10, 2018


You're already fully aware that your organization relies on its technology for support in many (probably even most!) of your areas of operation. From donor management to fundraising, accounting to marketing, you rely on digital platforms, databases, and software to get your work done and pursue your mission.
If your organization is in need of tech tune-up, you need to be sure that you're approaching new purchases, investments, customizations, and other projects with a conscious strategy.
That's why it's vitally important to have a nonprofit technology plan in place before jumping into new projects that rely heavily on technology or will require you to purchase any tech tools.
Here at DNL OmniMedia, we offer full-service technology consultation to nonprofit organizations of all shapes and sizes, and we put a special emphasis on the planning process. Any new investment or change in an organization's tech stack deserves careful thought and attention! If you already have a general idea of your needs, reach out to start discussing your next project.
Want to learn more about our nonprofit technology planning process and the best practices we recommend to clients? Let's dive in:

What is a nonprofit technology plan?
A nonprofit technology plan is a strategically-developed blueprint for how your nonprofit will use and invest in technology going forward. It should encompass any technology or digital platforms that support your work, even those not directly related to fundraising, stewardship, or advocacy activities. An effective nonprofit technology plan should serve as three useful resources in one:
A strategy for using your existing technology in smarter ways
A roadmap or schedule for making planned upgrades and new purchases
A contingency plan for unexpected tech emergencies or failures
Nonprofits typically develop technology plans when they're in the market for new solutions in order to provide more structure to the research and purchasing processes. However, a truly valuable nonprofit technology plan should also outline how you'll implement, use, and update your tools going forward.
Some nonprofits choose to undertake these sorts of planning projects on their own. However, an experienced tech consultant can guide you through every step in the process, design a perfectly-scaled solution, and deliver a clear roadmap for the next steps. Think carefully about the process that might work best for your organization.

Why do you need a nonprofit technology plan?
Just as your team works hard developing a comprehensive digital strategy around new marketing and fundraising campaigns, it's essential that you take the time to create a plan for how you use technology more generally over the long-term. Your technology plan will (and should) align with other big-picture strategies you develop. Consider every element of your operations, both internal and donor- or constituent-facing, and how technology fits into them.
There are two major benefits to crafting a nonprofit technology plan whenever your organization is planning to update its toolkit or other digital strategies. The value of these benefits for streamlining your operations and supporting your development can't be overstated.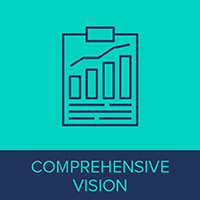 First, an effective tech plan enables your organization to develop a more comprehensive technology strategy. This prevents you from needing to fit together piecemeal solutions and temporary fixes on a disorganized, ad hoc basis. Many nonprofits unknowingly build shaky tech foundations on platforms or tools that were initially implemented as short-term solutions to long-term problems.
A nonprofit technology plan addresses this issue head-on by forcing you to take a more comprehensive, big-picture view of your organization's infrastructure, needs, and goals.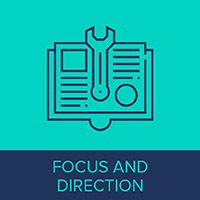 Next, a nonprofit technology plan provides your organization with a new level of focus and direction that you may have been lacking previously. A comprehensive tech plan helps your whole team stay on the same page and better understand your long-term strategies and goals. Plus, providing direction goes a long way to help you save money and time down the line.
Preparing ahead of time for scheduled updates, custom development projects, and tech emergencies prevents stress and wasteful spending later on.
Establishing a concrete technology plan makes it much easier to take advantage of new revenue opportunities as they arise, too. For instance, if you identify corporate philanthropy opportunities within your donor database, you'll be able to more easily adapt and build out a strategy for targeting them.
Working with an expert guide will further boost the impact of these benefits. A third party can quickly identify problem areas that might be in your team's blind spots, and their own experience and insights will give you a big-picture strategy for the long run in a way a purely internal team might not be able to.
For some context, explore our case studies to see the results we've achieved for clients. Comprehensive technology planning is the key to success with any tech project, so we here at team DNL take the time to carefully craft a plan before getting started.

How do you develop a nonprofit technology plan?
If creating a new technology plan for your nonprofit sounds like a smart move, you're probably excited to get started.
Let's walk through each step in the process. Here's the general process we use at DNL OmniMedia to develop custom technology plans for our nonprofit clients: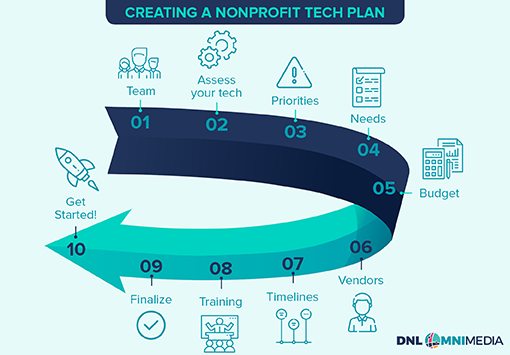 If you're looking to implement a new platform or software into your organization's toolkit, you've likely already begun to think through some of these steps without even realizing it. Whenever developing a new strategy, however, it's important to take a systematic approach. Let's walk through each step in greater detail:

1. Establish your technology planning team.
Forming a team is a crucial first step for developing any kind of strategic nonprofit plan. Involving the perspectives of multiple stakeholders will prevent any major blind spots from developing in your technology plan. Plus, it helps to ensure that all stakeholder needs are identified and prioritized. The size of your technology planning committee will of course vary depending on the size of your organization and its goals. Your team will likely include these members:

Key staff members who will work with any new tech solutions you adopt
One or more board members and your executive director
A major donor, key volunteer, or community stakeholder
When we begin working on a new project for a client, we typically start by developing a responsible party list and documenting each individual's key roles. Your tech planning team should represent diverse perspectives but also have clearly defined roles and responsibilities for each member.
The Main Objective
Your planning team should represent a wide variety of internal perspectives, touching on fundraising, development, management, and other operations that interact directly with your technology infrastructure. Outside perspectives are useful as well; they ensure that any new technology plan you develop aligns with your existing public image and stewardship goals.

2. Assess your nonprofit's current technology.
Work with your tech planning committee to compile an inventory of your organization's current software and hardware. Consider bringing on an expert nonprofit tech consultant to guide your assessment, as well. Remember, this should be a comprehensive inventory, not just limited to your internal management tools or fundraising platforms.
Ask yourself a few key questions as you assess your tech:
What works well? What do we do well with our technology?
What aspects of our tech operations need improvement?
Are there any chronic pain points in our tech infrastructure?
Do we have any tech assets that we can stand to lose? Are there any that we want or need to replace?
Are there any tech assets that need repairing, and how feasible are those repairs?
Which assets can be improved, and what improvements or integrations would that entail?
It might be a good idea to even establish a system for your team to compare thoughts and impressions in a more quantifiable way. Many organizations use a color-coded red, yellow, and green ranking scale to help map out the state of their digital toolkits. Here's a rough example: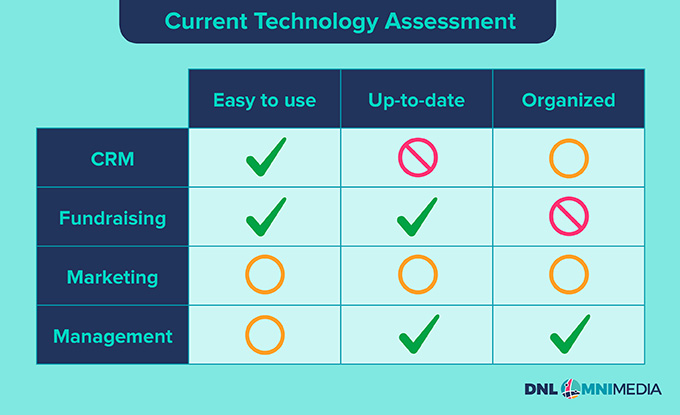 The Main Objective
Take a holistic but systematic approach when considering your entire technology infrastructure. Working with a nonprofit tech expert can significantly streamline this process and help to quickly focus your priorities for your new nonprofit technology plan. Contact us at DNL OmniMedia to get started with a professional assessment of your own tech stack.

3. Determine your priorities for your nonprofit technology plan.
Review the schematic or roadmap of your tech infrastructure that your team developed in the previous step. Then, record any answers or insights you had while considering the high points, low points, and areas for improvement in how your technology currently operates.
Chances are you decided to develop a new nonprofit technology plan because you need to solve a specific problem. A typical example would be replacing an out-of-date database platform that your organization has outgrown.
Alternately, you may want to build a strategy around taking advantage of new opportunities rather than solving a problem. Building out a full corporate philanthropy strategy is a fairly common example. As previously mentioned, these are major opportunities that most nonprofits overlook, so it's likely your team may be overlooking them, too. Something as easy as implementing a matching gift search tool that easily integrates with your existing tech plan can help you get started.
Carefully choose the right technology to solve your nonprofit's unique gaps. Use your central goal, finding a new, properly-scaled CRM, to begin building out the other priorities that your new nonprofit tech plan needs to address. Think about how your team interacts with your organization's tech assets and how those tools work with each other. The audit or assessment your team completed in the last step will help you get started. Follow this general process for determining the priorities that should inform your tech plan:
Identify gaps and issues in your current tech infrastructure using the assessment you completed.
Use a ranking system or other method to identify pain points, areas for improvements, and high points in your current tech.
Consider your operations and processes. How does your team use technology on a daily basis? What roles does technology play in your marketing and fundraising campaigns?
Review your ongoing strategic plans, like capital campaigns, other development projects, or major marketing campaigns. Your tech goals need to align with (and contribute to) the bigger picture guiding your organization.
Be sure to consider both your long- and short-term goals. To continue with the CRM example, your short-term goal is to find an effective platform that's properly-scaled to your operations without losing any of the functionality that you're used to. Your long-term goal might be to use your new CRM to boost the impact of your fundraising and marketing campaigns through custom integrations, development projects, or additional tools like Luminate Online.
The Main Objective
Take the time to consider your technology goals from 360 degrees. An immediate need most likely spurred your team to get started developing a new nonprofit technology plan, so use that as your starting point. What short-term and long-term benefits do you want to see from refreshing your strategy?

4. Identify what types of nonprofit technology you'll need.
Now review the priorities that you've established and write out the specific types of hardware, software, or other digital platforms that you'll need to acquire in order to reach your goals. Many organizations develop new technology plans around the need to replace one of their central tools, as in the CRM example in the previous section. If your nonprofit technology plan is also built around a specific need, start there.
You'll research different options and vendors later, but for now, focus on defining the scope of your needs and the specific types of technology that you'll need. A consultant who's assessed your tech infrastructure in the previous steps will be able to quickly outline and prioritize any issues that require addressing.
For instance, replacing an entire CRM or database platform is a much larger-scale goal than adopting and integrating a single new piece of fundraising software. Consider how your team broke down its goals into short- and long-term categories, and try to focus on more major updates and replacements first. They'll be the foundation on which to build the rest of your nonprofit technology plan as you put it into action.
The Main Objective
Use your short- and long-term priorities to define your new technology needs in concrete terms. For example: "First, we need a new CRM. After implementing the CRM, we need a new digital fundraising and marketing platform that integrates with it."
It's important to take the time to list out exactly what you'll need before diving right into a new plan. Defining your needs will give you a much more realistic sense of the constraints that will affect your plan, namely your budget.

5. Outline a budget for your nonprofit technology plan.
Next, start outlining a budget for your tech plans, looking closely at each prospective acquisition that your team listed in the previous step. Because your nonprofit tech plan will address your short-term needs as well as lay the foundations for your technology strategies going forward, you need to consider both the short- and long-term costs associated with any new tools you purchase. Conduct a total cost of ownership, or TCO, analysis of any major investment you plan to make. Here's an example: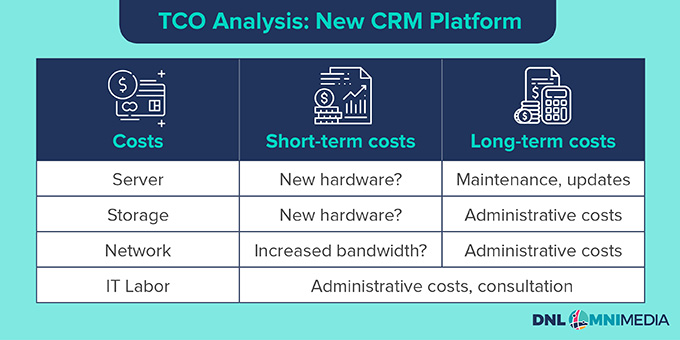 Let's say you need to replace your outdated CRM and have built a comprehensive nonprofit technology plan around that need. Break down the immediate and long-term costs that a new CRM or database platform might generate for your organization. For most types of nonprofit tech, you can break these costs down into four categories: server, storage, network, and IT labor costs.
In our example, and depending on the state of your organization's existing tech infrastructure, you might need new or more powerful servers to support the CRM, which would be considered up-front costs. Ongoing maintenance of those servers is a long-term cost. Similarly, new digital storage hardware will likely require administrative costs of time and/or money in the future.
IT labor is an important cost to consider, too. The guidance and personalized services of a nonprofit technology consultant will increase the long-term value of your tech investments. Custom web development and integrations with your fundraising and database platforms, for instance, can significantly boost the impact of your campaigns down the line.
The Main Objective
Outline as accurate a budget as possible for your technology plan, considering every element or investment in both the long- and short-term. Conduct total costs of ownership analyses for each major purchase you think you'll make, and plan ahead for consultation or custom development services.

6. Research nonprofit technology vendors and tools that fit your needs.
Next, begin filling out the framework of your nonprofit technology plan by researching vendors and tools that will address the priorities you've established.
Generally speaking, it's best to look for software vendors that offer scalable packages and support services. Research some top providers online using third-party sites and review aggregators, and be sure to explore all the individual offerings within larger suites of software. Blackbaud, for instance, is a leader in the space because it's a full suite of solutions covers such a wide range of price points and capabilities. Here's a comparison we created of their most popular platforms:
If you're already working with or plan to work with a technology consultant to help plan your tech strategies, they'll be able to point you in the right direction. If not, just make sure your team considers prospective vendors from all angles. You'll need to consider:
Any integrations with other platforms that you want or need
Your team's need and budget for training services
Your organization's ability to configure and implement each solution
Specific or unique features that you'll want or need
As with outlining a budget, it's important to think about possible tech vendors in terms of both immediate and future impacts that each choice might have. New tools are important investments for nonprofits, so take your time choosing the perfect partners!
The Main Objective
Carefully research prospective technology vendors whose products and services suit your needs, goals, and budget. Use diverse resources to find reviews, comparisons, and professional advice, and make sure to explore all the tools in a vendor's full suite to make sure you don't miss any great but lesser-known solutions.

7. Develop an implementation timeline or schedule for your tech plan.
As you choose your new technology partners and software vendors, continue reviewing your goals, priorities, and budget. Once a sharper image of your nonprofit technology plan begins to come into focus, you should start thinking about schedules and timelines. Whenever undertaking a major new strategy or plan, it's important to set clear deadlines and benchmarks. Implementing a new platform and integrating it into your organization's operations are a perfect example.
After settling on vendors for your key tech investments and requesting proposals from technology consultants, if applicable, your team should begin to outline a timeline for your tech projects. The best way to start is by determining a hard deadline. When does the core short-term goal of your technology plan need to be completed? Follow this general process to build an implementation timeline around that deadline:

Determine a hard end date that you want your short-term goal, like having a new CRM platform up and running, completed by.
Set benchmark points at regular periods between the deadline and the start date.
Define specific benchmark goals or tasks that need to be completed before or at each benchmark point. Examples might include finalizing the configuration of your new CRM, training of key staff, or having a crucial integration up and running.
Develop or determine methods for evaluating the success of each benchmark goal.
Remember, it's impossible to accurately gauge your successes without a concrete method for measuring them. That is, it's very easy for your technology plans to slow down or derail completely when there's no pre-defined way to recognize problems as they arise.
The Main Objective
Updating or overhauling your tech infrastructure is a large project that requires many hands and perspectives; this means you must have a concrete timeline in place before getting started. A predetermined schedule (that's still flexible enough for important adjustments) will keep everyone aligned and working towards the bigger picture.

8. Consider what additional technology training you'll need.
Whenever implementing a new tool into your organization's operations, you need to ensure your team will have the product knowledge to begin utilization as possible. Of course, some platforms and tools are more difficult to learn than others, and your organization's level of experience with tools at that scale will impact the learning curve. Different types of nonprofit tech training include:
General training services from software vendors
Free online training resources for less intensive tools
Customized training and process documentation services from a nonprofit tech consultant
For simpler software that you're adding to your toolkit, a staff member who's more familiar with the platform can often serve to train any others who will need to use it. For more major investments, or for platforms that will be central to your operations (like a CRM, comprehensive fundraising platform, or accounting software), it's always wise to devote time and/or money to additional training from a technology professional.
Ideally, you've already allotted for training in both your budget and timeline. In many cases, completing training for the staff members who'll be directly interacting with your new tools is the final benchmark in a nonprofit technology plan's timeline or schedule.
If you're working with a consultant to develop your technology plan, they can recommend best practices in terms of tech training. At team DNL, for instance, we make sure to carefully document every step in the process and develop implementation and training next steps.
The Main Objective
Planning ahead for training needs is a crucial part of developing a nonprofit technology plan that many organizations overlook. Scrambling to provide your team with the training it needs once the plan has already been set in motion results in wasted time and money, and it risks derailing the entire implementation process.

9. Draft your nonprofit technology plan and present to your board.
If you've taken your time working through the previous steps, your technology plan should begin taking a concrete shape. Remember that this entire process typically takes months to be done well, although smaller organizations with less complex needs can often complete effective plans in less time. Either way, your finished nonprofit technology plan should be comprehensive. Let's quickly review the key elements it should contain: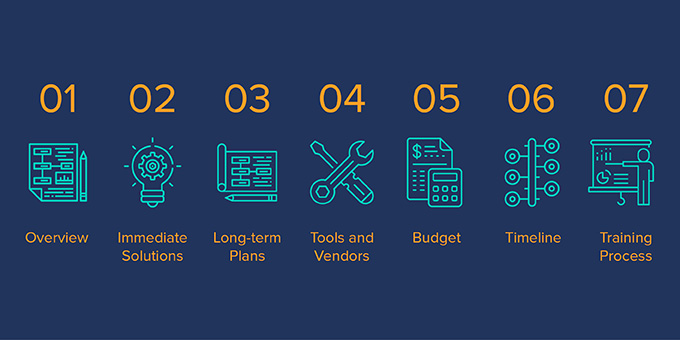 An overview of your existing tech infrastructure.
Solutions to your immediate, short-term technology issues.
Long-term plans for how your new solutions will be implemented into your larger toolkit and operations.
A list of the platforms or software you'll need to purchase, with chosen vendors when applicable.
A budget for your nonprofit technology plans, including total cost of ownership analyses.
An implementation timeline, including scheduled benchmarks and methods of evaluation.
An outline of the training process or services for implementing your nonprofit tech plan.
While drafting and compiling your plan, take the time to thoroughly review every element with your core team. Once you're happy with the results, present your nonprofit technology plan to your entire board for approval. It can sometimes take multiple rounds of review and edits, particularly around budgeting and timeline logistics, to reach a finalized plan, so be prepared to tinker with it.
At DNL OmniMedia we include up to three full rounds of review and revisions in our tech plan development process. Creating a comprehensive technology roadmap entails a lot, so it's very important that your plans check all the boxes for your organization.
The Main Objective
Remember that your nonprofit technology plan is a comprehensive blueprint for how your organization will use and update its technology now and in the future. It's an important investment in the sustainability of your nonprofit's technological infrastructure. Take the chance at this last step to carefully review everything and get everyone on board with your vision.

10. Put your nonprofit technology plan into action!
You and your team have worked hard to fine-tune the perfect nonprofit technology plan that addresses your needs and lays a stable foundation for future growth. Once your organization's board is ready to sign on, it's time to get started!
At this point, and with a finalized technology plan in hand, many organizations now begin the process of applying for grants. If your organization could use some extra support in putting your tech plans into action, research grant-giving institutions and foundations that focus on supporting nonprofit development in your community or around your mission. The planning process can be intense, but when done well it significantly streamlines the actual execution of your new tech plans. It should also greatly minimize the risk of wasted time, effort, and money. The exact first steps of your tech plan will, of course, depend on how you've chosen to structure your own.
Congratulations on creating a nonprofit technology plan! All your hard work will pay off as your tech plans come together to support your organization's continued growth.

How can a consultant help with your technology plan?
Throughout this guide we've touched several times on the all the roles that a nonprofit technology consultant can play as your team develops its technology plan:
Technology assessments and audits. A consultant can conduct a comprehensive technology audit for your organization before you start developing a plan.
Strategy development. A tech consultant can review your technology and recommend immediate next steps and long-term goals for your organization.
Vendor research and recommendations. Technology consultants are knowledgeable about the nonprofit tech space and can quickly point you to the most effective and scale-appropriate solutions.
Comprehensive training. For the best results down the line, have a consultant train your team on how to use any new tools you adopt as part of your strategic plan.
Custom technology services. A tech consultant can provide fully customized implementation, configuration, and development services. This can be invaluable for large-scale platforms that require complex integrations or in the run-up to major digital campaigns.
Most importantly, the right technology partner can guide you through the entire technology planning process. Their insights into all the offerings on the market, their technical skills, and experience working with other organizations of all sizes can ensure that your tech plan is realistic, achievable, and sustainable.
At DNL OmniMedia we focus on developing comprehensive and actionable technology plans for every project we undertake. Any consultant you work with needs to take a fully personalized approach to create the perfect strategy that addresses your unique needs.
---
For more information on nonprofit technology best practices and what it's like to work with a tech consultant, be sure to continue your research with a few additional resources: