This guest post was contributed by Double the Donation.
New and developing nonprofit technology is constantly paving the way for improved fundraising and overall donor experiences. That's why the smartest and most efficiently run organizations are always on the lookout for opportunities to upgrade their digital toolkits.
For example, let's say your fundraising team is looking to increase your matching gift efforts and collect more corporate donations for your cause (hint: you should be!). Equipping your organization with matching gift-specific technology and making the most of your existing tech tools can go a long way.
But how exactly can you do that? Here are a few tried-and-true best practices to follow:
Are you ready to learn more about how the right technology (and the strategies for using it) can help significantly boost your organization's matching gift fundraising revenue? Keep reading to learn more about bringing your gift matching strategies to the next level.

1. Promote matching gifts throughout your nonprofit website.
Your nonprofit website is one of your most valuable matching gift marketing assets. More than likely, individuals on your website already care about your cause, and prominently promoting gift-matching opportunities can be just what they need as an encouragement to make a gift. And for those who were already going to make a gift, matching gift information can drive them to secure a corporate donation from their employer.
However, these corporate giving programs are often significantly underutilized, so highlighting matching gifts on your site is critical. Luckily, you can easily optimize your site for matching gift promotion by incorporating relevant information in the following key locations:
Dedicated matching gift web page
Online donation form
Confirmation screen
Website navigation
"Ways to Give" page
It's hard to predict which parts of your website each donor will interact with, so it's good to incorporate matching gift information across multiple touchpoints. We recommend marketing matching gifts at each of the above areas on your site to maximize your reach.

2. Provide donors with access to an employer database.
Now that you know where you should include matching gift information on your organization's site, it's critical that you determine the right kinds of content to prioritize.
One of the most essential items is your searchable employer database. This tool can provide users with a ton of information on a company's program guidelines with just a quick search of the business name. This typically includes:
Donation minimums and maximums
Match ratios
Qualifying types of employees
Qualifying types of nonprofit causes
Match request deadlines
Online submission forms and instructions
Plus, a matching gift database can easily be embedded directly within your matching gift web page, donation form, confirmation screen, "Ways to Give" page, etc. Wherever donors go to learn about matching gifts, they can quickly determine their eligibility and next steps without having to leave the page.
By spoon-feeding donors all the details they'll need, you can significantly streamline the process and drive more match revenue for your cause. The less individual research a donor has to conduct to request a match, the more likely they'll be to follow through with the request and secure a corporate gift for your organization.

3. Streamline matching gift follow-up with automation software.
It's vital that you send matching gift follow-up messages soon after receiving donors' initial gifts. Our team of matching gift experts recommend doing so between two and three days following each donation. This way, your communication will be far enough out from the gift that it won't be confused with the donation receipt, but soon enough that you can still capitalize on the original engagement momentum.
However, keeping track of each donation and timing its ideal follow-up communications manually can be a significant undertaking, and it's likely that a number of gifts will fall through the cracks. That's why we suggest leveraging matching gift automation.
The right automation tool can scan donor data to uncover match-eligible gifts and trigger timely messages encouraging the individual to request a match from their employer. Here's how it typically works:
Your donation platform collects relevant donor data, which is transferred to your CRM and matching gift systems.
The matching gift software scans donor information for employer markers such as corporate email addresses or other company information provided during the donation process.
The matching gift platform sorts donors into one of three categories based on available donor employer data: likely match-eligible, likely match-ineligible, and unknown eligibility.
Match-eligible donors are automatically sent company-specific program guidelines drawn from a comprehensive matching gift database.
Match-ineligible donors and those with unknown eligibility are encouraged to double-check with their employer for available programs.
Donor activity is tracked from start to finish, employing strategic follow-up to drive additional completed matches.
When you employ matching gift automation software, you can save your team time, effort, and resources that can then be reallocated to help reach your mission goals.

4. Integrate your matching gift and online fundraising tools.
A big part of any modern fundraising strategy involves equipping your team with the right types of tools. As you optimize your nonprofit software toolkit, we suggest prioritizing a corporate matching gift solution alongside your typical donation tools and CRM.
Plus, it's bonus points if your matching gift software integrates with your other fundraising systems. This allows your team to quickly and easily get started with matching gift fundraising by leveraging the solutions you already have. And when your matching gift tools integrate with your online donation platform and donor management system, you can ensure all your data flows seamlessly throughout the different systems, allowing you to constantly be on the lookout for new matching gift opportunities.

5. Record and analyze key matching gift metrics.
Matching gift software comes with a lot of benefits to nonprofits, one of which is key data analytics. When you use these tools, you can easily see where your matching gift efforts are thriving and where you have room for improvement. Here are a few suggested matching gift metrics to record:
Number of donors employed by companies with matching gift programs
Total matching gift revenue collected
Total number of corporate matches secured
Percentage of match-eligible donations secured
Be sure to continuously track these data points (and others!) so that you can analyze trends and visualize growth over time. As you incorporate all of the above tips and tricks, you should be able to view your matching gift revenue increasing, providing additional, much-needed funding for your cause.
As you explore these tips and begin implementing them in your own nonprofit fundraising strategy, be sure to evaluate your existing technology. After all, it would be difficult, if not nearly impossible to incorporate these practices if you lack the tech tools to do so.
Once you have the matching gift software you need, be sure to promote corporate gift-matching opportunities across your nonprofit website, simplify the donor request process with a searchable employer database, streamline backend operations with innovative technology, and make the most of your data from start to finish. Good luck!
About the Author: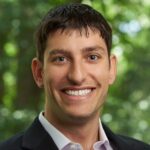 Adam Weinger is the President of Double the Donation, the leading provider of tools to nonprofits to help them raise more money from corporate matching gift and volunteer grant programs.
Double the Donation's robust solution, 360MatchPro, provides nonprofits with automated tools to identify match-eligible donors, drive matches to completion, and gain actionable insights. 360MatchPro integrates directly into donation forms, CRMs, social fundraising software, and other nonprofit technology solutions to capture employment information and follow up appropriately with donors about matching gifts.