December 5, 2017

By now, you're well aware that technology is a crucial piece of any nonprofit's operations. From streamlining day-to-day projects to centralizing expansive fundraising campaigns and multifaceted donor stewardship strategies, your nonprofit technology solution can make or break your efforts.
Because software is so vital, there is an almost endless number of technology solutions for your nonprofit to sort through as you design an overarching technology strategy that addresses all of your many needs.
Whether you're already in the market for a new tool or just assessing your current setup, it's tough to know which nonprofit software providers stand out among all the noise. That's why we've put together a list of 8 best-in-class technology solutions built to enhance your organization's potential:
Each platform can impact your nonprofit in a different way, so you might benefit from combining multiple solutions to form one unique fundraising, donor management, and marketing system that helps you achieve every one of your nonprofit goals. But no matter what, make sure you partner with a smart nonprofit technology consultant to maximize the software you use.

1. Blackbaud: Top Nonprofit Technology Solution for Fundraising and Donor Management
Nonprofit Technology Solution Overview
With technology to help your nonprofit power every part of your organization, the Blackbaud product family is expansive and versatile.
Enterprise nonprofits can manage donor data with the comprehensive Blackbaud CRM, while mid-sized to large nonprofits can take advantage of the multifaceted fundraising software Raiser's Edge. No matter how you mix and match Blackbaud solutions, you'll inevitably gain access to features such as:
Donor lifecycle tracking
Mutlichannel fundraising
Donor acquisition and prospect research
Supporter outreach tools
Chances are there's a Blackbaud product to manage any of your nonprofit's needs, no matter how simple or complex.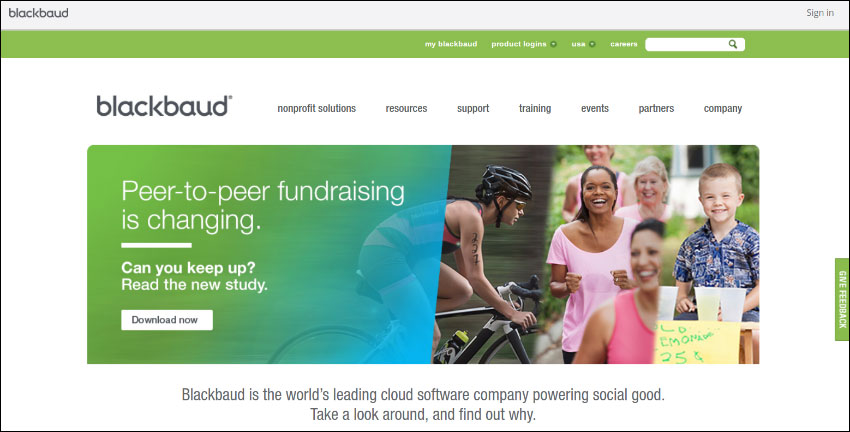 Why This Nonprofit Technology Works
Blackbaud is one of the biggest names in nonprofit software. Their team makes products exclusively for nonprofits, so you can trust that you'll be met with solutions that have been vetted and tested for organizations just like yours.
Plus, Blackbaud understands that smaller nonprofit shouldn't sacrifice professional software just because they don't have the resources (or donor list) of their enterprise-level counterparts. In addition to high-end software, Blackbaud also offers software options built for up-and-coming nonprofits who need to get started with donor management and online fundraising in a manageable way.
Not sure if Blackbaud has a product for you? Check out our Blackbaud CRM software comparison guide to get an in-depth look at the different donor databases they offer.
How a Nonprofit Technology Consultant Can Help
Some Blackbaud products were made to be useful right out of the box, but others (like Blackbaud CRM or Luminate Online) can seriously benefit from customization, integration, and of course, in-depth professional training.
A nonprofit technology consultant with Blackbaud experience can offer you all of the resources you need to get more from your Blackbaud system. Whether they build out a custom development, clean up your data, train you to use the software effectively, or integrate multiple Blackbaud and third-party products to create a unique fundraising system, a consultant can be your go-to Blackbaud expert during implementation (and long after).
---

2. Salesforce: Top Nonprofit Technology Solution for Constituent Relationship Management
Nonprofit Technology Solution Overview
A powerhouse CRM solution in the for-profit world, Salesforce offers a comprehensive constituent management platform that adapts seamlessly to nonprofit needs.
With Salesforce, you can manage all of the many aspects of your organization in one place. Through their nonprofit solution (a version of their core CRM product that's pre-configured to better suit nonprofit needs), you'll have access to features such as:
Program and campaign management
Collaborative staff workspaces
Marketing and communications tools
Fundraising pipeline
Salesforce seeks to improve your nonprofit's organization by centralizing all of your efforts. When you stay organized and on top of your responsibilities, you'll be able to get a clearer view of what needs to be done to drive your mission forward.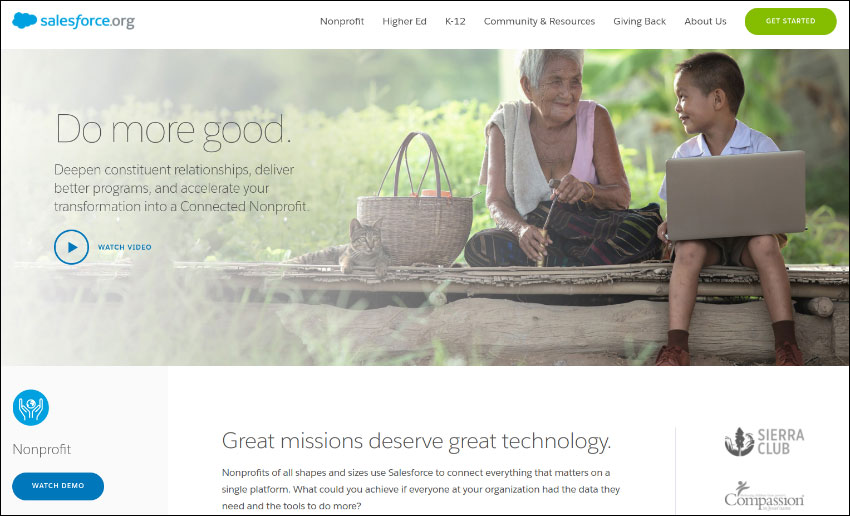 Why This Nonprofit Technology Works
Salesforce is a trusted name in practically every sector, including the nonprofit world. When you utilize this universal platform, you'll gain access to proven technology that can connect all of your departments, campaigns, and team members.
Plus, because Salesforce was built to work for any number of industries and a variety of goals, you're guaranteed a superior level of flexibility. With some configuration, you can customize virtually any aspect of your CRM so that it bends to your unique needs.
Bonus: See how Salesforce for Nonprofits compares to Blackbaud Raiser's Edge by reading our in-depth review of each!
How a Nonprofit Technology Consultant Can Help
Though Salesforce does offer some pre-built nonprofit solutions, it's important to keep in mind that Salesforce is still a broad (and complex) solution. It can do almost anything, but you'll need a partner with the right Salesforce experience to make this CRM do what you need it to do.
A Salesforce consultant can help with developing customizations and setting configurations, integrations with all of the Salesforce apps you need, and migration and maintenance of all of your data.
Need help finding the right Salesforce nonprofit consultant? We've got you covered with our top tips for your Salesforce consultant search. Read our strategies now!
---

3. Double The Donation: Top Nonprofit Technology Solution for Matching Gifts
Nonprofit Technology Solution Overview
Nonprofits have long been harnessing the power of corporate giving to increase their fundraising revenue. Thanks to Double the Donation, promoting matching gifts and other forms of corporate giving has never been easier! Identifying your corporate giving opportunities is a major part of your fundraising strategy and is often overlooked by nonprofits.
Double the Donation offers an easy-to-use matching gift search widget that your nonprofit can embed anywhere on your website. To use it, donors simply input their employer's name. Then, they'll be presented with all of the corporate giving programs their company sponsors, as well as details like matching gift request submission guidelines, deadlines, minimum and maximum match amounts, and much more.
This tool could not be more helpful to nonprofits, who can use it to promote corporate philanthropy and educate supporters on the matching gift process:
During the giving process on donation forms
In newsletters or other emails
On a dedicated corporate giving page
On donation confirmation screens
When half the matching gift battle is getting the word out, Double the Donation's technology solution can be exactly what your nonprofit needs!
Why This Nonprofit Technology Works
Double the Donation addresses the problem many nonprofits face when utilizing matching gifts as a fundraising strategy—donors simply don't know their gifts can be matched!
With this tool, you can integrate matching gift education at every step in the donation process, as well as in other general nonprofit communications. With Double the Donation's matching gift tools, you'll be able to:
Track match-eligible donors. See which donors have submitted a matching gift and which are eligible but may not realize it. That way, you can encourage those who haven't submitted a match to go ahead and do so.
Improve outreach to your donors. When your donors are match-eligible, your system will notify you so that you can remind them to submit their match. From here, you'll be able to maintain an open line of communication to make sure they complete the process.
Forecast your matching gift revenue. See what percentage of your gifts are match eligible, where donors are in the process, and where your largest revenue opportunities are, all in real-time!
When your donors are aware that corporate giving is an easy, lucrative way to double their impact, they'll be much more likely to take that extra step and submit a match request.
Plus, Double the Donation also offers 360MatchPro, a dedicated matching gift automation software to help enterprise nonprofits manage the corporate giving process from end-to-end.
How a Nonprofit Technology Consultant Can Help
Thankfully, Double the Donation is easy to simply plug in to your existing nonprofit site. You don't need any custom development or coding knowledge to use it.
However, the more complex your website or fundraising system, the more likely you are to run into issues when integrating any new software solution. A nonprofit technology consultant can make sure that Double the Donation's widget seamlessly connects to your website (in terms of functionality as well as look and feel), and that all the data you collect is accurately stored in your CRM.
Learn More About Double the Donation

4. Salsa: Top Nonprofit Technology Solution for Online Fundraising
Nonprofit Technology Solution Overview
Salsa's online fundraising solutions are the perfect mix of comprehensive and user-friendly, making this nonprofit technology provider a great fit for almost any nonprofit.
Salsa combines online fundraising with other essentail nonprofit efforts to give you a complete view of your organization. With their Engage platform, you'll do more than just secure donations; you'll engage with donors, collect and analyze valuable supporter data, and raise awareness for your cause. Just check out their feature set:
Donor profiles
Digital marketing
Online donation and registration forms
Online advocacy
Along with Engage, Salsa also offers Salsa CRM so you can seamlessly sync up your data management strategy with your fundraising initiatives.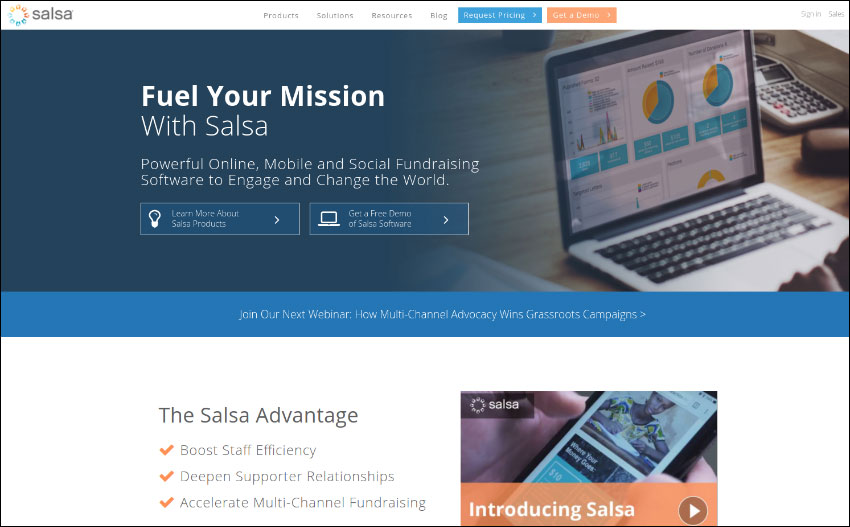 Why This Nonprofit Technology Works
Salsa's technology solutions are built to grow with your nonprofit. They pride themselves on providing software that's scalable enough to work for any organization, no matter how simple or complex your needs are.
Start small with online donation software or go big with a large-scale peer-to-peer fundraising campaign. With Salsa, you can do it all!
How a Nonprofit Technology Consultant Can Help
As with any nonprofit fundraising tool, you can take your Salsa system even further by implementing custom solutions and strategies.
For example, work with a nonprofit technology consultant to develop an outreach plan that utilizes all of Salsa's robust features, from email marketing to social media integration. Then, build out custom donation forms, launch a peer-to-peer campaign, or host a fundraising event. With a specialized Salsa consultant, you won't waste any of this software's powerful tools!
---

5. WordPress: Top Nonprofit Technology Solution for Content Management
Nonprofit Technology Solution Overview
Though not exclusively a technology solution for nonprofits, WordPress is the content management system of choice for many charitable organizations.
WordPress offers a variety of built-in features as well as add-ons to help your nonprofit take your website to a new level. Post blogs, update your look and feel, and manage your own content using their simple interface. With WordPress, you'll have professional features on hand for all of your site-building needs:
Responsive design for all screen sizes
Customizable themes
Search engine optimization (SEO) tools
Media management
You don't need to be an expert web designer, either—WordPress makes it easy to create and edit basic content even if you've never worked in a CMS before.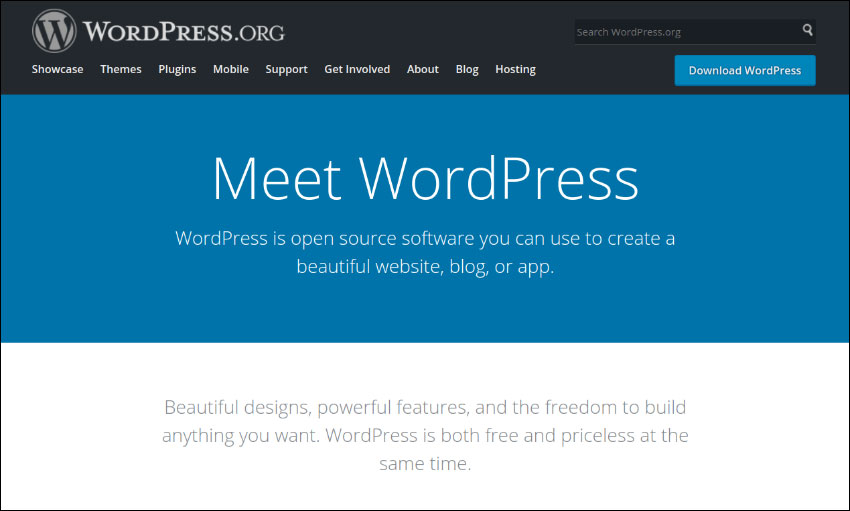 Why This Nonprofit Technology Works
If your nonprofit needs to get up and running with a simple (but effective) nonprofit website, WordPress can be your new best friend. They bridge the gap between power and usability, making it possible for even the most novice nonprofits to get a great site up. (It's no surprise they made the top of our list of best nonprofit website builders.)
Plus, WordPress is scalable and affordable. You can get started with a basic free theme or work with a developer to build a high-powered, complex site. Whatever you need from your nonprofit website, it's possible with WordPress!
How a Nonprofit Technology Consultant Can Help
Practically anyone can get started with WordPress, but to get the most from this CMS, you'll probably need to enlist the help of a professional site designer. Did you know a nonprofit technology consultant can provide those services? It's true!
With a nonprofit IT consultant, you'll not only get the coding and development knowledge you need to design a beautiful WordPress site, but you'll also get the nonprofit expertise you need to use your site to its fullest potential. Get more visitors, secure more donations, and spread your mission across the web with a savvy nonprofit website designer.
---

6. Drupal: Top Nonprofit Technology Solution for Website Building
Nonprofit Technology Solution Overview
For nonprofits who need a site builder with maximum flexibility, Drupal is a top choice. Providing anything your nonprofit could need in terms of content management, Drupal powers complex, truly custom websites with their open source CMS.
You can use Drupal to customize pretty much any aspect of your nonprofit's digital presence. Some top features and benefits of this solution include:
Collaborative community of user contributors
Pre-built modules and customizable themes
Frequent security patches
Multiple content types
Drupal is constantly expanding and becoming more feature-rich thanks to their expansive user community. If you're not sure how to take advantage of Drupal, you're only a few clicks away from finding inspiration or documentation online.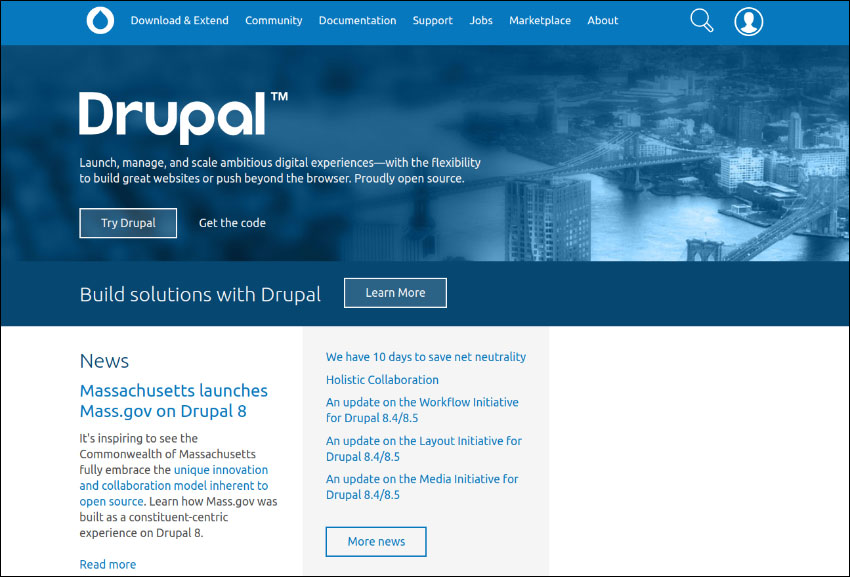 Why This Nonprofit Technology Works
You've probably caught on by now that Drupal is endlessly customizable and scalable at little-to-no cost. For nonprofits who are constantly growing and evolving, that means that you won't have to change CMS solutions or purchase upgrades every time you need to add a new page to your site or implement new functionality.
In fact, with Drupal, there are no limits on what your website can do. Be as ambitious as you want, and Drupal can support you at every step—as long as you know how to navigate the platform, that is.
How a Nonprofit Technology Consultant Can Help
Drupal is simply not as accessible as some other nonprofit website builders or technology solutions for nonprofits. Unless your staff has an in-house coding expert or a web development team, you probably won't be able to use Drupal at anywhere near full capacity.
Luckily, a nonprofit IT consultant can do a lot more than just build a site for you. The right consulting partner can leverage nonprofit and Drupal experience to find innovative ways to bend this customizable CMS to your exact goals. You might be surprised what kind of ambitious website projects you can undertake with the combination of a flexible platform and a top-notch programmer!
---

7. DonorSearch: Top Nonprofit Technology Solution for Prospect Research
Nonprofit Technology Solution Overview
Strategic nonprofits understand that in order to engage your donors, you need to know your donors. DonorSearch can help!
With their suite of prospect research and wealth screening tools, DonorSearch empowers your organization to gain insight into current and prospective donors. Their integrated search tool can provide you with comprehensive supporter data relating to the most important metrics, including:
Income data
Philanthropic giving history
Political giving history
Stock and real estate holdings
With this information on your side (and much more), you'll be better prepared to approach prospects or existing supporters with the right ask at the right time.

Why This Nonprofit Technology Solution Works
All nonprofits should be using some form of prospect research, particularly when it comes to targeting and soliciting major donors. Because major giving can make up a significant portion of your nonprofit's overall fundraising strategy, being able to maximize the amount of large gifts you get could mean a lot for your fundraising results.
But with major donor data, accuracy is everything! DonorSearch knows that, so they've gone above and beyond to ensure reliable prospect screening results. Not only do their machine-generated results reach the maximum 70% accuracy, but with their manual screening, that accuracy rate rises to 90%!
How a Nonprofit Technology Consultant Can Help
Before DonorSearch can make use of your donor data, it's up to you to make sure your current supporter information is stored in a clean, up-to-date way. If it's been a while since you've combed through your database, consider working with a nonprofit technology consultant.
Your consultant can help you clean and maintain your data in the most manageable way. Plus, if you're migrating supporter data from one platform to another, a nonprofit consultant can help ensure the transfer goes as smoothly as possible. That way, you don't spend time diving into data that's out-of-date or inaccurate, and can instead focus on the prospect information that's most useful!
---

8. SNOWBALL FUNDRAISING: Top Nonprofit Technology Solution for Secure Giving
Nonprofit Technology Solution Overview
Snowball allows you to track your supporters and their donations through its low-cost CRM software, and throughout your campaigns, you can assess your progress and adjust to reach your goals every step of the way.
On top of its lightweight CRM capabilities, Snowball enables your nonprofit to earn more with an expansive list of fundraising tools, such as:
Ticket selling
Mobile-Friendly donation pages
Text-to-give
Peer-to-peer campaign tools
Swoop, created by the same developers as Snowball, offers passwordless authentication tools that completely secure your donors' private information (like their credit card numbers and contact information). When you implement extra security measures on your donation platform, you'll see a boost in donations and will know your donors' information is safe.
Why This Nonprofit Technology Works
Snowball made a name for itself in the nonprofit world because of its incredibly convenient donation channels. And that hasn't changed! In fact, it's expanded to more diverse fundraising tools, like text-enabled donations and an engaging fundraising thermometer for your P2P campaigns, to increase your nonprofit's revenue potential.
Snowball allows you to create eye-catching donation pages and to manage your supporters in a straightforward way. It makes it easy for your supporters to give any time, anywhere, so you should see a boost in retention and revenue!
How a Nonprofit Technology Consultant Can Help
Snowball provides comprehensive tools that allow you to fully develop your fundraising strategy. Its tools are fairly straightforward and secure when integrated properly.
No matter how simple the solution, there's always a risk when integrating multiple platforms. A nonprofit technology consultant can oversee the integration and implementation, keeping your fundraising data safe and mitigating any stress from the process.
Learn More About Snowball Fundraising
---

9. SureImpact: Top Nonprofit Technology Solution for Impact Measurement
Nonprofit Technology Solution Overview
SureImpact offers impact measurement tools for nonprofits, allowing organizations to assess the efficacy of their programs. These solutions empower nonprofits to move beyond measuring only what they did by also evaluating how their work impacted the communities they serve. 
A user-friendly platform, SureImpact is designed to allow nonprofit staff to easily collect and analyze data. Key features include:
Customizable data tracking and outcome measurement

Case management tools

Automated data collection

Service hours tracking dashboard 
Understanding where their work is most effective allows nonprofits to make informed decisions about programming and services.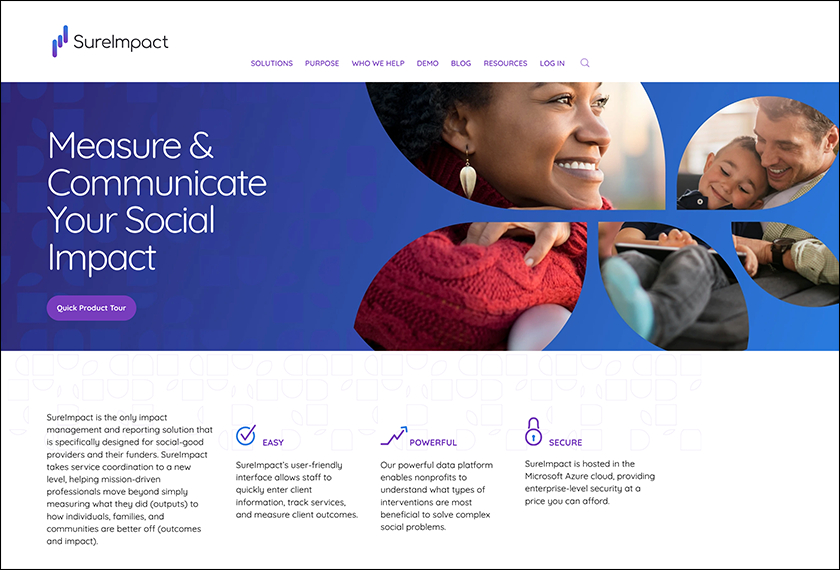 Why This Nonprofit Technology Works
From nonprofit staff to leadership and funders, SureImpact provides valuable insights to anyone seeking actionable data. For staff, SureImpact's case management solutions and analytics allow nonprofits to tailor their initiatives to different communities. For stakeholders, reports from SureImpact indicate that the organizations they support are delivering effective results.
SureImpact provides the tools nonprofits need to understand where their work is best supporting their mission.
How a Nonprofit Technology Consultant Can Help
SureImpact is designed to be intuitive and easy for anyone in your organization to navigate. The user-friendly interface supports quick data entry and clear analytics, which can be customized to your organization.
Working with a nonprofit IT consultant can help you leverage the SureImpact platform's customizable features to their fullest potential. Consult with a nonprofit IT expert to learn how to integrate SureImpact into your tech stack and customize your reporting for the most salient insights.
---
Having a complete nonprofit technology system at your fingertips means more efficient operations and more strategic tactics for your organization. Now that you know who the top technology solution providers are, all that's left to do is start shopping!
As you research technology solutions for nonprofits, be sure to check out these additional resources:
Nonprofit Technology Consulting: 6 Steps to Success. Find out what to expect from the nonprofit technology consulting process in this thorough guide! We'll walk you through the steps your consultant should take to help you take your software strategy to the next level.
Top Blackbaud Partners. If Blackbaud technology is the choice for you, make sure you've got a plan for building out a complete fundraising and donor management system. Check out the top Blackbaud partners in this list from Snowball!
Top Nonprofit Technology Consulting Firms. We've shown you all the ways a technology consultant can enhance your software strategy. Now, take a look at the top consultants according to Double the Donation to find one that's a good fit for you.