November 3, 2020


As a nonprofit fundraising professional, you know that raising major gifts is one of the most strategic efforts your organization will complete. Your major gift officers conduct extensive prospect research, spend months carefully stewarding these prospects, and eventually approach the prospect with a large gift ask that's been hand-tailored based on the relationship.
Major gifts are not only a highly-strategic effort, but also a high-stakes one— for many nonprofits, over 80% of their total fundraising dollars come from major contributions alone. Because of this, it's important to carefully measure major gifts key performance indicators (KPIs) to understand the success of your program as a whole and specific strategies individually.
At DNL OmniMedia, we work with nonprofits just like yours to position their nonprofit tech solutions for effective fundraising data tracking. Using that knowledge, we've created this guide to help your team understand major gift KPIs, the metrics you should be tracking, and the top tips to do so successfully. You'll explore major gift metrics through the following guide:
Are you ready to evaluate the success of your major gifts program? Let's begin with an overview of major gift metrics.


Overview of Major Gift Fundraising Data
Before we dive headfirst into the specifics of major gift metrics, let's make sure we're building from the same foundation.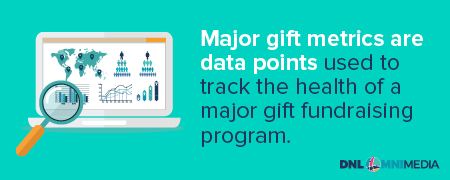 Major gift metrics are data points used to track the health of a major gift fundraising program. This includes the health of the development program overall and the success of individual major gift officers.
This includes data about specific prospects, communication efforts, connections made, and even donations requested (and hopefully, received). Essentially, you should be tracking data from every step in your major gifts moves management process.
Looking at this data as a whole allows your team to improve your major gift program over time and receive more donations as a result. Let's explore this idea further.
Why is it important to track fundraising benchmarks?
As a development director or major gifts officer, you're well aware of the importance of large gifts.
For many nonprofits, major donations make the largest percentage of their total donation revenue. According to Bloomerang, up to 88% of the total dollars raised by a nonprofit come from the top 12% of donors.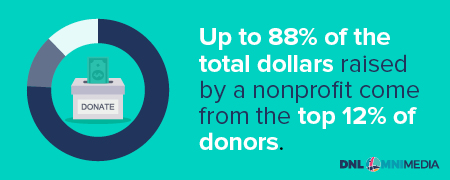 Because of this, it's crucial that your nonprofit's major gift program is functioning effectively. And that's where major gift metrics come into play.
Major gift metrics can be used to identify:
The growth of your program. For example, if your team secured X more major gifts this year than last, you can examine those successful deals to see what your team did differently.
Past successes and how to replicate them. You can examine the largest major gifts secured and the steps an officer took to secure them to replicate it in the future.
Past challenges and how to avoid them. Discover the exact point at which a major gift prospect chose not to give and what led them to that point to prevent the same situation in the future.
Which major gifts should be prioritized. By analyzing past major gift successes, you can build a profile of what the ideal major gift conditions look like. Then, you can prioritize prospects who fit that profile.
How to budget for future major gift efforts. Securing major gifts is a highly strategic, resource-intensive effort. With metrics about the tasks associated with securing past gifts, you can budget for the resources needed down the line.
The main idea is the major gift metrics allow you to identify opportunities and challenges in a timely manner, giving your major gift officers the best chance of success when it comes to securing future gifts.
Collecting this data requires an effective nonprofit data management strategy. Not only will your tech stack need to be optimized for data collection, segmentation, and storage, but you'll also need to think strategically about which metrics to track to give you the best overview of your program's health.
But, which specific metrics are the most beneficial to track? And, how do you get started if you're revamping your program from the ground up?


What are the major gift metrics that matter when measuring success?
When it comes to measuring data about your major gifts program, there is an abundance of data points you can track. But, to be honest, carefully tracking and evaluating each and every point would be more stress than it's worth!
Instead, your team should choose a select few major gift metrics to study your program. We've organized these metrics into four main categories: prospects, communications, connections, and donations.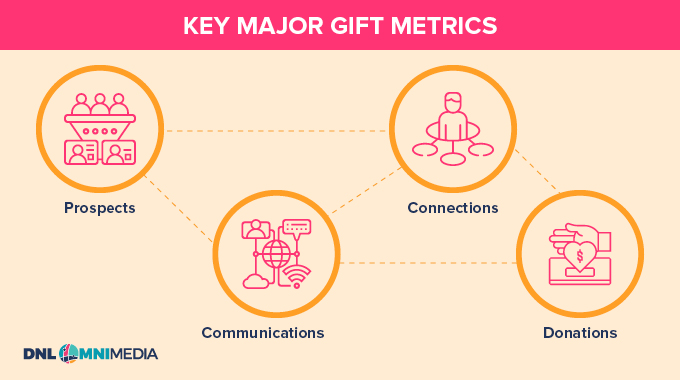 Let's walk through each of these categories in-depth and explore a few specific major gift metrics that fall into each:

Prospects
Securing a major gift begins with identifying top prospects to cultivate. There are a few key metrics that can contribute to your program's success when identifying new prospects:
Total New Prospects: With a specific campaign or major gifts push, this would be the total new prospects identified during research.
Total Prospects: This would include both the new prospects identified as well as any prospects you've identified in previous years and campaigns.
Referrals: This includes any major gift prospects that are referred to your organization for further contact.
Donor Retention: This includes past major gift donors that are still giving regularly to your organization.
Prospect metrics can provide a few key insights. For example, if you have an inordinately low amount of total new prospects, that would suggest that your team is struggling in the research process. Or, if you have very low past donor retention, that's a sign that previous major gift donors had a sub-par experience after giving to your organization and that your stewardship strategies need attention!

Communications
Cultivating a major gift involves many points of contact with prospects, especially considering the initial communications you may have. You could track:
Emails
Phone Calls
Letters
In each of these examples, we're referring to tracking the outgoing communications sent to a prospect— so, for example, the emails you send to the prospect, not any questions they may email you in return.
By tracking this information, you can assess which initial contact points are most impactful when it comes to securing a major gift. For example, you may find that few of your major gift prospects acknowledge your email marketing efforts but have a strong positive response regarding one-on-one phone calls.
While digital communication methods have made connecting with prospects more cost-efficient in many ways, that's only true if your major gift prospects respond well to them. By tracking the success of various communications efforts, you can discover those that are most impactful and focus your resources there. You can use this information to both keep your current solicitation process organized and to learn from any successes and shortcomings to improve your moves management going forward.

Meaningful Connections
Of course, major gifts aren't cultivated through casual communications alone. Major gift donors are giving a significant amount and need to trust that your organization plans to put their funds to good use. These gifts require impactful, one-on-one conversations between your team and prospects.
Track the meaningful connections created with metrics such as:
Appointments Set: These are the meetings that your team schedules with prospects.
Appointments Kept: Of the meetings scheduled, which actually occur?
Site Visits Made: This refers to the number of prospects that make site visits to your facility (or project site in the instance of a capital campaign), which is a common interaction with major gift prospects.
This category could be customized to reflect the type of meetings your organization uses to cultivate major gift prospects. For example, if your board members regularly schedule lunches with major prospects, that could be another category included here. Connections and in-person interactions should also be tracked as part of your moves management strategy.

Donations Requested and Received
One of the biggest indicators of the success of your major gift program is how successfully you're able to secure those gifts. However, this isn't as simple as tracking your total dollars raised and calling it a day. Instead, evaluate your success with securing major gifts with the following KPIs:
Asks Made: This is the total number of major gift proposals that your team shares with prospects.
Gifts Secured: Of the major gift asks you made, how many successfully resulted in a gift?
Of course, the total dollars raised year over year is also a valuable indicator of the success of your major gifts program. However, breaking it out in this way can give you a more granular look at this success. For example, you may reach your overall goal as far as dollars raised but still have significantly more asks made than gifts secured. At that point, you should look at the asks that didn't result in gifts and consider where they went off track.


3 Tips to Track Major Gift Metrics More Effectively
Whether your team is new to tracking major gift metrics, or you're simply struggling to position your tech stack to do so effectively, there are a few key tips that you can use to improve your efforts right now.
Here are our top 3 recommendations for any organization looking to upgrade or reinforce its development strategies:

Clearly define all metrics set for your team.
Major gift metrics are used to measure the success of your program overall, as well as the success of individual major gift officers and the strategies you use. Define these metrics in advance so that your team understands the expectations being set for them, giving them the best chance of success.
There are two key questions you should answer when defining your metrics:
How do you define success for that metric? For example, is it a goal your team should aspire to or a baseline expectation that they should hit and exceed?
How is the metric measured? This should be a quantitative system for measuring each data point you're tracking.
Let's look at this in comparison to some of the metrics discussed above.
For example, during research, you may set a baseline standard for each major gift officer to discover 5 new prospective donors. Then, you may drill deeper by defining a prospective donor as an individual or partnership (one financial entity) that hasn't made a major gift to your organization or been solicited to do so in the past.
Or, during initial communications, you may set a baseline standard for each major gift officer to call their prospects on the phone at least once before setting an appointment. Then, you could define this phone call further by saying a phone call that lasts for at least 20 minutes equals a conversation between the prospect and your officer (so, calls that are unanswered don't count).
As your team guides major prospects through your moves management cycle, clearly defined metrics such as these will allow you to see which major gifts officers are struggling to hit their goals. Then, you can work with that officer to overcome the barriers they're facing.

Set benchmarks that are realistic for your team.
Securing major gifts is one of the higher-stakes jobs at your nonprofit. Not only do you likely rely on these major gifts to provide the bulk of your funding, but there is often a smaller pool of prospects to solicit from when compared to other gifts. So, it's understandable if you set high standards for your major gifts team.
However, it's also important to set benchmarks that are realistic for your team. Reasonable stretch goals— those that give your team something to aspire to, without asking for more than they can reasonably achieve— will encourage success for your major gift officers and prevent burnout.
It's also important to remember that these goals may be different across your team. A major gifts officer with 10+ years of experience in the role and plenty of connections in your community can likely achieve more than an officer who's brand new to the position.
You may want to consider working with a nonprofit consulting firm that specializes in major gift fundraising to set these goals. This third party could provide an unbiased look at what your team is capable of and craft goals with that information in mind. To begin your consultant search, review this DNL OmniMedia listing of top partners.

Ensure your tech stack is well-positioned to track major gift activities.
Whenever you're relying on the strategic collection and analysis of data, there are a variety of roles at play. Of course, your major gift officers need to accurately log their activities along the moves management cycle, and you need to regularly compile reports to analyze the performance of your team. However, the biggest role-player here is actually your tech stack, which needs to be optimized to support the entire process.
Whether you're working with a handful of disparate tech solutions or relying on one robust system, your technology needs to be optimized for effective moves management and the tracking of major gift metrics. This is one area where some nonprofits choose to work with nonprofit tech strategy consultants, especially if they're not working with an in-house tech team.
Nonprofit tech consultants can:
Integrate your software solutions. If you're relying on a variety of software solutions, a consultant can integrate those solutions to ensure all data is collected in one robust database, such as your CRM.
Conduct data migrations. If your team is investing in more robust software solutions or simply migrating to a new system for more effective major gifts management, a tech consultant can handle the end-to-end data transfer.
Create procedures for effective data collection. This could mean helping you outline data hygiene procedures for your team to follow, to ensure the standard entry of data going forward.
Customize your software. Whether creating custom fields in your database or automating the creation of reports, a tech consultant can position your software to track major gift metrics in the exact manner that's most helpful for your team.
Team DNL works with mid-sized to large nonprofits (projects $15,000+) to prepare their tech stack for effective data management and collection. We've helped organizations across a wide span of missions update, refine, and connect their technology to support their long-term development goals. To learn more, contact our team today.
---
Major gifts can amount to over 80% of a nonprofit's total fundraising revenue. Needless to say, soliciting these gifts effectively is crucial!
By tracking major gift metrics, you can discover opportunities for improvement and moments of success within your major gift program. And, if your team is struggling with these metrics, reach out to Team DNL today. With our expertise in nonprofit technology and the leading data management platforms, we know what it takes to position a modern development program for success.
To learn more about major gifts and the intersection between tech and fundraising, review the following additional resources: