June 22, 2023

Whether you're a government organization, professional association, international corporation, or nonprofit, events can be a major factor in your success.
With the many moving parts involved in setting up an event, it can be difficult to streamline your team's efforts. But, as Fonteva's guide to Salesforce event management explains, managing your events within Salesforce allows you to "access all relevant data in one centralized location," meaning you won't even have to leave the platform. If you're already using Salesforce to manage data, it only makes sense to find a solution that can fit seamlessly into your day-to-day processes.
Utilizing a Salesforce event management app extends your Salesforce system's existing functionality. With the right app, you'll have integrated tools for important event elements like registration, logistical planning, and guest management at your fingertips.
However, if you've ever searched through the Salesforce AppExchange before, you know that it can be overwhelming to sift through all of the potential solutions. These five steps to navigating the AppExchange will ensure you walk away with the perfect Salesforce event management app:
The most important step to complete before getting started is to evaluate your organization's needs. Identify your staff and members' most common event-related pain points, and prioritize apps with features to alleviate them. This is a good way to develop your list of must-have features, too.
Let's get started by discussing why (and how) to look for Salesforce-native apps
1. Look for a native Salesforce app.
The most seamless integration is no integration at all. So, for a truly trouble-free event planning process, you should select a native Salesforce app.
What does that mean? A Salesforce-native solution has all of the following characteristics:
Native apps were built on Salesforce, for Salesforce. That means that these solutions don't exist outside of the Salesforce universe, so there's no need to reconfigure these apps to get them to work with your database.
Native apps don't require integrations. With a non-native app or external platform, you'll spend time, money, and energy connecting the apps (and often through a third-party service). Data stored in Salesforce-native solutions (e.g., registration rates) automatically syncs up across all Salesforce apps, so implementation is much less complicated.
Native apps store all data within Salesforce. Unlike external event solutions, you won't need to transfer data back and forth between platforms. This makes it easier to keep your constituent data accurate.
Plus, you can trust that a native app will be up and running when you need it to be. For example, you might want to sell tickets to your association's virtual event on your e-commerce page and track sales data in your database. Because these apps work as an extension of your Salesforce features, your reports will reflect that information and provide a positive experience for registrants.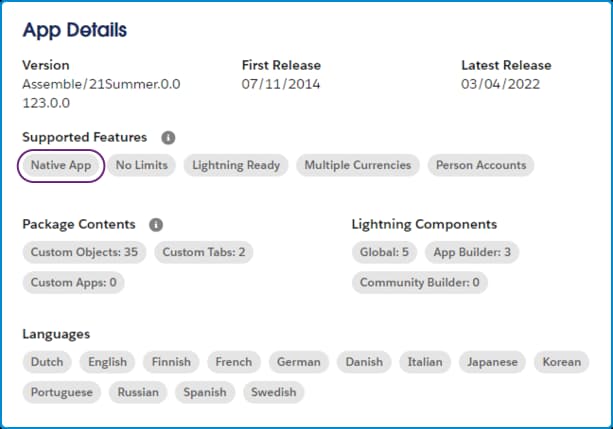 To identify native solutions, look for the "Native App" tag under "More Details" on the app's Salesforce product listing.
2. Understand your event's needs.
There are a lot of different types of events, and there's likely an event management solution designed for each one. Before you settle on a solution, you'll need to consider what type of events your team is likely to plan and if the apps you're evaluating can accommodate the specific needs of each event. Choosing an app with the right capabilities can make a big difference, allowing you to put together an event that runs smoothly and keeps attendees engaged from start to finish.
Here are some common event types along with the specific needs you'll need to accommodate for them:
Fundraising events, such as auctions, fundraising galas, or walk-run events. Because the goal of a fundraiser is to get donations, make sure the solution you choose can accept online and on-site donations and track relevant attendee engagement metrics.
Conferences, which require multi-day and multi-session registration capabilities, speaker and vendor management tools, and varied capacities per venue or room. Carefully examine a solution's capabilities to ensure it can handle these more complex demands.
Classes or training courses offered by companies or learning institutions. You'll need a solution that allows you to enable registration for one-off, recurring, or sequential events.
RSVP events that have a strict capacity limit. Invitations might be sent out to a specific segment of your Salesforce list or include an auto-sellout or waitlist feature once you've hit your pre-set capacity.
If you're exclusively planning one type of event, it might make sense to go with a product that caters to your specific event needs. For instance, OneCause's guide to charity auctions highlights that if you rely on funding from an annual live or silent auction to raise money for your organization, you should look into event-specific software that integrates with your database. This can apply to any event that your organization holds regularly like annual galas, conferences, or workshops.
Some organizations host a variety of events throughout the year, meaning they are looking for a more comprehensive solution in addition to supplemental, event-specific tools. For example, you might be searching for software with your annual trade show in mind, but what about quarterly board meetings, employee certification courses, or department luncheons?
When you have an app that's versatile enough to handle nearly all of your event needs, you can guarantee simple, straightforward event management for whatever event comes your way—and all within Salesforce!
3. Keep event flexibility in mind.
Just like you can't always know what types of events your team will need to plan, you can't readily anticipate what you'll need from your event management software. Depending on your organization's objectives, you may need a robust email marketing feature for future events to increase event promotion and meet attendance goals.
To determine if the app you're considering can meet your organization where you are (and where you want to be), run through this simple Q&A:
How many events does this app allow us to plan? Some solutions are priced per event. That may work if you're only planning one conference per year, but not so much if you plan a variety of small-scale events. Consider an app that's scalable and doesn't limit you to a set number of events per year.
Does this app work for both free and paid events? If the app you're using was designed only for free events, you might encounter issues when trying to integrate a payment processor. For maximum flexibility, find a vendor who can work with both free and ticketed events.
Is this solution cloud-based and mobile-ready? Cloud-based software has many benefits, such as streamlined implementation, remote access, and easy sharing among teams. Make sure that your staff and your guests can take advantage of your event app on the go for ease of access. With a mobile app, you can extend the user experience, keep attendees in the loop with updates and notifications, and maintain consistent branding.
Additionally, take a look at the entire suite of products offered by your event management platform vendor in preparation for your organization's future growth.
While you might start off planning one type of event or solving one specific event challenge, your event needs may also evolve as your organization grows. It's typically easier to stay within one product family rather than integrate a host of external services and tools, so spend some time browsing your potential provider's product catalog before making a final decision.
4. Look for customizable features.
Your event-planning team would never set out to host a generic event, but unfortunately, many event-planning platforms make it difficult to think outside the box. Instead, opt for a tech stack that empowers you to make your event memorable and unique.
Every part of your event should be unique to your strategy, but there are a few key elements where you'll particularly want to add a personal touch:
Event microsite. Your event's microsite should serve as the central location for event registration, information, and promotion. It should be fully branded to your organization to build trust with guests from the minute they land on the page.
Ticketing options. Want to offer members-only pricing, early-bird promo codes, or group sale discounts? Look for an event app that allows you to fully customize your ticket options to maximize sales in your own way.
Registration forms. Use your registration process as an opportunity to collect guest details through surveys and questionnaires. Your event app should allow you to create custom forms and attach them as needed to your registration page.
Reports and dashboards. After event doors close, it's up to you to measure the success of your programs. You should be able to generate custom reports and visual dashboards directly in Salesforce to reflect the metrics that matter to you.
Your Salesforce app should be as user-friendly as it is robust so that event planners of any skill and experience level can maximize their event strategy. Your team should be able to quickly and easily configure all of these elements (and more) without needing a professional app developer.
5. Determine and follow a budget.
As with any software purchase, the cost of an event management app will most likely play a significant role in your decision.
Even though many web-based event registration platforms claim to be free, all event management solutions will come with some associated costs. Aside from the base price—which might be calculated as one flat fee, per event, or per ticket sold—you should consider other factors such as:
Implementation and integration costs. If you're planning on integrating a third-party platform or non-native Salesforce app, there may be unexpected costs to purchase a connector app or to hire a developer or consultant to perform the integration.
Costs for upgrades or expansions. Your platform might start off free, but there may be down-the-road costs required to expand your solution to encompass more events, features, or tickets. Before choosing a platform, make sure to think through any potential upgrades or add-ons you might need in the future (and whether your budget will support them).
Payment processing (or ticketing) fees. For paid events, you'll need to look for a system that can process online credit and debit payments. Ask about payment processing fees, how they vary by payment type or ticket volume, and how long it takes to receive your payments.
Considering these additional expenses will ensure that your software costs stay within your budget, even if your organization's needs change (or your events grow!).
---
The more you know going into the Salesforce event management app selection process, the better your chances of ending up with a viable solution. Following the steps laid out in this guide will help you find a solution that is easy to implement, streamlines event planning, and scales with your organization's growth.
---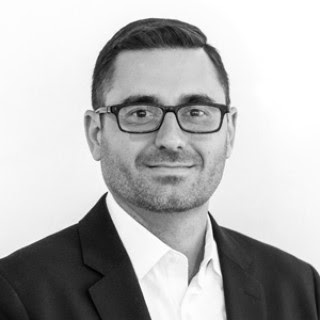 About the Author: Jake Fabbri, Chief Marketing Officer at Togetherwork
With over two decades of experience marketing association technology, Fonteva CMO Jake Fabbri has developed a deep understanding of the unique needs of associations and the challenges technology can solve. Jake's marketing expertise has been honed by demonstrated excellence in the areas of lead generation, content marketing, marketing automation, and events.