July 15, 2019

Guest post blog submitted by: Campaign Monitor, a leading email marketing platform for businesses and nonprofits.
The venue is booked, you have secured the best food caterer in town, and your team is in love with their new shirts. Two months to go, and you're wondering how to fill all the chairs on the big day. It's great to have many of your loyal donors there and a couple of volunteers, but you also want this event to attract new faces and probably a few influential people.
Promoting nonprofit events can be very exciting, but it is also a huge challenge. Where are the best spots to post flyers? How much will local newspapers charge for a small space in the back? Do you need to hire an influencer? You may have asked these questions before and already know the answers, or you may still be wondering what the most effective platform or digital strategy is.
If you really want to get the word out there, email marketing is your best avenue. It can help re-engage old supporters, translate website visits into event attendees, and rally volunteers based outside of your community. An email will also help your followers easily share valuable event information to their friends and family.
In this post, we'll walk you through the ways you can use email marketing to drive event registrations.
Offer them an opportunity.
Begin with why your nonprofit exists and present a challenge. Those who subscribed to your mailing list are probably already interested in helping out, they're just waiting for the when, where, and how.
If you're hosting a fundraiser, illustrate how much of their contribution will go to the beneficiaries and how much will go to your operations. Crunching the numbers in an infographic and showing them how you are hitting your targets is a great visual representation of how donor support can help make a difference.
Share why old guests love attending.
Who else to leverage but your avid supporters? Before you click send, add in a couple of lines from those who enjoyed your last community gathering. Insert action shots, share how many new volunteers signed up, and tell your mailing list you're looking forward to seeing them.
In the email below, Leesa breaks down why every purchase from their company matters. They also included two nonprofit events that made a difference in several communities within their reach. You may design your event invitation in this way, focusing on the numbers and showing your impact.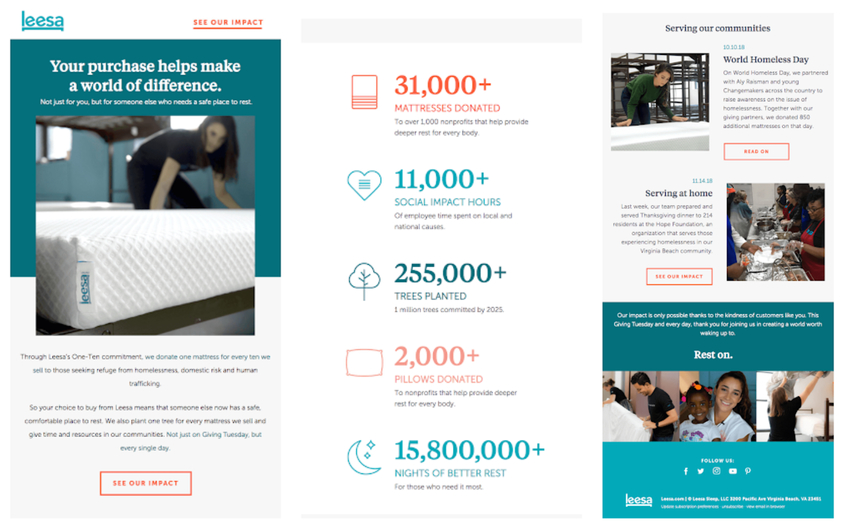 Source: Really Good Emails
Nurture your mailing list.
Do you have a working list of confirmed attendees? Thank them by showing that you're extremely passionate about your event and not just interested in a high attendee list. Campaign Monitor has advice on how to nurture your event attendees, like sending a "Save the Date" email, building anticipation, and giving them well-timed event reminders.
In the example below, Aurea Foundation's Munk Debates uses the element of mystique before they reveal their much-awaited speakers in the next round. They also include links to their most popular debates, reminding their followers that they organize the best debates in town.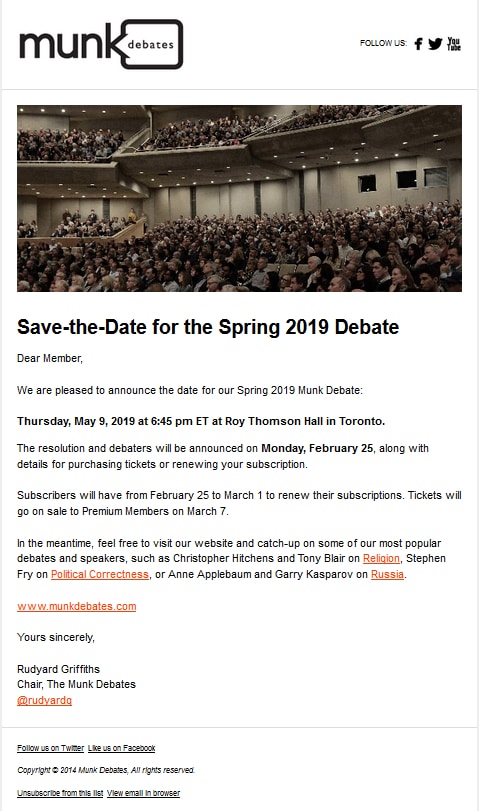 Source: Munk Debates
As you may already know, it is very important to be personal with your subscribers, so call them by their names and customize your emails as much as possible. Whenever they ask a question about your event, make it a point to respond as soon as you can.
Does your event have its own set of merchandise? Use one of your "building anticipation" emails to show-off your shirts, caps, umbrellas, or mugs. Nonprofit supporters typically want to wear the advocacies they love, so offer discounts for those who order in advance.
Send post-event engagement emails.
The event is over. You reached your fundraising goals and made a lot of new connections. Now it's time to create a post-even nurture series.
Segment your list into the old-timers, new supporters, and volunteers. Send a personalized thank you email to each of them and let them know what you're cooking up next. Include a photo of them with the team and share the milestones you reached because of the event, and because they were there.
At the end of the year, you can also come up with a thank you video from your team, like how Khan Academy thanked their donors for the overwhelming support: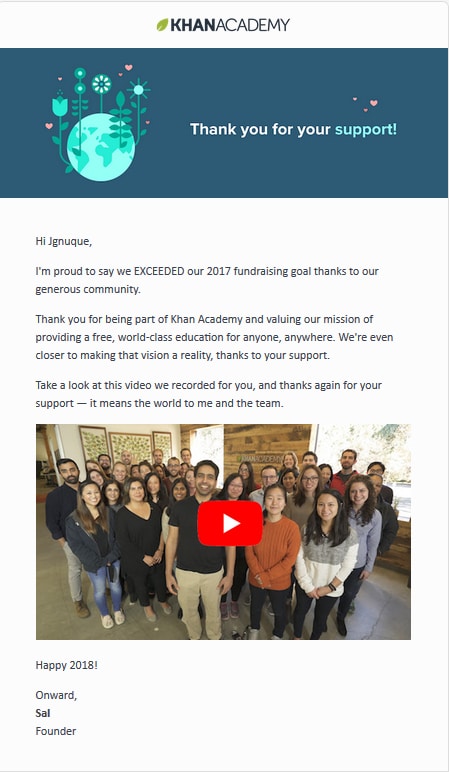 Source: Khan Academy
Wrap up
One can never go wrong with a nonprofit event. But to maximize its potential, you need all the support you can get—from a dedicated staff and a strong team of volunteers to loyal donors and sponsors. Top it all off with a crowd that's really interested in what you do, and your event will be a blast—and a huge success.
Email marketing will help announce your event beyond your city, to the donors and volunteers who are willing to travel far for you. The effort you put into nurturing emails, like newsletters, merchandise promotions, and event reminders will create donor and volunteer loyalty to your nonprofit.
When you engage well with your event attendees, they will understand that your nonprofit is worth their effort, and that, with their help, you are working together to reach your organization's goals.