February 27, 2018


Is your nonprofit using Google AdWords yet? If not, you're missing out on the opportunity to drive more traffic to your site, increase your online donations, and more effectively promote your cause for free.
With Google Grants for nonprofits, your organization can receive $10,000 to spend on Google Ads every month. That extra visibility for your cause can translate to a major boost to your fundraising efforts when properly utilized.
The main idea is that your organization will appear at the very top of the Google results page when a reader searches for a particular keyword related to your mission. For example, if you search "primate protection," the first result you'll see is an AdWords ad for the International Primate Protection League:

However, many nonprofits receiving Google AdWords grants simply aren't making the most of their grant money.
Why? In most cases, these organizations just don't have the experience or expertise needed to supercharge their AdWords strategies, leaving them with money left on the table or spending money on tactics that don't deliver a positive ROI.
Before diving into specific strategies for maximizing the impact of your Google AdWords grants, let's cover the basics, starting with the most common question that nonprofits have:

How do I get a Google AdWords grant?
The process is fairly simple:
Determine your eligibility for Google AdWords for nonprofits.
Sign up for Google for Nonprofits if you haven't yet, and then wait to be approved.
Register for Google Grants via your nonprofit's official Google account.
Create an AdWords account and begin setting up your first campaigns.
Submit your ad campaigns for review by Google.
Once Google approves your AdWords campaigns, you're good to go! Your new, free advertisements will go live soon on the results pages of your target keywords.
What is Google for Nonprofits?
The Google for Nonprofits program is a set of benefits that Google offers to eligible nonprofit organizations to help them make the most of their online tools and become more digitally efficient.
The tools offered in the Google for Nonprofits program include:
G Suite, including Gmail, Docs, Calendar, Drive, and more
Google AdWords Grants for nonprofits
Access to the YouTube Nonprofit Program and advanced features
Special visualization tools through Google Earth and Maps
Google One Today, a set of core online donation tools
If you haven't yet applied for Google for Nonprofits, conduct some research! It offers a powerful set of tools in one tidy package.
Is Google for Nonprofits free?
Yes. All you'll need to do is complete a straightforward application process and wait to be approved.
To apply for Google for Nonprofits, you'll need to complete a basic application, including contact and organizational information, questions about your tax ID, and requirements around non-discrimination policies. You'll also need to create an account for your nonprofit with TechSoup, the service that handles the verification process for Google.
Once you're completely verified and set up with Google AdWords, you'll want to begin maximizing the impact of those free advertisements. How can you be sure that you're using them in the most effective way possible?
We've got you covered. Here are some key strategies to keep in mind as you get started:
With these tips in mind, you'll be better equipped to use your Google AdWords for Nonprofit support — and use it well! Once you've got a firm grip on how to get started and the next steps for building a strategy, check out our more in-depth guide to Google Grant management. Let's get started.

1. Set goals for your Google AdWords for Nonprofits grant.
As you get started with your Google AdWords for Nonprofits account, one of the first steps of developing your ad campaigns will be setting the associated ad groups and keywords for each.
Rather than creating one general campaign and ad group, be strategic and set up multiple campaigns based around the different goals of your organization.
For example, a community development nonprofit might have ongoing projects related to housing, children's after-school programs, and adult education. As this organization puts together its Google Grants strategy, it should create campaigns related to each of these categories. This will help them better target distinct audiences and promote specific initiatives in a more focused way.
If you don't know where to start or have a very wide range of projects at your nonprofit, consider choosing only a few key areas to devote your Google AdWords grant funding.
For instance, if you're trying to expand or jumpstart a new program, you might want to devote more of your AdWords strategy to developing those initiatives while using other parts of your digital marketing strategies to support your other ongoing efforts.
These broader goals will translate into more specific conversion goals. Think of it this way — what specific online action do you want the reader to take after engaging with each AdWords ad? Typical conversion goals for Google AdWords for Nonprofits include:
Making a donation
Signing up for a mailing list
Registering to volunteer
Joining an advocacy initiative or signing a petition
Downloading an educational resource
Registering to attend an event
Setting up a peer-to-peer fundraising page
Each AdWords campaign you set up will have a specific conversion goal associated with it. Google previously allowed nonprofits to simply use the ads to drive more traffic to their websites, but recent policy changes require organizations to pursue more concrete conversions, like the ones listed above.
You'll then want to sort your Google AdWords campaigns into groups that correspond to each type of conversion goal you've set. This is an easy way to stay organized and keep your grant management efforts focused on achieving those concrete goals.

2. Create a strategic keyword list for your Google Grants.
The most important step in setting up your Google AdWords for Nonprofits campaigns will be to set your keywords. Which core terms related to your mission do you want your nonprofit to appear for when a user searches them on Google?
The grant money that Google gives to nonprofits is used to place bids on those keywords.
There are some limitations on the keywords you can choose, including a $2.00 maximum bid amount per keyword. This cap applies to most of the automated bidding strategies that you can set for your campaigns. The "Maximize Conversions" bidding strategy is an exception.
Generally speaking, you'll be unable to choose exceptionally high-traffic keywords because you'll be outbid by businesses (that aren't held to the same constraints of Google Grants for Nonprofits).
For example, a nonprofit clothing store might initially want to pursue generic keywords like "online consignment shop," but will almost certainly be outbid by for-profit stores advertising for the same audience, as you can see in the Google search below:

High-volume, generic keywords like "online consignment shop" are simply too broad and competitive for Google to give them to nonprofit organizations. As you set up your campaigns, though, Google will provide a suggested bid amount for each keyword so you'll have a general idea of which are the most feasible for your organization.
It's a much better idea to be strategic when developing your keyword list. Instead of generic keywords, focus on being more specific and relevant to your target audiences. Choose terms that are:
Relevant to your cause, so you can maximize conversions. Google will shut down any campaigns whose keywords aren't closely related to your site's core purpose. Using misleading terms will also confuse users and result in fewer conversions.
Varied, so you can reach as many potential supporters as possible. Consider variations of your keywords or use the Google Keywords Tool to see synonyms, alternate spellings, and phrases that could help expand your visibility.
High quality, according to Google's Quality Score column in your account's Keywords tab. This score shows how likely your keywords are to perform well on a scale of 1-10. Aim to fill your list with only keywords scoring a 5 or higher. Google can (and will) shut down campaigns for keywords with a score of less than 3.
It's important to view your keyword approach in conjunction with the rest of your nonprofit strategy. If you're not sure how your Google AdWords grant fits in with the rest of your fundraising and marketing efforts, it may be time to seek the help of an experienced nonprofit tech consultant — more on that in Section 7!

3. Target your Google AdWords to specific landing pages.
Your homepage is great for broadly educating potential supporters about your nonprofit, but unfortunately, it won't usually inspire users to do much more than click around, learn a bit about your work, and then exit your website altogether.
A better strategy is to drive users to a specific landing page on your website that lines up with the keyword you're targeting. That way, their question (or interest) is addressed as soon as they land on your site, and they don't have to figure out the best next steps to take all on their own.
When someone searches a target keyword, what are they hoping to accomplish?
Direct each of your Google AdWords ads to a landing page that satisfies the user intent around that particular keyword. Each landing page should make it clear and easy to complete the conversion goal that you've set for that campaign, too.
Here's a generic example: Let's say your nonprofit is an animal shelter targeting the keyword "adopt a dog." Rather than driving traffic to your homepage, which already has plenty of links to your adoption pages, you should instead send users directly to the most relevant page on your website — in this case, a page with information on dogs currently available for adoption.
Think carefully about each keyword, what someone likely wants when they search it, and the rest of the organic results that Google already shows for it.
For example, the North Shore Animal League set up a campaign around their own name as a keyword. When you search "North Shore Animal League," the first result is their AdWords ad that directs to a donation page: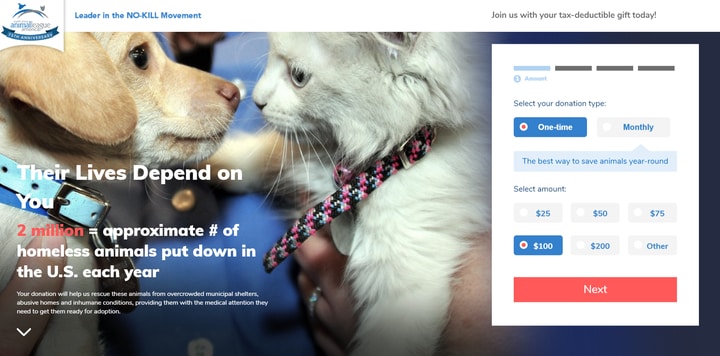 Here's the logic behind using this landing page: When a user searches for your organization by name, you can assume that they're already familiar with your mission and might be interested in making a donation. Plus, your organization will almost always appear as the first organic result (under the ads) when you search for it by name.
The North Shore Animal League can always count on its homepage appearing as the top organic result, so directing this AdWords ad to a donation page is a smart way to capture conversions from searchers who are already more likely to want to donate in the first place.
Another strategy to direct users to the right landing page is to include sitelink extensions within your ad. Sitelink extensions are additional links underneath your main ad copy that drive traffic to subsets of your site. Here's an example of how the ASPCA uses extensions to send searchers to different areas of their site: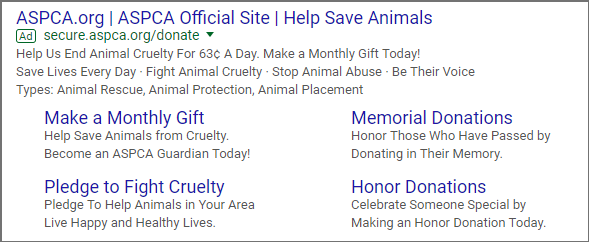 Notice how each sitelink goes to a landing page that corresponds to a different conversion goal. That way, you give users options for how they engage with your organization right off the bat!
But don't forget — targeted ads won't go very far if you don't have high-quality landing pages to back them up. Make sure you're creating website content that's optimized both for search and user experience. Study up with our nonprofit web design guide to make sure your site is ready.

4. Test different versions of your Google AdWords ads.
As part of your AdWords account maintenance, you should continually check how your ads are performing in order to find ways to improve your Google Grants for Nonprofits strategy.
Remember, too, that you'll need to log in and manage your AdWords account at least once every 90 days for Google to continue recognizing the account as active.
Actively managing your campaigns and testing different variations has major benefits and will help ensure you're making the most of your grant.
One easy way to test the effectiveness of your ad copy is to create multiple versions of the same ad and test their performance against one another. You can do this by enabling Experiments within your Google AdWords account and setting up a split campaign, a tool that allows you to run two (or more) ad versions to different percentages of your audience. This is otherwise known as an A/B test.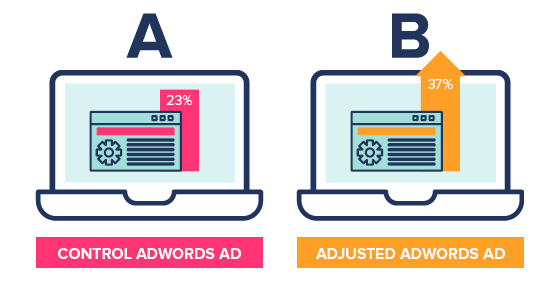 You can use the split test experiment to see how adjusting any of the following elements affect your ad's performance:
Landing page
Call-to-action
Language
Ad schedule (time of day)
Keywords or negative keywords
With this strategy, you can truly fine-tune your ads to the fullest extent.
As you're creating different ad variations, make sure you're running each one through Google's Ad Preview Tool. This feature (found in the Tools tab of your account) allows you to quickly see how your ads display on a Google search. You can even view your ads in different geographic locations or languages to make sure they're exactly as you want them for all potential viewers.

5. Think about how you'll geotarget your Google Adwords ads.
A new requirement for all nonprofits participating in Google AdWords for Nonprofits, geotargeting allows you to concentrate your ads to a specific geographic location.
Since Google has made geotargeted ads mandatory, this isn't so much of a strategy as it is a requirement. However, knowing how to most effectively geotarget your ads can play a major role in your AdWords success!
Essentially, you'll need to set a specific geographic region where Google users will be presented with your ad when they search your target keywords. The main idea is that your ad isn't relevant to every searcher around the world, and not every searcher will be likely to complete your conversion goal. Showing users irrelevant content provides a poor experience, which Google tries very hard to avoid by requiring nonprofits to focus on a target audience.
Setting a target geographic area for your ads is just the first step, though. Once you've got that covered, you might also consider bidding on location-specific keywords, which are less competitive (and therefore less expensive) than broad keywords.
For example, if your organization is a wildlife sanctuary located in Florida, you might already have terms like "exotic bird sanctuary" or "wildlife rescue" in your keyword list, but what about adding search terms like "wildlife rescue Miami" or "wildlife volunteer programs Florida"?
Keep in mind that geotargeting is particularly beneficial when your ads relate to location-based programs or campaigns, such as:
Fundraising events or in-person programs at your organization.
Volunteer opportunities taking place in your location.
Educational resources specific to your location (such as a guide to Florida wildlife, if we continue our example above).
Remember, the more specific your ads, the more likely you are to drive highly qualified traffic that will be more likely to complete your conversion actions! Just make sure these keywords aren't too niche, as the downside of specificity is potentially limiting broader searches.
You should still rely on Google's Keyword tool and continually test your geotargeted ads to ensure they're performing well. If not, you may need to expand or shrink your target location.

6. Optimize the copy of your Google AdWords ads.
So far, we've given you plenty of tips for optimizing your overall Google AdWords for Nonprofits strategy, but what about the ads themselves?
Since your ads are the crux of your AdWords success, it's vital that you put some thought into the ad copy you write. What makes a good Google AdWords for Nonprofits ad? To write the best ad copy for your nonprofit, ask yourself these questions:

Is your ad relevant to the user's search query? Make sure your ad is immediately relevant to the keywords a user would be searching for, and that your ad responds to the interest they have or the question they're posing.
Does your ad copy contain a clear call-to-action? Your ad should inspire a reader to do something, whether it's learning more about a topic or contributing to the cause directly. The call-to-action should direct the reader to complete your conversion goal, like making a donation or joining a mailing list.
Is your ad copy simple and straightforward? Now's not the time to flex your thesaurus skills! Your ad should be easy to read (or scan) for readers of all ages and education levels, and your tone of voice should be friendly and clear.
Does your ad copy include keyword variations? Include terms that are similar or related to your target keywords to re-emphasize how the user's search relates to your landing page.
Keep in mind that the audience for these ads is typically not your existing supporters. After all, your current donors and volunteers have already become familiar with your website, like we discussed in the North Shore Animal League example above. Most of your target keywords won't be branded to your organization's name.
Instead, they'll focus on terms related to your mission. This means your ad viewers are often brand new prospects who are interacting with your organization for the very first time.
Make sure your ad copy is informative and personable so that these users feel interested in getting to know your nonprofit!
Though it's usually a good idea to include sitelink extensions that link to your donation form, peer-to-peer fundraising campaign, or volunteer sign-up page, it's equally important that you include links to download educational resources or view relevant on-site content before asking the user to pull out their wallet or get involved right away.

7. Work with a Google Grants consultant to refine your strategy.
We know that all of the tips above (plus all the other important tasks your nonprofit has to get to on a daily basis) might have your head swimming. But don't worry—developing and implementing a stellar Google AdWords strategy doesn't have to be your full-time job! You might just need a little help along the way.
There are qualified Google AdWords grant management consultants who can help you outline an AdWords approach that fits in perfectly with the rest of your fundraising and online marketing strategy.
Your Google AdWords consultant can help you:
Assess your nonprofit's fundraising and outreach goals.
Apply for a Google Grant (if you haven't already set up your account).
Develop a Google AdWords keyword strategy.
Write (and test) ad copy for optimum impressions and clicks.
Conduct Google AdWords reports and interpret the data for your team.
Maintain your account each month in accordance with Google policies.
Most importantly, your Google Grant management consultant can help you analyze your strategy and find ways to improve your approach so that you're getting the most return on your monthly grant funding.
With so many other important efforts to keep track of at your organization, you probably don't have the time or energy to become a Google AdWords expert. But that doesn't mean you can't have an expert-level strategy! Get started with an experienced Google Grant consultant and see how your Google ads can impact your nonprofit (minus the stress).
---
There are a million ways to spend your Google AdWords grant money each month, but these 7 strategies should give you a starting point for making the most of your $10,000.
Find out more ways to improve your online marketing and fundraising strategies by reading these additional resources: