April 30, 2020


Slowly but surely, virtual fundraising events have grown in popularity across the nonprofit sector.
Some organizations are embracing virtual fundraising events in the interest of innovation, while others are doing so in the interest of increased accessibility. And, as current events have shown us, there's certainly an argument for pivoting to virtual alternatives in order to insulate your offering.
Let's briefly discuss the new needs for virtual fundraising events before diving into one of the most popular iterations: virtual peer-to-peer fundraising events.
Nonprofit Coronavirus Response: How are organizations fundraising during the pandemic?
As the COVID-19 pandemic has grown in prominence across the globe, nonprofit organizations are in a challenging position.
These organizations are faced with a constituency in need due to the growing public health and economic crises. The relief provided by nonprofits is essential to fill in the gaps of the global response. At the same time, however, countless fundraising events and in-person efforts have been halted due to the social distancing guidelines necessary to stop the spread of the pandemic.
This has hit organizations that rely on yearly peer-to-peer events especially hard. Organizations that use P2P efforts to raise the bulk of their fundraising revenue are now faced with two options:
Cancel the fundraising event.
Take the event to the digital sphere.
At DNL OmniMedia, we believe that virtual peer-to-peer fundraising events are a great way for organizations to raise essential gifts. Through this guide, we're going to break down helpful tips and ideas for virtual peer-to-peer events through the following points:
Let's get started.

Virtual Peer-to-peer Fundraising: The Basics
Before we dive into the tips and ideas your organization can use to hold a successful online fundraiser, let's explore the basics of virtual peer-to-peer fundraising to ensure we're all working off of the same foundation.

Virtual Fundraising Events: What is a Virtual Peer-to-peer Event?
In general, peer-to-peer fundraising events have the following timeline:
Your organization creates a peer-to-peer fundraising campaign page for the overall event, as well as personal fundraising pages for each participating supporter.
Participants share their personal fundraising pages with their friends, families, and extended networks to raise donations toward the event.
At the event, participants complete some sort of fundraising challenge or activity. Popular examples include walking a track or running a race.
A virtual peer-to-peer fundraiser is essentially a normal peer-to-peer event, except for one difference: Instead of meeting in-person as a group, supporters must complete the fundraising challenge remotely.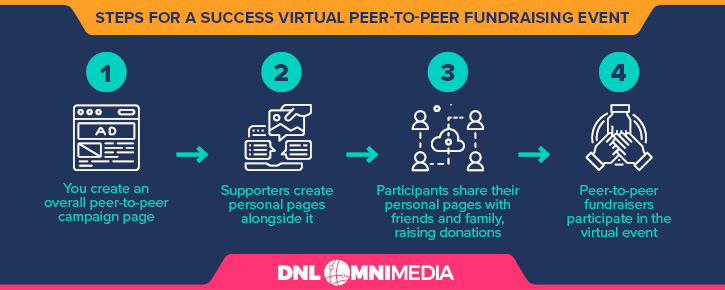 What does this look like? Let's consider a popular example:
Pretend for a moment that your organization hosts a popular walk-a-thon each year. Prior to the event, participants raise gifts from their peers. These funds support the volunteers walking in the event, which takes place in a large open area.
How would this peer-to-peer event translate into the virtual sphere?
It's simple— instead of joining together to walk the distance as a group, participants complete the distance challenge on their own time and at the location of their choice.
These virtual events are made possible by software solutions that handle event registration, donation collection, fundraiser participation, and everything in between! We're going to discuss the technical infrastructure required for these events in more detail later on in this piece.

What are the Benefits of Virtual Fundraising Events?
One of the biggest benefits of virtual fundraising events is the sheer reach of the effort. Instead of hosting an event that's restricted to local supporters (and those willing to travel), you're hosting an event that anyone, near and far, can participate in.
This increased reach means you're able to have more participants. In turn, you'll increase funds raised and awareness about your organization, its mission, and its fundraising efforts.
This accessibility doesn't just deal with geographic location, however. Virtual events also have the following benefits:
Increased accessibility for supporters that have difficulty attending in-person events. Whether due to physical disabilities or other circumstances that make in-person events challenging, all supporters are able to participate in virtual events from their own location.
Assurance in the event of extenuating circumstances. Whether a national disaster or global pandemic, virtual events are much more likely to go on as planned than place-based events.
The ability to lower costs while still raising the same amount (or more!) of funding. When you don't have to coordinate an in-person event (venue, catering, etc.), you save event costs. Remember— at the same time, the event has more reach than ever before!
If executed successfully, virtual fundraising events can be incredibly effective for nonprofit organizations. However, there are a few challenges to surpass before your organization can start raising donations via virtual events.

What are the Challenges of Virtual Peer-to-peer Fundraising?
One of the biggest challenges of virtual peer-to-peer fundraising is building the technical infrastructure to host the event.
If your organization hasn't relied on large-scale digital fundraising in the past, creating the overall fundraising event page and personal pages for each participating fundraiser can be a daunting task. This is true whether you're working with robust options, like Blackbaud's peer-to-peer fundraising tools paired with the provider's CRM, or a handful of smaller, piecemeal solutions.
Beyond the technical challenges, there are a few additional obstacles to overcome:
Informing and educating members about the new event. If you haven't used virtual events fundraising in the past, your donors may be unfamiliar with the new technology. This type of event depends on the wide-scale use of technology, and educating your more traditional supporters can be challenging.
Difficulty with engaging remote supporters. Without the collective excitement of an in-person event uniting supporters, it can be hard to engage participants in your virtual peer-to-peer event.
Coordinating group activities from afar. The premise of a virtual peer-to-peer event depends on your nonprofit's ability to coordinate a remote activity for all participants to complete, such as a walk-a-thon or a 5k. Ensuring all participants complete the activity and do so safely can be difficult when you're not interacting in person.
At DNL OmniMedia, we believe that each of these challenges can be overcome with some careful consideration. Continue reading to explore our top tips to ensure your next virtual peer-to-peer event goes off without a hitch.

5 Tips for Successful Virtual Peer-to-Peer Fundraising

Ensure you Have the Needed Infrastructure for Your Specific Event
Choosing to hold a virtual fundraising event is just step one in the planning process. After that, it's time to build out the software infrastructure needed to support your specific event.
One of the more intimidating aspects of virtual events fundraising is often the reliance on software solutions. If your tech stack isn't up to par, your event won't be able to go as planned. When considering virtual peer-to-peer fundraising events, your tech stack could include:
Virtual fundraising software, specifically a peer-to-peer fundraising platform.
Video conferencing or live streaming technology.
Fitness-related software.
Social networks.
Constituent relationship management (CRM) software.
This is a brief list of software solutions you may need to invest in or optimize leading up to your virtual peer-to-peer event, but understand that there are other solutions that may also be needed for your specific effort.
While some organizations are ahead of the tech curve, other organizations may be struggling to build their tech stack in a way that allows for easy digital events fundraising. At DNL OmniMedia, we specialize in helping organizations build their nonprofit tech strategy— including building the infrastructure for their virtual peer-to-peer events. If your organization could use some help navigating the transition, contact Team DNL today.

Communicate Regularly with Participants
Clear communication with supporters is crucial for a successful fundraising event, and that's especially true for a virtual fundraising event.
When you first announce your virtual event and ask supporters to register online, there's a decent chance you're going to receive questions about the new event format. Not all of your supporters are going to be as tech-savvy as others! From the start, you should have processes in place for fielding initial technical difficulties with registration.
From there, it's important to maintain ongoing communication with supporters as they fundraise leading up to the event and during the event itself. One of the biggest risks with a virtual event is a lack of engagement from supporters–  few things are less productive than registered participants backing out midway through the effort.
Consider the following ways to maintain communication leading up to and during the event:
Create a social media page for your event. Encourage participants to connect with the event and one another through it.
Use a variety of media to stay connected. Consider creating videos of your staff participating in the event or even live-streaming from your headquarters at certain points in the experience for added excitement.
Provide updates via email or push notifications for the duration of the experience. If you have any front-runner peer-to-peer fundraisers, this is a great opportunity to give them a shout-out.
Follow-up after the event. During an in-person event, you can celebrate successful fundraising efforts with supporters in real-time. Consider doing a live stream thanking supporters after the event in addition to sending personal thank-yous.
These tips will help your organization maintain engagement for the duration of the event, despite its remote nature.

Ensure Your Event is Accessible for All
When you're planning your peer-to-peer fundraising event, ensure that it's accessible for all supporters that wish to participate.
This is two-fold. First, it's important that any tech tools that you're using for the event are accessible for all participants.
Whether it's your website, your registration platform, or your peer-to-peer fundraising software– it's essential that these tools are configured in a way that abides by web compliance and accessibility standards. This ensures that all supporters, regardless of any visual or hearing challenges, are able to participate if they would like to.
It's also important that the virtual peer-to-peer fundraising activities you include in the event are accessible to supporters using resources they likely already have.
If you choose an event that's extremely specific– for example, a fitness challenge that's dependent on participants having access to expensive online classes– it will be prohibitive for some supporters to join in on the fun. Aim to choose events that can be engaged with using materials your participants likely already have, such as a pair of athletic shoes.
When it comes to virtual peer-to-peer fundraising events, the simpler, the better!

Foster Healthy Competition
One of the reasons why peer-to-peer fundraising is so successful is because the events encourage a sense of healthy competition among fundraisers. Whether using a fundraising thermometer or awarding the highest fundraiser at the end of the event, participants are encouraged to "out-fundraise" the others taking part in the event.
While you can't build this excitement in person, you can still incorporate healthy competition into your virtual peer-to-peer event to increase its chances of success. Consider the following examples:
Digital fundraising thermometer. On your overall peer-to-peer fundraising campaign page, host a fundraising thermometer that displays the amount raised at any given time. Share this thermometer on a regular basis as peer-to-peer gifts are raised!
Participant leaderboard. Similarly to the fundraising thermometer, maintain a leaderboard that shows the top five/top 10 participant fundraisers leading up to and throughout the event.
A competitive fundraising event. Peer-to-peer fundraising events often involve some sort of activity for participants to take part in. Simply choose an activity where they can compete against one another, such as a walking challenge or a trivia competition! We're going to explore a few more ideas later in this piece.
With these ideas, you challenge supporters to compete against themselves ("Help us reach our fundraising goal!") and against one another ("Here are the top fundraisers this week…"). It's a great way to increase engagement with your fundraiser overall.

Work with a Team of Nonprofit Technology Consultants
Hosting a fully virtual peer-to-peer fundraising event can be a mammoth endeavor, even for organizations that regularly implement peer-to-peer in their fundraising efforts.
Luckily, there are consultants that specialize specifically in nonprofit technology of all sorts. For example, Team DNL's virtual peer-to-peer consulting services can help your organization:
Create a technical infrastructure to support your peer-to-peer fundraising event. This includes creating the overall P2P campaign page, which can include features such as distance trackers for fitness-related events.
Market your digital event to supporters. This nonprofit marketing consulting includes creating an outreach strategy for the event, handling aspects such as copywriting, video and digital marketing efforts, and even web design.
Create processes for peer-to-peer data management. This includes ensuring the data generated by your tech-fueled event flows into your CRM and is organized in a manner that provides useful insights going forward.
For more information, contact Team DNL today.

Virtual Peer-to-peer Fundraising Ideas: 5 Ideas for Your Next Event
Some nonprofit professionals reading this guide may already rely on peer-to-peer fundraising events— such as an annual walk-a-thon— and are looking for tips for taking their regular event to the digital sphere.
However, some organizations may be looking for brand new ideas for their next virtual peer-to-peer fundraising event. If that's you, the following list should provide inspiration.

Virtual Walk
A virtual walk involves supporters pledging to walk some amount of distance while raising donations for your nonprofit.
These events can be scheduled for a specific date and time, such as asking all supporters to walk their own independent route but in unison with one another. Or, these events can be spanning a specific time period, such as asking supporters to walk a specific distance each day for X number of days.
In addition, there are a few creative twists you can add to make this event even more engaging. For example, asking supporters to share pictures taken along their walking path or creating a community playlist for all to listen to while participating can encourage engagement with the event.
Why is This a Great Virtual Fundraising Event?
A virtual walk is such a successful online fundraising event because any supporter can get involved—young or older, busy or free, physically fit or less so. While some fundraising events may require higher effort from participants, a virtual walk is so easy to get involved with that it's difficult to turn down!

To participate, supporters simply need:
A place to walk in.
Time in their schedule to participate.
Because taking a few extra steps each day is within reach for many, participation is not a huge ask from your nonprofit.

Virtual 5K
Fitness fundraisers are popular in the world of peer-to-peer fundraising, including 5K runs. In the traditional version of this event, participants collect donations benefiting your organization before participating in a 5K run as a group.
For a virtual 5K run, participants still collect donations from their peers as they would have before. However, the running aspect of the event is done independently, with participants reporting their exercise after the fact.
There are a few ways to handle this, such as:
Having participants run at the location of their choice but at the same date and time.
Having participants run on the date and time of their choosing, completing the challenge within a specified time period (such as within the same two-week time period).
Therefore, you're able to customize the 5K depending on the athleticism and desired duration of your event overall.
Why is This a Great Online Fundraising Idea?
A virtual 5K is a great online fundraising idea because it promotes self-improvement, physical fitness, and healthy competition while also raising gifts for your organization.

Independent running is already a popular pastime for many, so it's likely that many of your supporters have the facilities to complete such a challenge. Further, you can capitalize on the competitive nature of 5K races by sharing the fastest running times with your participants, just as you would with first, second, and third-place awards at a place-based race.

Virtual Read-a-thon
Virtual read-a-thons are a type of peer-to-peer fundraising event where supporters read books while raising gifts for your organization.
These events often span a longer time period (such as a month), with participants reporting back at the end of the month with the number of books they read for the duration. Sometimes, organizations set parameters around the books read such as length or genre.
Participants solicit peer-to-peer donations from their personal networks in support of their book reading. At the same time, you can encourage engagement by inviting participants to share reviews of their completed books or even to compete against one another to read the highest number.
Why is This a Great Virtual Fundraising Idea?
A read-a-thon is a classic peer-to-peer fundraising activity that is great for virtual events for a few reasons:

Read-a-thons encourage literacy and self-improvement for participants, making participation an easy sell.
Reading is already a fairly solitary activity, so it doesn't require extensive transformation to go remote.
Materials (books) are easily gathered, whether pulled from a bookshelf or downloaded from an app store.
Because of this, a read-a-thon lends itself naturally to the virtual peer-to-peer format.

Virtual Talent Competition
While a virtual talent competition requires a bit more technology to host, it can be an incredibly successful event if done correctly.
Prior to the event, participants raise donations corresponding to their participation in the event. Then, at the event, you bring participants and spectators together via video conferencing software to showcase their best talents.
At the end of the event, award the top talents, crowd favorites, and those that raised the highest amount in donations. For bonus fundraising potential, you can also include live donation appeals and accept gifts during the event itself.
Why is This a Great Online Fundraising Idea?
This is a great virtual peer-to-peer fundraising event idea because it's likely to generate high turnout, both in participants and spectators.
Just think about popular talent show-based television programming– either you're drawn to the program because you're talented and want to participate or because you're an interested audience member wanting to watch the intriguing, comedic, or amazing skills of others.

Further, this event is so successful because it encourages real-time, face-to-face engagement between participants, spectators, and your organization. This bypasses any concerns around a lack of engagement with remote event participants.

Virtual Trivia Competition
To host a virtual trivia competition, ask supporters to join together in teams to compete. As a team, they raise donations toward their participation in the trivia event.
At the event, use video conferencing software or even polling software to conduct the competition. Award the team that answers the most questions correctly as well as the team that raised the most in donations.
There are a few creative twists you can add to the event to ensure supporters are engaged for the duration. For example, you can add a theme to the trivia questions, whether tied to the history of your nonprofit and its mission or even pop culture.
Why is This a Great Virtual Fundraising Event?
Virtual trivia competitions are a great option for virtual peer-to-peer fundraising events because they're engaging in real-time.

Instead of asking a participant to complete an activity on their own time, their team is competing against others during a live event. That, paired with the aspect of healthy competition, ensures that engagement is maintained despite the remote nature of the event.
Now that we've covered ideas for your next virtual peer-to-peer fundraising event, let's finish with an example template your organization can use to market your next virtual event. Feel free to borrow the following list and tweak it to make it your own.

Virtual Peer-to-Peer Fundraising Marketing Example
How to Fundraise with Friends and Family From Home
These are unprecedented times, and the world is changing around us. We can't thank you enough for still supporting the causes and missions we've been fighting for this whole time. We couldn't do this without you.
If you're looking for ideas to meet your goals for your peer-to-peer fundraising campaign while being safe and following social distancing measures, look no further. Whether you want to get outside or fundraise from your kitchen, we've got your back. Thanks for sticking with us.
Get Outside!
Just because we're following social distancing doesn't mean that we can't still log miles, walk our dogs, or ride our bikes outside to raise money. Here are three ideas to get you started on your virtual fundraising path.
Text your friends and family pictures of things you see on your walk or run and explain what you're raising money for. If they donate to your fund, send them a picture of a flower or cute dog (from six feet away!) as a thank-you.
Go live. Start an Instagram Live video with a friend who is also walking. Explain what you're fundraising for to everyone who watches your live stream and encourage them to donate. Don't forget to put a link to your donation page in your bio so your followers can easily find it.
Compete with a friend or coworker to see who can run or walk the most miles, and raise the most money. Get friends to pledge to donate a dollar for every mile you run or bike, and then compete with your community to see who can raise the most. Everyone wins in this fun competition!
Stay Indoors!
There's nothing like the comfort of home… especially when it comes to fundraising! Get creative in the ways that you can connect with your friends and family virtually to raise money for a good cause.
Host a dinner party over Zoom, Skype, or Google Hangouts. Ask a group of friends to donate to your campaign as their "RSVP", and then send everyone the same recipe. Then you get to cook together and experience the same meal while safe at home.
Host a fashion show with your friends over FaceTime. Charge "admission" via donations to your campaign, and then dig out all the forgotten clothes from the back of your closet. Bizarre Halloween costumes? Horrible bridesmaid dresses? Pull them out and show them off for a good cause!
Throw a virtual movie night. Pick an easily accessible movie (think on a streaming service) that's related to your cause. Then sell "tickets" via donations and send your supporters a cute goodie bag with popcorn and candy before the event as a thank-you.
---
Wrapping Up
More and more readily, we are observing nonprofits pivoting to virtual peer-to-peer fundraising events. With increased accessibility and new engagement opportunities, it's easy to understand why!
If you've completed this guide and find yourself interested in holding a virtual peer-to-peer event, but overwhelmed by the technical details– don't fret. At DNL OmniMedia, we specialize in helping nonprofit organizations make their fundraising dreams a reality using technology. Contact us today to learn how we can work with your organization to bring your next virtual peer-to-peer event to life.
For additional information about nonprofit peer-to-peer fundraising and technology, check out the following additional resources: