April 3, 2018

For some nonprofits, the term "data management" might seem a little daunting. After all, organizations like yours are collecting, storing, and generating reports on more data than ever before– from donor information and prospect data to web analytics, engagement histories, and so much more.
Nonetheless, effective data management is absolutely essential for nonprofits. A strategic approach to database selection, data collection, and maintenance can help you develop more intentional supporter relationships, build better engagement strategies, and raise more money. All of this empowers your organization to make a greater impact!
If you're not sure where to start when it comes to managing your nonprofit data, we at DNL OmniMedia have pulled together the following guide. We'll explore our top strategy– choosing the right CRM for you– before digging into four more best practices:
If you already know where your nonprofit's efforts can use improvement, feel free to use the above navigation to jump to a specific section. If not, continue reading to learn how to make the most of one of your nonprofit's greatest assets– its data.

Choosing the right nonprofit database management software.
Nonprofit database management revolves around the database or constituent relationship management (CRM) software you're using. If you're working with a platform that's no longer serving your nonprofit's needs, or relying on antiquated, piecemeal methods and needing to make an initial investment into comprehensive software, no amount of database best practices will overcome the outdated technology.
Therefore, the first consideration in this guide to nonprofit database management is ensuring your database itself is up to par.
Most nonprofit organizations are collecting data from a wide variety of sources, including (but not limited to):
Website
Online fundraising platform
Online engagement platforms (social networks, email engagement tools, advocacy apps)
Supplemental sources like prospect research and corporate philanthropy information
Ideally, your CRM is the one database storing all of that information. For large, multifaceted nonprofits, having a robust solution CRM is especially crucial.
With that, let's begin exploring CRM systems.


Which features should you look for in a donor database?
Whether you're upgrading your current software or investing in a whole new solution, it's important that you thoroughly research your options before making the investment.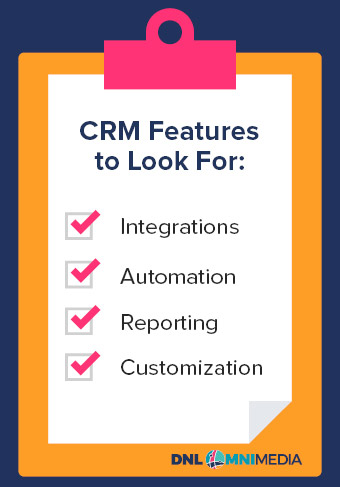 Migrating to and implementing a new CRM software is time and resource-intensive, so you want to make sure that if you're making the change, you won't have to do it again. There are a few key features to look for as a baseline expectation for any solution:
Integration friendly. If your nonprofit is already relying on multiple pieces of software (like the aforementioned online fundraising and engagement platforms), it's essential that those integrate with your CRM platform. This allows data to flow seamlessly between the solutions and your core database.
Automation features. As your nonprofit grows, manually handling all tasks (think: triggering follow-up emails, generating reports) can be time-consuming. A CRM with automation features will handle some of these tasks for you, saving time in the long run.
Reporting features. One of the biggest benefits of storing data is the insight it provides you into donor trends and preferences. A CRM with intuitive reporting features will generate valuable reports corresponding to the information you highlight as most useful to your organization.
Customization options. You could choose the most robust CRM solution on the market and it could still not fit your nonprofit's every need. Working with a CRM that allows for customization ensures that you have a platform fitting your needs now and in the future as your nonprofit evolves.
These baseline features allow your staff to work from one connected interface, containing features specifically tasked with making their job easier. Ensuring your CRM has these features will prevent costly changes in the future.

Pro Tip: Though a vital feature— so much so that it's listed first— integrations can be complicated. If your upgrade involves connecting a number of systems, it's smart to work with experts who can reduce the risk of damage to your data. We always recommend working with nonprofit consulting firms who know your software and your strategy.

How do you choose a donor database software?
One online search of nonprofit CRM solutions provides a landscape of potential solutions to invest in. From top providers lists to comparisons of popular enterprise-level options, it's easy to feel overwhelmed in your research.
One good way to narrow down your options is to simply focus on a few key considerations. We'd recommend keeping the following in mind when researching donor database software:
The migration and implementation process. Migrating to a new CRM and preparing your nonprofit's staff to use it is no small task— in fact, we always recommend nonprofits bring in tech consultants to help facilitate the effort. Consider the nature of your migration when choosing a solution, and how difficult (or not!) the process could be for your organization.
The budget. This includes both the cost of purchasing the software itself, as well as any consulting costs needed to get it up and running. This ties directly into the above point, in that a more complicated migration and implementation process is likely to have a higher price tag.
The customization required. Think of the features your organization needs to successfully make the most of the CRM, and whether the new solution will require extensive customization. While there's nothing wrong with extensive customization (some enterprise-level options would actually require it), it will equate to additional cost for your nonprofit.
The complexity of the solution. Remember that your staff will be interacting with and relying on information in your CRM on a daily basis. Investing in an intuitive solution will go a long way in ensuring your staff is using it correctly and not expending unnecessary time to do so.
The support that is available. After the initial implementation, there's always the chance that technical difficulties arise. Consider the amount of technical support the provider offers after the initial purchase, as well as if there are any consultants in your reach that are familiar with the solution and able to advise.
These considerations will play a huge role in narrowing down CRM solutions for your nonprofit.
For example, if you're a large or mid-sized nonprofit looking for a robust solution and able to invest in support to help you in the process, an enterprise-level provider like Blackbaud or Salesforce may be the option for you.  While their platforms have a more extensive implementation process (for example, read about the Salesforce for nonprofits implementation here), these solutions are powerful when it comes to overall nonprofit management.

On the other hand, if you're a smaller organization simply looking for a solution to track your initial fundraising data, a ready-made, out-of-the-box CRM may be a better fit.

Nonprofit Data Management Best Practices
Once you've chosen the perfect CRM for your nonprofit organization, effective data management is crucial for your organization to make the most of that solution.
A strategic approach to data collection and maintenance can help you:
Develop stronger, more intentional supporter relationships.
Build better engagement strategies.
Raise more money.
Strategic data management helps your organization stay on top of data, empowering you to make a greater impact as time goes on. Let's explore a few key data management practices:

Understand what types of nonprofit data you should store.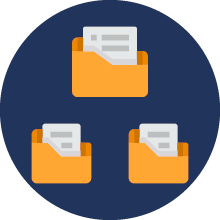 For modern nonprofit organizations, there's more data available than ever before. With so many tasks heading to digital means— from giving to communications— donor interactions are logged as quantitative data points at an unprecedented rate.
Nonprofits are able to store virtually any data they seek. CRMs are often configured to store basic donor information and even further, often allow for custom field configuration to fit your nonprofit's exact data needs.
However, just because you can store unlimited supporter data and analytics in your CRM, that doesn't mean it's wise to stock your database with every detail imaginable. It's up to you to decide which information is truly meaningful to your organization and change your storage settings accordingly.
To start, you should store basic essential information:
Biographic and contact information.
Donation or other financial transaction records.
Engagement histories, such as volunteer records or program attendance.
Employer and other professional affiliations.
Interests, skills, or philanthropic affinities.
From there, you can further refine and/or add to this list with custom fields and notes. Ideally, you should tie this data and analysis storage to your nonprofit's overall goals. Consider what you're trying to learn from your data, such as:
Which of your nonprofit programs, events, or campaigns are most successful. Measuring the funds raised by a particular initiative, the number of supporters at an event, or even the qualitative feedback given through surveys or in person, can help identify which efforts are most successful.
How to communicate and engage with your supporter base. Data on the preferred channel of engagement, email open, and click-through rates, and direct mail response rates can provide valuable insight on which communication channels you should optimize.
Whom you should target for major or planned gifts. Prospect research relies on data indicating giving capacity and giving affinity. With this information, you can better identify potential major and planned contributors.
How your nonprofit compares to other organizations. You can set benchmarks and evaluate your nonprofit's performance to discover if your efforts are in line with other organizations in your sector. Storing this analysis in your CRM allows you a clear view of how your organization stacks up to others on a variety of metrics.
When it comes to creating custom fields for your database, aligning those fields and analytics with your goals and what you want to learn is best practice. For more information on this topic, check out Team DNL's crash course in donor analytics.

Pro Tip: The goals informing your data storage may change over time, so it's important to refresh your approach to data management as you would with any other strategy. If your organizational objectives evolve, take a look at your CRM— this information can guide you as you create new strategies to reach your goals!

Develop strategic processes for nonprofit database management.
While your CRM's integrations will ensure that data seamlessly flows between your various software solutions, your nonprofit is ultimately responsible for managing the initial entry and ongoing maintenance of this supporter data.
This responsibility begins when data is first entered into your system. When it comes to data entry, the goal is to have clearly outlined processes to prevent confusion and errors going forward. Ensure you have answers to the following questions:
Who will be responsible for data entry?
Which of your platforms will store data? Do they interact with each other, and if not, how will you handle data transfer between platforms?
What conventions will you follow for clear entry of:

Names
Dates
Numerals
Addresses
Titles

Which fields will include and require filling out for donor profiles? What steps will you take to avoid and alleviate blank fields?
Answering these questions ahead of time ensures the data that's entering your database is doing so in an efficient, orderly manner. It prevents time-intensive mass clean-ups in the future.
From there, the goal is to maintain the "cleanliness" of your database going forward as the information is updated. As far as ongoing maintenance, ensure you have processes to handle:
Duplicate donor profiles.
Outdated or incorrect records.
Unstandardized records (if the above rules weren't followed, for example).
Lapsed or deceased donor profiles.
Unnecessary information (ex: multiple addresses or phone numbers per donor).
Ensure these processes are communicated to your entire team at large. These efforts are only successful if everyone follows the same routines. Even if someone isn't interacting with your CRM on a daily basis, it's still important that they understand data best practices when the moment arises!
As your database continues to grow, it's important to remove the information that's no longer serving your organization. This will make room for data that can actually inform your strategy as an organization.

Pro Tip: Ensure your data is up-to-date throughout the year by allowing donors to update their profiles by themselves! By using a CRM that gives your supporters the freedom to update their contact details, communication preferences, giving preferences, recurring gift settings, and more, you're able to limit the amount of manual data upkeep for your team.

Use your nonprofit data to inform your organization's strategies.
You work hard to store and keep your data in order; now, it's time to reap the benefits!
Nonprofits don't invest valuable time and resources into data management just for fun. When you use your data to develop a stronger understanding of who your donors are, you can create strategies to engage your exact audience. You'll build stronger relationships, raise more money, and make a bigger impact as a result.
This begins with a tactful analysis of your data, pulling specific reports corresponding to the strategies you're looking to perfect. Let's look at a few areas of improvement you can focus on:
Fundraising. By analyzing your data, you can discover which types of fundraising events and campaigns appeal most to supporters, which donors are good prospects for major gifts, and even which annual appeal strategies have worked best in the past. And that's just the start! You can then create future fundraising efforts based on this information.
Donor stewardship and engagement. The data in your CRM paints a full picture of your nonprofit is interacting with supporters. Make sure you're maintaining an active relationship with each and every supporter, and that no one donor is falling through the cracks.
Marketing and outreach. Pay attention to how your supporters prefer to be communicated with, based on which outreach methods they responded to best in the past. Then, optimize your future outreach to target those methods— ensuring your marketing budget stretches further than ever.
Supporter retention. Your database holds information on each supporter's full history with your nonprofit. Pay attention to key lapse factors and try to retain any potential lapses before they happen. Create specific outreach plans for constituents that haven't engaged in a while, reaching out to those most in need of communication.
Essentially, each interaction with a supporter comes with a data point. Each data point provides a wealth of information on how your donors prefer to be engaged with, and it's up to you to customize your fundraising and stewardship strategies accordingly.
After all, you've put in plenty of effort to collect the data— it would be a waste to not make the most of it!

Pro Tip: One of the biggest ways to simplify this process is to segment your donor base by common characteristics. These can be based on interest, giving history, giving ability, geographic location or any other demographic! Begin your trend research with these segments and you're likely to see common preferences emerge.

Improve your donor data management with third-party assistance.
Now, if you've read this guide and are feeling overwhelmed by the end of it— don't fret.
Nonprofit database management can get confusing, fast. You're not only working with a ton of quantitive information and analysis, but you're likely working with a robust software system (or multiple) to aggregate it all. If you're working without a tech expert or statistician on staff— as many nonprofits are— you may be feeling lost.
There's no understating the importance of making the most of your nonprofit's database, as it's a way to improve your nonprofit's efforts using an asset you already have (data). So, this isn't something you should neglect even if it feels out of reach for your nonprofit.
Implementation. Choosing the perfect software solution, obtaining buy-in from your staff and board, developing your new system, and training staff on the new tech— implementation of software into your daily operations can be complicated. A nonprofit tech consultant can outline and oversee the entire project ensuring nothing falls to the wayside.
Migration. The initial migration to a new CRM system is often particularly stressful for nonprofits. Ensuring all historic data makes it from Point A to Point B without complication can be harder than it may seem, and a consultant can ensure that no data is lost in the transfer.
Integrations. These connections ensure you're working with the most up-to-date information rather than manually transferred information. Integrations are crucial, but they can be difficult to configure correctly. A tech consultant can ensure your entire software ecosystem and overall nonprofit digital strategy are functioning optimally.
Ongoing maintenance. There's always the chance your nonprofit outgrows its current digital strategy. It's important to recognize this when it happens and enlist an expert to help you refresh your efforts.
Tech consultants can wear a variety of hats when you're improving your nonprofit database management protocols, from serving as a project manager through the process, to building out your custom tech system and troubleshooting potential issues before they arise. Whether you're looking for something specific, like Blackbaud-related support, or you're looking to develop a full tech strategy for your organization, tech consultants can help.
Pro Tip: We've compiled a list of the top 5 reasons to seek nonprofit strategy consulting, and you can view it here. If your organization relates to the list, it might be time to look into nonprofit technology consulting.
Wrapping Up
With these essential tips in mind, there's nothing intimidating about nonprofit data and database management.
Ready to put your data to good use? Get started by partnering with a team of nonprofit data experts like DNL OmniMedia. Contact us today to see how we can help you optimize your data collection and management process, including helping you create a nonprofit software system that can help you stay organized and on track for years to come.
Find out even more about how to use technology for your data management strategy by checking out these additional resources: