July 20, 2017

For organizations using Salesforce, there are a number of ways to manage the event planning process.
While you can always choose an external event management platform to handle logistics, guests, and event reports, it's likely that you'll want to integrate your event planning software with your Salesforce system for the most cohesive experience.
To save you some time, our team investigated the most popular Salesforce event management integrations to discover which platform really comes out on top. We've ranked our top picks as follows:
Let's dive into each product to analyze what it does well and where it falls short. Keep reading to find out which solution is right for you!
But first—need a Salesforce integration to manage constituent relationships and enhance your fundraising efforts, with some lightweight event management thrown into the mix? Check out Luminate CRM, Blackbaud's nonprofit Salesforce solution for all of the above.

1. Top Salesforce Event management Integration: Fonteva Events
Event Management Software Overview
Fonteva Events is an end-to-end event management solution designed exclusively for Salesforce. Built to streamline all aspects of your events, Fonteva provides robust tools that can be adapted to fit large- or small-scale events, from multi-day conferences to recurring meetings or classes.
While Fonteva can truly meet almost any need you have, let's run through the highlight reel of their stellar feature set:
All-inclusive logistics management, with exhibitor, sponsor, vendor, and speaker management tools.
Flexible guest agenda builder for multi-session events.
Custom ticketing and registration options.
Mobile-ready event sites to promote your event on all platforms.
Fonteva Events also boasts an incredibly user-friendly events dashboard so that even novice event planners can feel like experts (while planning expert events)!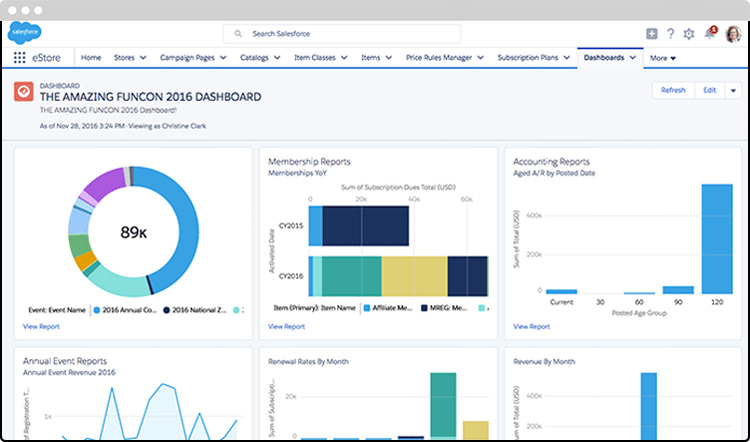 Salesforce Integration Pros and Cons
Fonteva Events is a native Salesforce application, so unlike Eventbrite or Cvent, only Salesforce users will have access to this platform.
While that's certainly a con if your nonprofit doesn't use Salesforce, being Salesforce native is a definite pro if you're looking for an event management solution to blend in seamlessly with your CRM.
Being Salesforce native means that there's no integration required to connect Fonteva with your Salesforce system. You won't have to deal with complicated data migrations, incompatible systems, or costly third-party connector apps. Because Fonteva was built on Salesforce for Salesforce, it functions as an extension of your CRM and seamlessly expands your Salesforce capabilities.
Best of all? You'll have access to all of your vital event data in real time, without having to manually update or transfer data back and forth. As event planning teams know, having complete data is paramount to planning successful events, which makes native event management apps ideal for Salesforce users.
Learn more about the benefits of native apps by reading Fonteva's helpful post breaking down the differences between native and non-native Salesforce software. Trust us: you'll learn something new!
Recommended For
Fonteva Events is a solid event management choice for Salesforce users who want an all-encompassing event solution without the hassle of complex integrations.
While Fonteva is highly user-friendly, keep in mind that it is a truly comprehensive application that's most useful for organizations who regularly host events and need multi-functional software to support a variety of event planning needs.

2. Eventbrite
Event Management Software Overview
A web-based platform that's versatile enough to fit both individual and organizational event planning needs, Eventbrite is an event ticketing platform that can be integrated with your Salesforce CRM.
With its highly user-friendly interface, Eventbrite comes with all of the following tools:
Flexible registration options for free or paid events.
Offline, on-site, or mobile payment processing.
Promotional tools, including custom email invitations and social sharing.
Customizable event pages listed on Eventbrite's website.
Because Eventbrite wasn't built for Salesforce, you'll have to perform an integration to sync up your Eventbrite data with your CRM. To do that, you'll either need to work with the Eventbrite API directly (likely with the help of a qualified Salesforce consultant) or purchase a third-party connector app.
Of course, there are benefits (and drawbacks) to each type of integration, so do your research before deciding on the path you'll take. We suggest starting with Double the Donation's Eventbrite Salesforce integration review!
Salesforce Integration Pros and Cons
Eventbrite is a more lightweight solution than either Fonteva Events or Cvent, so if your team only needs basic registration options with some ticketing flexibility, Eventbrite won't overcomplicate your event planning experience.
That said, if you need a truly robust event management application, Eventbrite probably won't be able to provide the support you need.
Not to mention, the more customized your event and CRM are, the more complicated the Eventbrite Salesforce integration will be. While transferring basic event data from Eventbrite to Salesforce shouldn't be a major issue, when you start adding custom fields, relationships, and questions, you might find yourself in confusing territory.
Recommended For
Eventbrite can be a manageable solution for organizations that don't depend on events as a major part of their fundraising strategy. Additionally, Eventbrite can work well for individuals or small event planning committees who need an easy-to-use ticketing and registration option for small-scale events.
If your organization needs a more robust solution, we recommend checking out these Eventbrite alternatives instead!

3. Cvent
Event Management Software Overview
Cvent is an online event management solution with tools to streamline nearly every aspect of event management. Adaptable enough to be used in any industry and for any type of event, Cvent's software puts the full scope of your event at your fingertips.
With Cvent, you'll have access to a variety of core event management features, including:
Event registration using pre-built templates or custom forms.
Event budgeting tools.
On-site registration capabilities and printable name badges.
Unlimited custom event reports.
In addition to Salesforce, Cvent can integrate with a number of other software you may already use, including Webex for marketing and Concur for travel compliance.
Salesforce Integration Pros and Cons
Cvent is one of the most multifaceted event management systems on the market. For organizations planning highly complex conferences, conventions, or fundraising events, or you won't have to worry about leaving any part of your event up to chance.
The downside of having such a vast feature set? Cvent's platform can feel overwhelming. While it's true that you'll have access to all the features you need, chances are that you won't know how to use them (at least, not without thorough training or the help of a consultant).
Additionally, the Cvent Salesforce integration is highly complicated, with little support from the Cvent support team. Many users have found that the integration and implementation process can be challenging and time-consuming—not to mention expensive! Since you'll probably need the help of a developer or consultant, you should consider those costs in addition to any standard Cvent fees.
Recommended For
Cvent can be the perfect platform for organizations who are willing to spend some time (and potentially money) performing the extensive integration.
If your nonprofit comes equipped with a robust IT department and doesn't mind a learning curve, Cvent can be a viable event management choice. But if you need software that's more immediately accessible (and less costly), we'd suggest taking a look at the competition instead.
---
Event management software is a vital tool for many nonprofits, so it's important that you understand your options before committing to your event planning solution.
See what other nonprofit software can impact your events and other parts of your fundraising strategy by reading these articles:
Salesforce Event Management: The Essential Guide. Learn more about how your Salesforce CRM can take your event to the next level by checking out Fonteva's guide to planning events in Salesforce.
Luminate Online: The Nonprofit's Guide. Luminate Online Marketing from Blackbaud comes with a wealth of features to enhance your online fundraising and marketing strategies. Discover more about this amazing suite of products (and find out how to get the most from them) by reading our ultimate guide!
Top 5 TeamRaiser Configuration Tips. Using Blackbaud's TeamRaiser to plan peer-to-peer fundraising events? Learn how to implement custom configurations to maximize your fundraising potential and engage your supporters in creative new ways.