September 6, 2019


Guest post blog submitted by: Court Campion at OmniUpdate, a leading CMS platform for higher education institutions.
Change is on the horizon for higher ed marketers, according to the 2019 E-Expectations® Trend Report. More than ever, digital natives are turning to technology first and frequently to glean information about colleges, careers, and majors.
The top 7 digital marketing trends for higher education include:
There are a number of ways to increase your college or university's digital presence. These 7 trends will get you started in the right direction.
1. Mix up your marketing.
Where do you get your news? Chances are, you visit multiple sites to get different types of news and information and then turn to search results for answers to queries. Your prospective students are no different. If you approach your digital strategy and higher ed marketing campaign with this in mind, it will become evident that you will need to diversify into a number of channels with a multi-pronged approach to recruitment.
For example, you might provide comprehensive admissions information on your website, but use social media to share details about student life and campus activities. Some examples include:
Videos on Instagram. Just make sure to use quality video footage, and be sure to accommodate for accessibility concerns.
Banner ads. Placement on high traffic websites is a good way to target prospects, and research found that students who clicked through spent more time reviewing information, completing forms, and signing up for events.
Live streaming. Students live in the present; streaming concerts, lectures, and special events from your website lets them feel like part of the moment.
Paid ads. Data indicates that the most effective ads serve as reminders about admissions deadlines and other important information, ultimately directly students to your website. Just make sure that you develop a path that leads students from the ad to the information you want to share.
The key is pairing information with the right platform. The data found in the E-Expectations report can help you tailor your efforts.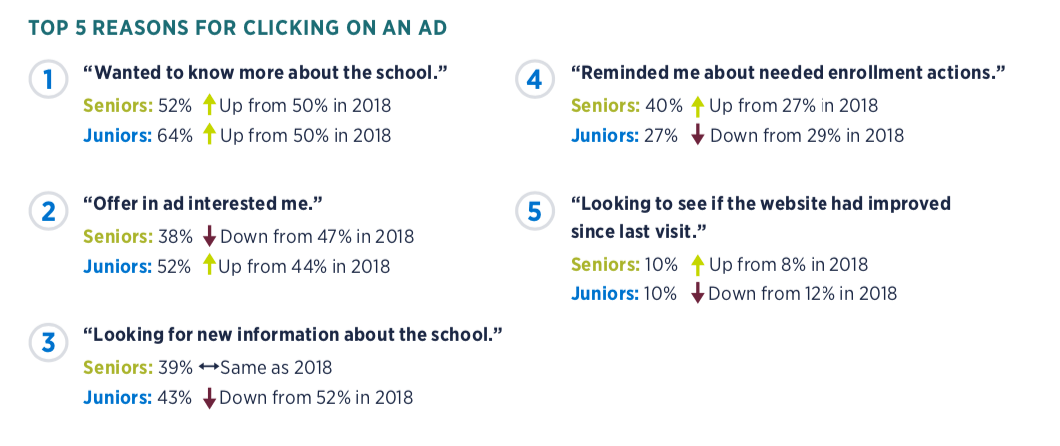 Get all of the data by downloading the 2019 E-Expectations Trend Report now.
2. Produce content that integrates well with voice assistants and artificial intelligence.
eMarketer predicts that by 2020, 76.5 million households will make use of smart speakers such as Amazon's Echo and Google's Home. Smart speakers are the fastest-growing consumer technology since the smartphone and, as such, are expected to revolutionize the way that humans interact with technology. With this in mind, can your school really afford to wait and implement content that integrates well with these voice assistants?
Another important factor that comes into play with voice assistants is that most usually repeat the first search result—which means that it is imperative to boost your school's search rankings. Making it to the number one spot increases your institution's visibility when students turn to this type of format for information.
Furthermore, as artificial intelligence (AI) improves, more colleges and universities are using AI chats and live chats to answer frequently asked questions. Of the students who have used these tools, three out of four found them to be very helpful.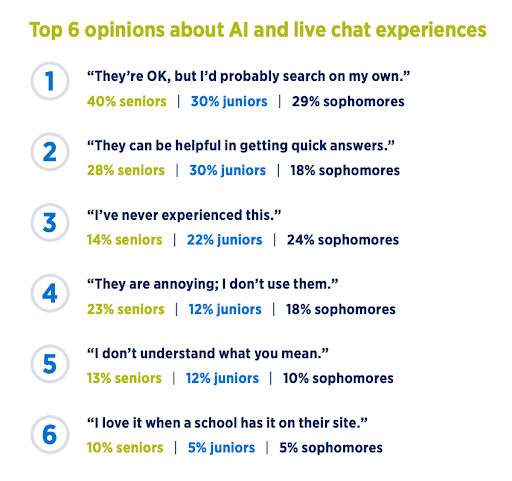 Data from the 2019 E-Expectations Trend Report
3. Create a platform agnostic website.
"Platform agnostic" means that your website will function at the same quality on any platform or operating system, from tablets to laptops to mobile devices. Of all trends, this is one that is here to stay. Students are so comfortable with their phones that some will even stop working on their laptops to look up information on their phones. In fact, studies show that students increasingly use their phones to visit college websites, watch videos, check emails, and even complete forms.
If this sounds overwhelming, the secret to simplifying the process is using a content management system (CMS) that supports a framework that presents accurately on all platforms. The best CMS for college and university websites should provide a solid foundation for your website and include tools specifically designed for higher education users—a CMS such as OU Campus®. One more note: building a platform-agnostic website also plays into your school's website accessibility efforts.

Data from the 2019 E-Expectations Trend Report
4. Boost your search rankings.
Search engine optimization (SEO) is a trend that continues to grow in importance. The way you word your content and design your website can affect how search engines find and rank your college or university website. Once again, you should think like a student when creating your keyword search strategy.
For example, using names of majors and types of degrees is a good way to help students find the information they want about your college or university's particular academic offerings.
Also be mindful of meta descriptions, that little bit of content you see underneath search results. This brief summary of a web page, usually 160 characters long, has considerable influence on click-through rates. Be sure to use your keywords in the description to optimize SEO.

In addition, philanthropic arms of educational institutions are eligible to receive free advertising through Google AdWords grants. Learn more about this program here.
5. Make user privacy paramount.
The European Union's (EU) General Data Protection Regulation, or GDPR, protects the personal data of all people who live in the EU, even if they are not citizens. To comply, colleges and universities have scrambled to meet the regulation's stipulations—which are much broader than the protections afforded to American students through the Family Educational Rights and Privacy Act (FERPA) and the Health Insurance Portability and Accountability Act (HIPAA).
Stiff penalties can be levied against colleges and universities that do not comply with GDPR. Your journey to compliance includes:
Developing and posting privacy notices online.
Assessing your website for privacy concerns.
Developing a process for securing data and dealing with security breaches.
Identifying where all student data is stored—and exactly what data your school has in regard to students.
Providing ways for students to make decisions about how their data is accessed, stored, and erased.
Fully understanding GDPR and what it means for your campus can keep your school out of hot water when the rules are fully enforced.
Image courtesy of Hunterlodge Advertising
6. Personalize your content for a student-centric experience.
When a student lands on your home page, she should see something that draws her in and entices her to want to know more. But how do you personalize content without alienating others?
The key is to create a strong navigation structure that naturally leads students to the information they are looking for. For example, many schools are adopting personalized pathways for specific degrees that identify classes that a student will take, what jobs require that degree, and what salary ranges can be expected after graduation.
To be effective in your efforts, you have to get the right message to the right prospect on the right platform at the right time—and you have to use data to do it. Data can help you figure out the best way to segment content so that relevant information pops up. Additionally, a quality CMS will allow you to customize search results. If a prospective student can't find what they are looking for via navigation, a strong search feature on your website will be the next best solution.
Your ultimate goal is a student-centric experience, so the more you can personalize your website and keep it current, the longer prospective students will explore all that your college or university has to offer.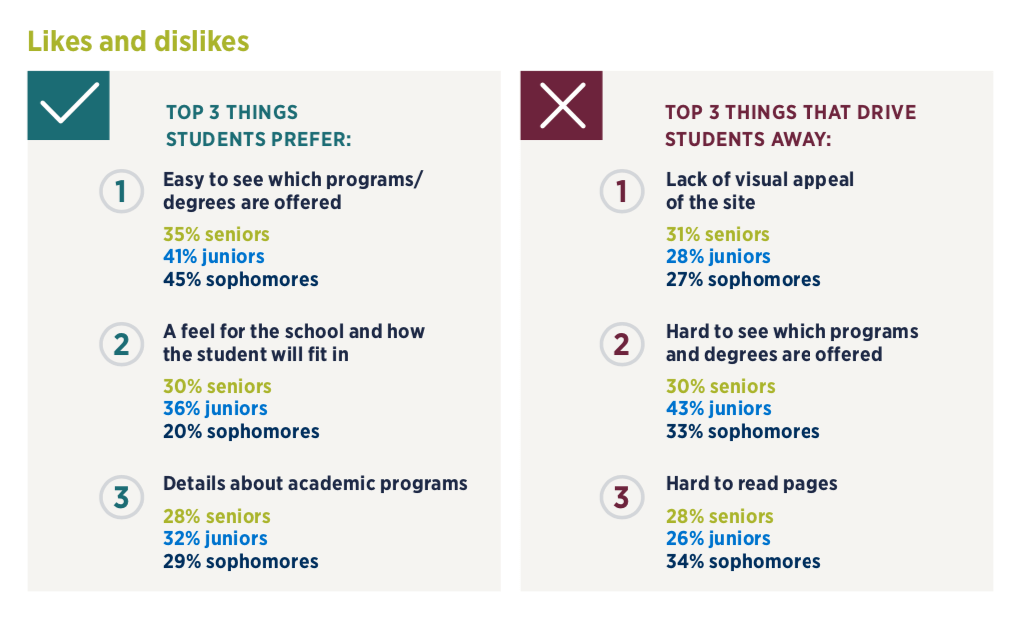 Data from the 2019 E-Expectations Trend Report
7. Add testimonials.
Prospective students love to hear what other people think about your college or university. Adding credible, relatable testimonials is an effective way to share all types of information. Think beyond the usual written quotes by adding:
Videos of commencement speeches.
Alumni discussing how attending your school helped them be successful in their respective fields.
Links to news articles about research.
Charts with graduation rates and how many students graduate with a job.
Videos of students talking about their positive experiences with dorm life, tutoring assistance, and professors.
Sprinkle testimonials throughout your website, but at the same time, capitalize on the power of disseminating information on multiple channels with posts that reach students where they are—on social media.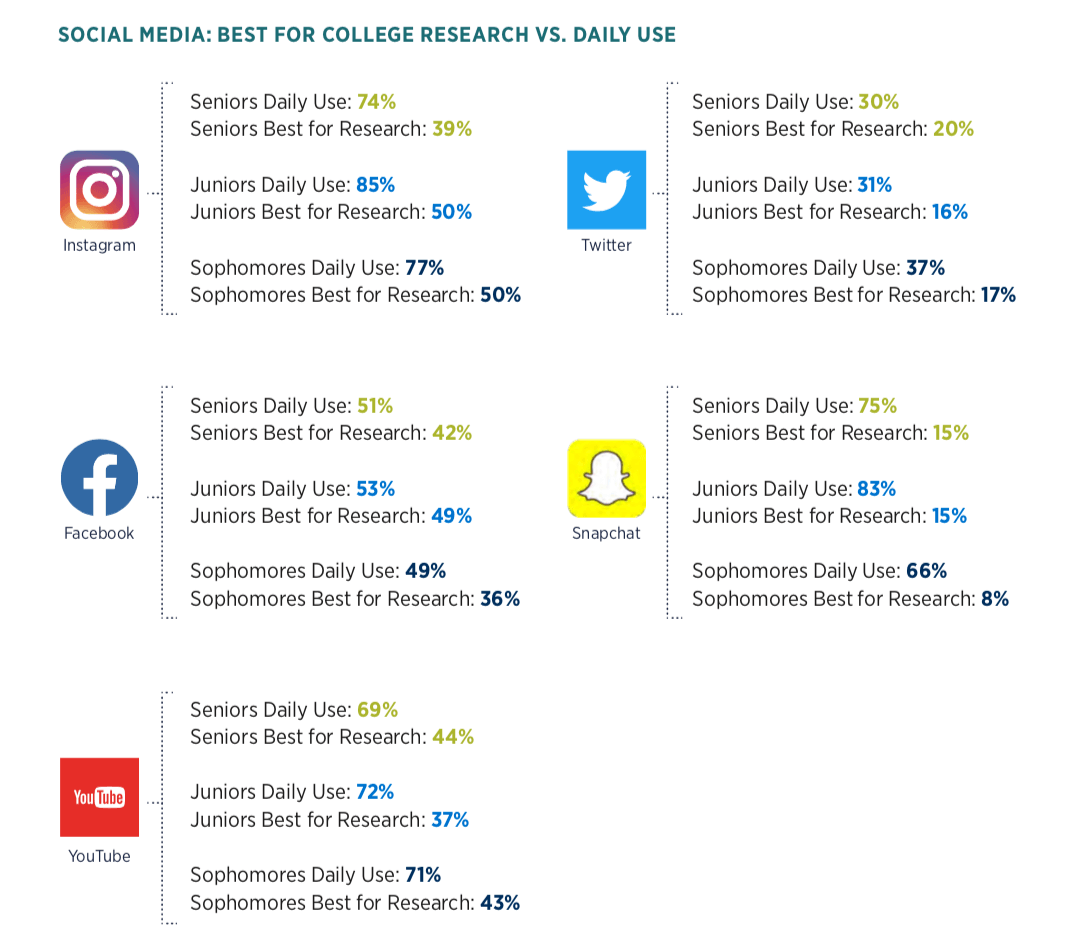 Get all of the data by downloading the 2019 E-Expectations Trend Report now.
Conclusion
Whether you are redesigning your website or strategizing a new marketing plan, knowing and understanding the top digital marketing trends will help your efforts in attracting prospective students to your college or university.
---
Author: Court Campion has over a decade of award-winning digital marketing, creative management, social media, and strategic ideation expertise and has worked with small to global agencies and large celebrity brands. He understands the needs of the information age and attacks problems from unseen angles to deliver results that matter. When he isn't online, he spends his time devouring media and curating his growing art collection.