June 20, 2018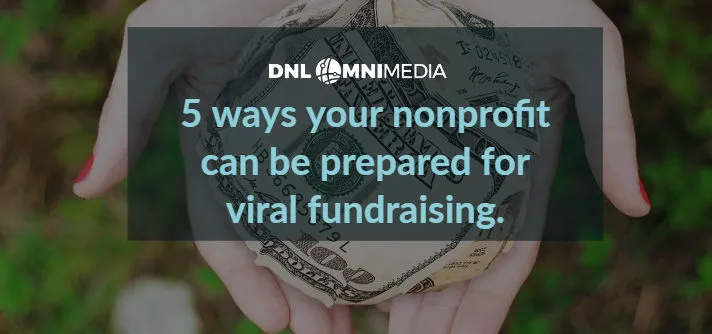 All nonprofits would love to be the beneficiary of a viral fundraising campaign. But the reality is that most nonprofits haven't put the framework in place to be able to support a large influx of website visitors and donors. Inspired by the largest Facebook fundraiser to date, team DNL is breaking down all of the advice that we would give to organizations now to make sure that they're ready to take donations when they come pouring in.
Claim your accounts on popular crowdfunding websites.
If you don't put your organization out there as an option for supporters to create a fundraiser for, you're missing out on valuable opportunities to receive donations. It's free to claim your nonprofit on sites like Crowdrise by GoFundMe and Fundraise for Facebook. By claiming your account, you can provide valuable information & create a plan to receive those donations and the donor data that comes with it. Claiming your account also gives you the ability to familiarize yourself with the platform so that you can assist confused donors.
Want to really get ahead? Tens of millions of users own an Alexa. Set up your account with Amazon Pay, which will allow donors to give through voice.
Have a data migration plan.
Having multiple systems that are collecting funds and donor data can cause a huge headache for your data administrator – and lower the timeliness of your follow up if it takes a long period of time to enter donations into your Donor Database. Investigate software integrations with your CRM and create a data migration plan to bring in external data sources.
Data migrations require some serious advance planning, and it can be tricky for your whole team to get comfortable with updated, comprehensive CRM platforms. Your best bet with any neew integration project or major data migration is to find a support team trained in your particular platform.
Data Migration Tip: Tag and organize your donors! You will need to have them grouped together when you follow up with them later.
Make sure your website will load and load quickly.
This point is quite simple: if your website won't load, donors can't give. We'd also like to add that if your website takes longer than 3 seconds to load, people will leave. Your web hosting service provider is what makes your website show up on the internet. In addition to assisting with speed time and uptime, some plans offer Overage protection to prevent traffic spikes from causing billing issues or taking your site down. Understand your host, how much you are paying, and talk to them about what might happen if you receive a lot of visitors in a short amount of time.
Don't skip this point! As we write this article, inspired by the more than 10 million dollars raised for raicestexas.org, we're sad to see that their site is down due to higher than normal traffic. If you're unsure on who your website host is, reach out to us at team DNL for help.
Optimize your website and donation forms.
I remember when I went to make a donation to a local chapter of ALSA during the 2014 ice bucket challenge, an early example of a 'viral fundraiser.' I had issues donating because their website and donation forms were not mobile friendly. Unable to complete my transaction, I ended up donating to another chapter location that did have a mobile-friendly site. If your website is not accessible by all devices, donors will find somewhere else to donate. In addition to making your website mobile friendly, here are a few other quick tips for your website:
Reduce the number of "clicks" that a donor must take to complete their transaction.
Review your google analytics account. Are you able to track your bounce rates and conversion rates? Understand what those numbers mean and how to improve them.
Address current events or your viral fundraiser on your website homepage. Your website should be agile enough to be updated in minutes with a new banner, pop up, or latest news piece.
Have a stewardship plan in place for timely follow up.
Keep the momentum going! Many donors who give to a viral fundraiser may now know much about an organization. Here are a few ways to keep these donors engaged:
Create a special welcome series to educate donors on your organization, provide them with information on the impact of their gift, and ask them for a second gift when the time is right.
Keep things grassroots by hosting a Facebook live. With a Facebook live event, you can provide real-time updates to your supporters at a low cost and get them to engage with your Facebook page.
Respond to donors who mention that they have donated on social media. Having an account with a social media software, like Hootsuite, will allow you to see anyone who mentions or hashtags your organization so you can appropriately follow up with them.
If you have questions or are worried that your organization might not be ready for viral fundraising, contact us!