July 5, 2018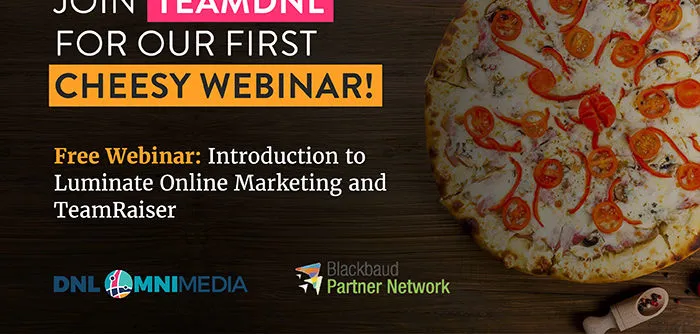 Join us on Wednesday, September 19, at 2pm ET for the first webinar in our brand new Cheesy Webinar series.
You'll get fresh nonprofit technology insights, some insider tips, and a free pizza delivered straight to your door. (You heard us right — free pizza)
In this webinar, we'll be discussing all there is to know about Luminate Online Marketing and TeamRaiser. Technology expert and nonprofit strategist Carl Diesing will walk through:
Key Luminate features you need to know
3 ways to use TeamRaiser at your nonprofit
A demo of DNL's custom member center
Plus, we'll be joined by a special guest to share their Luminate Online success story. The first 20 participants will receive a $20 gift certificate for a pizza to enjoy during the webinar, so we can all get cheesy together.
This webinar series is sponsored by: